Final project idea: Music Pavilion for the Hearing Impaired

The aim of this project is not necessarily, as the prescriptive name might suggest, to come up with a novel architectural device that will sweep away all the biologic hearing obstacles while listening to music; but rather to create a more egalitarian spatial as well as social configuration, with the help of technology, where both optimal hearing and non/limited hearing audience can enjoy music together!

My departure point was J G Ballard's science fiction story Soundsweep where, due to the noise pollution in a distant future, contemporary musicians start shifting the sound range within which they compose into an ultrasonic level. Therefore, since there are not any audible music left; sound, once created, does not leave any residues behind. In this future society, where everybody seemingly listen to this "ultrasonic" music and enjoy it, nobody practically hear anything. This scenery inspired me to design a musical setting where the actors are seen as practically listening to nothing ,with their open ears, yet do react to music that is being played literally inside their heads through bone conduction!

below, you can find some excerpts from J G Ballard's science fiction story "Sound Sweep" with my illustrations. And here, you can view an interactive narration of the story

On the other hand, in an era where huge efforts are in the making for the democratization of musical creation and accessibility, it seems unfair to see hearing impaired individuals being a part of the communal aspect of music at a very restricted level. With today's technology, we are able to cure most hearing deficincies, and the ones that are currently incurable (most kinds of sensorineural hearing loss) are being profoundly studied. Therefore, it is not the medical effort but the designer's will what seems what is missing in enlarging hearing impaired's social comfort zone today. The question I want to ask with this statement is: what can we do to create more inclusive spaces not only for those who are experiencing biological hardnesses (this is still a type of "pozitive" marginalization in fact) but to arrive to a level where these "impariment" implications are no longer relevant. In the search for an answer to this question, I decided to create a spatial music instrument to be played collectively by both hearing impaired individuals and individuals with optimal hearing!

As said, The aim of this project is not to prescribe hearing impaired people a spatial instrument so that they can start interacting with music. There are already many cures to deafness and the currently incurable kind (sensorineural hearing loss) is not to be treated with the techniques being used in this project as it is a rather a neurological deficiency than a mechanical one. This project rather aims to create a setting where hearing impaired people and people with optimal hearing can generate and listen to music together without having the impaired individuals feeling like they need an "aid" or "fix" to fully be a part of a musical context. This is eventually an attempt to revert the marginalizing effects of biological obstacles on communally shared spaces and activities

Ways of hearing

To provide a bit background on the anatomic underlays of the hearing impariment, we can broadly state that there are mainly 2 kinds of hearing impairement: sensorineural hearing loss and conductive hearing loss. Today, if you are a hearing impaired individual and if your doctor is telling you that there is nothing the medical world can do, then you are most likely to have a sensorineural hearing loss which stems from deficiencies regarding the neural pathway of the audial perception. Contrarily, the conductive hearing loss occurs due to mechanical problems in the structure of the ear itself; before the soundwave captured by pinea reach cochlea and get transformed into a neural signal through the hair cells covering cochlea. In this type of hearing loss, as the problem is between cochlea and outer ear, bone conduction based hearing implants can be of solution since they directly excite the cochlea by by-passing the outer and the middle ear. If problem is in cochlea itself generally the deficiency can be resolved by cochlear implants..
Air conduction: what an individual with optimal hearing uses.

Soundwaves hit and vibrate the ear drum in the outer ear, this mechanic force is being transferred to coclea in the inner ear, after being amplified via small bones in the middle ear. The liquid that populates coclea converts these mechanic impacts to neural signals to be transferred to brain.

Bone conduction: what makes our own voice to sound different to us than to others (think of that instance when you hear a recording of your voice and got suprised about the way you sound!

Soundwaves that reach to the human skull vibrates the x bones. These bones are directly connected to coclea where these vibrations are converted into mechano-neural forces and send to the brain.
Similarities: In both methods, the way sound in form of vibration being processed in the coclea is the same. To be able to benefit from both means, one needs a functioning coclea and audio-neural system.
Differences: Soundwaves intaken via bone conduction bypasses outer and middle ear by directly reaching to coclea. In case of an hearing impariment originating in these parts of the ear, bone conduction might provide perfect hearing.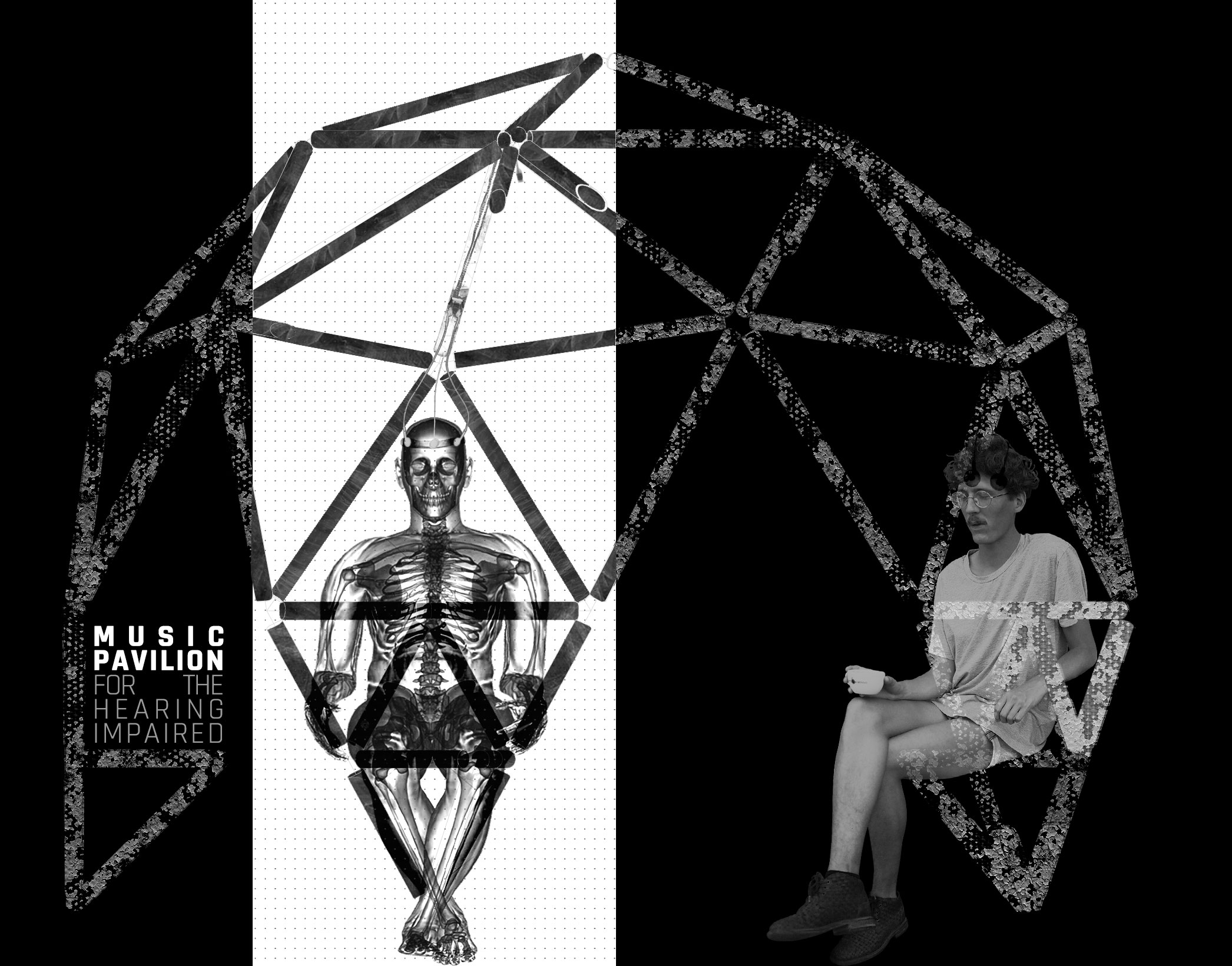 In my project, I use a simple oscilator creating a magnetic field between two cones around which a string is tangled. As the string pass across cones, the change in magnetic field vibrates the string. This vibration is them amplified via a small metal piece connecting the string and to a large canopy covering cones. This metal canopy vibrates as the string vibrates. When one press this surface againts his skull, the bones constituting the skull starts vibrating, so do cochlea as an extention of these bones. This is how a piece of sound can reach to one's cochlea without using one's outer and middle ear.
It does work very well with deaf suffering from conductive hearing loss which derives from deformation in either in the outer or the middle ear. Since bone conduction device by-passes these sections and directly reaches to the inner ear through skull bones, it enables an individual with healthy cochlea to hear clearly. However as it is a purely electro-mechanical phenomenon, it does not provide any hearing solutions for the deaf suffering from the sensorineural hearing loss.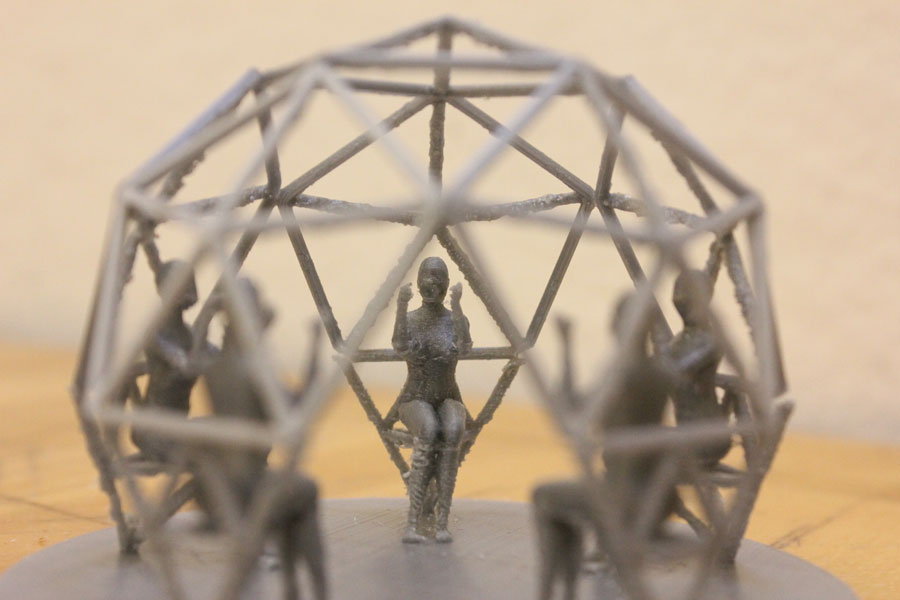 Besides providing a technical solution to hearing impairement, since the main emphasis in this project is to promote comfortable socio-sonic space for the hearing impaired, I decided to design a circular space where the users of the pavilion can see one another. Besides, the radial scenery on the whole will re-evoke the phenomenon of connectedness in a circle whose meditative emphasis has been present in human's shared exitential reality since the antiquity.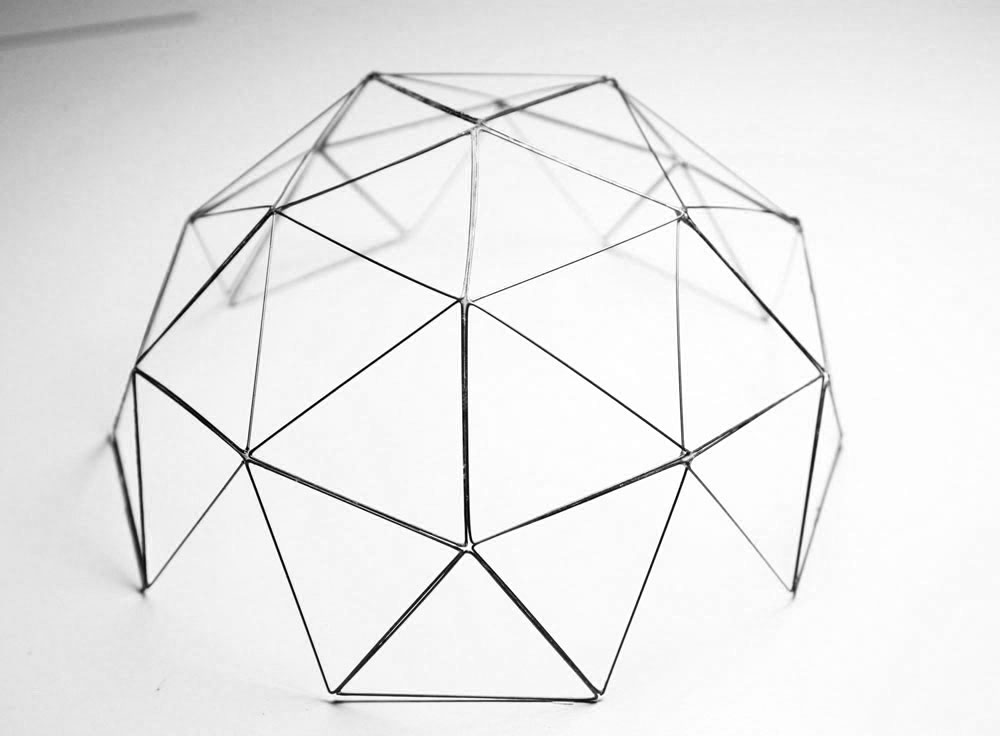 above: structural study model