3D Scanning and Printing
Clamp and hearing aid scans
---
This assignment was meant for 3D scanning and printing. If you see my final year project, the springs are loosely fitted in the spring holders and I figured that might lead to slipping. Hence, I made small clamps that would hold together the spring at the holder in place.

For 3D scanning, I scanned my hearing aid. I am intersted in making a mold for my hearing aid that allows me to swim and dive to a certain depth with it. But that would be oovered in molding and casting, hence I scanned it for later.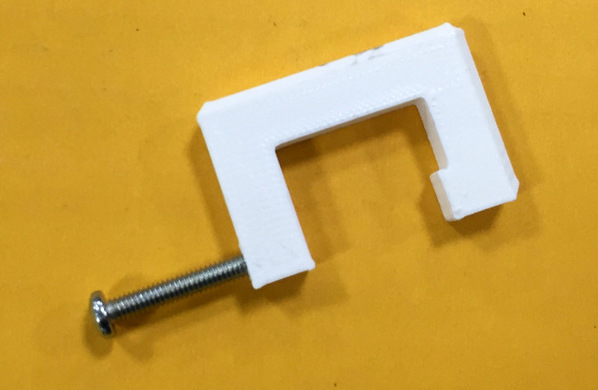 For the 3D printing, I wanted to experiment with screws and moving objects. So, I created a clamp with thread that can have screw inside it. I wasn't able to create screw easily since I had problems with convert entity feature in solidworks. I asked the TA Dan Chen, and he resolved it, thanks to that. Once that was done, I tried my hand at both ultimaker and stratasys. I didn't hope to get a good print with PLA based material in ultimaker but it did work pretty well as you can see in the pictures. ABS printing was obviously cleaner, better and stronger.

For 3D scanning, one of the things that I want to do during the course is to make a mold for my hearing aid that can allow me to swim or possibly dive in the water. I am frustrated when I can't hear sounds underwater. Also, a lot scuba intruction happens on the surface of the ocean where it gets difficult for me, as I can't wear my hearing aid. So, I used the NextGen scanner to scan my hearing aid. I spent a lot of time with post processing - filling out holes, buffing the part etc. and it came out to be usable. The top part is cut though, which I hope to refine using solidworks in near future.