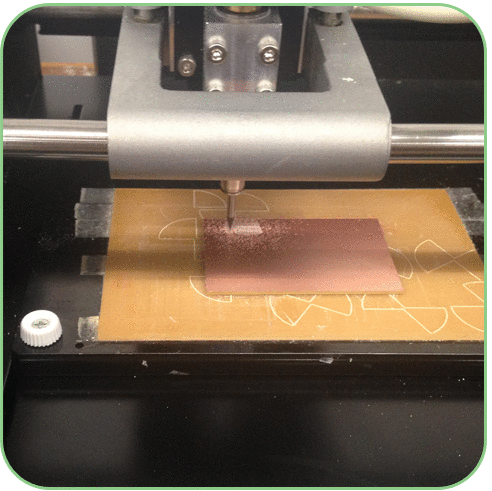 Time to mill. I secured the board stock to the milling surface, loaded the 1/64th" end-mill, set the X,Y,Z min, and off we go! Unfortunately, I ran into another set back, during the milling the board came loose from the milling surface, and the end-mill started moving the board around rather than cutting traces over it. No worries, new board, extra-tape this time to make sure the board is really secure, set the X,Y,Z and off we go again. The second time around the board stayed in place, and traces were all milled cleanly.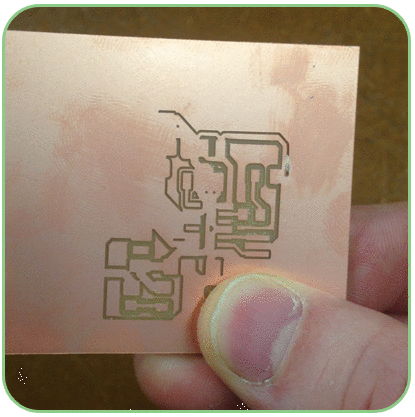 Now it was time to cut the board out of the stock. I replaced the 1/64th" end-mill with the 1/32nd" end-mill, reset the Z-axis being sure to keep the X and Y minimums exactly the same. However, despite being sure that the outline path was larger than the dimensions of my internal traces, and being careful about setting the X,Y minimums of the mill cut right through my traces, Damn it!!!!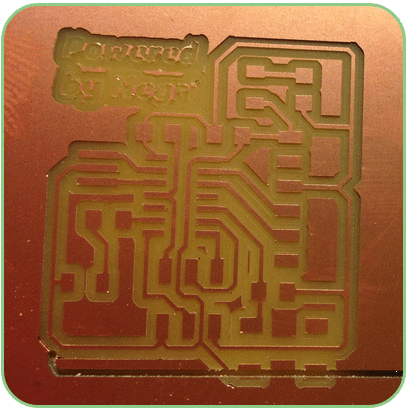 At this point, I had been at this all day and was getting tired. I knew that I could mill the traces, which is the business end of the operation, and not worry so much about cutting the board down to size. I secured a fresh piece of board stock onto the milling surface (extra tape again), replaced the 1/64th" end-mill, reset the X,Y,Z, and off we go again, again. The milling finished cleanly, and I left it at that. My personalization in the top left did not turn out well, but that was just for aesthetics anyway.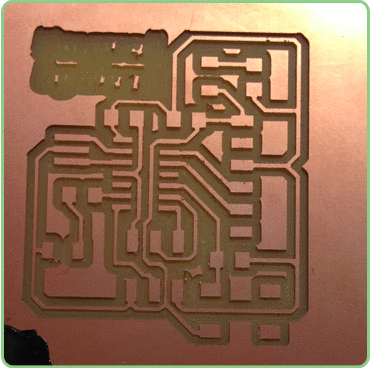 Thankfully, I got started early this week, so after my milling adventure I was able to take a break and come back to this later with fresh eyes. After the soldering practice from week 2, stuffing the board this week went pretty smoothly. Most importantly, when I hooked up the board via the FTDI header to the USB port, the power light came on! Success!!!. Next, I'll have to see if I can program the board, but that can wait for the time being. On to Molding/Casting.....