---
Modeling and Printing: for this assigment I tried to think of ways of connecting parts, towards my assembly game project. Started with working on a substraction technique model - substracting spheres from a center shape. Wasn't satisfied with the model, so moved on to another one, this time using Rhino+Grasshooper+WeaverBird (plugin) to model a 3D-triangular structure, using a voronoi function for the division.
The division is then given width, and finaly meshed.
The mesh had holes and needed to be caped before importing into the printer's software.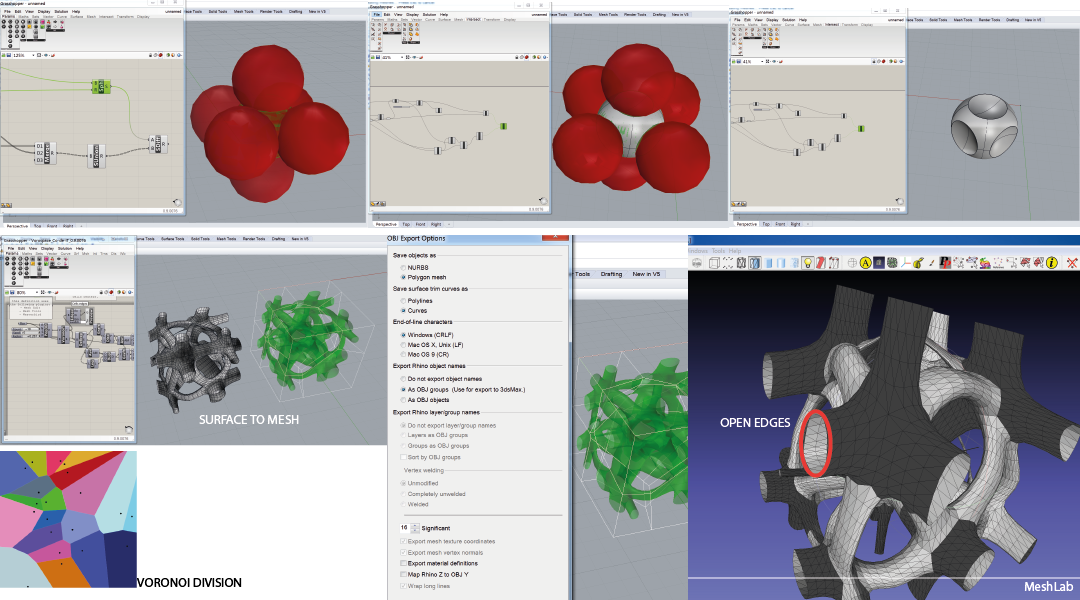 Prepering the model for printing in MeshLab
Downloaded and installed MeshLab, to work on the model, to patch the holes.
Found two ways to patch holes: one is a designated button in the menu, which give a list of all the found holes in models. And another way is an option in the menu of MeshLab.

Checking Mesh
In Rihno, loaded the mesh as it was exported from MeshLab, and checked for bad edges or holes.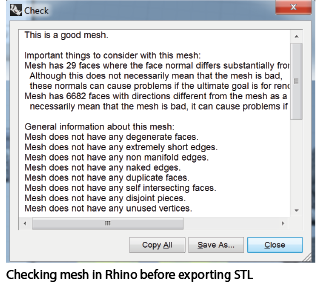 Loading model to 3DWOX interface
After loading the STL file into the 3DWOX interface, did:
Scaling (to around 3 inchs height)
Analysis of overhang
Defining areas of support material to hold overhangs
Sent to print

Out of the oven
Support material added in a vetrical ways, to create a nice hatch of between the triangles on the model


Propeller Fail
Not sure exactly what went wrong here. I suspect it has to do something with the minnimum width of material. When there is near-minnimun situation on the tray, it might loose control and print spagehtti all-over the place.

Rerun of the propeller, modeled more thick this time. No success:(


---
Scanning with IPhone + 123D Catch
Scanning with this app was fairly easy. It has a friendly interface that assists in getting all angles of object.
The synthesizing of the images into a 3d model took a long time (15mins) and the software crashed a couple of times before successiding to export a file.
It does add alot of extra background. So after retrieving the file, I cleaned it and patched holes using MeshLab.


image mapping on globe and its surroundings, in the map room


---
Scanning with SENSE handheld scanner
The experience with the SENSE scanner was not very rewording. The scanner would loose track very easly, and would not complete a full 360 degree image without getting stuck at a certain point.

Cleaning the mesh using the SENSE interface software