Final Project: Rotating Morning Star Projector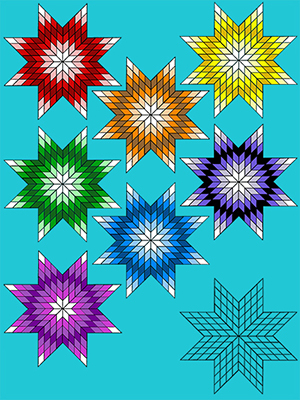 As a creator of Morningstar-patterned artwork in textiles and other media, I have found a color visualization and selection to be a challenge. It's time consuming to draw and color paper templates in order to configure a successful color scheme for a design. I would like to create an app that would allow the user to choose from an array of colors to help guide creative decisions, such as how to arrange the colors in the starburst design, how many diamonds are needed and how to create perfect geometric forms. An accompanying LED projection unit, programmed from the app, could project color choices to help the user get a sense of scale. It would also be a beautiful ambient light source.

---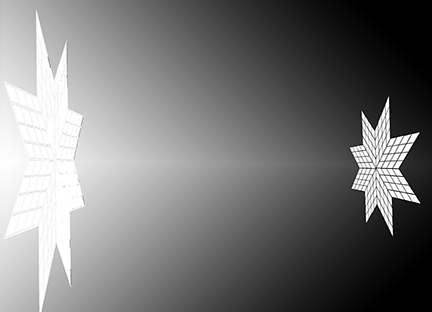 Skills used:

Computer-aided design-I used Fusion 360 to create various parts of Morningstar Lightchamber unit, which were then transferred to the shopbot, laser-cutter, and 3D printer for fabrication.
Computer-controlled cutting-Used laser-cutter to create the body of the unit, and the shopbot to create the composite base-form.
Electronics production and design-I designed my motherboard in Eagle, milled and stuffed it. I created several iterations.
3D scanning and printing-I used the website traceparts.com to find a gear wheel design which I 3D printed for my final gear design.
Computer-controlled machining-Created a 3D design for the projector base.
Embedded programming-Programmed the RGB LED board and stepper motor with code to produce colors and rotation.
Output devices-LED and stepper motor
Machine design-integrating the functions into one machine
Input devices-"On/off" switch
Interface and application programming-Create different color combinations and ways the stepper motor can rotate.
Networking and communications-motherboard connected to the stepper motor board and the MaxM LED board using I2C.
Composites-Create a base for the projection unit




---
Weekly thoughts:
Week 1 thoughts: I have faced significant struggles this week with setting up my webpage. This may mean writing an app at this stage is out of reach. Perhaps creating a remote control would be a more viable route and would achieve a similar result.

Week 2: In using the epilog to cut out my diamond shapes, I have realized there is a limitation on what kind of materials can be cut in the machine. If I am looking for a clear plastic substrate, I must use an approved plastic substance. I ran into some difficulty with creating the notches which joined my pieces together, and I realized that I will have to do several test runs of the diamond shape in order to arrive at a final design which will match the specifications to make the unit work.

Week 3: I'm thinking about an appropriate design for a circuitboard for my project.

Week 4: This week had me again re-evaluating my proposed final project. I am becoming interested in creating a robot-like structure with unique, sculptural three-dimensional parts. Still if I choose to move forward with the Morningstar light projection unit, I will need to lay out the design and decide where the 3D printed elements will be located, and what need 3D printed parts would serve.

Week 5: Electronics design is challenging and had me thinking about how I would combine components to do the tasks I hope to accomplish in my final project. Without kowing how to program the boards, it's still a bit of a mystery to me how it will all come together, but I do have the skills now to design and produce the circuit board that will be needed. One of the components I would like to try working with is a photodiode. I think it would be exciting to power the object with light, the way solar panels do.
Week 6: This week I have considered how my final project can benefit from the use of the shopbot and I can see creating a stand, perhaps on wheels for the projector.
Week7: I have begun to narrow down what my final project will be. I had done work and research on creating a box where people could speak the names of the missing and murdered indigenous women into a microphone inside the box, and there would be unit inside the box that would record it and store it and then the user could access a button panel to playback a single name, all the names, on demand, amplifying the name on the speaker. The box would be made beautifully, using the CNC cutter to cut out an image of a woman in wood, where the speaker's sound would come out. This project also seems very daunting, and I wonder if it would be possible for me. I spoke with TA Prashad about this and he said from a programming standpoint, it would be fairly easy to write the program for this. This is good to know, and I am still trying to decide if I want to go in this direction. It's a very difficult project to do emotionally, and might be too heavy of subject matter to use when learning new technology. If I can learn the technology, this is a project I can do at a later time when I am more proficient.
After further reflection on the flexibility of the Morningstar form, I continued to consider the possibility of creating a Morningstar projector, in a format altered from the original vision. Instead of a color chooser, it would use a kaleidoscope rotating inside of the unit with light shining through it to project the Morningstar image onto a wall or surface. My son Sam inspired me to do this by shining a flashlight through a clear flat box of colored glass beads. As he rotated the box, the light projected beautiful colors and shapes to the wall. With this project, the programming would have to turn on the light and rotate the interior cartridge containing glass beads of differing shapes and colors. The programming could be written to include different speeds of rotation, low medium and high. Perhaps the cartridge could be opened to add different materials that would have a different effect on the projection. I am leaning towards doing this, since it is in better alignment with my initial goals for this class.

Week 8: Creating the four diamond morningstar form in Fusion was very helpful. It will serve as a template for the final project parametric image. I also considered the possibility of casting a lens for the projector.

Week 9:This week I attempted to create the board that I will need for my project. I will need two outputs, and LED array or RBG and a DC Motor.This week has really helped to to solidify what I will need to do to accomplish my final project.

Week 10: This week has taugh me about the many streams of workflow that must occur in order to successfully create a machine.

Week 11: This week I did research on light/ optics. As an artist I have much experience working with color, but only with paints and pigments, which are merely light reflective. It's a whole new world to me to study color through light emission. Optics is fascinating and I began looking at the work of early scientists who studied light, including Thomas Young. I want to learn more and I'm excited for this project, which will give me the opportunity to experiment with light.