A special thank you to Tom, who totally foresaw this and enlarged my print for the second iteration! At least I still had the large one. I continued to agitate it in a coffeecup filled with warm water, and I carried it around to my classes. By the time I got home, after around 10 hours of sitting in lukewarm water with occasional agitation (as I walked), the outside ball had mostly dissolved-- leaving scraps of 3D-printed lace in its wake (shown here with some scraps of the smaller ball):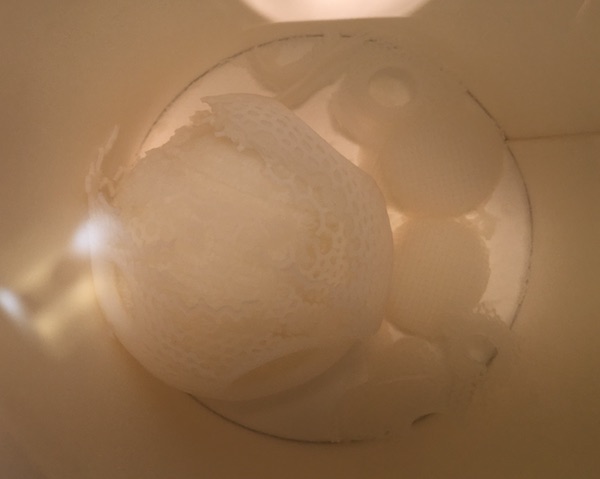 What could I have done differently? Obviously the details in my design were way too precise for the original small print, and the nested ball thing didn't work with so much hard-to-excise support materials. On further consideration (and after some consultation with Tom), we realized that none of the printers in the CBA shop would work all that well for this design: the extrusion printers can't achieve such fine detail, and the FormLabs printer would require too many supports that would have to be mechanically removed. Perhaps a different type of material would have resulted in a functional puzzle ball, if I could chemically dissolve the support after printing.
On the design side, the way in which I patterned the spheres ended up turning both the outside and inside surfaces of each sphere into a Voronoi lattice, so there was very little structural material remaining throughout the entire print. To fix this entire thing, I could make each sphere into a solid entity with a single pattern running through both sides of each shell, which could at least double the thickness of the shells. (I actually tried to do this the first time I imported into Meshmixer, but couldn't figure it out and then decided I liked the 6 layers of lattice.) I should make the whole print larger, too.
If I had enough patience and time, I suppose I could take a hint from the master craftspeople who made the original puzzle balls out of jade and ivory, and meticulously clear out every spherical layer with a drill or chisel.
Meanwhile, I'm going to call this a Highly Educational Experience. Perhaps I can say the destroyed Death Star look is artistic or something: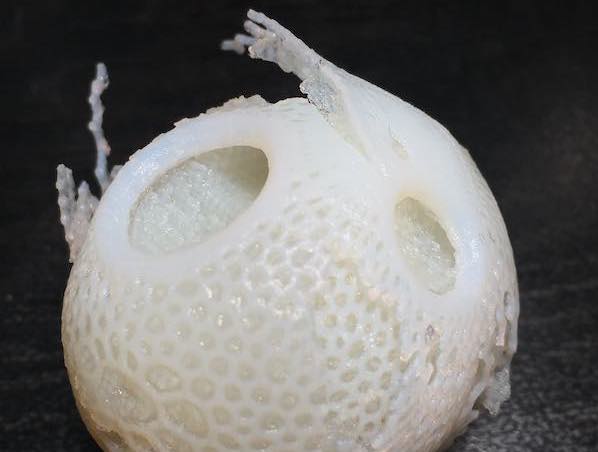 Update: several weeks later
The inner parts of the 3D print dried up, so I removed them with tweezers.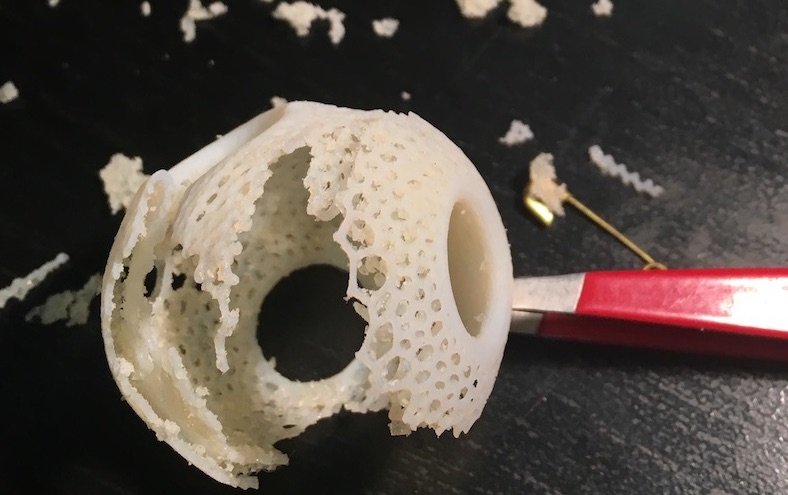 Since the lace outside of the ball had ripped, I decided to fix it the same way that I fix most ripped things: with a needle and thread. Now it looks even more like some kind of Art...