Home
Week 5 - Circuit Design
This week, I learned how to design a printed circuit board. I added spaces for components such as a processing unit, resistors, and a buttton to a schematic using Eagle. Then, I milled it out using the skills I learned two weeks ago, and soldered the components on.
Things I learned
Eagle
Pull up resistors - kinda
Keep the circuit clean from the beginning - less time than having to go back and fix it
The Process + Pics
I attended a tutorial on Thursday to learn how to use Eagle, a software by Autodesk that makes PCB design easy (or at least easier). The TA was super helpful in showing us the steps to make a basic circuit and in answering our questions. I then finished the circuit diagram in my own time later.
First, I had to download a library of components that I could use in the circuit; these were the items available to us in the inventory. Then, using the "add" button, I placed a few of the components on the board, and using "net", made connections between all the features. Adding the LED and the button was a little tricky, because I had to make sure each of them had a resistor to act as a "pull-up." Originally, this is what my schematic looked like.
I decided that although this was functional, I wanted a clean circuit (even though this isn't what the PCB would look like), so I cleaned up the connections. So then, it was like this: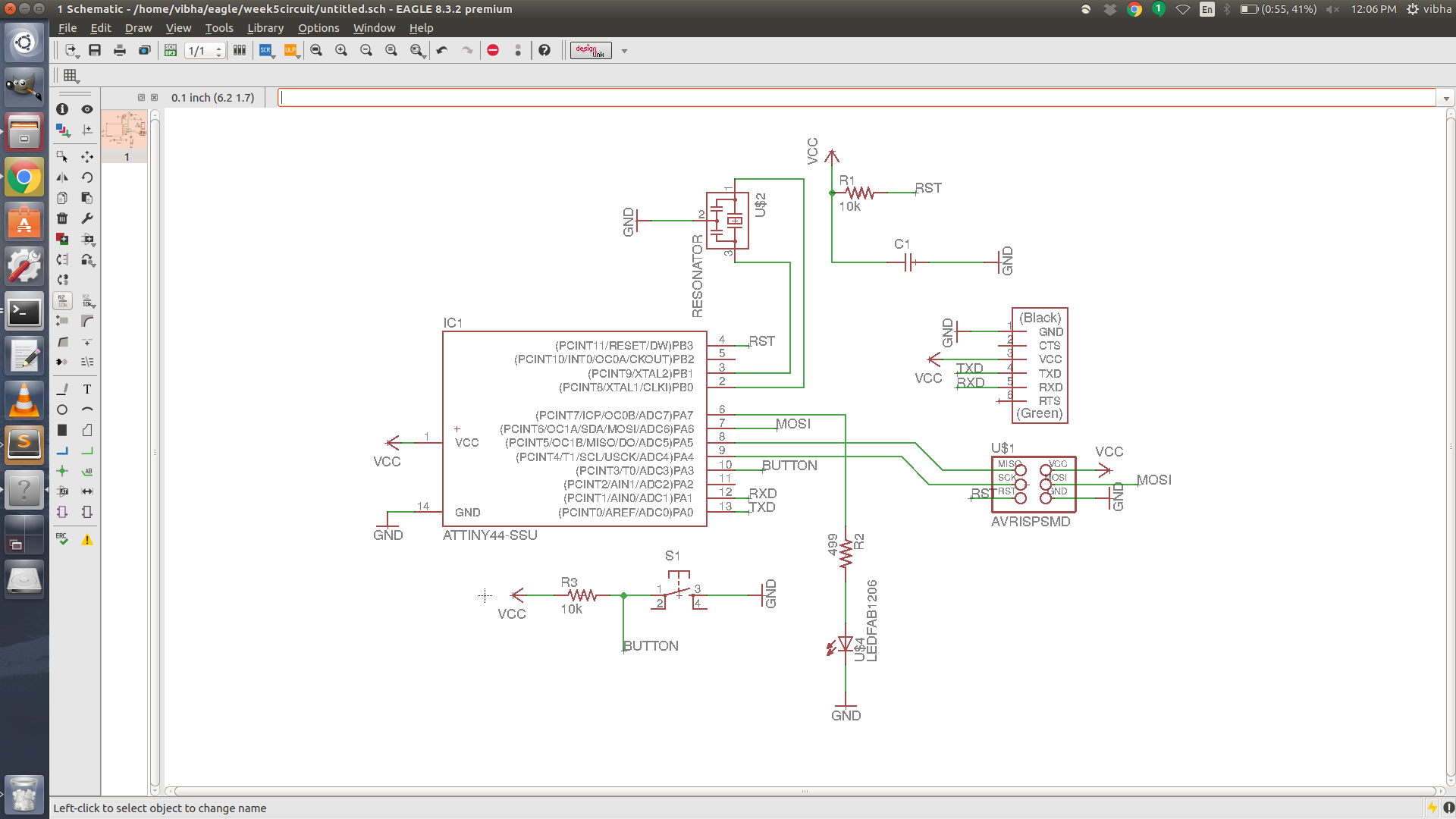 Then, I made my actual schematic. This part was tricky, but much easier with the reference diagram we had. Without it, it would have been an actual puzzle! To convert the picture, I selected only the layer I wanted, set it to monochromatic, and 1000dpi. Once my traces were a png image, and I had an outline, I sent it over to the milling machine. Once it was done there, I soldered on the components and programmed it!. Here are what the png files look like.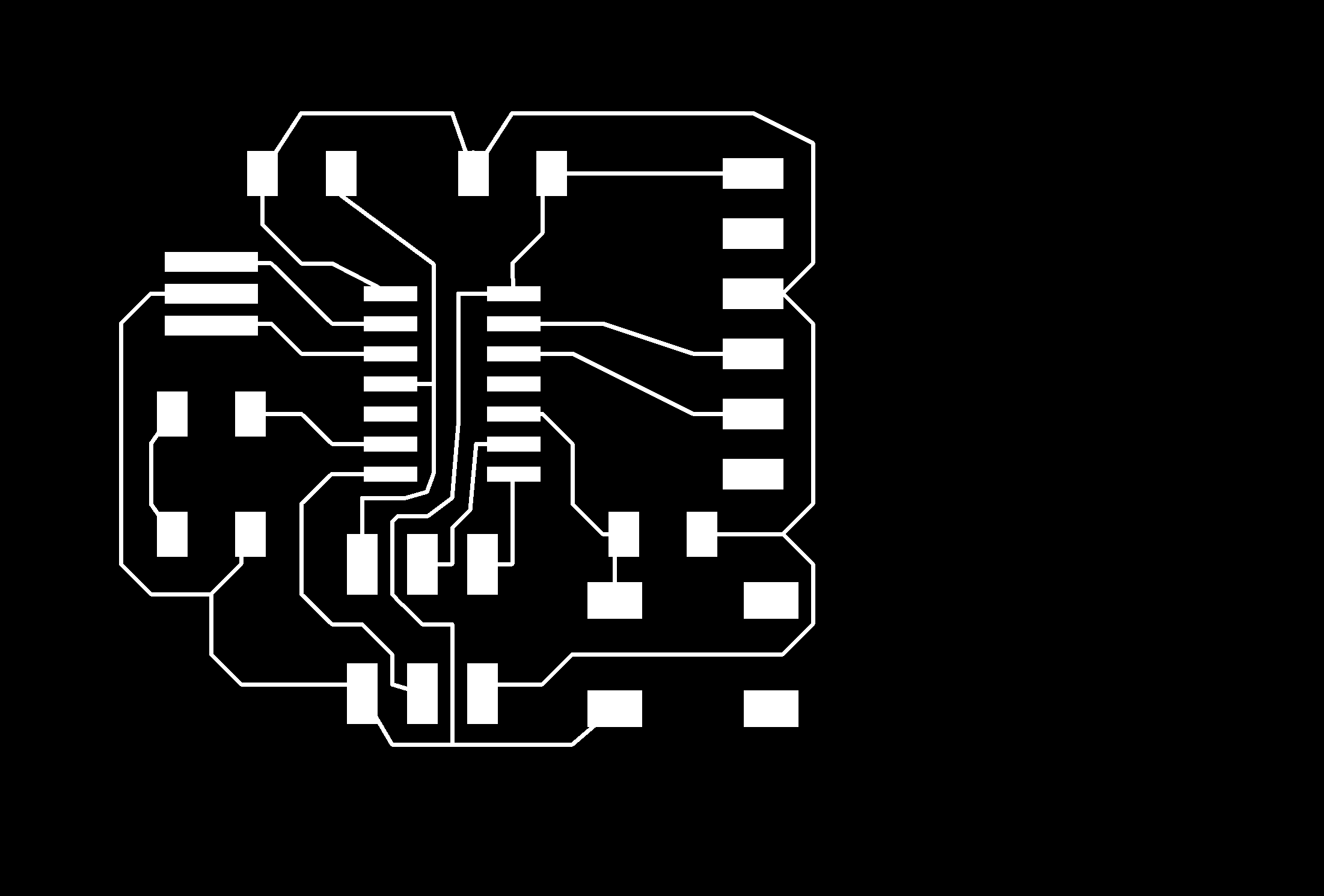 And here's what it looked like in the end!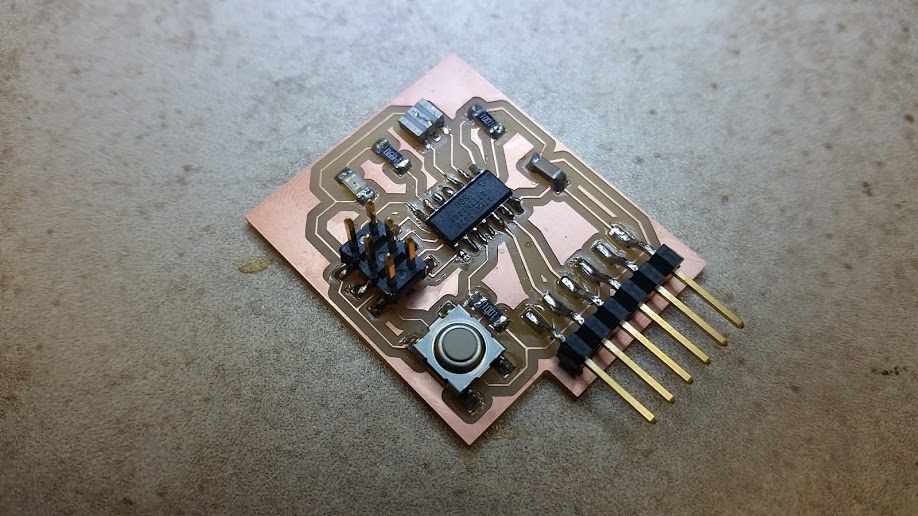 Difficulties
routing the board with enough spaces between the lines
designing the base - originally it was double outline
programming it - the serial still doesn't work