Week 05
computer-controlled machining
---
Files
---
Design
Tasked with the assignment "make something big," I set to work on a new coffee table. My current one is a bit smaller than I'd like, and my roommates would like to be able to keep a projector under it.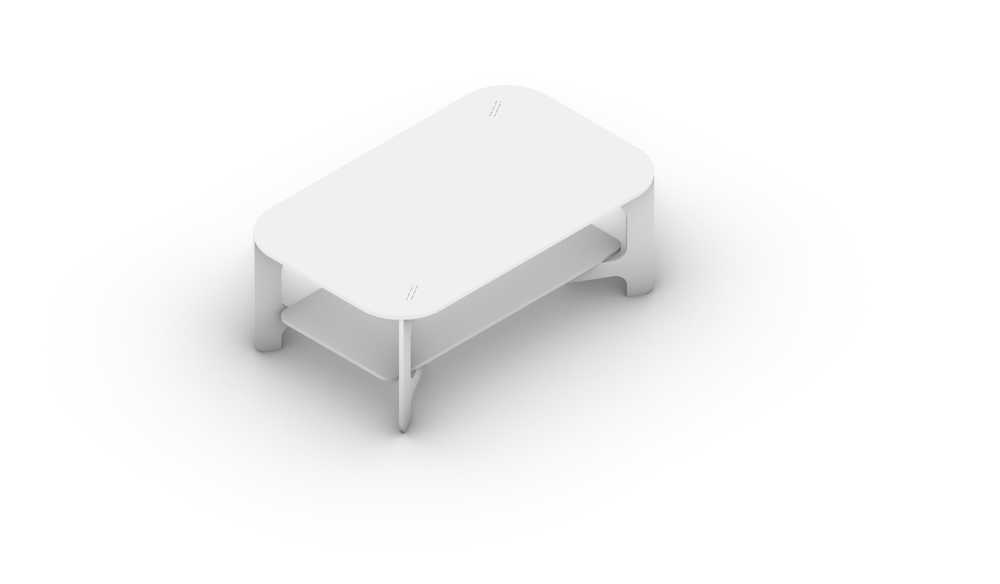 I started by measuring the existing table and projector to come up with dimensions.
---
Cut Files
After settling on a rough form, I made 2d cut files in Rhino. The bottom is made up of two loops that interlock in an 'X' below the top surface. To make sure that these could actually be assembled, the lower strut on one of them is removable. This also helped things fit onto the 4' x 8' sheet of OSB more efficienctly.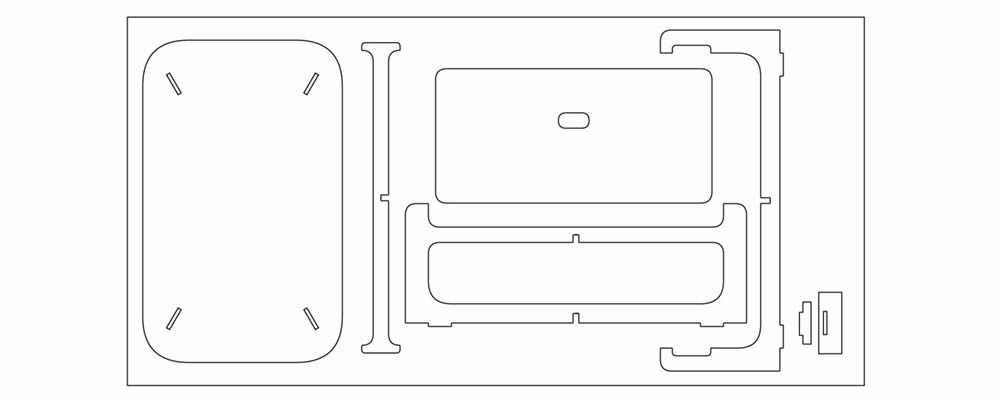 The tabletop has four slots in it that allow it to lock into the base below. I drew these as blocks in Rhino so that I could do a test cut first to determine their ideal size and update their precise dimentions on the day that it was cut. I added a grommet to the lower shelf to allow the projector cables to get down to the floor.
I added a layer with points to make it easy to set up drill points later in Mastercam.
---
CAD/CAM
I brought the files into Mastercam and began to set them up for cutting, starting with my test piece. I had placed points in Rhino based on a 1⁄4" drill, but the shop only had 1⁄8" so I had to move them around in Rhino and merge again into Mastercam. I remerged a few times, including one time to fix discontinuous and overlapping lines in Rhino that were causing strange toolpaths.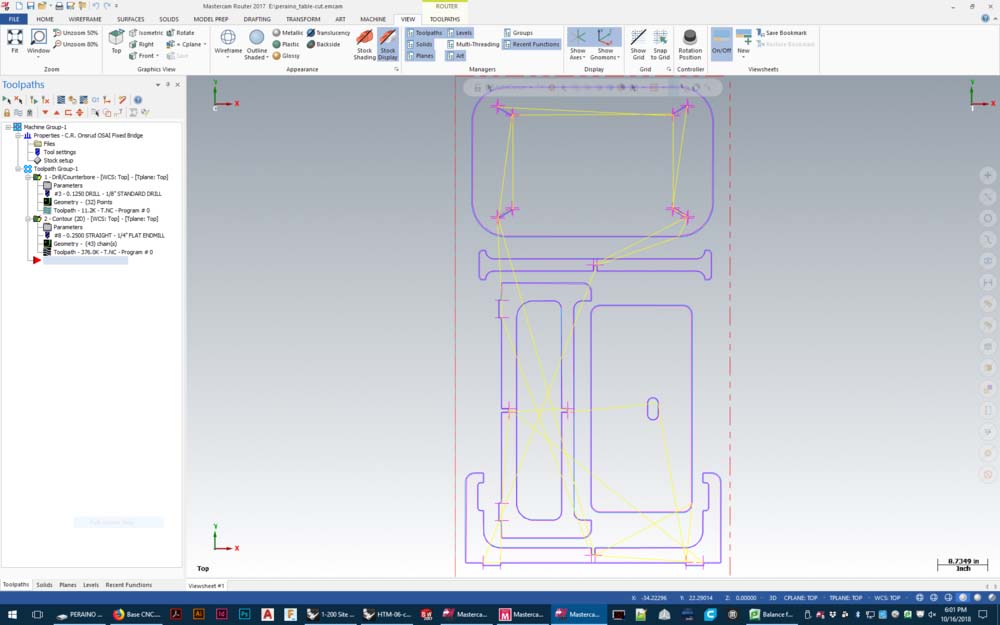 I set two kinds of parameters-a drill for dogboning and the endmill for cutting. I used shop standard settings for these.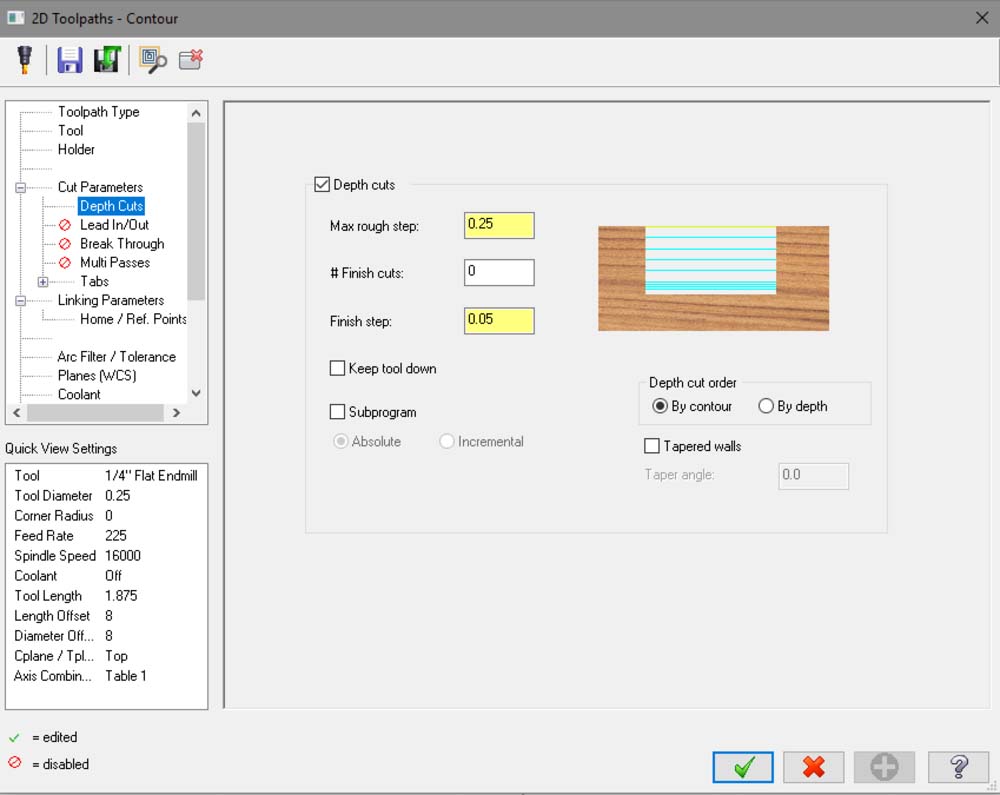 It was much easier than I expected to add tabs to the file directly in Mastercam. I added 3-4 tabs per piece to make sure that the pieces stayed down while cutting. The larger pieces like the tabletop didn't need these, and were held down by the vaccuum.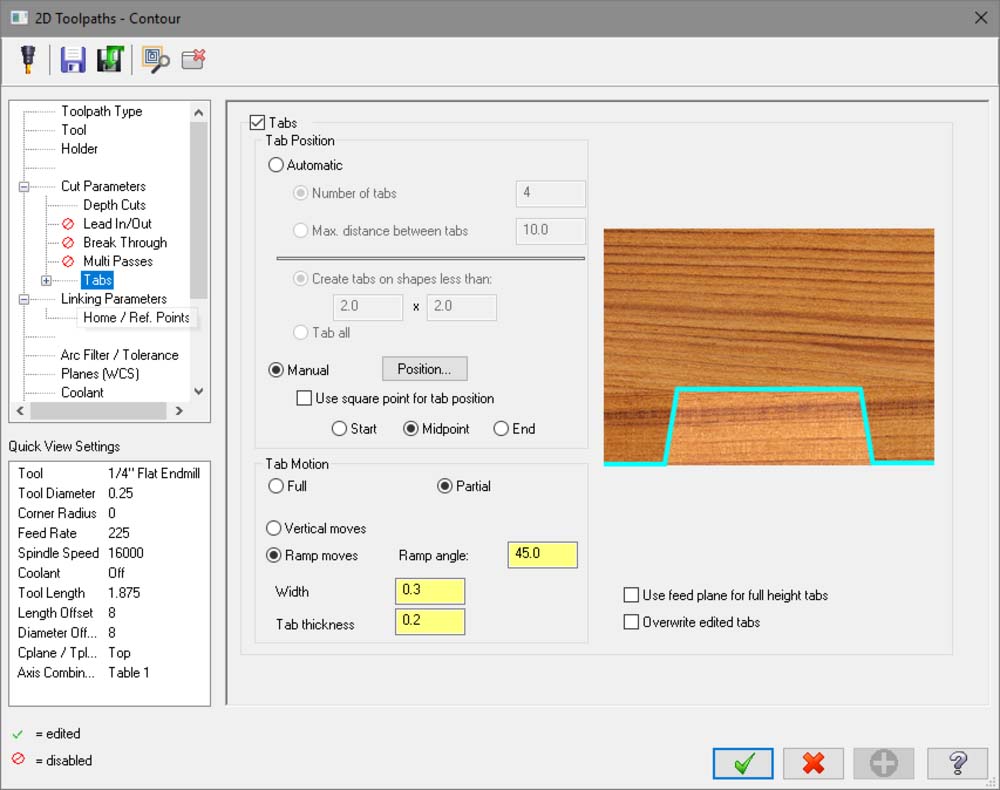 ---
Milling
Milling went smoothly. I did a test cut first to test the notch dimensions, and verify that the dogboning would work. I found that the material was 0.45" thick, so adjusted the rhino file accordingly and brought it back into Mastercam.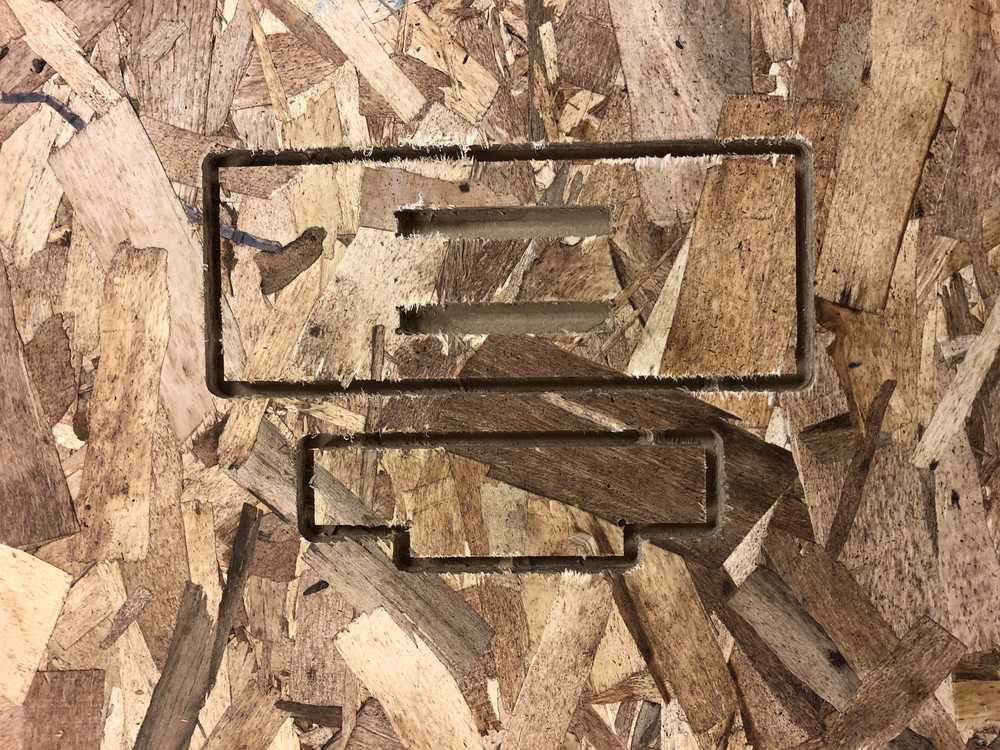 The OSB was a splinter hazard after it was cut.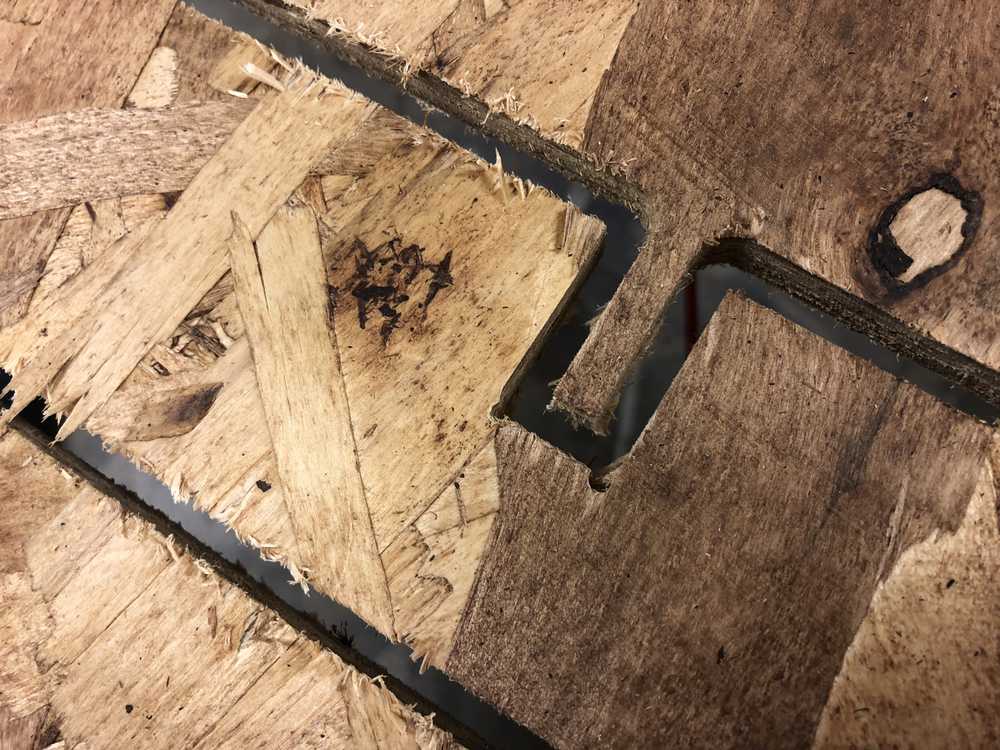 The tabs helped keep pieces in place.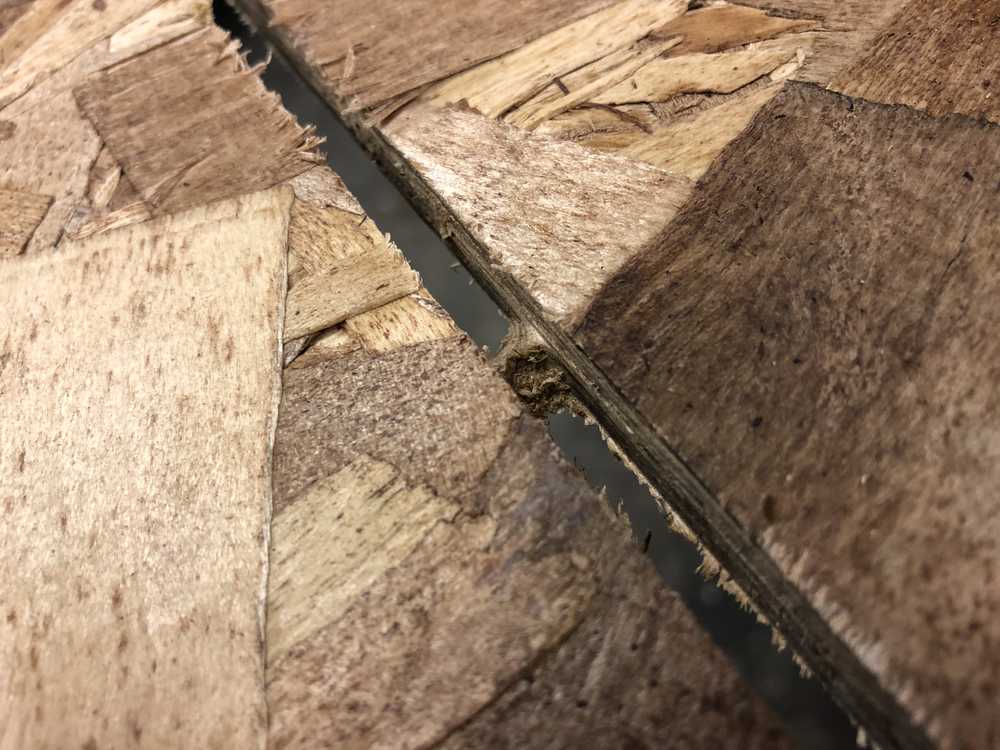 Here are all the pieces after they were cut. The lowest strut had a weak point in the middle where it notched into the other lower strut, and broke as I was taking it off of the mill. This turned out not to be too problematic, since the OSB's roughness held things together.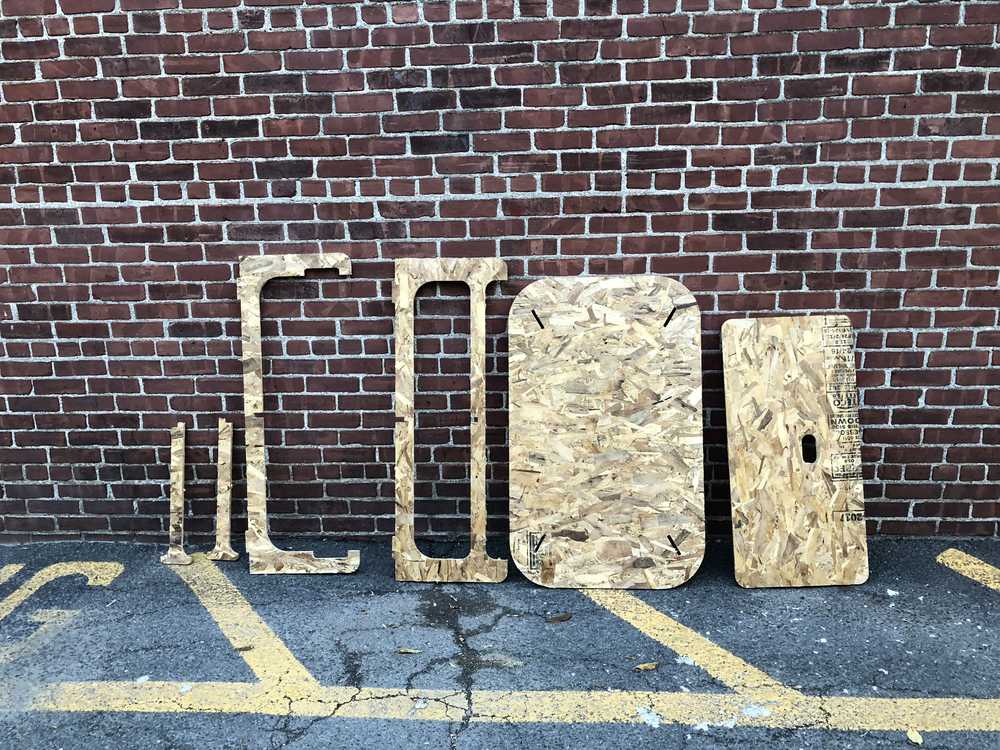 Here's the sheet with all the pieces cut out.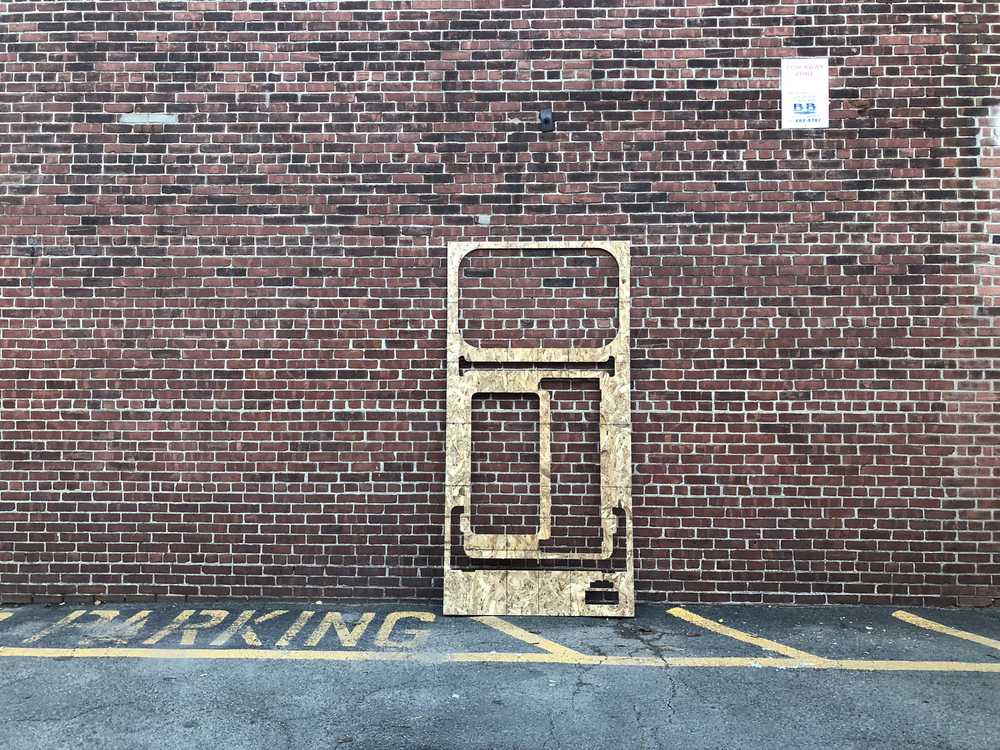 ---
Assembly and Sanding
Pieces came together as expected. Some of the connections could be made tighter, like the one below.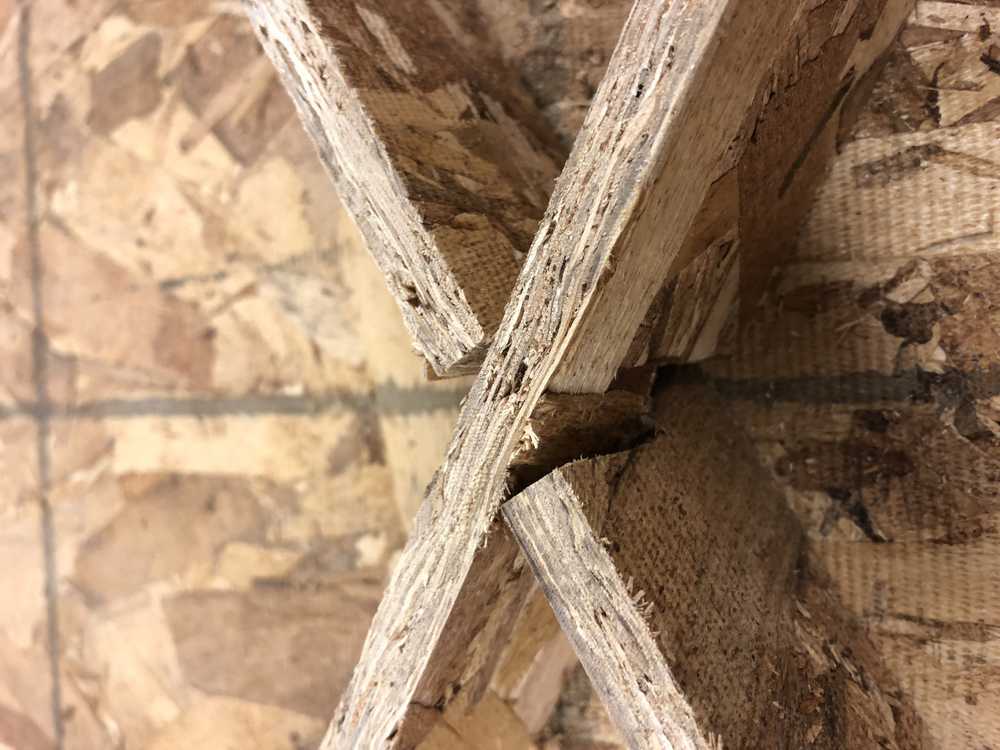 The OSB cut roughly, and the drilled holes didn't seem to be placed as precisely as I would have liked.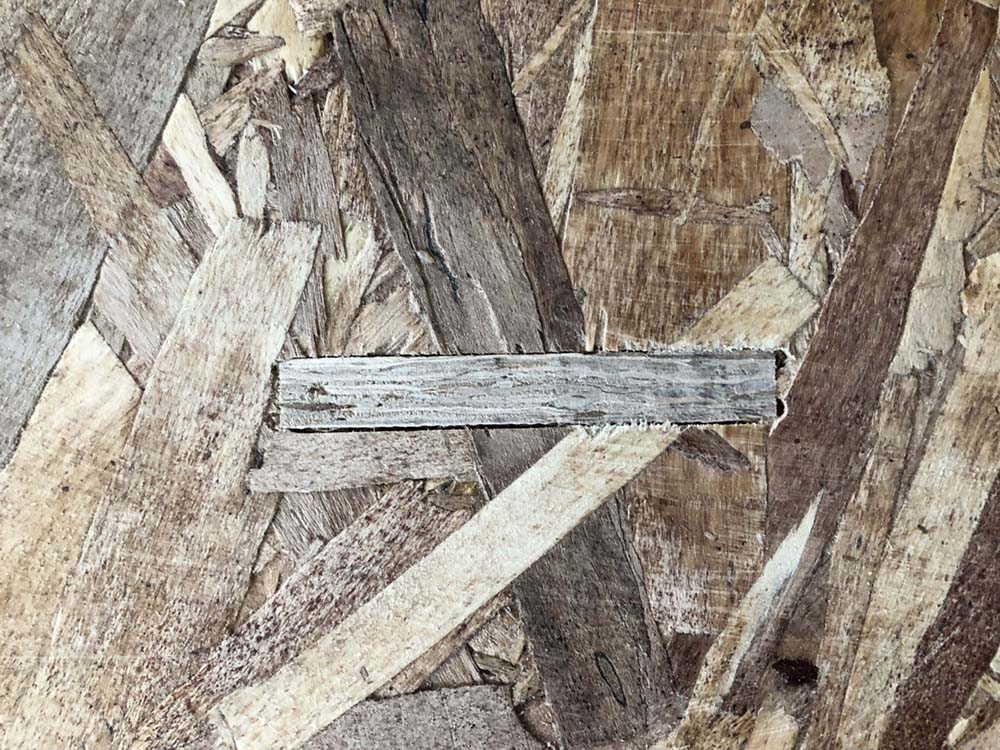 The table required a ton of sanding to get all of the splinters off the edge, and still, the OSB isn't a very comfortable material to put your feet up on. I'd like to try to make a second version that's a bit more sturdy and made out of a nicer plywood material.
The finished table: