Massachusetts Institute of Technology
Center for Bits and Atoms
Digital Fabrication Facility
Welding Shop E14-151B
E14-151B EHS rep Seth Cimarron Avecilla sethcim@mit.edu
SOP update history:March 10, 2014 John DiFrancesco
Only authorized & trained personnel shall be allowed access to the machine shop. Entry doors are secured with card reader access control systems.
The Welding shop has two purposes
Welding and molding/casting
Shop Hours:
Undergraduate students are only to use the shop during normal working hours: Monday through Friday, 8 a.m. to 5 p.m.
Graduate students and Staff are allowed 24/7 access
Welding hours:
Graduate students, Staff and Undergraduate students are only to use the welding shop during normal working hours: Monday through Friday, 8 a.m. to 5 p.m.
The welders are electrically locked out; permission is required to weld.
Contacts:
John DiFrancesco difran@cba.mit.edu
Tom Lutz tom.lutz@cba.mit.edu
Seth Cimarron Avecilla sethcim@mit.edu
Welding:
Personal Safety:
1. You must be authorized to use the Welding Metal Shop.
2. Safety glasses must be worn at all times while in the Welding Metal Shop. (Do no wear contact lenses.)
3. Use the eyewash station if any foreign object gets in your eyes. It is in the Project Room next door.
4. Proper clothing must be worn. Synthetics like rayon can catch fire and melt. Also, no frayed edges or cuffs should be present. Proper footwear is mandatory.
5. Always wear a full face grinding shield when grinding or sanding, in addition to wearing safety glasses.
6. No Jewelry should be worn in the Metal Shop (e.g. rings, bracelets, earrings, or necklaces. Metal sparks can adhere to jewelry and cause severe burns)
7. Butane lighters, matches or medical inhalers, are not allowed in the Metal Shop. They can explode from excessive heat or sparks. 8. Be aware of the location of the fire extinguisher.
Welding Safety:
1. Always wear a welding shield of #10, minimum for MIG welding and # 4 or #5 for Oxy-fuel welding or cutting.
2. Safety glasses must be worn underneath the welding helmet.
3. Be sure to never look directly at the welding arc without the proper eye shield for this could cause flashbburn to occur and in extreme cases may cause permanent eye damage and may need medical attention.
4. Be sure to work behind the welding curtains to protect other people from the arc.
5. No skin should be exposed when welding so proper leather gloves, aprons, jackets, and leather shoe covers should be worn.
6. Always tie long hair up and use a hat or cap while welding.
7. Absolutely no jewelry is allowed to be worn.
8. Never pick up any metal without leather gloves or a pair of pliers. Metal may have been just cut or welded and may cause severe burns.
Welding Shield
Shade Chart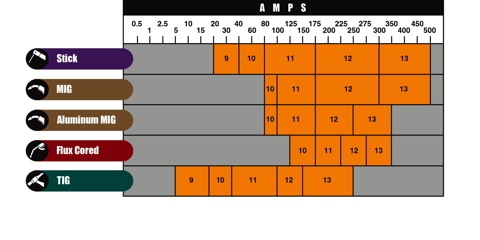 Safety Regulations
Use of this facility requires the use of standard safety precautions at all times. To include but not limited to:
Never work alone

Be aware of how to stop the machine youíre planning to use, and how to call for help (dial 100 from any MIT phone for medical, police, and fire emergencies).

Safety glasses are your responsibility. You may not work in this space without them. If there arenít any available when you enter the shop,

its

no excuse to work without them.

Only closed-toe shoes may be worn

Long hair should be tied up, loose clothes should be tightened, and dangling jewelry should be removed. These can all get caught in the machines.

Do not leave tools in the machine when youíre done. Put them in their proper home.

Always know the safe operation of the machines you wish to run. If unfamiliar with a particular machine, see the shop staff.

Do not make parts in haste. Plan your job and procedures in advance. Determine what special tools you may need.

Use the

shopvac

to remove chips from a machine; do NOT use your hands
Wear a dust mask when performing grinding or other operations that may generate fine airborne particles
You are required to report all issued, accidents, and tool breakages to John

DiFrancesco

or Tom Lutz.

You will not grant permission for any use of this facility. Access to this machine shop is through the shop administrative group only.

No food is allowed in the shop.

Gloves must not be worn around most machine tools.

Respect the machines and what they can (and canít) do never, ever use the machines for anything other than what they were designed to do, and never tamper, alter, or play with the equipment!

You are required to clean your machine and sweep your work area before leaving.
Tools and Materials
(a) Tools in the shop are the responsibility of the user. If they were missing when you came in, tell us. If it is broken we will do our best to replace it. Do not remove any tools from the shop. We may be able to loan some special tools. An ID is required for any tool loan. This will be handled on a case by case basis. Plan ahead for tool needs.
(b) Materials are not provided. Shop staff may be able to direct you to resources and vendors for your machine materials. There are designated scrap areas but they are not to be relied upon.
(c) Do not store any materials in the shop. Do not add or store any furniture or equipment in the shop without permission. Do not leave unfinished projects in the shop without permission. You must remove projects to leave the space available for other users. If such parts are found they may become part of a scrap pile!
Violation of any of the above or improper use of the machine shop may result in loss of access to this facility. The shop is an evolutionary process. A degree of responsibility in maintaining the shop is assumed on the part of the students using the facility. This includes cleaning up after oneself, returning tools to their appropriate locations, not leaving parts in the machines overnight, etc.
John DiFrancesco difran@cba.mit.edu x3-8136
Tom Lutz tom.lutz@cba.mit.edu x3-5789