WEEK09: input devices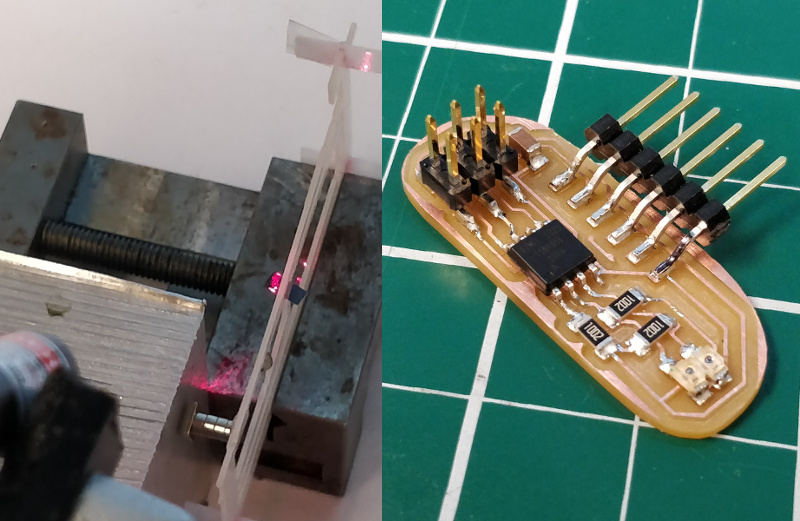 This week we learned about electronic input devices. These systems span a broad range of technologies, from cheap and tiny resistance-based temperature sensors to expensive and large gas analyzers. The class focused on the simpler side of sensors we could realistically integrate into our final projects, such as phototransistors, RTDs, and low-resolution cameras. Of particular interest to the class were step response sensors that rely on sensitive capacitance measurements to reflect many different physical phenomena. Our assignment this week was twofold: first, probe an input device's analog levels and digital signals as a group; and second, add a sensor to a microcontroller board we designed, and read its output.
files
capacitive touch plates
Aubrey and I decided to take a closer look at capacitive touch plates, as he intends to use a number of these sensors for his final project and I am generally fascinated by the method. We started with an
STM32F412 Nucleo board
since I had a few on hand. The setup is quite simple: an open GPIO line is tied to the touch plate and the pin is periodically flipped from low to high and back again, generating a square wave: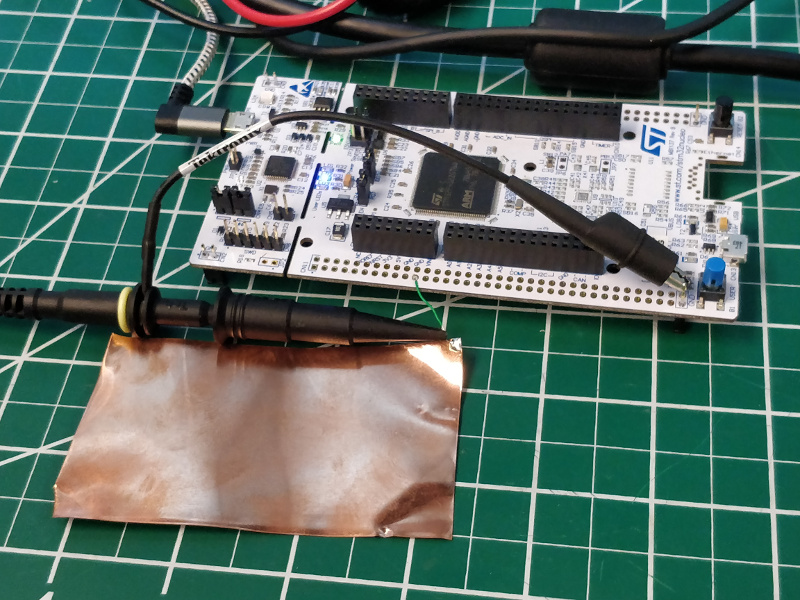 The oscilloscope probe allows one to view the waveform as it changes according to external effects. This clip shows the waveform rise time stretching out when one touches the plate; this happens because the user increases the pin's capacitance to ground, so the circuit's RC time constant goes up:
Using the oscilloscope's measurement functions, we averaged rise time over a number of samples, first with nothing touching the plate: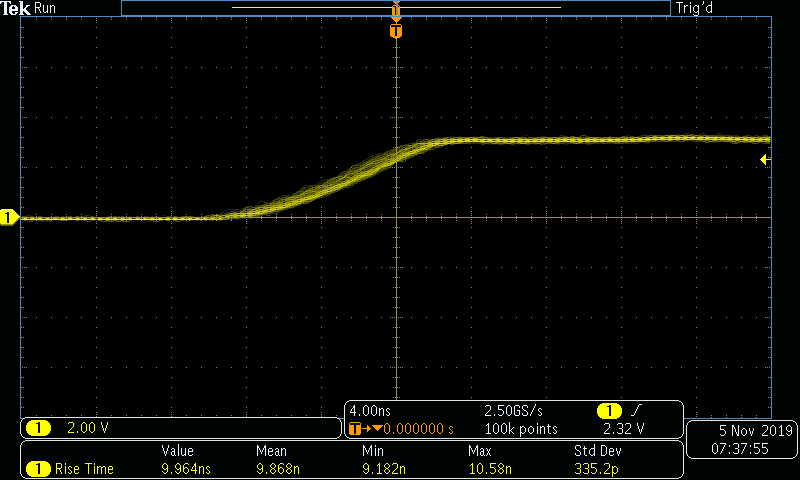 ... and then with a hand on the plate, demonstrating a 27% increase in rise time from 9.87 ns to 12.52 ns: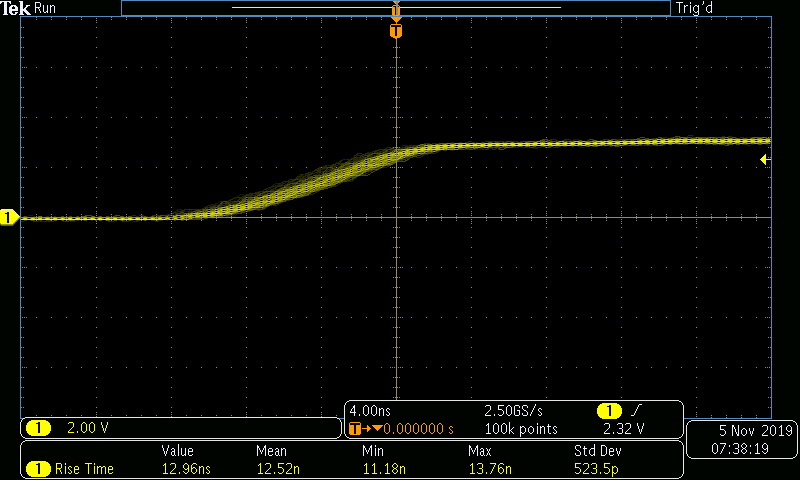 One may not want to integrate an expensive and bulky oscilloscope into their project; in most touch sensor implementations, the designer uses another GPIO pin to watch the first. An analog comparator tied to a timer can determine the precise moment the pin voltage crosses a given point, or the ADC can be used to directly sample the waveform so the exact cutoff curve can be selected as needed for the application. Choosing which method to use depends on microcontroller speed, program development overhead, and application requirements.
weighing 0402 capacitors
I haven't made much progress on my
final project
in a few weeks. I ran into a bit of a wall; I wasn't able to machine acetal flexures fine enough to deflect a detectable amount under small loads. Based on my simulations and machining capabilities, I estimated flexure displacement at a few tens of microns, which I suspect is not enough to block a beam and be detected as a change in light intensity. I focused on other weekly projects. This week we met with TAs to discuss our final projects. When I sat down with Jiri, he suggested following the feedback method used in atomic force microscopy. These systems use a microscopic cantilever to scan a surface, measuring its displacement (caused by inter-atomic between the probe and the sample) by bouncing a laser off a mirror on top of the probe, as illustrated in this public domain image from Wikipedia: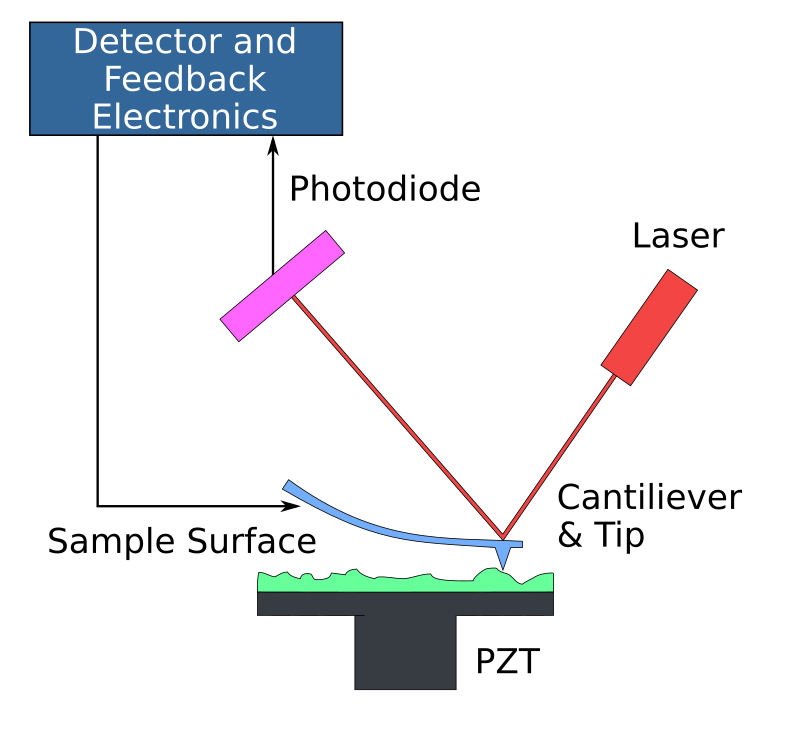 The mirror acts like a fulcrum, and the distance to the photodiode is a lever arm; in other words, this setup greatly amplifies the displacement of the mirror, providing an enormous boost in resolution. I found the shiniest, flattest thing near my desk -- somehow, a scrap of polished silicon wafer -- and glued it to one of my flexures after stripping out the magnetic bits. You can see it here in a small vise, illuminated by a diode laser: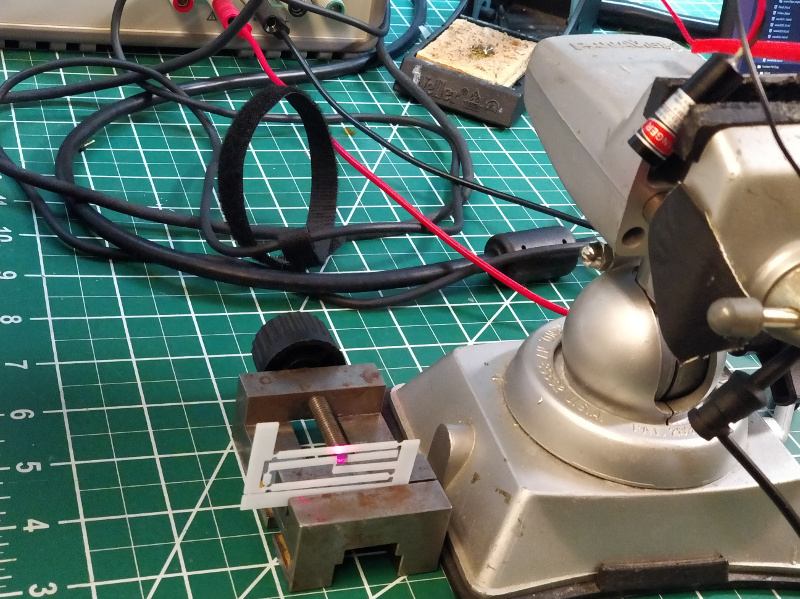 AFMs use a quad photodiode to detect beam position by amplifying the differential intensity between the various elements. Lacking this fancy component, I added a second sensor to Neil's phototransistor
hello world board
. I called the board 'doublesense', and went with a curvy outline rather than angled edge cuts; note the proximity of the two phototransistors: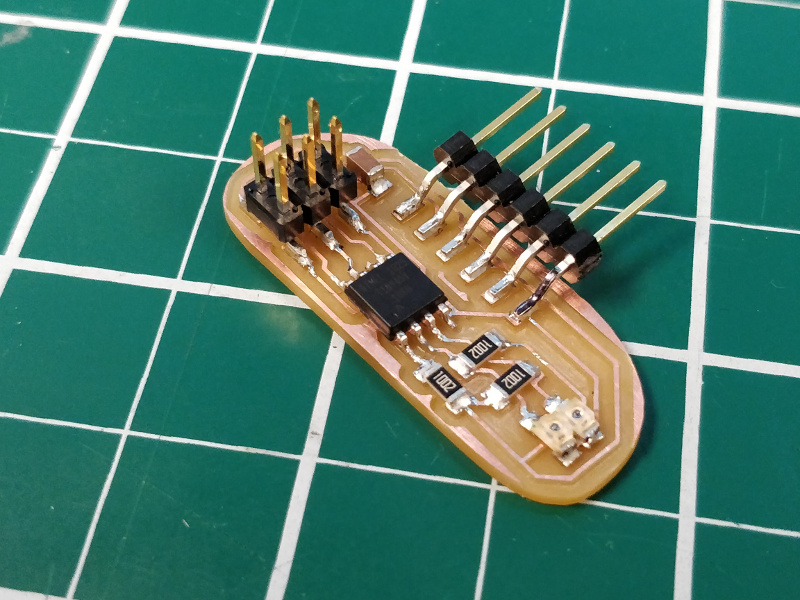 After a bit of alignment, I ran into another issue: vibration. A minor disturbance of the flexure set the beam shaking for some time:
Neil's Python script, which simply reflects the intensity of one phototransistor, displayed this vibration as massive variation in raw measurement count:
Aha! Enter the second breakthrough of the day. I happened to use a few tiny powerful magnets to balance the scale. I grabbed a chunk of aluminum stock and placed it close to the magnets so they swung near without touching it: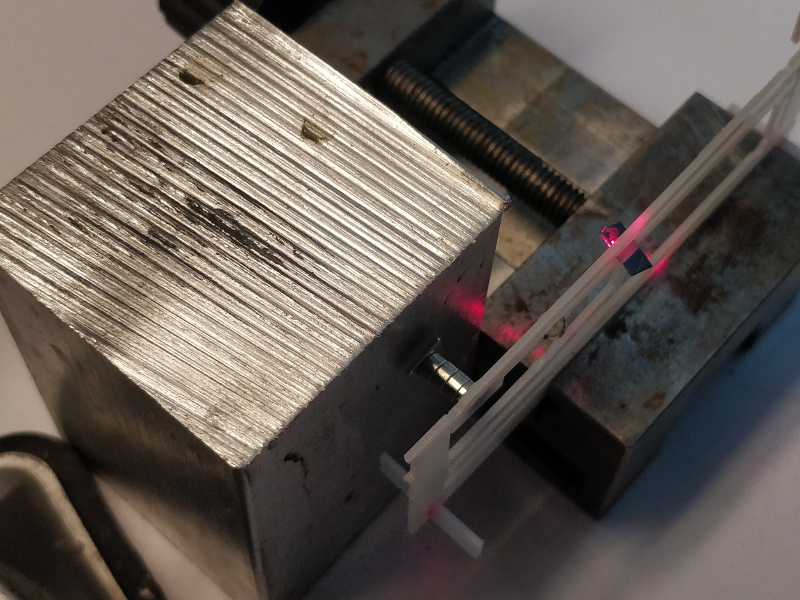 Eddy current damping
! This made a huge difference:
Again, here is the intensity readout on my computer; it settles after minimal oscillations:
I tried some experiments with differential light measurement using both phototransistors, but found that I needed a better baffling scheme to avoid crosstalk between the sensors. I should also modify the UART code to use signed integers so I can measure displacement that favors either side. In any case, I set up the flexure with a bit of double-sided tape and tried weighing a few 0402 capacitors, again just reading out the intensity from one phototransistor:
Clearly the setup isn't ideal; a few more tests after this clip showed significant drift. But I believe a lot of this can be attributed to air currents, relative movement in the optical path, and lack of sensor zero reference. Given 0402 capacitors weigh around one milligram and I saw 100 counts between each addition, this suggests a best-case resolution in the tens of micrograms range. Accuracy and repeatability are clearly another problem, but this is sufficient progress to justify building another prototype.