WEEK14: wildcard week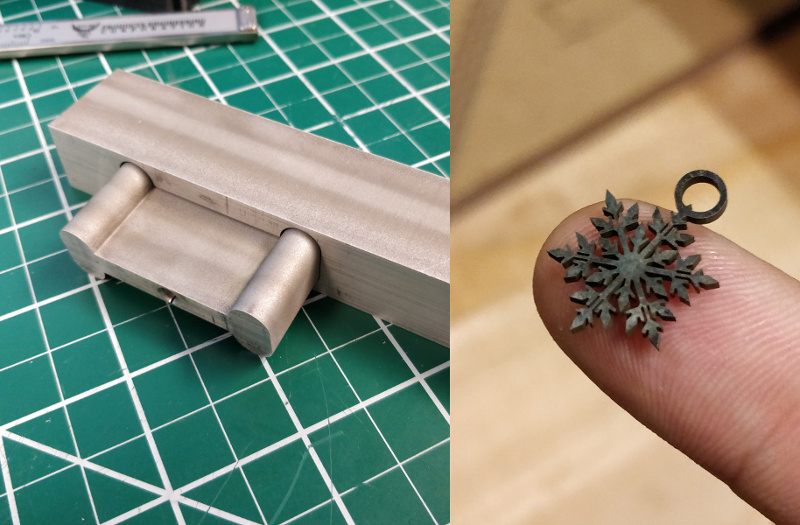 This week was open-ended. Wildcard week! Do what you want, within reason! Okay, not quite; during class, eleven people presented subject areas and at the end the class split into teams. One group made composites out of burlap and epoxy; another used the Zund and a bunch of ripstop nylon to make inflatable sculptures. Since I manage the machine and have at least a bit of experience running it at this point, I ran the wire EDM group. Initially no one was inspired to sign up, but eventually Sabrina, Anthony, Alfonso, and Premila felt bad enough for me that they joined the team, although Premila ended up using the water jet cutter for her part. Thanks friends! Spoiler alert: the Sodick SL400G is a fussy machine. A good portion of this write-up documents the struggles our group had getting reliable cuts, but eventually everyone walked away with a few interesting parts. Thank you John for helping me change the ion exchange resin tank and taking the brunt of the soaking when I incorrectly shut down the pumps. My bad :-/
wire edm?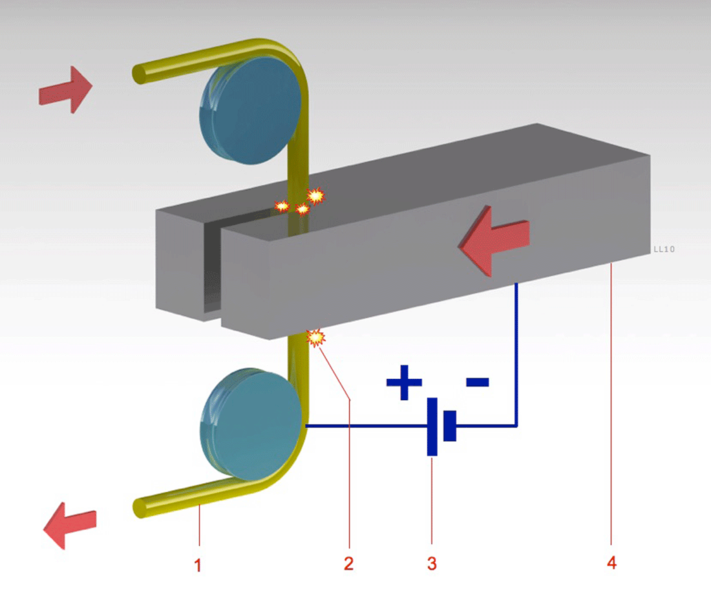 By
LaurensvanLieshout
own work, CC BY-SA 3.0 [note: this intro text is taken from the GitLab wiki I put together for Wildcard Week, which some readers may not have access to] The wire EDM machine creates an electrical potential between the work piece and a wire electrode that runs vertically through the system. As the work piece is brought closer to the wire, a spark forms between the two conductors and the controller sends a pulse of current through the gap to melt and erode a tiny pit of material. The current then stops for a moment before activating again, usually thousands of times per second. The process takes place in a bath of deionized water, and a coaxial jet of liquid flushes debris out of the cut and through the filtration system. During operation, the work area is pretty quiet beyond a few bubbles, so attention tends to focus on the wire tensioning system:
... but beneath the surface lurks the real drama, as shown in this EDM startup action shot (thank you Will and Sam for risking a GoPro):
To prevent breaks, the wire continually advances between tensioning rollers before exiting the machine. This is collected and eventually scrapped, unless someone has a good idea for a few hundred miles of slightly pitted fine brass wire: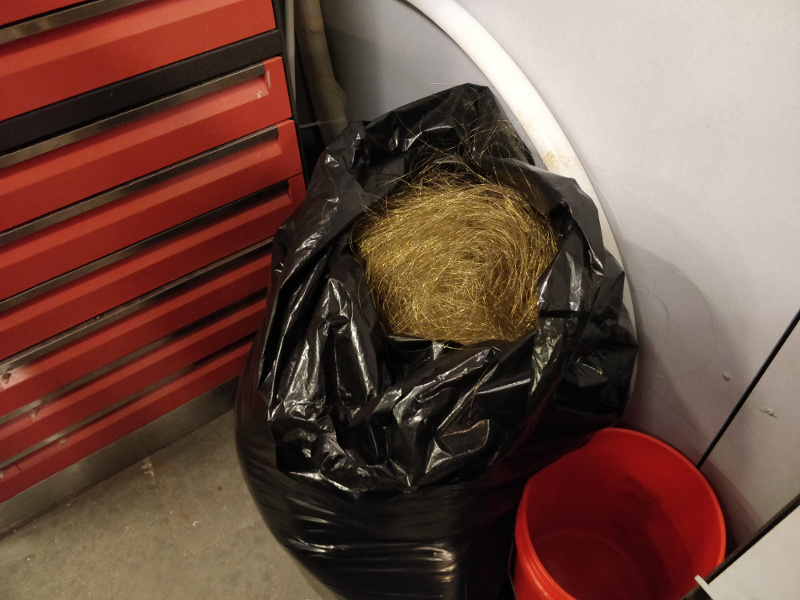 Generally speaking, EDM'd parts are smooth enough to use without post-processing, and accurate enough to use for high-accuracy applications like gears and flexures. A few examples from our scrap pile: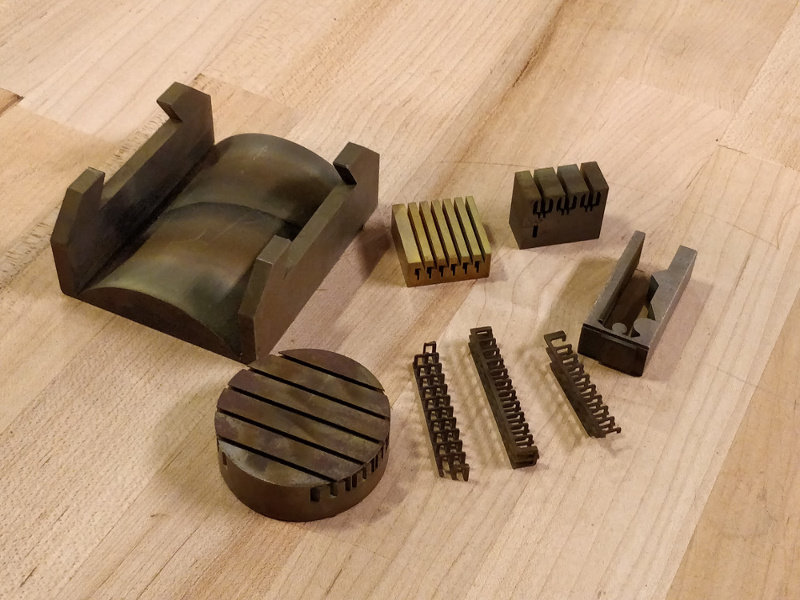 challenges
After creating outlines in our CAD tools of choice and exporting *.dxf files in the machine-preferred inch format, we used the SL400G's internal applications to create machining toolpaths. This process can be frustrating in its opacity and inflexibility. The wire EDM process has a huge number of different machining parameters, some of which must be adjusted for each cut; waveform duty cycle, voltage target, water jet pressure, target cut speed, etc. While all of these parameters can be adjusted by the user, the standard workflow is to select a parameter set from a material library during the path planning process. Unfortunately, the available parameter sets are quite limited; our machine has presets for steel, tungsten carbide, and copper of a few thicknesses, but none for 2.0 mm aluminum, for example. The library selection process also presents many surface finish options (the machine can control surface finish by feed rate and by making multiple skim passes after the main cut), but usually greys most of them out so one is left with no choice but to select an overly precise and time-consuming cutting mode. All of this would be manageable if the machine cut reliably using default settings, but we kept getting two types of errors; short-circuits: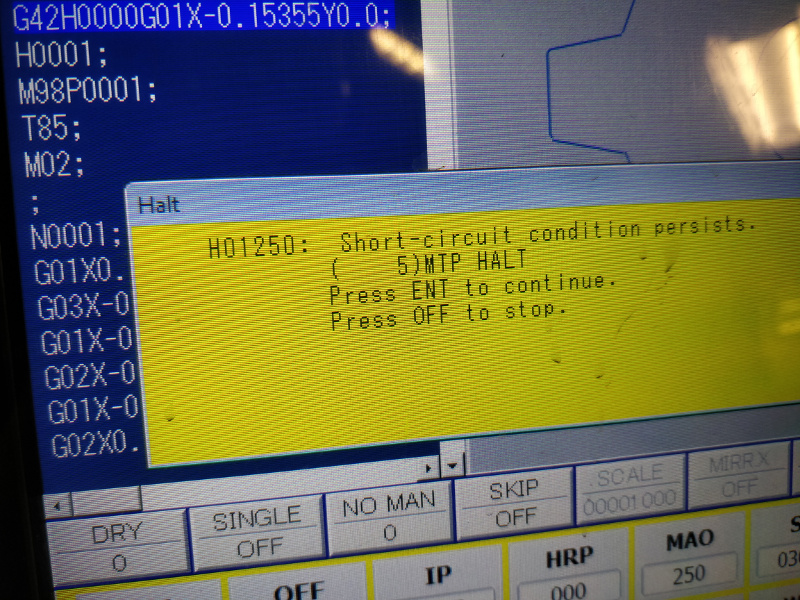 ... and broken wires: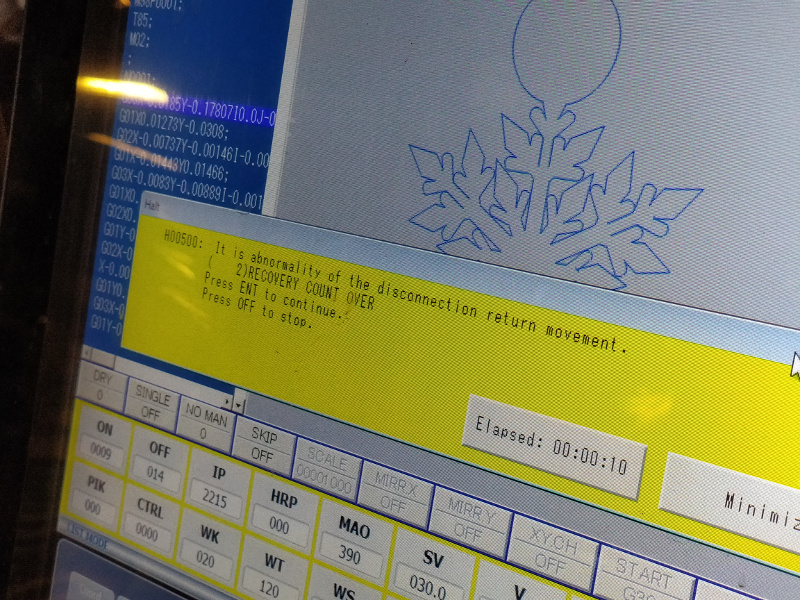 The instruction manual has a few pages on troubleshooting; generally speaking, when problems happen the operator is encouraged to reduce the aggressiveness of the cutting process. This is done by increasing the servo voltage (SV), decreasing the easy power adjustment (EPA), or adjusting the MAO parameters; these control how the machine self-adjusts when it encounters an unexpected condition. In some cases, modifying SV had a positive effect on the reliability of the cutting process; in other cases, the wire just didn't want to behave. For example, Anthony wanted to cut a bit of scrap gold into a snowflake, so we sandwiched it between two steel plates. Each 'X' below is a single incidence of wire breakage; eventually we gave up:
Sabrina's watch parts fared a bit better, since the sheet of 17-4 I used for the Apfelstruder wrench was a known quantity: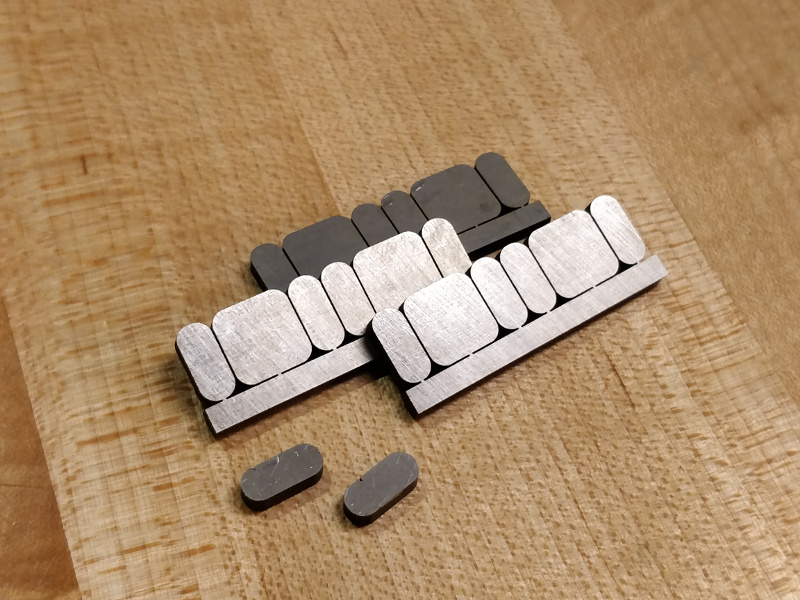 But eventually these parts failed as well. I started to think about potential maintenance-related issues; our carbide electrodes were fairly grooved so I indexed and then replaced them: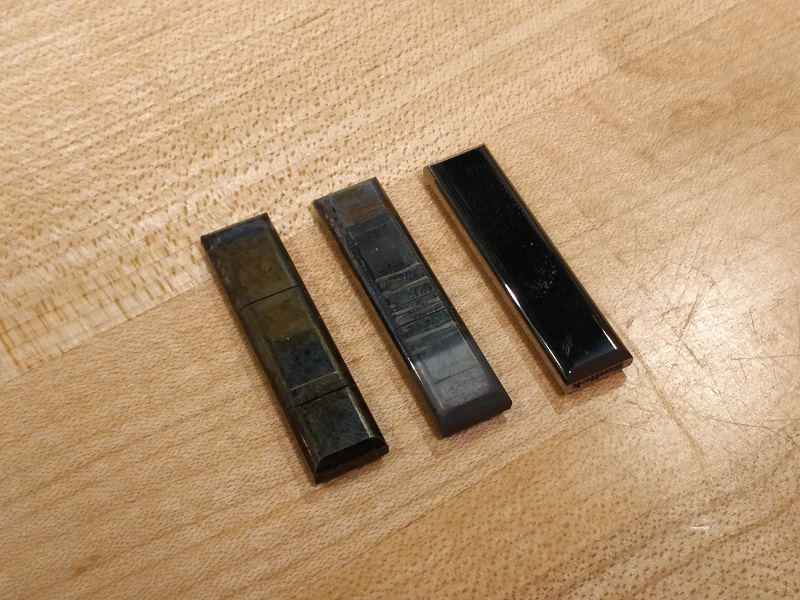 Earlier this semester I spent some time cleaning old wire out of the wire take-up mechanism, so the wire tensioning system wasn't much of a concern at this point. Here are a few images from that process: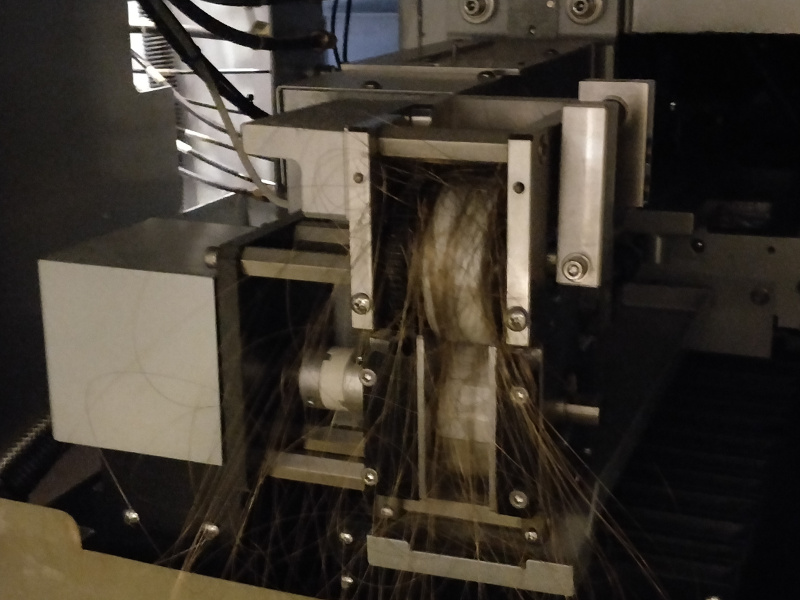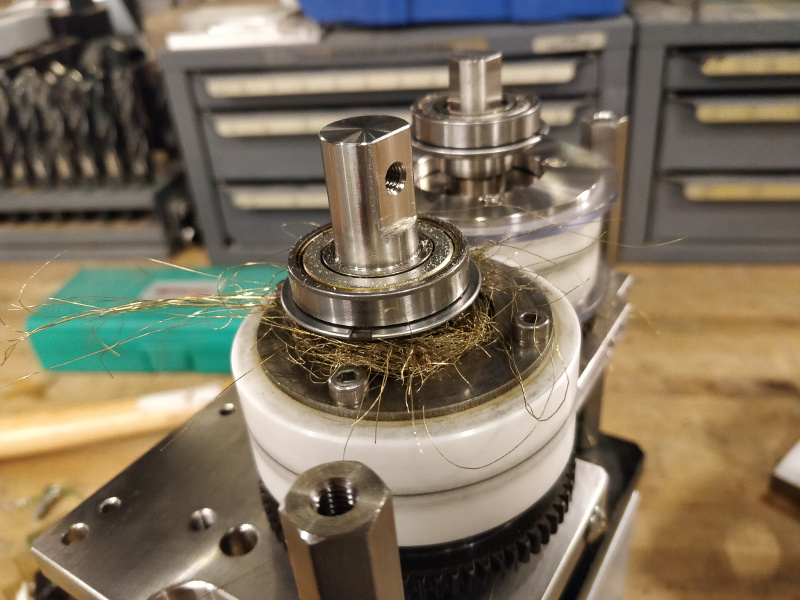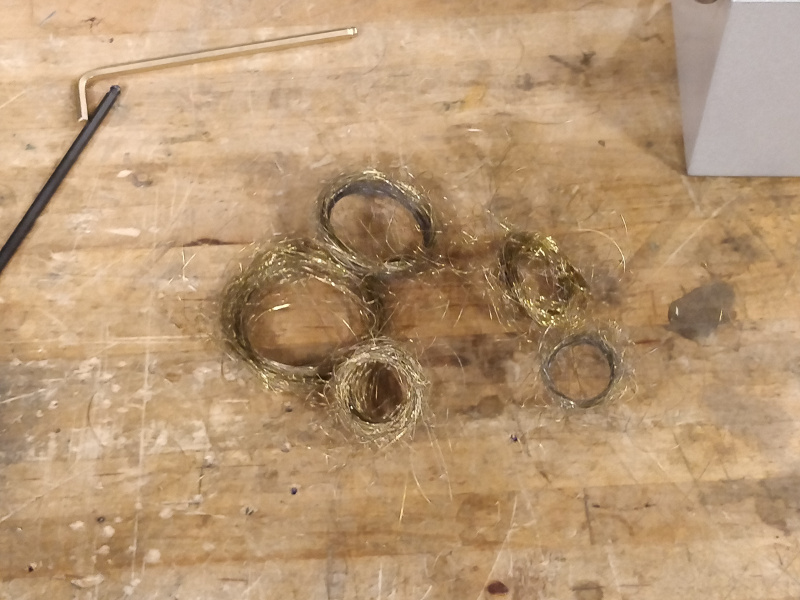 I was also worried that our work table was a bit dirty, which could create conductivity issues with the workpiece. I didn't have the proper cleaning solution for the table, but I did try scuffing up the stock to get better electrical contact. And I disassembled the top and bottom nozzles a few times, hoping to find a bit of material or wire lodged somewhere that was causing problems. Finally, I tried cutting known good parts from the machine's hard drive, using known good materials, with known good wire. Cuts kept failing. Then I looked back at the manual and noticed the recommended water resistivity spec: > 60k ohm-cm. Our machine was running well below this; per the maintenance guide, low water resistivity can have many negative effects, including shorts and slow cutting performance. I'd previously disregarded this as a potential issue because the existing tank has been in use for some time, and conversations with other users suggested this wasn't the problem. I also didn't know the status of the extra tank we had. But I was ready to try anything, so John helped me swap the fresh tank in: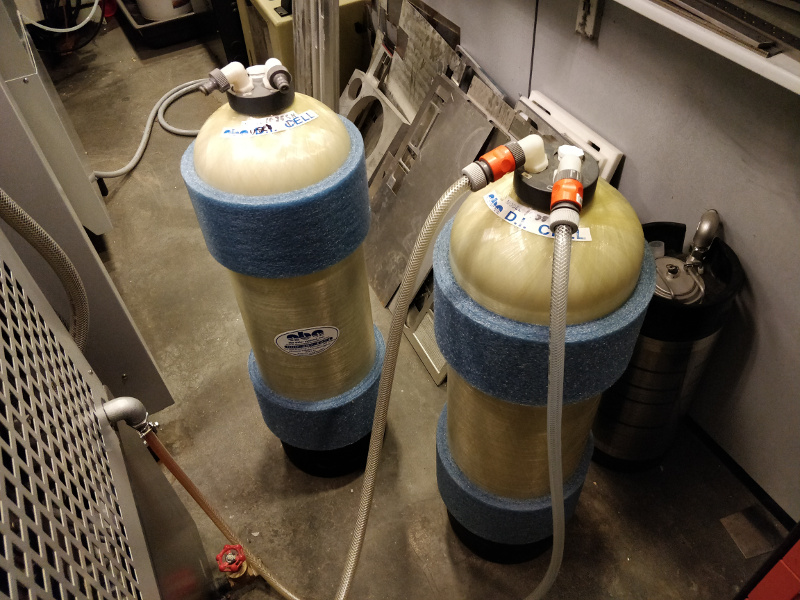 After doing this, I had to top up the dielectric tank with a few buckets of water to clear the low level warning: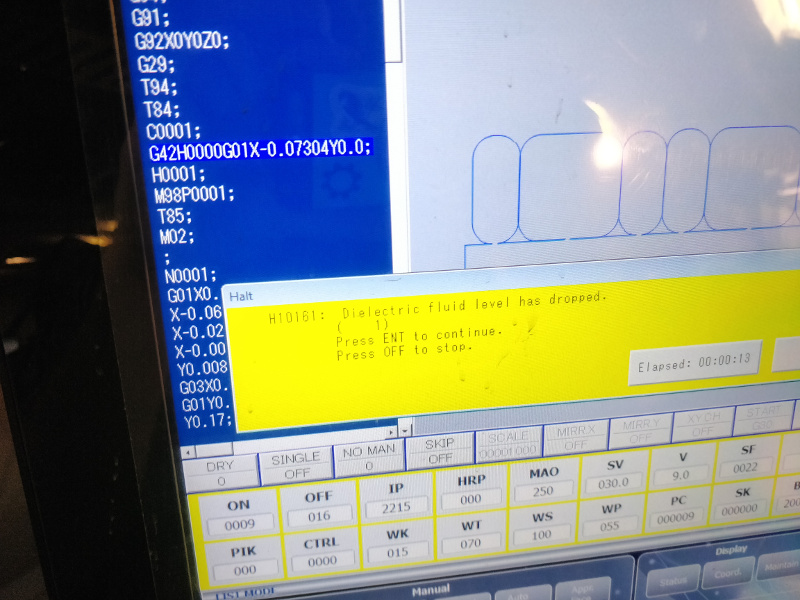 ... but after that, the machine by and large cut beautiful parts. Alfonso designed a 2-axis monolithic load cell; here it is after the first few cuts: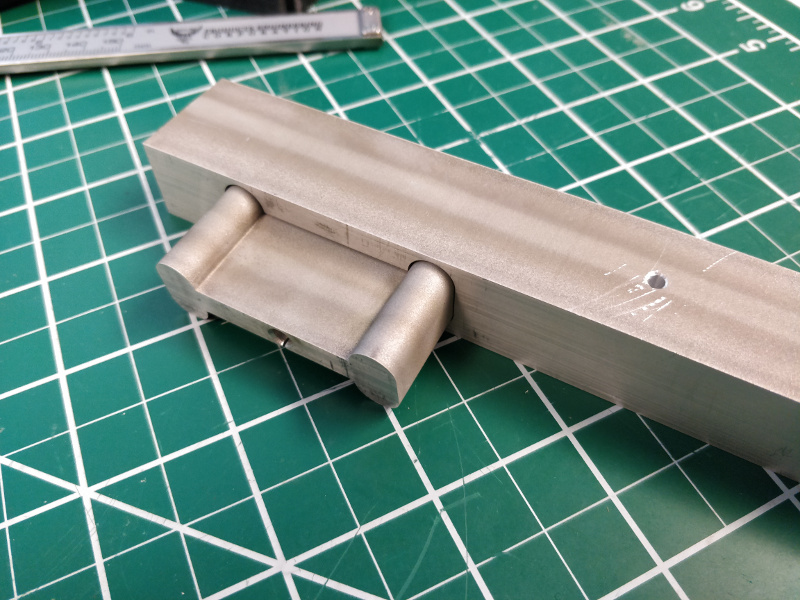 ... and here is Anthony's snowflake pendant, cut from a mirror-polished bit of 304 stainless: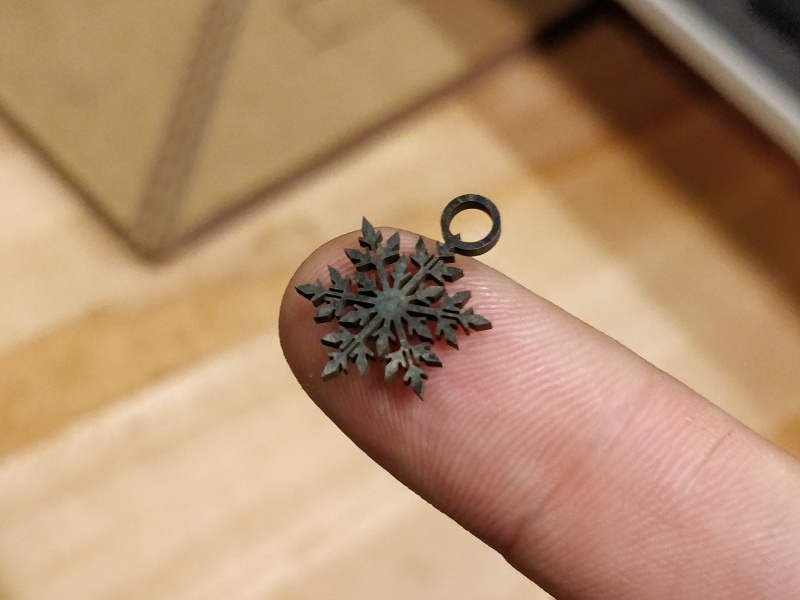 My parts didn't fare quite as well; head over to my
final project page
to learn more. Spoiler: turns out the wire EDM isn't a great tool for making super-sensitive flexures.