What did I work on?
Mission: Build an entry level (under $500) EDM machine for making carbide/HSS tooling and/or lead screws.

---
What is the prior art?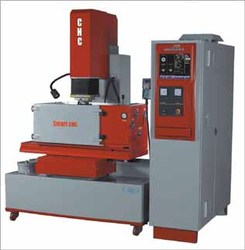 EDM or electro-discharge machining is a process that uses a series of electrical discharges to erode a conductive material to give it a desired shape. A tool of a defined shape is electrically charged with respect to the material that you want to machine, then the tool is brought closer in proximity to the work-piece until a spark discharges. Because there is no physical cutting force, very fine features can be cut into the toughest metals, albeit slowly as the sparks only remove a very small amount of material.

The machine's job is to maintain this spark gap and lower into the work piece as the material is eroded. Traditionally this is done with some circuitry to detect when the spark discharges and a servomotor to position the tool accordingly.

Cheap, DIY EDMs exist for burning out broken taps that can't be drilled or filed away (due to the hardness of the tap material).

(Demo)

Conventional EDMs come in two forms, Sinker EDM and Wire EDM.
A sink EDM (pictured to the right) is about the size of a milling machine and can automatically make many different tools over the period of days to weeks.
A wire EDM uses an constantly replenishing electrode (as they tend to erode over time) in the form of a constantly spooling wire.
---
What did you accomplish?

I've developed a simplified version of sink EDM that uses a mechanical pencil in a feedback loop with a pull solenoid machine metals. The graphite of the pencil is used as the constantly feeding electrode and the solenoid pulls the graphite back when the spark discharges into the material. See schematic below.

This feedback mechanism allows the device to be built for almost nothing and without any control electronics to monitor feedrate.

That being said, unless you want to drill a simple hole, much work must be put into the machine so that it will accurately follow NC toolpaths to make complex geometries.
---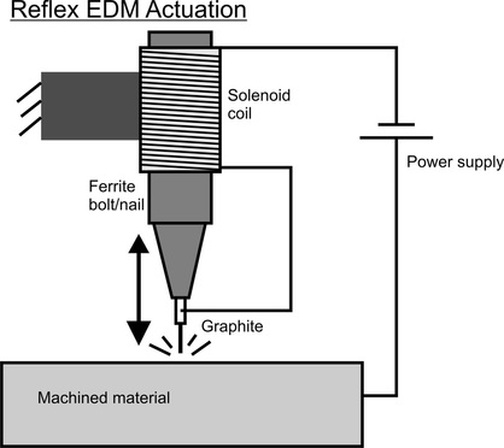 What did you learn?
Electricity can hurt! Jk, but seriously.

In the video below, you can see the oscillating EDM tool machining into the steel bolt. Stepper motors were set up to rotate the bolt and advance the tool on the axis of rotation, just like a lathe.

In my opinion, the biggest takeaway from this project is that you shouldn't limit yourself to using only mechanical/engineering supplies for building machines. Anything is fair game and often times everyday objects will surprise you.

Another takeaway is the knowledge that EDM is easy! WIth a few dollars you can cut a hole in any metal. For a few dollars more, you can sculpt that metal into a complex shape. EDM is a unique process that doesn't seem to be utilized to its full potential in the average machine shop or household.
What are the implications for future work?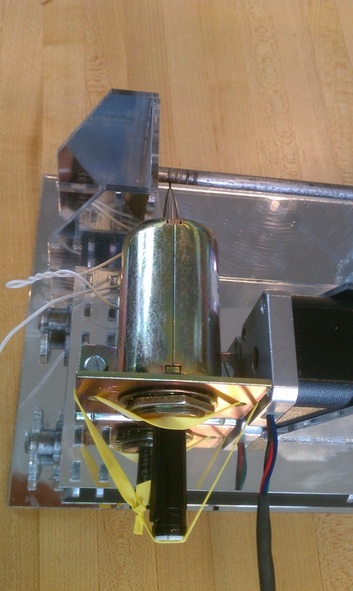 I see this project as the first glimpse into a line of simple, easy to use EDM machines. With a few more weeks of development and calibration, I have no doubt that I (or anyone else) could make some very impressive milling bits and precise lead screws.

Another great takeaway from this project is the closed feedback process as it applies to machining and machine building. So often we abstract away all motion to servos and sensors when faster and cheaper mechanical or analog options are available.
---
What are your plans for the project?

I'd like to attach my EDM tool head to a CNC lathe and machine something larger and more precise. (I'll probably do this soon)

I'd like to build a wire EDM using a similar feedback/feedrate setup.

I'd like to finish an Instructable I'm making to see what other people can come up with!
---
What resources are you leaving for others?
Drawings of mini lathe setup below:
DIY EDM booklets below: