How to Make Almost Anything > John's class Homepage
<![if !supportEmptyParas]> <![endif]>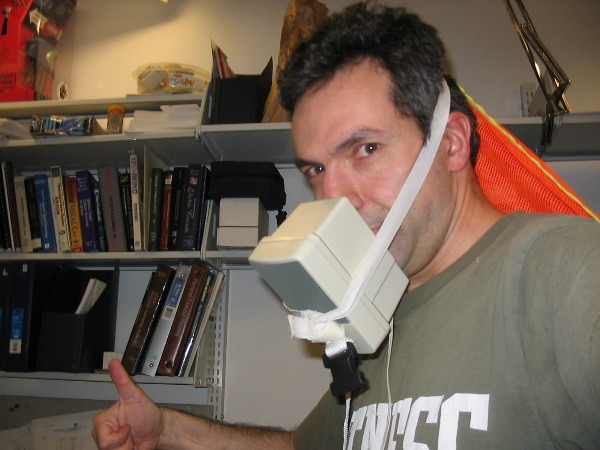 I am John Harrison, a Master's student in Barry Vercoe's Music, Mind and Machine group at the Media Lab. I entered into the program January 2004.

To join the lab, I took a leave as a tenured Associate Professor of Violin at Wichita State University and Concertmaster of the Wichita Symphony Orchestra. As an undergraduate I was a double-degree student in both music and computer science. After graduation I supplemented my music career with many computer-related projects, including Gameboy hacking and the development of a computer scripting language.

Here at the lab, I am exploring new ways to connect music, education, and technology. I have collaborated with Amon Millner to develop a MIDI glove as part of a Digital Puppetry project at the Museum of Science's Computer Clubhouse. As my term project for Joe Paradiso's Sensors class last semester, I developed a microphone with transmit-mode capacitive sensing. The microphone automatically adjusts its gain in inverse proportion to the distance from the user. I also continue various projects with microcontrollers and sensors.

My current projects include ideas which challenge conventional concepts of metronomes and tuners, and I am developing an assortment of DSP hardware-related projects as well. I am especially excited to begin construction of a large-scale system of physical sound-sculpting blocks modeled after Legos and which I call Legatos. Legatos will offer children and adults a fun and stimulating environment within the domain of sound and musical structure to provide nearly endless possibilities for learning and self-expression. In the spirit of Legos Mindstorms, Legatos will synthesize a multitude of related disciplines, including mathematics and aesthetics. The blocks will provide a tangible programming interface, and will also tie together concepts of modular and FM synthesizers, and sound sampling.

All of these projects with some details about implementation are available from my website: http://sound.media.mit.edu/~harrison. My music website is http://JohnHarrisonViolin.com.
<![if !supportEmptyParas]> <![endif]>