About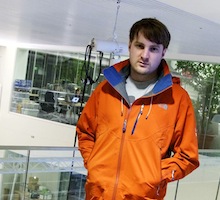 Download CV
"I have no special talents. I am only passionately curious"
- Albert Einstein
I was born in northern California and moved to the Washington D.C. metro area while still very young. In high school, most of my time was spent playing lacrosse or running several websites, my favorite at the time being a lacrosse news and information portal called AllLacrosseAmerica.com.
After high school, I played lacrosse for the Naval Academy in Annapolis, MD, where I studied for two years before transferring to George Mason University. While at GMU, I worked full-time for Apple, Inc. as a Business Consultant and later for Marriott International as a Technology Analyst. I transferred one last time, this time to James Madison University, where I completed my B.S. in Geographic Science while doing some remote research for the US Army Corps of Engineers.
Upon graduation, I worked for the USACE within their Topographic Engineering Center, federal research laboratory focused on geospatial research. There, I served as a Principal Investigator, exploring methods of autonomously classifying vegetation from unmanned ground vehicles. I also moonlighted as a programmer for the US Army Geospatial Center where I helped develop a web application capable of serving up high-resolution, 360°, street level imagery, similar to Google's Street View™.
Currently, I'm a student at the MIT Media Lab, studying network science in Cesar Hidalgo's Macro Connections group. Dr. Hidalgo's work focuses on creating simple tools that allow deep understanding of more complex systems."1
In my down time, I enjoy taking photographs, running along the Charles River and when I have a case of insomnia, watching TV (Burn Notice and Dexter). During the summers, I either travel around the world or backpack into the wilderness, my favorite spots being Florence, Italy and the Sierra Nevada Mountains in California.
Current Research Projects
Awards
Student of the Year - Edison Academy (2003)
Outstanding Achievement Award - Edison Academy (2003)
Golden Web Award - for AllLacrosseAmerica.com (2002)
Canadian Web Award - for AllLacrosseAmerica.com (2002)
Microsoft's Killer Site of the Month - for NovaCentral.com (1999)