contact // irina chernyakova
1 [0912] FINAL PROJECT PROPOSAL 2 [0919] COMPUTER CONTROLLED CUTTING 3 [0926] ELECTRONICS PRODUCTION 4 [1003] COMPUTER CONTROLLED MACHINING 5 [1010] FINAL PROJECT UPDATE 6 [1017] MOLDING / CASTING / COMPOSITES 7 [1024] EMBEDDED PROGRAMMING 8 [1031] 3D SCANNING + PRINTING 9 [1107] INPUT DEVICES 10[1114] INTERFACE + APPLICATION PROGRAMMING 11[1121] OUTPUT DEVICES 12[1128] MECHANICAL + MACHINE DESIGN 13[1205] NETWORKING + COMMUNICATIONS 14[1212] FINAL PROJECT DEVELOPMENT 15[1219] FINAL PRESENTATIONS
1 how to brand campus [vandalize] Inspired by last weeks' discussion of auto-graffiti, I decided to try and fabricate a 3D qr code/stamp for the class website.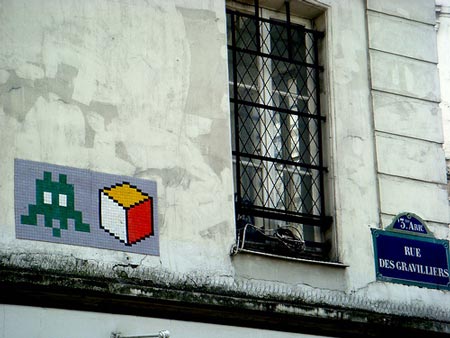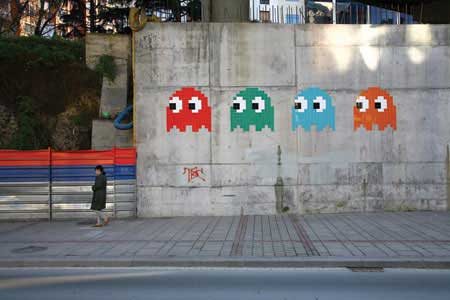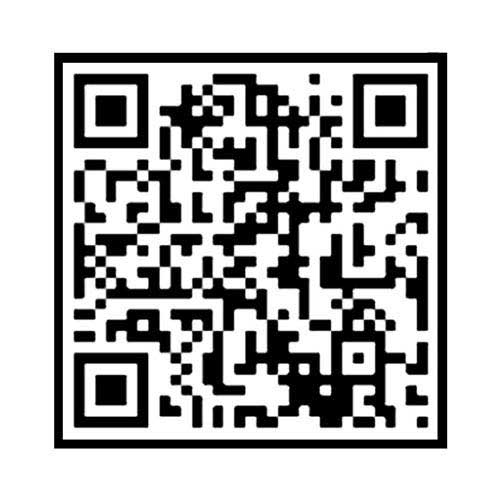 qr code for How to Make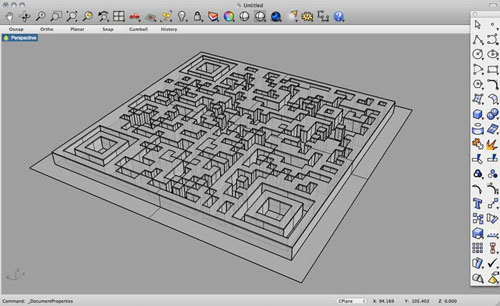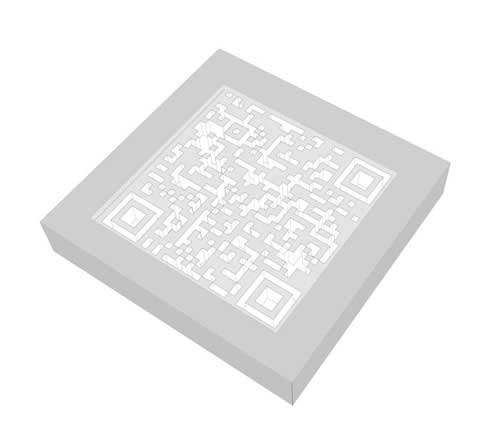 2 Partworks 3D
Import your Rhino file as an STL. Make sure it is a single object, and as clean as possible.
1/Surface Properties Make sure your units are in inches, and rescale if necessary. The side to be machined should be facing up – and if its not, reorient the surface. Apply > Next.
2/Material Properties Zero the X&Y to the bottom corner in the axonometric image, double-check the material boundaries and thickness; zero the z to top. Here you can add tabs – these are like puzzle pieces to help keep your material in its place. Set the 'depth of model below surface' to slightly below 0. Finally, adjust the cut plane. Typically, use the center or bottom of the model, depending on the depth. Apply > Next.
3/Roughing Toolpath Since I was cutting foam, no roughing toolpath necessary! If you are cutting wood, mdf, any other material, then a Roughing toolpath is necessary. It takes out the majority of the material and saves a lot of time.
4/Finish Toolpath Select the correct bit, we used an 1/8" Ball nose bit.
Cutting Parameters/ Stepover: .0625 @ 25%
Spindle Speed: 18000 RPM
Feed Rate: 300 inches/min
Plunge Rate: 100 inches/min
Rapid clearance gap: .02 inches
Raster Angle: along X; choose an angle that is perpendicular the dominant grain if using wood.
Calculate > Next
5/Cut-out Toolpath Use this to cut out the model from the material. We used the same bit, and similar speeds to those listed above! Calculate > Next
6/Preview Machining Check your toolpaths through animation. Calculate > Next
7/Save your toolpath files as an .SBP for the Shopbot, and as a .3DV to be able to re-use the file with saved parameters.
This is a clear and simple PDF with step by step instructions from UT Austin.

3 Shopbot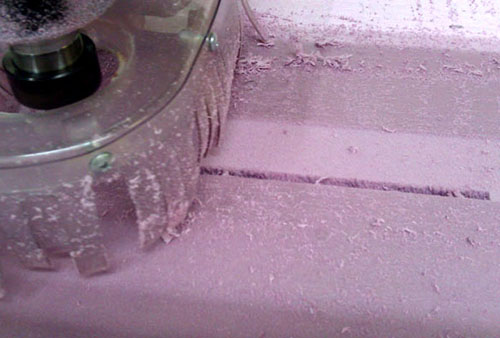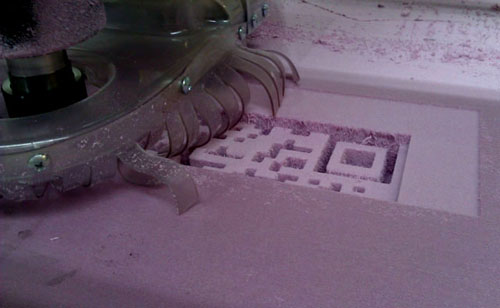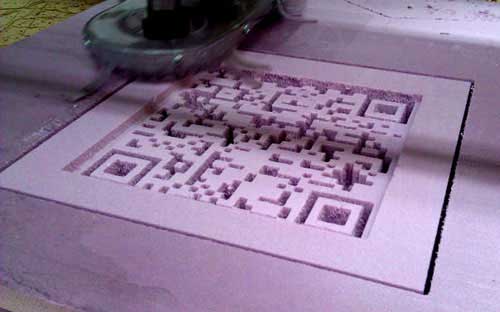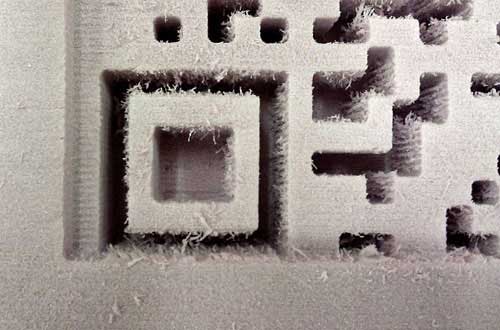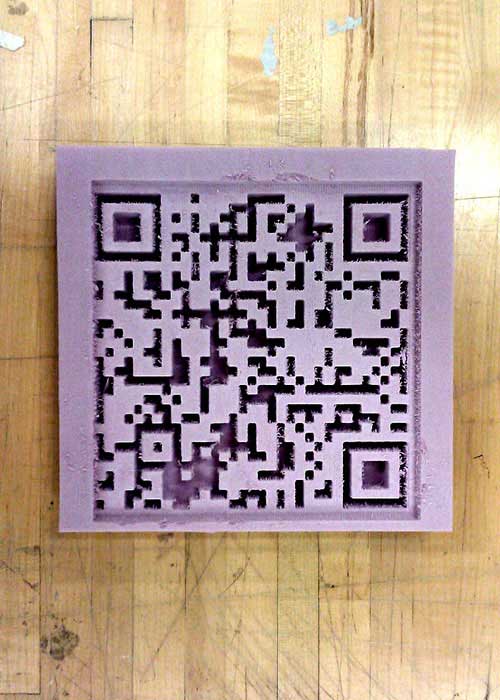 4 gesso/release agent
After doing some research, I thought I would just use Hydrostone and cast directly into the foam. Thus, I prepped the model with gesso to seal all the holes. The original plan was gesso > acrylic spray paint > spray oil and/or release agent > Hydrostone..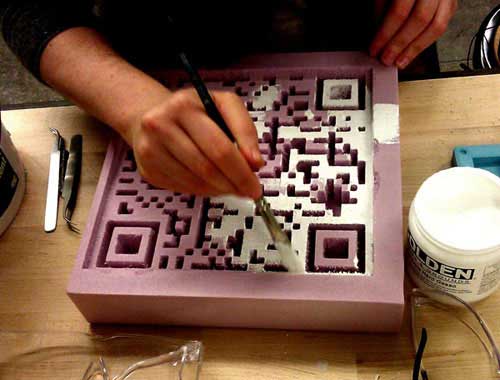 5 casting (or how NOT to cast)
I then saw that some people had cast the silicone mold into foam directly, and last minute, decided to try that.. Big mistake given the details of the model. Mix Parts A & B, equal parts. I did not mix enough silicon on the first round, so I filled half of the model, then the second half. The top was a little thin, so I tried a third round, but by this time was using remainders of other bottles.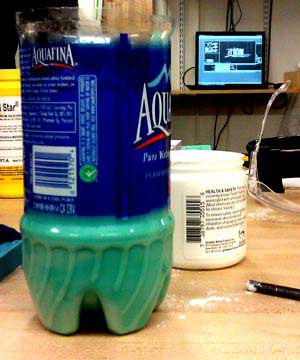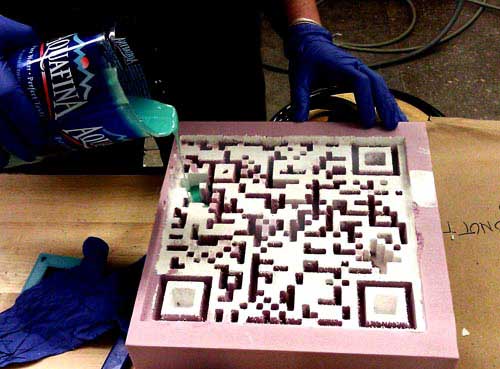 6 final, the life and death of the qr code
In the end, the final mix of rubber was not precise. That is, not equal Parts A & B. It seeped into the model and never dried, and created a very strange pattern – separating the two rubbers. Pulling it out was a nightmare – the mold itself too deep, the rubber not consistent. Will add this to the long re-do list.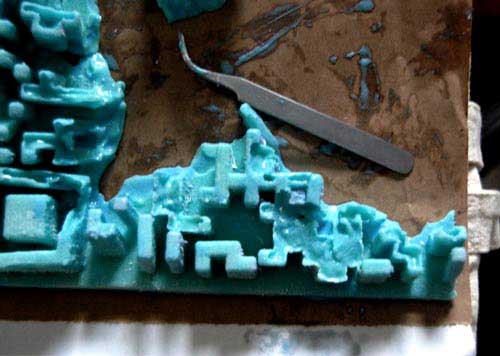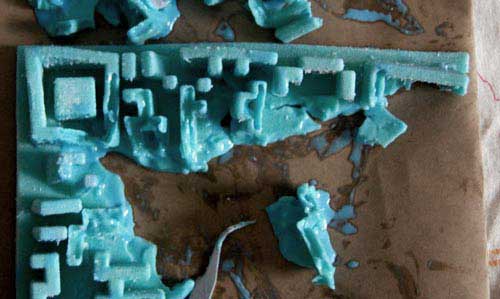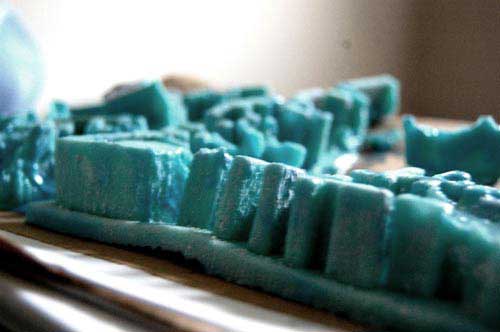 end on a happy note: with a little extra time, and no time to mill ..
rockite muffin paperweights from an egg carton..