Pre-work: design
<<<<<<< local Solidworks design 123D make challenges w/ 123D make figuring out how to fit all of the pieces on to the 24 inch by 36 inch part design different components and attach them together. ======= I designed the shape of the rocket in Solidworks; the resulting model is below.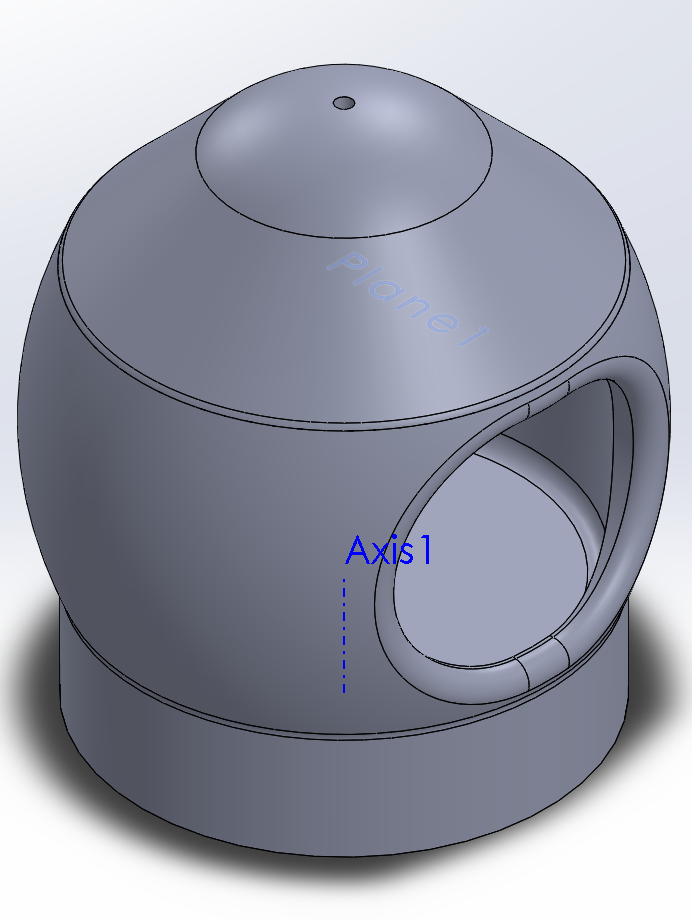 The largest challenge with this project was taking the large shape and creating slices in such a way that the resulting pieces will fit on 24x36 sheets of cardboard, since that's the largest size our lasercutter will hold. I wound up needing to split the resulting Solidworks design (using the mold Split command) into 11 pieces! While 123DMake will take as input the size of the material, it just gives you errors if it doesn't fit -- it won't optimize its layout to make the pieces fit. I got around this problem by cutting the larger spaceship into the separate pieces, each of which had no parts which were too big. 123DMake also wasn't the best at sorting pieces efficiently, but it was simple to take the resulting exported DXF files and rearrange them in CorelDraw.
The separate pieces I used fit into 3 categories: base, walls, and cone. The base was in 5 pieces: a center circle with four quadrants around it. The walls I was also going to split into corresponding quadrants, but the pieces were slightly too large to fit, so I will be going with 5 wall sections. The nose cone I made as one piece, but manually had to cut some of the DXF's into more pieces in CorelDraw.
Currently, the base and the nose cone has been lasercut; the cardboard for the walls didn't arrive until 6pm yesterday, so I didn't have time to do the full day of lasercutting they would have required. I'll finish the walls over IAP!
>>>>>>> other
Laser cutting
<<<<<<< local ======= I started by lasercutting the base, since it was the most straightforward. Figuring out the exact size to make the gaps for pressfitting was tricky; using small test pieces wasn't too effective since with larger number of intersections, it got a lot harder to press in, and small differences had a huge effect. The first piece I made, the center piece, was too loose, but the outside pieces had just a barely different gap size and they were very tight. Below, we see the inside piece and the first quadrant.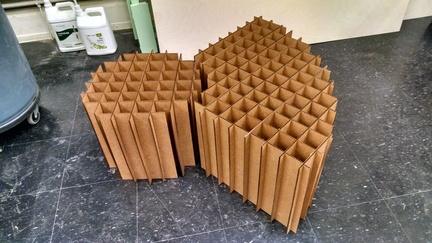 I used the same width gap to make the cone -- that was a mistake. While it wasn't overly difficult to put the quadrants together, since there was a good amount of leverage given the orientaiton, putting together the cone was significantly more difficult. For the radial pieces, I wound up squishing them a bit and sanding their gaps a little wider in order to manage the assembly.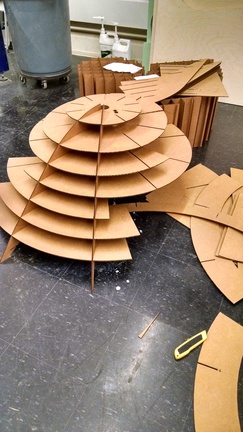 The finished cardboard cone!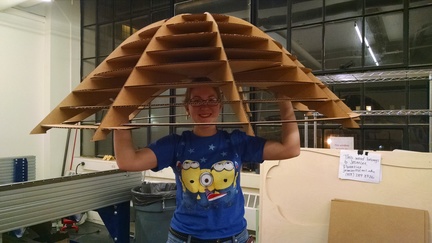 Here we see the full base with the cone upside down on top. All we're missing is the walls!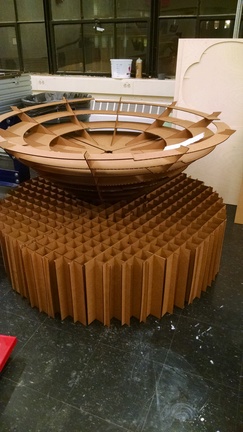 A lot of cardboar died in the making of this project -- and every single sheet had to be cut by hand to 24x36inches to fit in the laser cutter. I started getting a lot of papercuts and dry hands from pushing the cardboard together so much; I wound up wearing biking gloves which helped make it a lot better.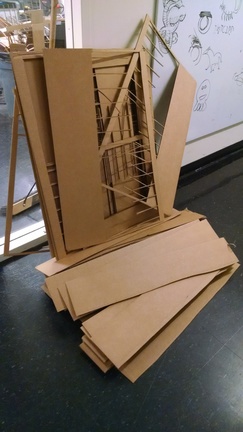 >>>>>>> other <<<<<<< local Lots of cardboard challenges...fitting shapes properly into 24 inches by 36 inches for the laser cutter...cardboard acquisition issues...had to hand-cut each piece of cardboard to fit into the lasercutter. Mini assembly line of one person. Figuring out right size for pressfit -- hard to gauge what it should be for so many pieces. Cone was especially hard to put together; had to sand the notches and squish the remainder of the cardboard. Wear gloves to avoid papercuts. Current strategy: binder clips to attach different pieces together. ======= >>>>>>> other
Electronics
<<<<<<< local 3 sections: high brightness LEDs, put inside there to make it bright, for reading. ======= I designed these boards to control LEDs that make up the stars of the constellations using EAGLE. Originally, I had planned to have only one board and drive 8-10 LEDs off of each pin, but I found that due to voltage requirements of the LEDs, I could at most drive 2 LEDs off of each pin. So I made three copies of the board, each running the same code. The board powers all 8 sets of LEDs, randomly blinking them on and off to make the stars twinkle. >>>>>>> other <<<<<<< local Also: microcontroller attiny44 with lots of LEDs attached, randomly flicker them on and off -- different brightness stars. Also make them twinkle. =======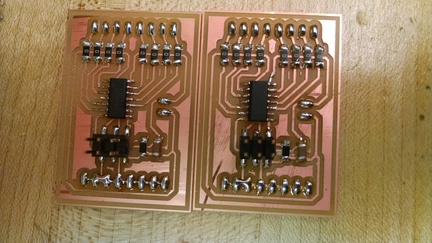 >>>>>>> other <<<<<<< local Troubles: hard to solder wires to surface mount LEDs; need to have them distributed around cone to make constellations. Solution: acquired some through-hole LEDs, and made little mini PCB attachments for the surface mount ones. ======= There was a lot of wire cutting, stripping, and soldering! Since I needed lots of wire to make sure I could position the LEDs over the whole of the nose cone, I had to use really long wires.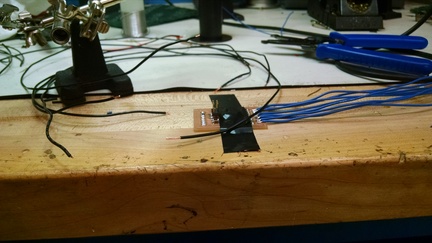 My original plan was to solder surface-mount LEDs to wire. That turned out to be very difficult.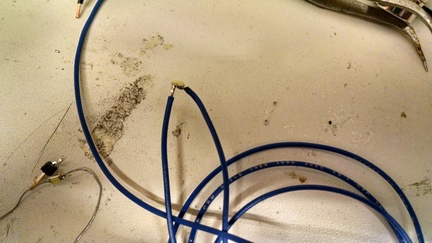 So as a backup plan, I milled a bunch of these: the world's smallest board, they had room for one surface mount LED and connection points for incoming wires. That worked, but was a lot of work. Luckily, a friend in the class had some extra through-hole LEDs, so I used those instead!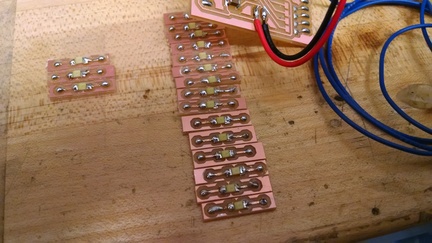 A second piece of electronics I worked on was to make 3 sections of high brightness LEDs. I want to be able to read from inside of the spaceship. I don't need any microcontrollers on these, just an on/off switch. I built 3 of these, but I'll probably place them at the top of the walls, so they haven't been attached to the nosecone. They're very bright, and making another one or two of these simple boards wouldn't be too much work if I need more light.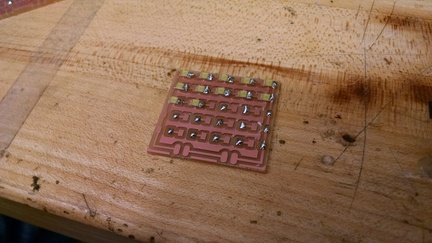 Assembly
The following series of pictures shows the assembly process. I started with black felt and cut it approximately to shape, then more exactly to shape by snipping cuts in it to make it better fit the curvature. I laid out and glued down (using hot glue) the three boards (all with connected power/ground).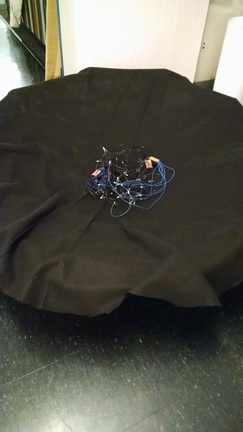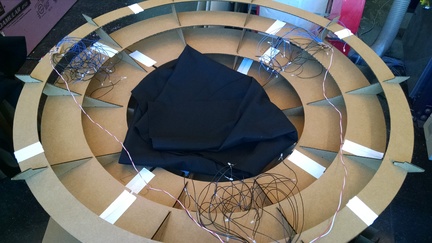 Then, I separated each of the wires and organized them, planning how I would lay out my constellations.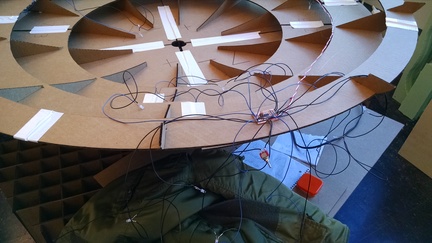 After a lot of rearranging and bending over, I finally had all of the LEDs taped into place. (I started with hot glue, but it didn't dry very fast, so it would have taken too long).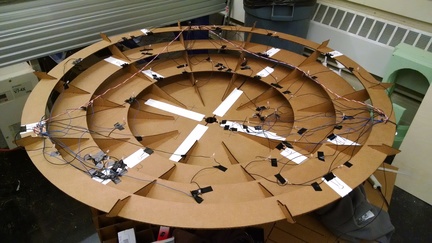 I used these cutters to snip small holes in the fabric where the LEDs belonged then pushed the LEDs through. Here you can see the Little Dipper and some randomly assorted stars!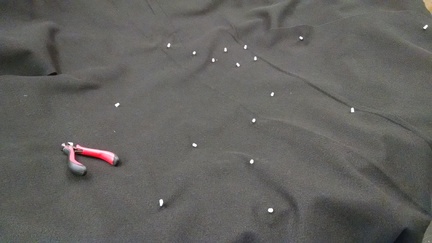 After putting in all of the LEDs, I cut the fabric exactly to size and glued the edges down. The constellations we have are the Little Dipper, Big Dipper, and Cassiopeia!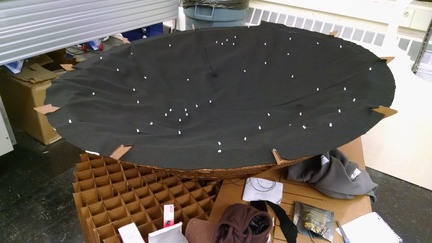 >>>>>>> other
Finishing Touches
<<<<<<< local Binder clips to attach pieces of the structure together Fabric for inside the cone/walls Eventually will cover pillows and put them inside. ======= Once I finish lasercutting the walls, there are a few finishing touches. I plan to coat the inside walls with the black felt as well to make a dark, cozy interior. I also plan to laser-cut fins to put on the outside of the base. I will lasercut a top layer for each of the sitting pieces for strength and cover all of them with pillows for comfort. I intend to hold the entire structure together with either binder clips or magnets or both.
>>>>>>> other
Supplies
<<<<<<< local Cardboard PCB material LEDs Wire Attiny43 Resistor/capacitor Felt Binder clips Hot glue ======= Cardboard - about $41 per box; the final project will use about 5 boxes with the walls (currently at almost 3 boxes for the rest of the spaceship). Definitely the most expensive part of this project.
PCB material - $0.70/large board - I fit all of my boards on one of them.
LEDs - cheap, used lots of them, <$5 total
Wire - I bought a 90ft roll of stranded wire for $9 since lab didn't have any left, also used some other spare wire.
Switches - I found them somewhere, free
Attiny44 - $3/each, $9 total
Resistors/capacitors - cheap, <$1 total
Felt - 5 yards at $3/yard for $18 total.
Binder clips - I bought 36 binder clips for $10. I may need more, not sure.
Hot glue - didn't use very much, <$3 >>>>>>> other