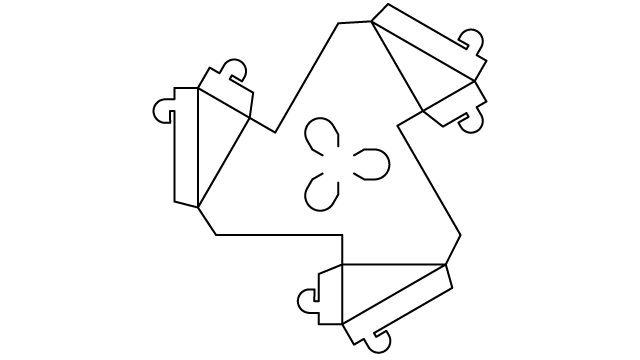 Project 01b
Since I am familiar with laser cutting, and have made simple press fit items before, I thought I would try and go a couple steps beyond where I had been. I figured, making cardboard press fit to make something volumetric is cool, but even cooler is making press fit cardboard pieces create a volumetric form, that is also a press fit piece to make even larger structures. Yes, this is my meta press fit project. There happen to be examples of this already, namely Bloxes, so I decided to take a different perspective, and instead of making press fit cubes (or Bloxes), I would make press fit tetrahedrons. Why tetrahedrons? Here's a few reasons:
Require only 4 pieces of cardboard
Simplest regular polygon
Computers draw forms out of triangles so it is more of a computer analogue lego
My favorite architecture, (e.g. Gaudi, Gehry, Zaha…) all use more organic, ebb and flow forms
Triangles are so en vogue right now :)
And I can use the name "Troxes"
I started out drawing my cuts with paper and pen and then proceeded to try and model the object in a variety of software:
Illustrator
Inkscape
Rhino
Antimony
Processing
Below I will describe my process with each and the pros and cons along the way. There is no single tool to make this kind of project, and all of the tools require some figurative elbow grease.
And finally, let's cut stuff!
In the following weeks, I decided to refine the design of the Troxes and make hundreds if not thousands of cutouts for models. here are some of the results.