The second session of the course is focused on two subjects:
Project Management
Computer-controlled Cutting
1. Project Management
I envision that we will develop loads of projects for this course so we better keep things in a safe place and document everything to be able to come back later in case we need any of the methods learned in future projects. For that end, we will use Git and create a little website with all the documentation on it. And this is it! :)
I am familiar with Git and web development so hopefully I won't have many problems with this.
2. Computer-controlled Cutting
In all my life I have only used a laser cutter once. So this bit of the session was quite exciting for me. I have to experiment with the laser cutter and to make a press-fit construction kit with cardboard. I also have to cut something on the vinyl cutter.
I wanted to do something useful and I have always wanted to buy one of this jewellery holders for my earrings, necklaces and bracelets. So I thought making one of this with an original shape, a cactus, would be fun and if I managed not to set the machine on fire and make a good design, I could possibly even use it!
The design
We were asked to design the press-fit construction kit parametrized in order to be able to modify the thickness or size of the pieces all at once if needed. I have some experience with Illustrator as a design tool but very few knowledge on other platforms such as Rhino or SolidWorks. I really wanted to learn one of this two or at least try to play a little bit with them. I found out that there was a new version of Grasshopper for Rhino for Mac. So I decided I would try to learn a bit of Rhino and Grasshopper for this assignment.
I went through some of the Rhino tutorials online and found the tool very interesting and easy to use at first. I managed to get the first basic design of the cactus in a couple of hours. [yes, I know, sounds like long but remember, I didn't know Rhino at all! Easy, pals!].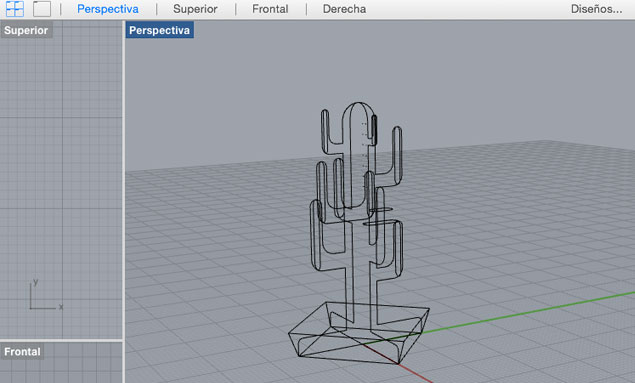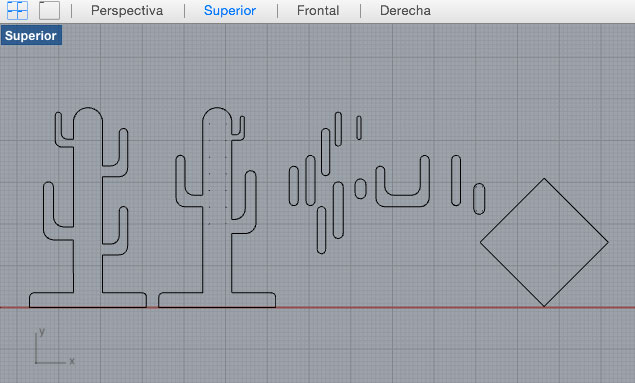 To make the design parametric, I used Grasshopper. At the beginning I was quite excited with Grasshopper. I found it very useful to be able to modify geometry and be able to have all the history in order to make any changes later that would reflect on the whole design. However, it soon ended up being a big mess of nodes and connections. And by a big mess I mean something like this: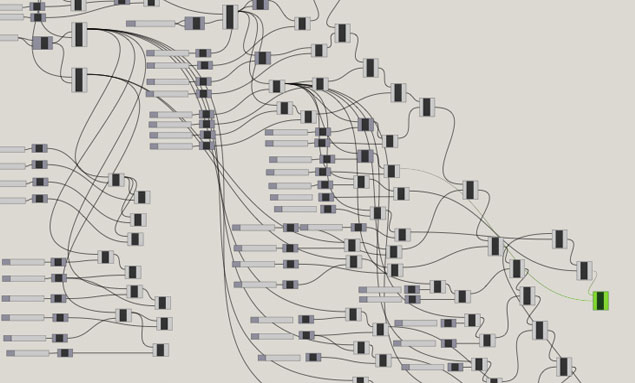 Yes, I know... But again! Easy, pals, it was my first grasshopper experience! And it actually worked. I had a node with the thickness of the material that you could change in order to adjust the design.