Skulls, Brains and Masks
Molding and Casting

This was my favorite week since I got to try a bunch of molding and casting techniques + material and learn a lot by making/failing.
Drystone brain casitng attempt 1
For molding and casting week, I first wanted to make a 3D model of my friend's brain, and embed it in a transparent skull. My friend (from Brain & CogSci) had data from their fMRI scan in the NIFTI (.nii) format, which basically looked like a bunch of numbers. I used this tutorial to convert it to a .stl file using meshlab. It was fairly straightforward. I used the modeling features to deepen some of the crevices of brain matter to make them more prominent for milling. I also made the models solid and filled in some empty parts on the bottom by approximation.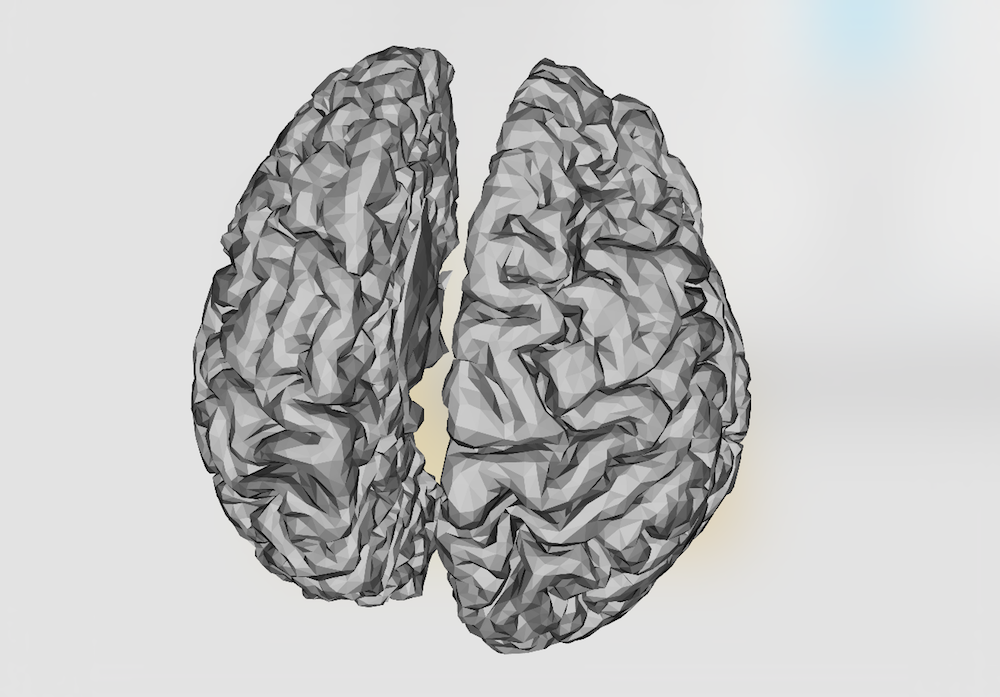 After having the atl file, I was ready to mill it. I followed the recommended settings by Tom and used the 1/8" tool. I made a combined roughing and finishing tool path.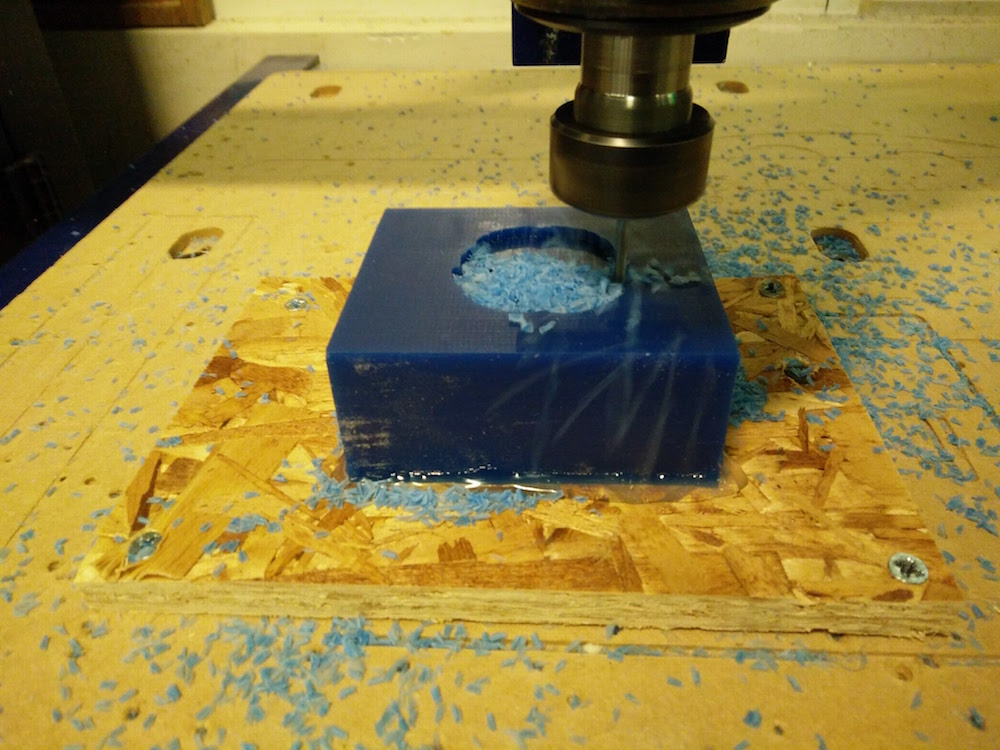 Note that the bottom of the brain will not mill properly because it is a subtractive process. There is no milling workaround, unless you make a 2 part mold.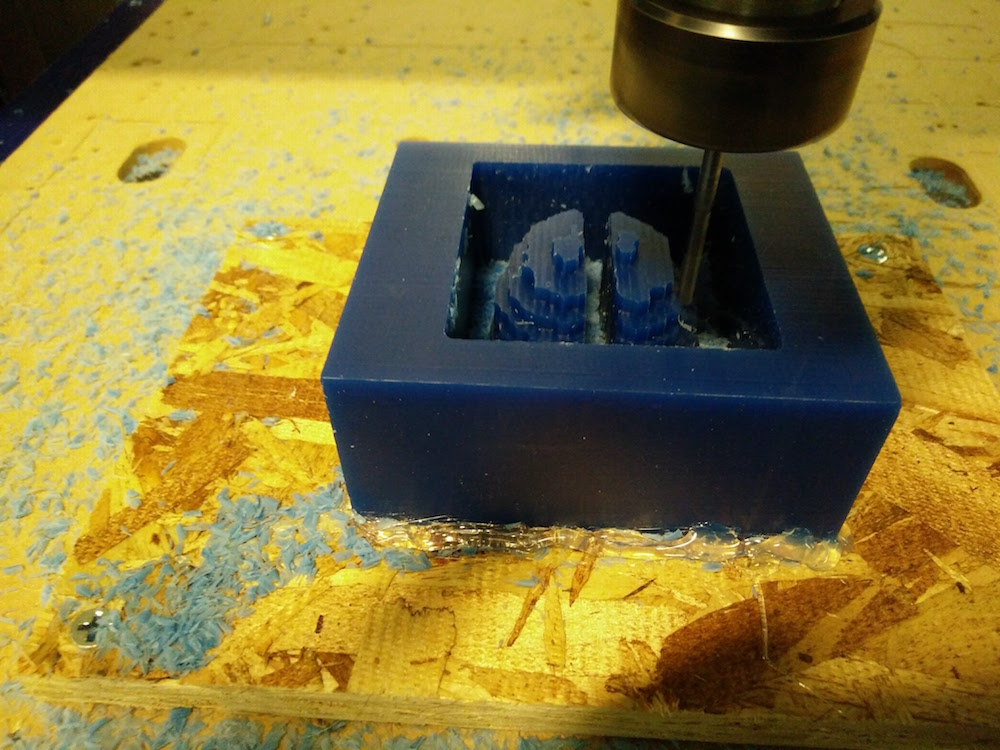 One of the mistakes that I made that I did not pull out the tool enough to go till the depth of the brain bottom. This ended up damaging the top of the wax piece. It was alright in this case since wax is a soft material, but this can potentially harm the machine if the material being milled was not wax.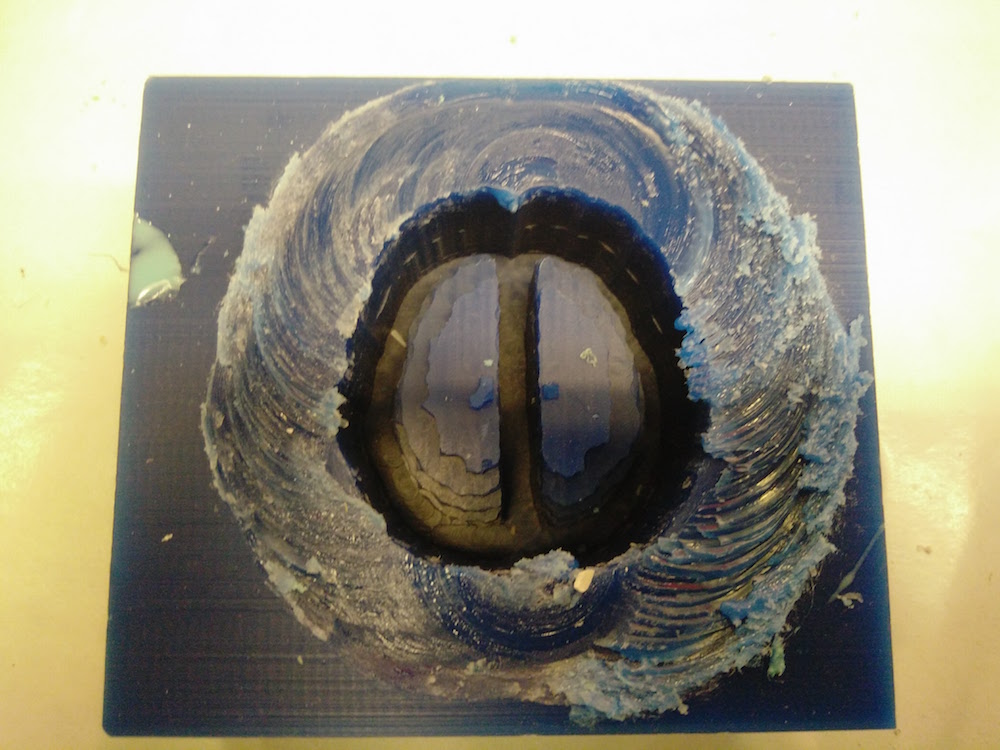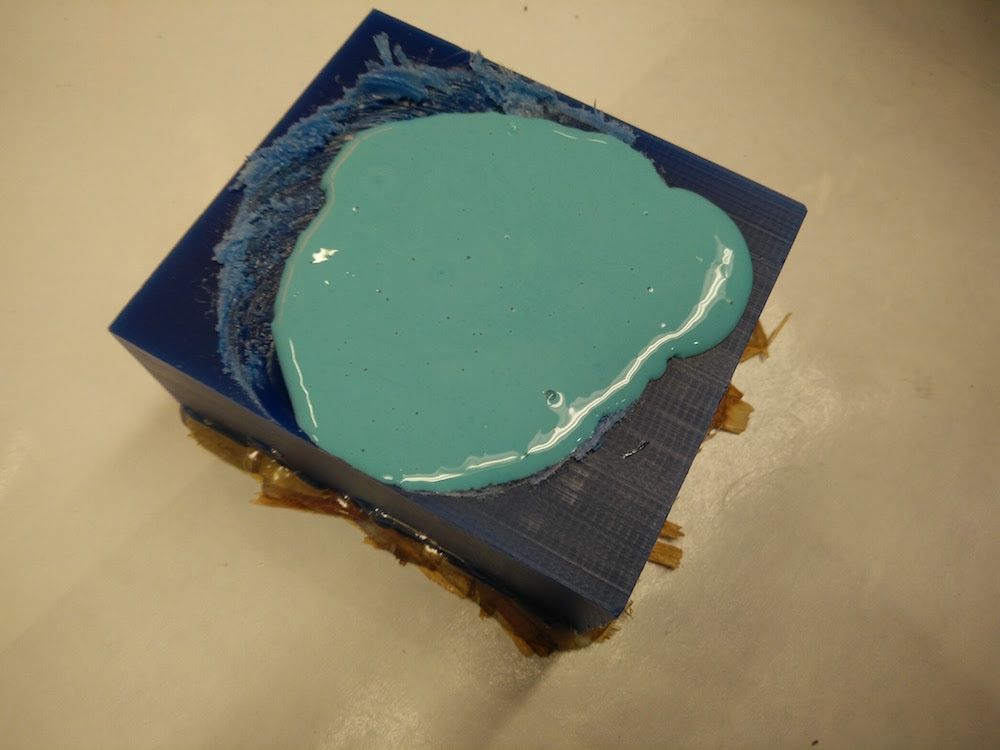 I used oomoo to make the mold. I followed the instructions on the box to mix the oomoo parts in 1:1 ratio and let it set over night.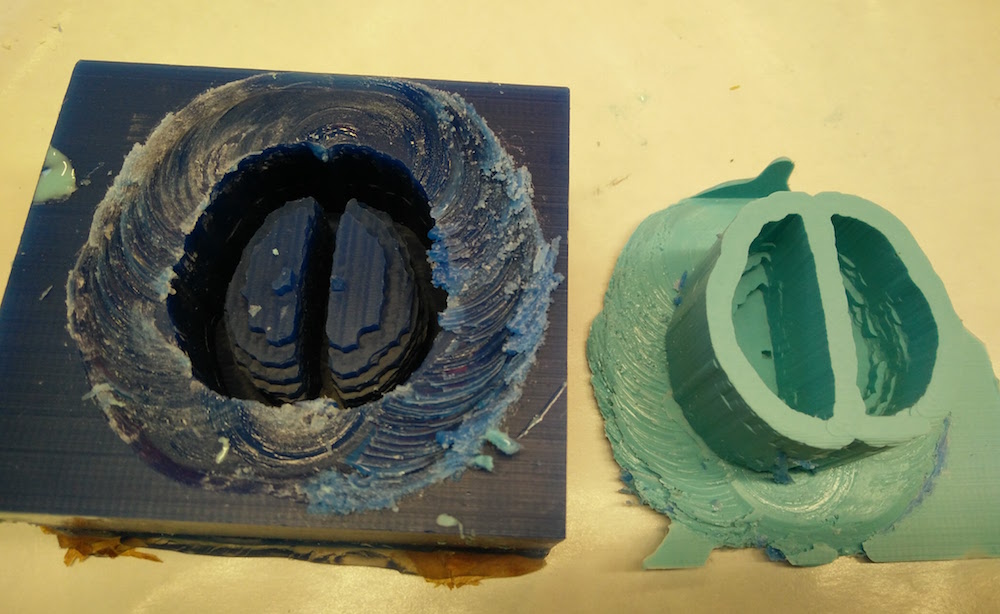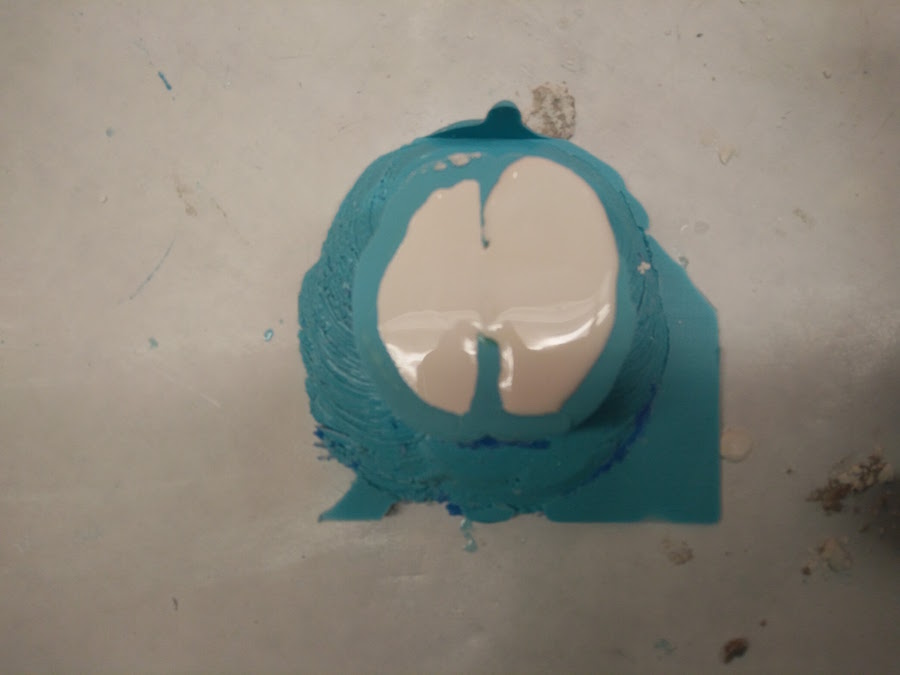 I used drystone for casting the final mode. I forgot to put the oil spray layer for easy removal, but removal was still fairly simple.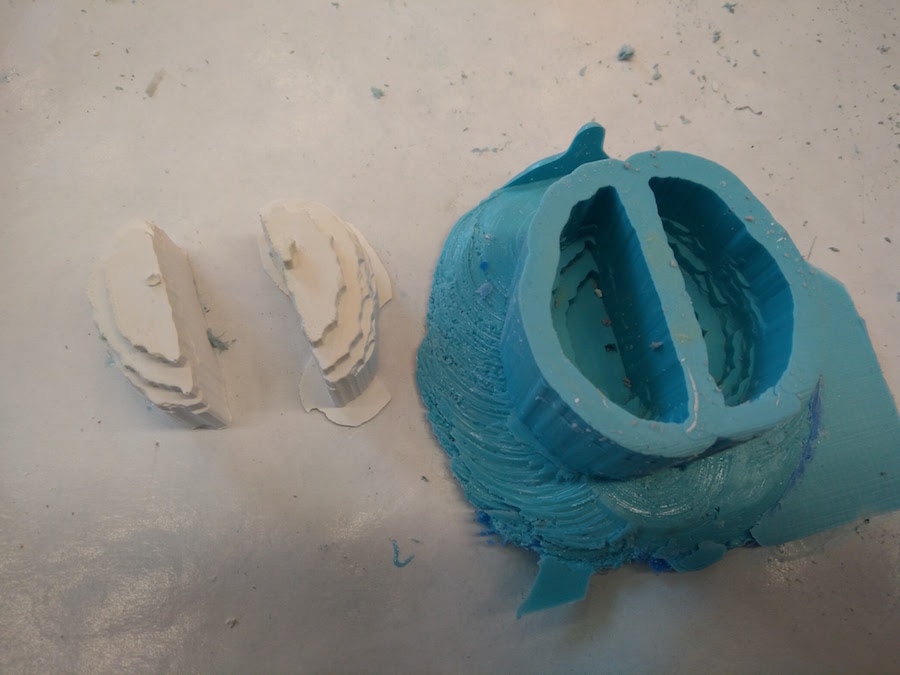 Also, the model came out looking very very rough compares to the 3D model. I was confused about this and asked Tom for help. He asked me to redo it with separate tool paths for roughing and finishing.
Drystone brain casitng attempt 2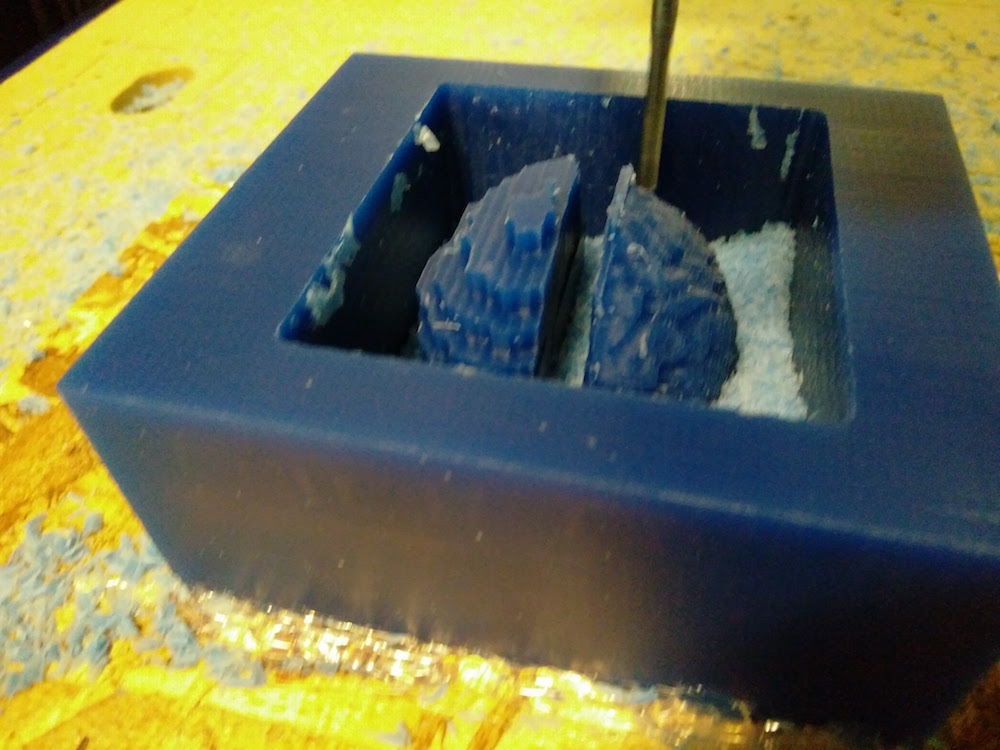 The second model came out looking super neat with good finishing. So I believe either I messed up with a setting in the first attempt, or separating the tool paths was the trick.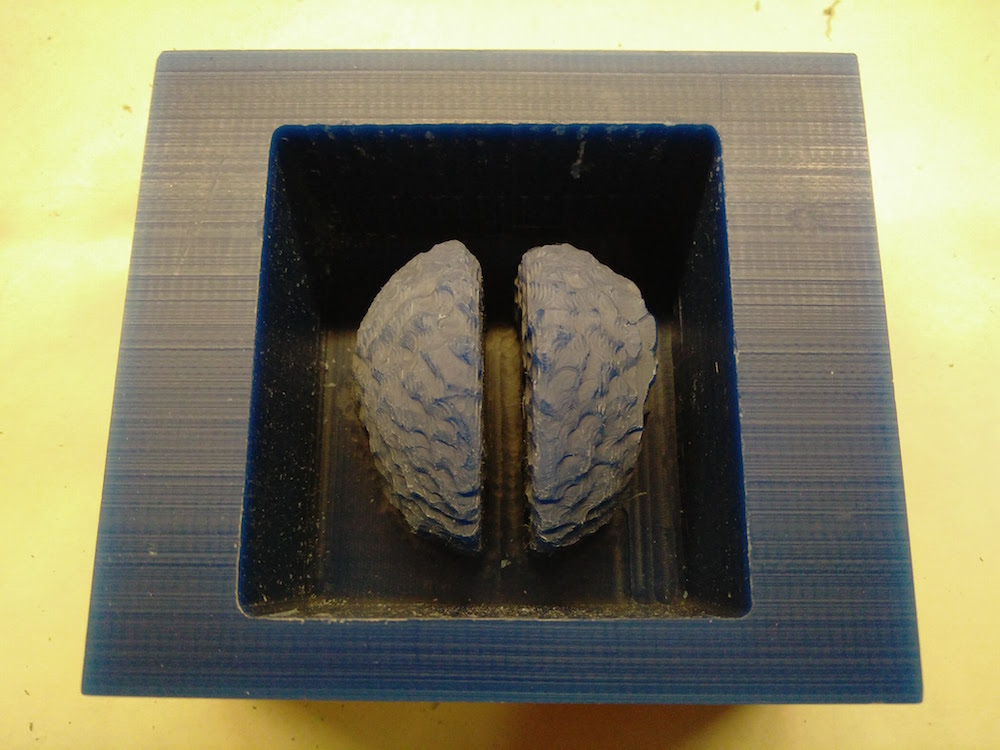 However, an interesting thing that happened was that the machine froze at 96% of the finishing tool path. I lost the zeros, but since I had zeroed fairly precisely, I zeroed again and ran it again, and it again froze at 96%. I just till the remaining details manually, but we were intrigued by this problem. At first we thought it was something with the model because my classmate could mill their model completely. However, Tom ran the cut on the other (big) Shopbot milling machine, in the air with no material, and it completed. So, he diagnosed that it is a problem with the Desktop Shopbot milling machine (small) and that he would look into it.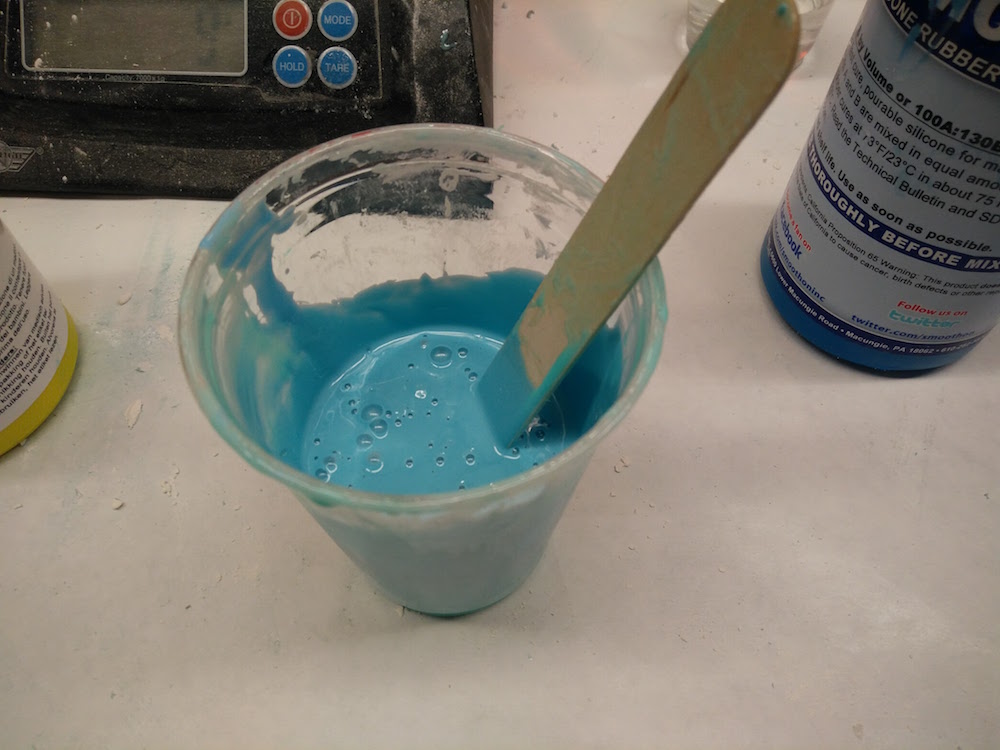 I followed the same oomoo, drystone drill.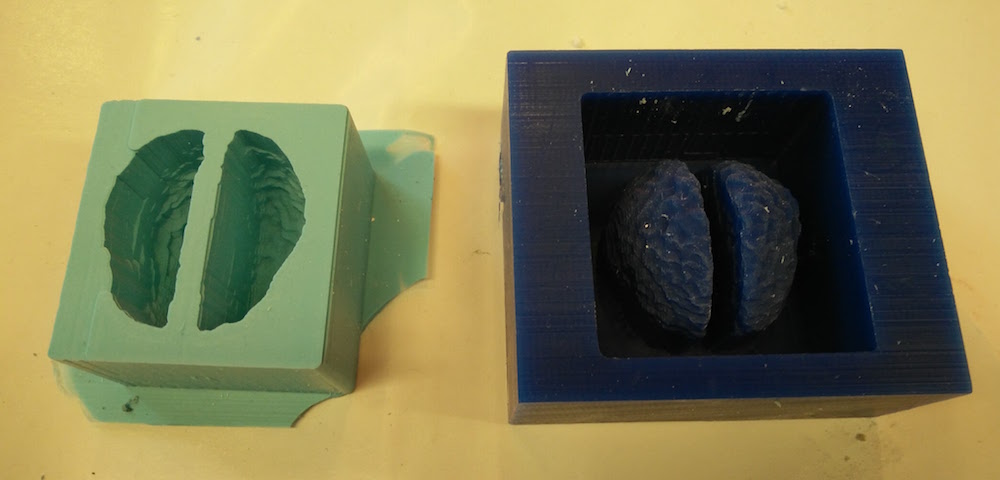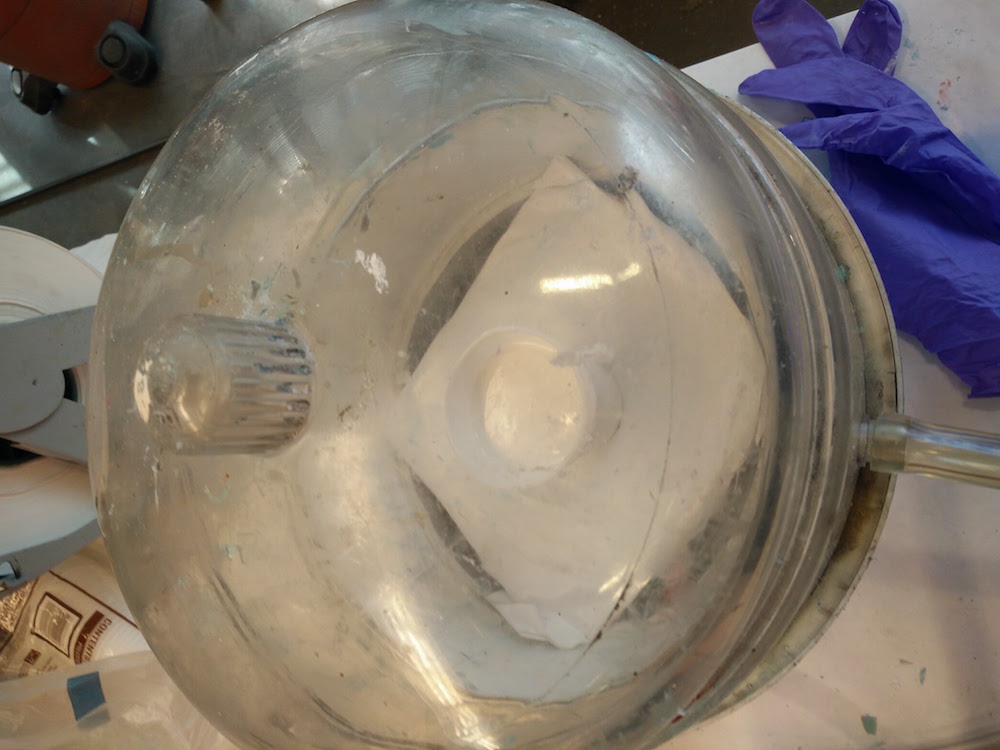 I made sure I used the cool vacuum machine to de-bubble the oomoo as well as the drystone mixture.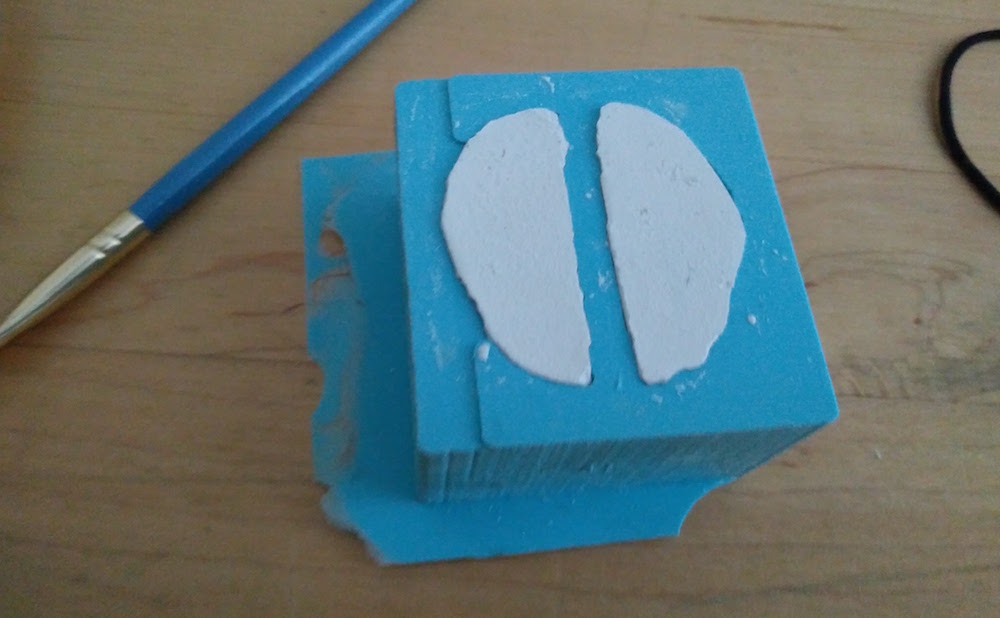 I used the sandpaper machine to smoothen the bottoms of the final mold.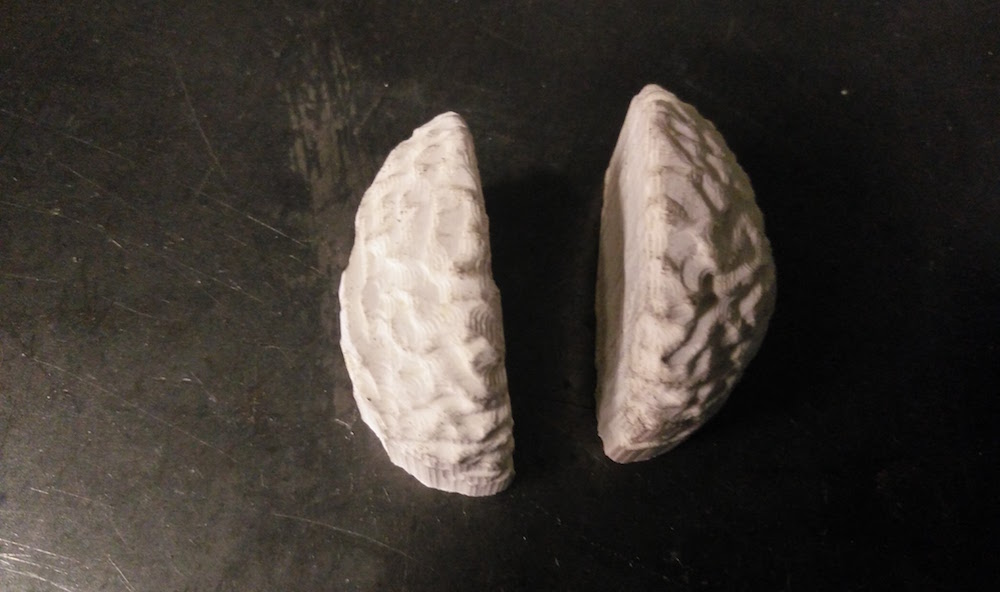 Since this was a left brain, right brain cast, I went ahead and painted them as left and right brain. Also, my final aim was to embed these into a skull, so I wanted them to be nice and bright.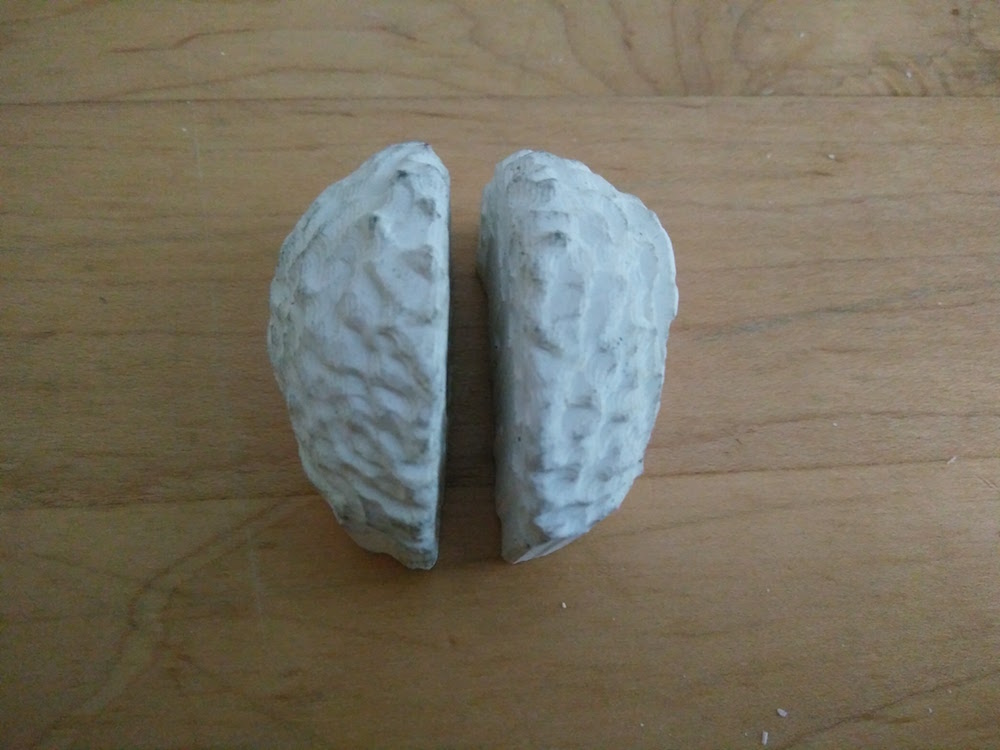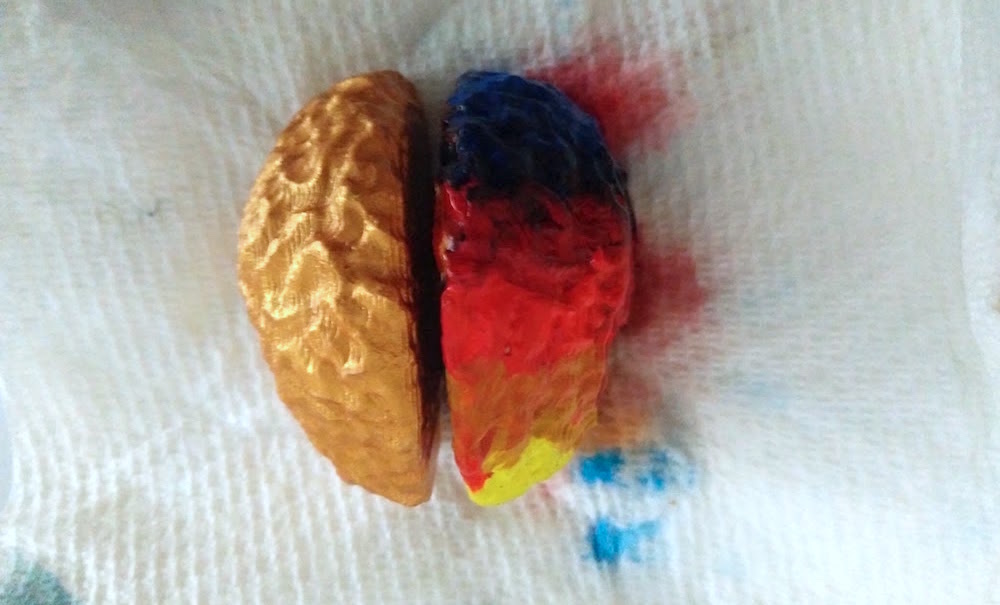 Skull embedded with the brain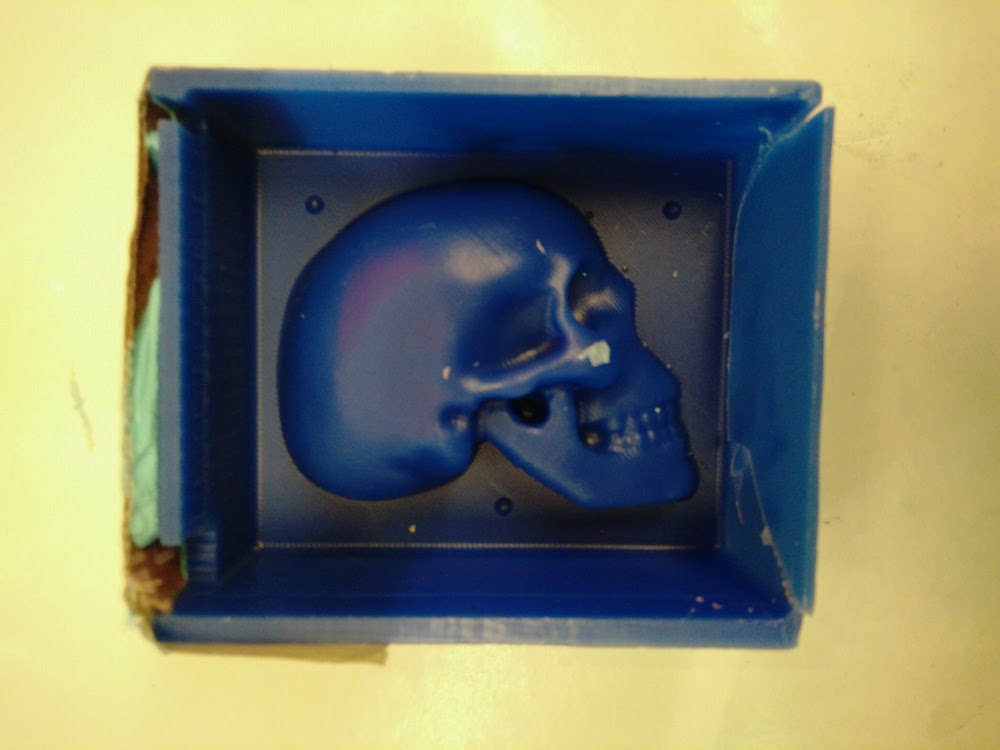 The skull model I was using is a Thingiverse model and not designed by me. I used this model's positive in was, and used Ooomoo to make the mold. The process was exactly the same as the brain.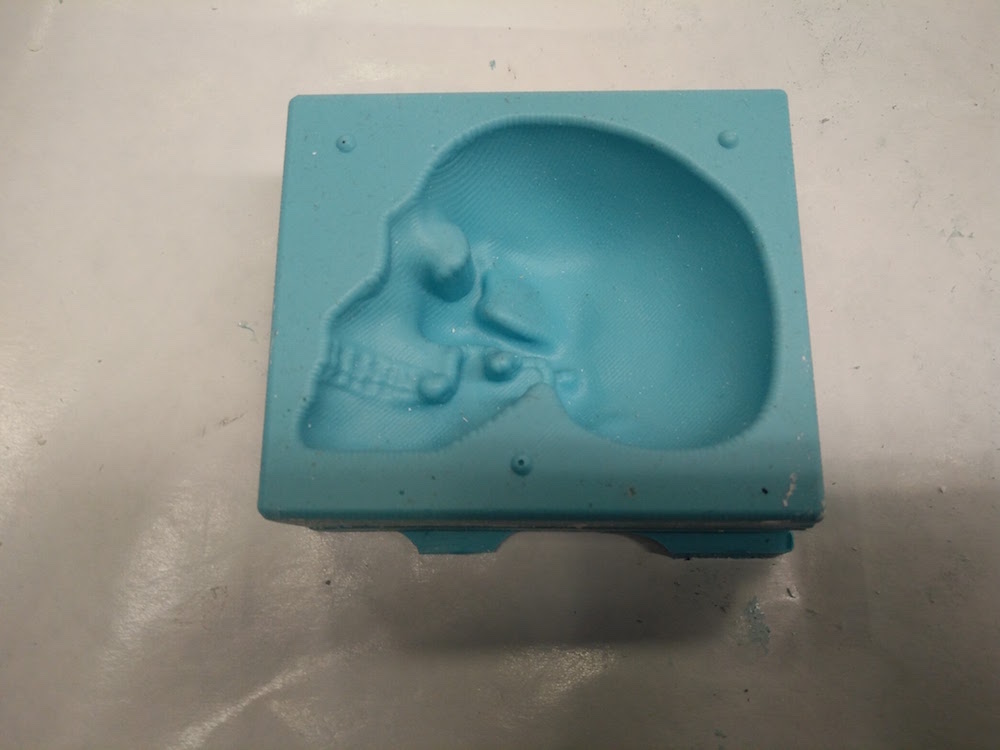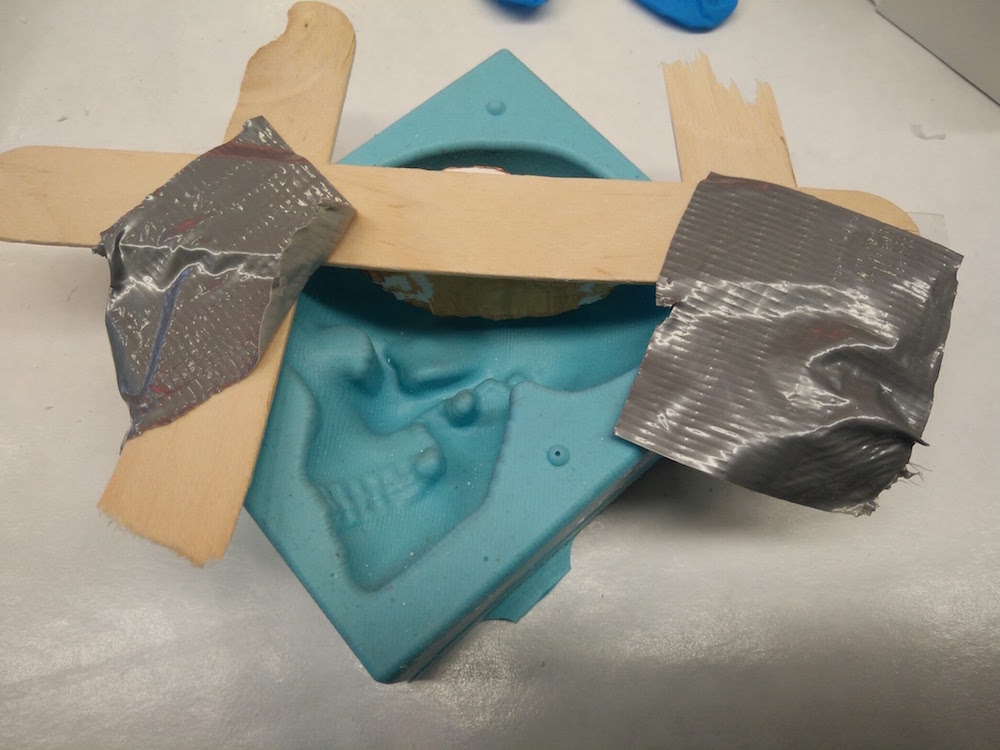 I then used two ice cream sticks, and tape to suspend the golden painted brain model in air within the skull. This was a bad idea and we find out later why.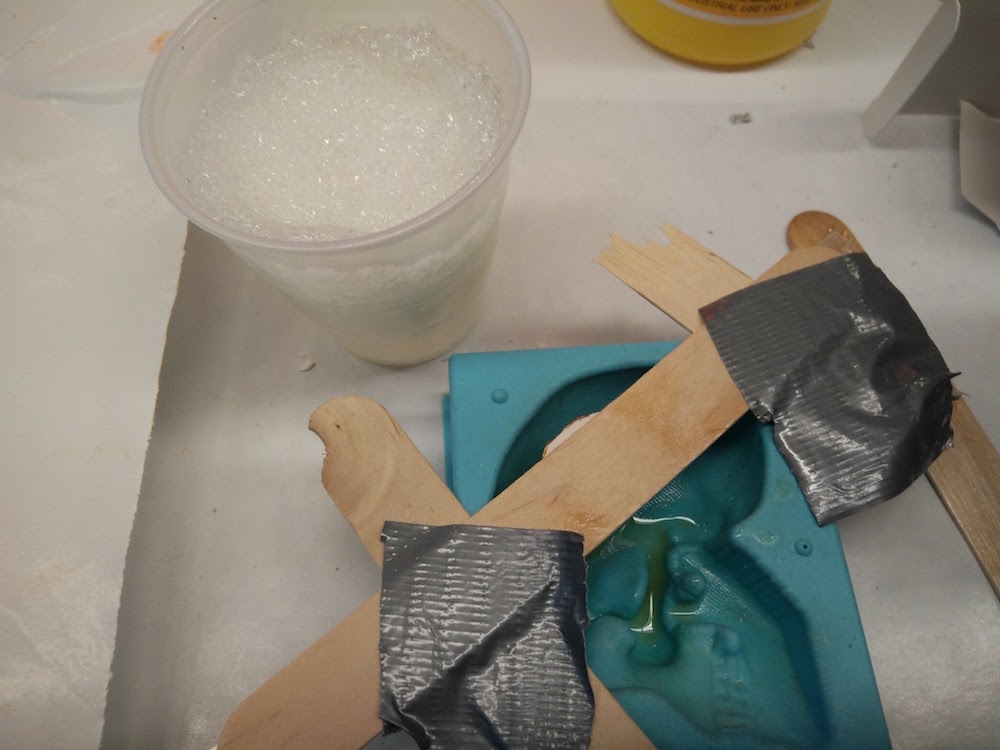 I used the non stick spray to be able to remove it well. I used the The Smooth-Cast™ 325 ColorMatch™ that Ryan from the ACT group gave me (thanks Ryan). It's not exactly transparent since it's made for adding color dyes to it, but that is what I found in the lab. The first time I ade the mixture, it had many bubbles. So I spent a lot of time de-bubbling it. As I took it out of the vacuum machine, it had already frozen, and the cup was very hot. I then realized that this mixture takes 5 minutes to settle. So then I made another mixture and did a quick de-bubble after which I poured it in the skull with the suspended brain. Halloween done right.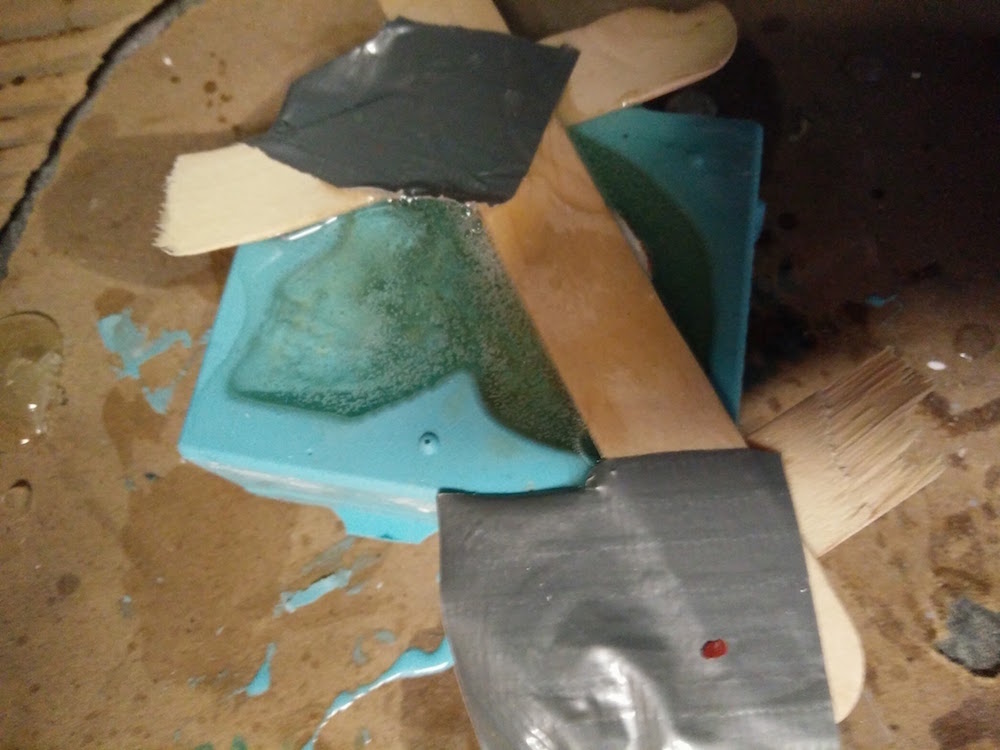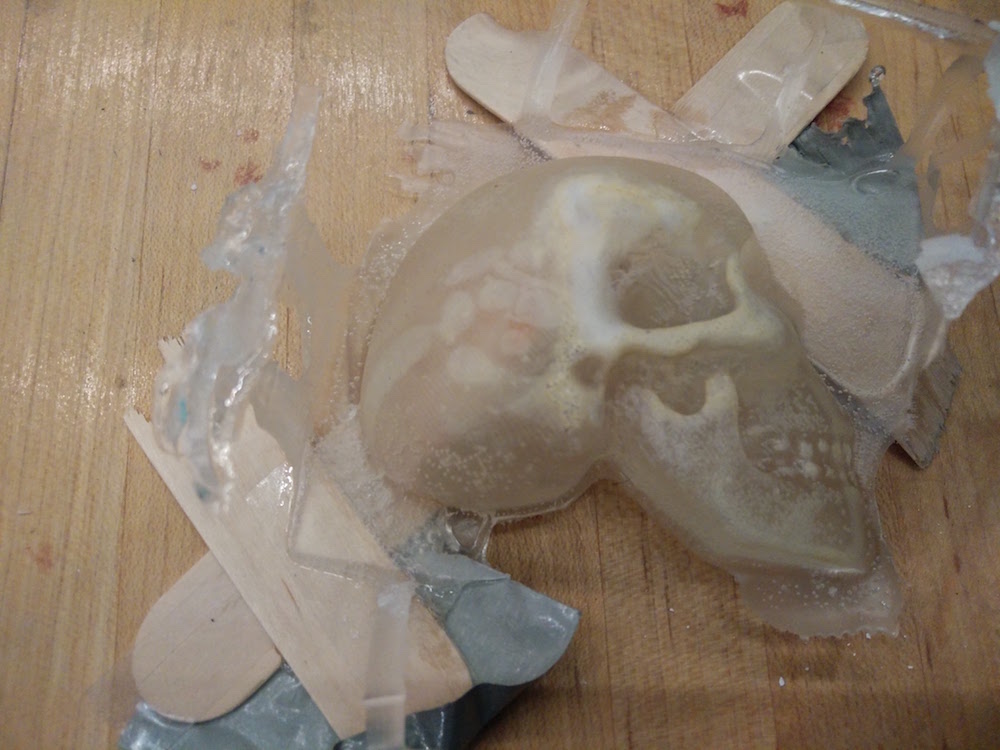 After drying (1 hour), the model poppedout very easily. It was extremely difficult trying to remove the ice cream sticks because they had stuck so well with the cast. Also the non stick spray had sedimented in an ugly color on the surface. Also, the material was very translucent and not transparent as I had hoped. I later learned that I should have used the clear Epoxy resin material to get a transparent look. The brain is slightly visible through the skull, but not completely.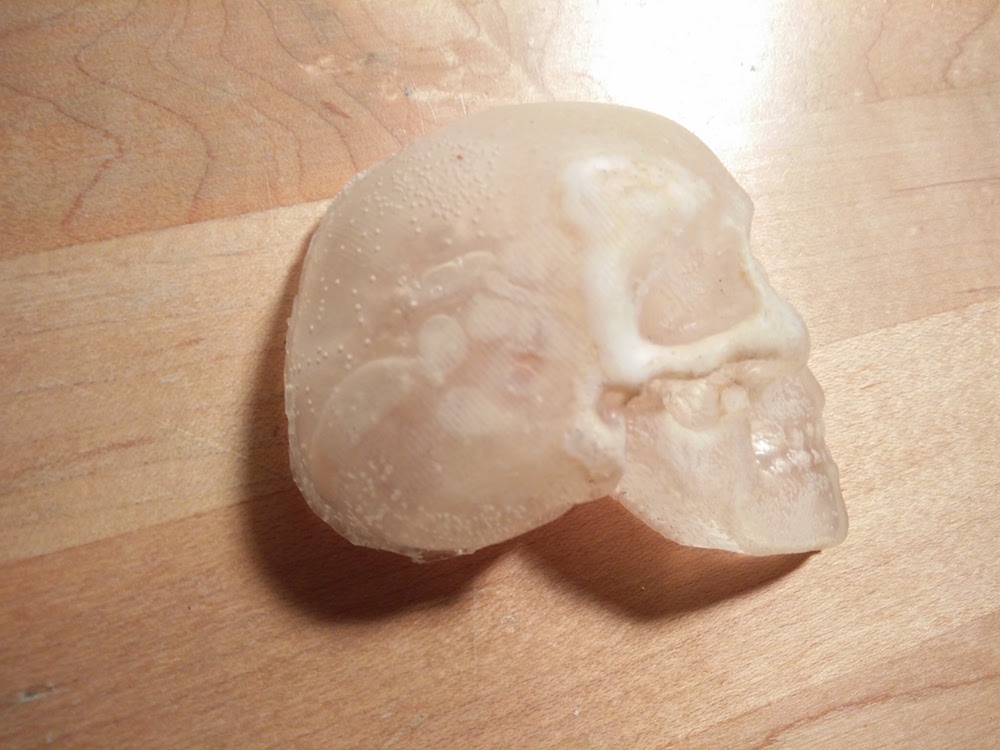 Chocolate skulls and brains
While hanging out in the workshop I met Anna and Pinar and they had extra food safe molding material and were planning on making chocolates. I got excited and joined that venture, because chocolate!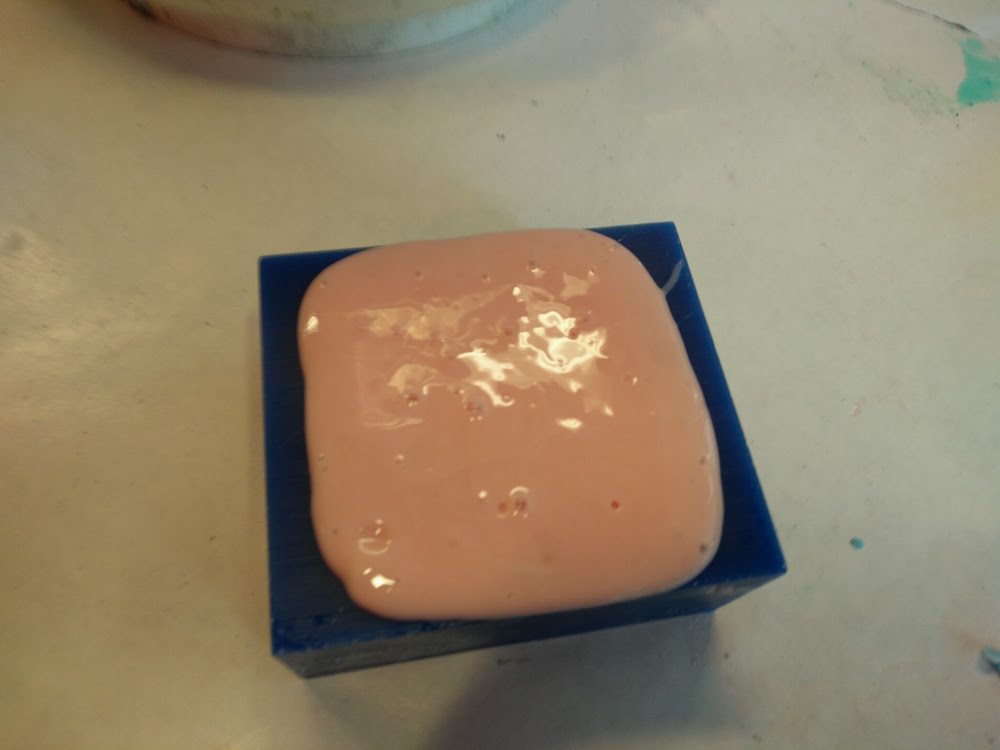 I used the food friendly mold material to make molds of the brain and the skull.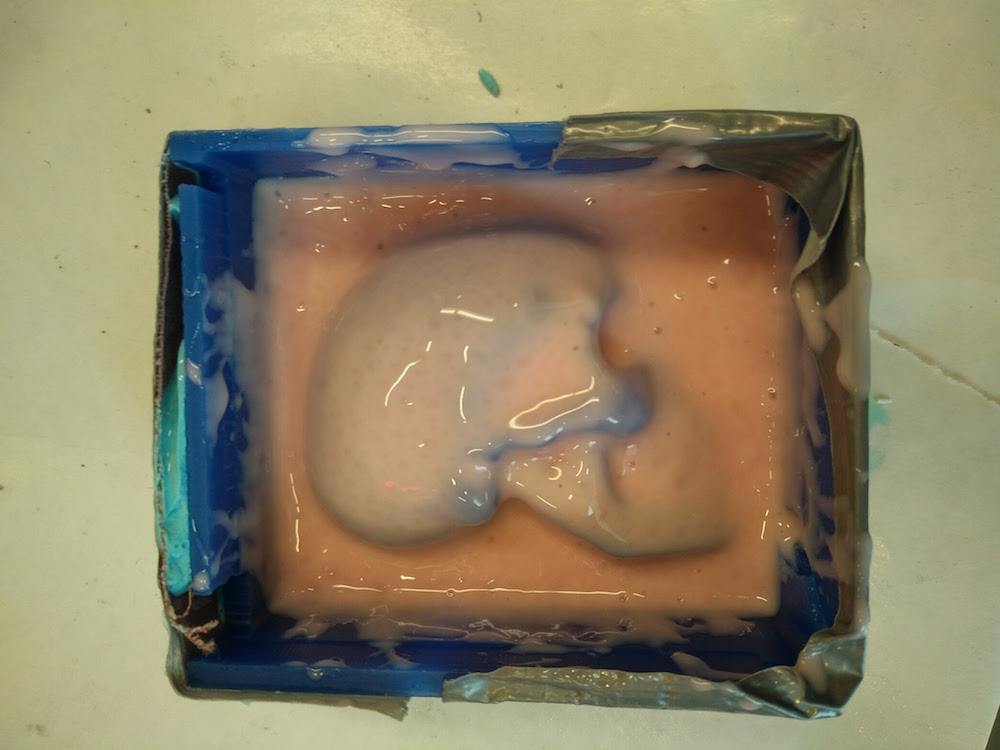 Since we were short of material and I was doing this part for fun, I wanted to experiment if I could just do a thin layer instead of fill in my block with mold mixture and get away with it. And it worked well! In fact the mold it gave out was better than the full-fill molds we have, but I believe it isn't as robust and can't be used multiple times.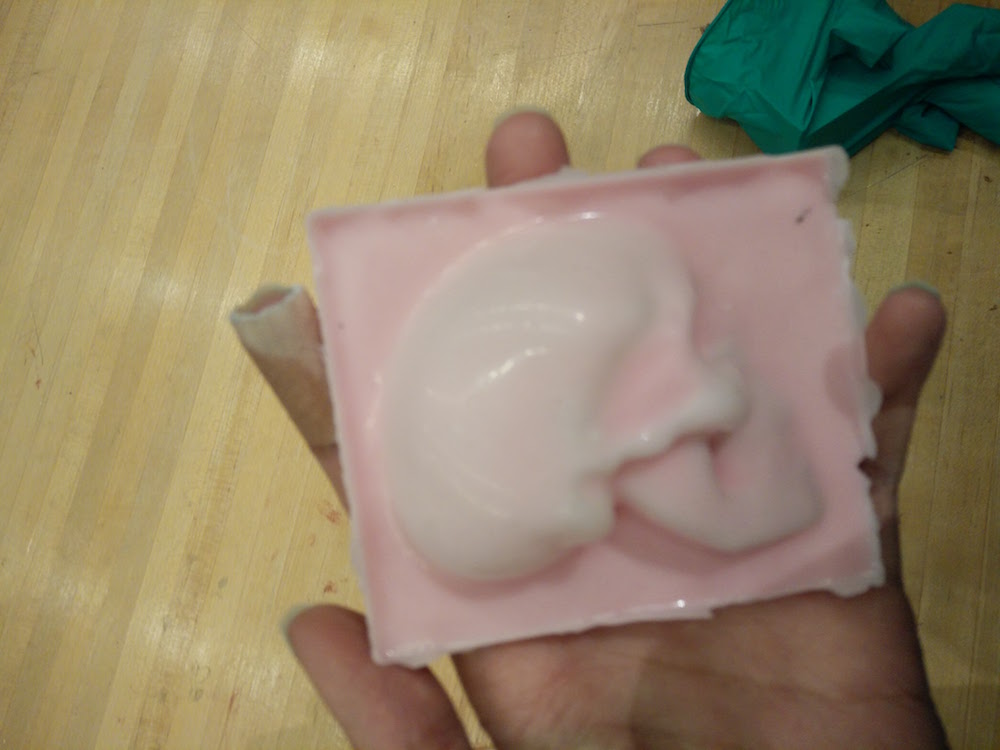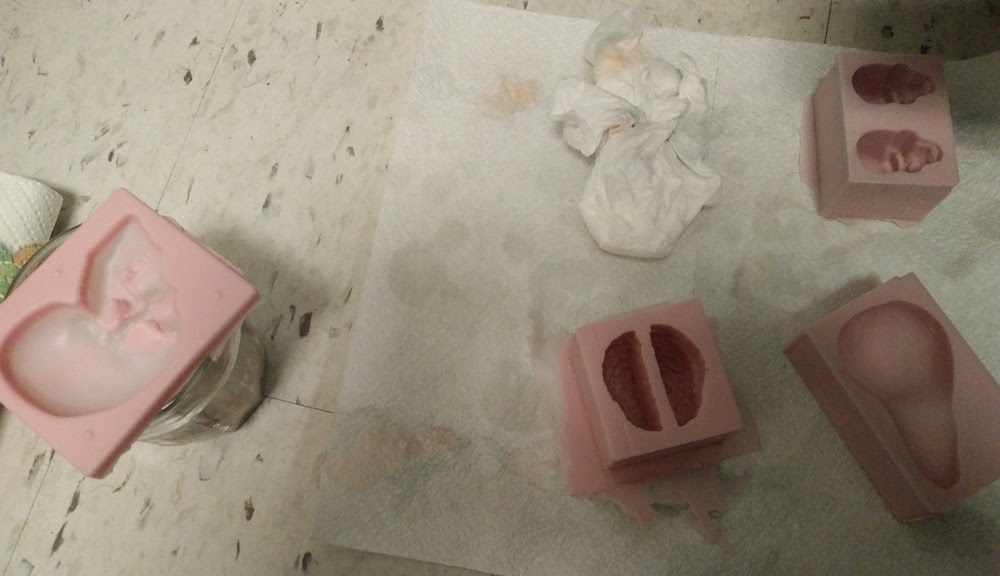 We used chocolate pellets that Anna had at the student center and used a double boiler to melt them. When it was a consistent mixture, we poured them into our molds.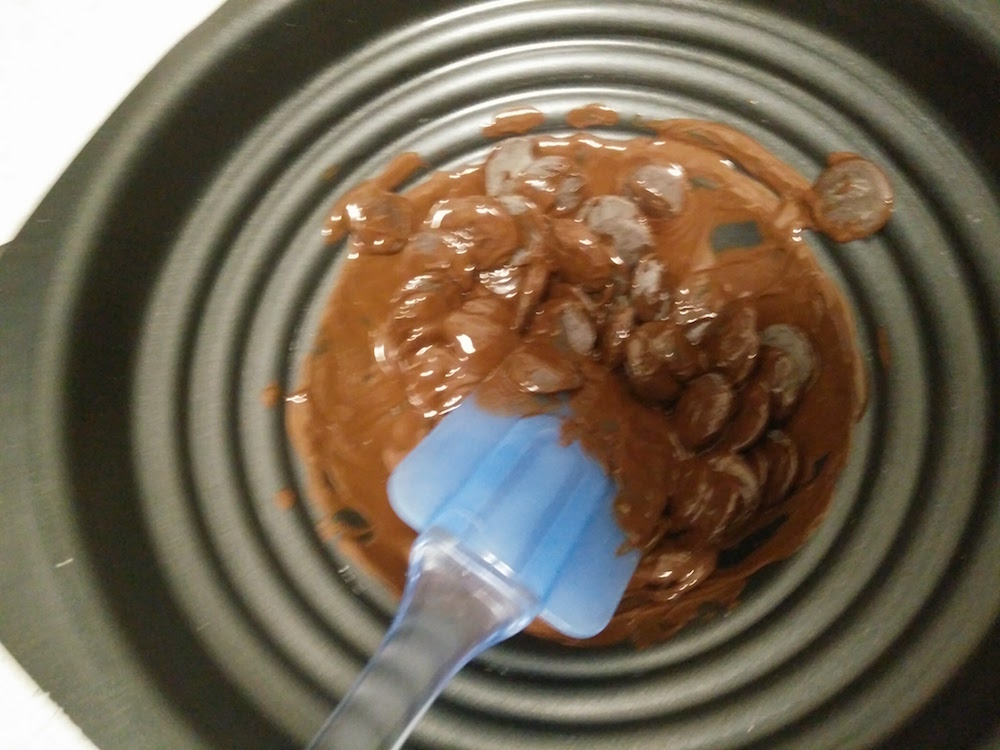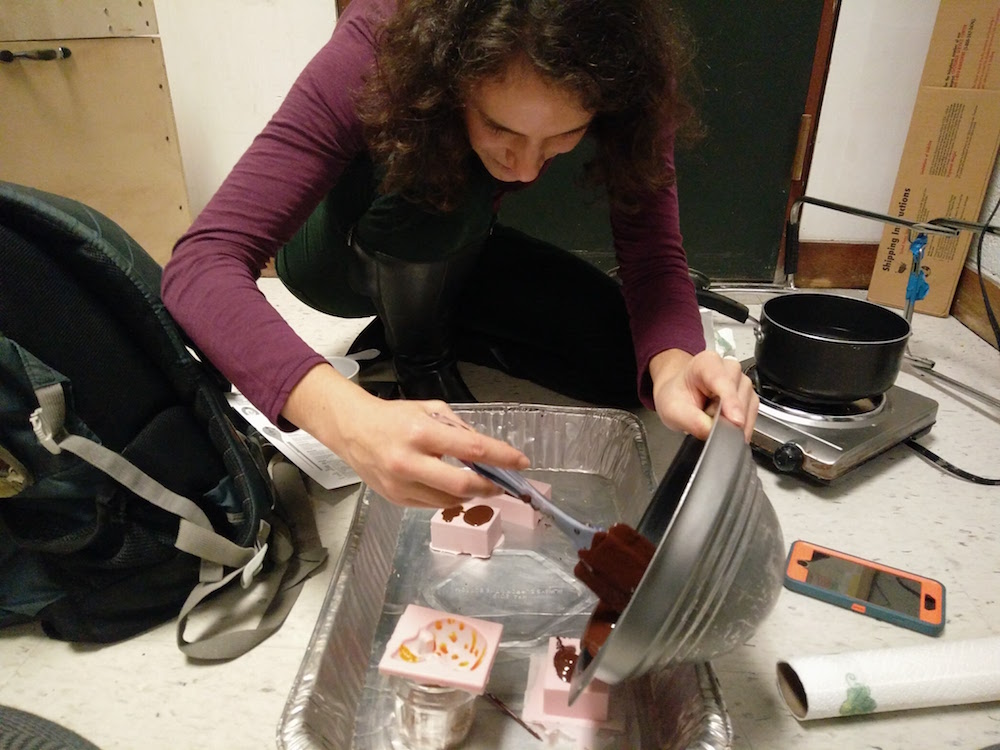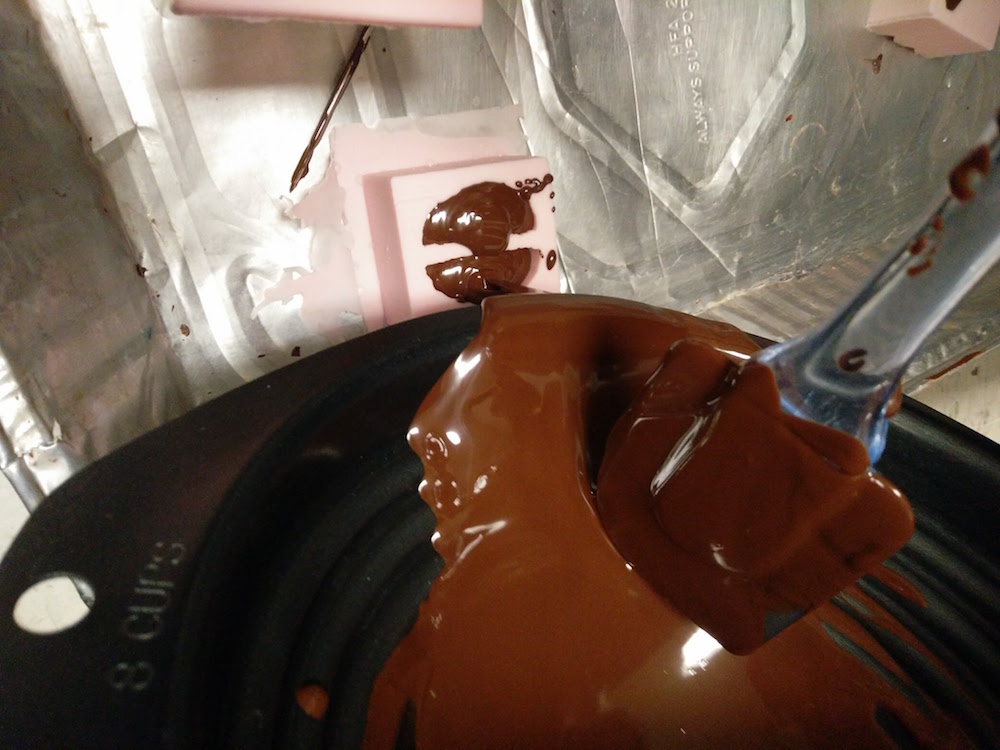 We also used some colored coco butter to paint the insides of the mold to get painted chocolate.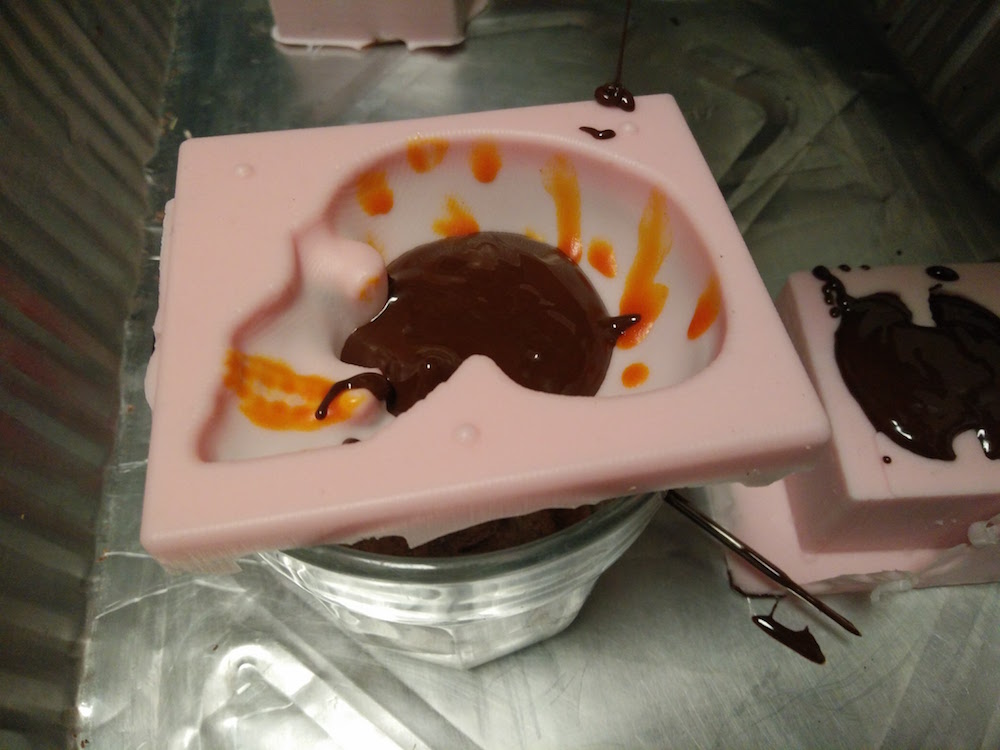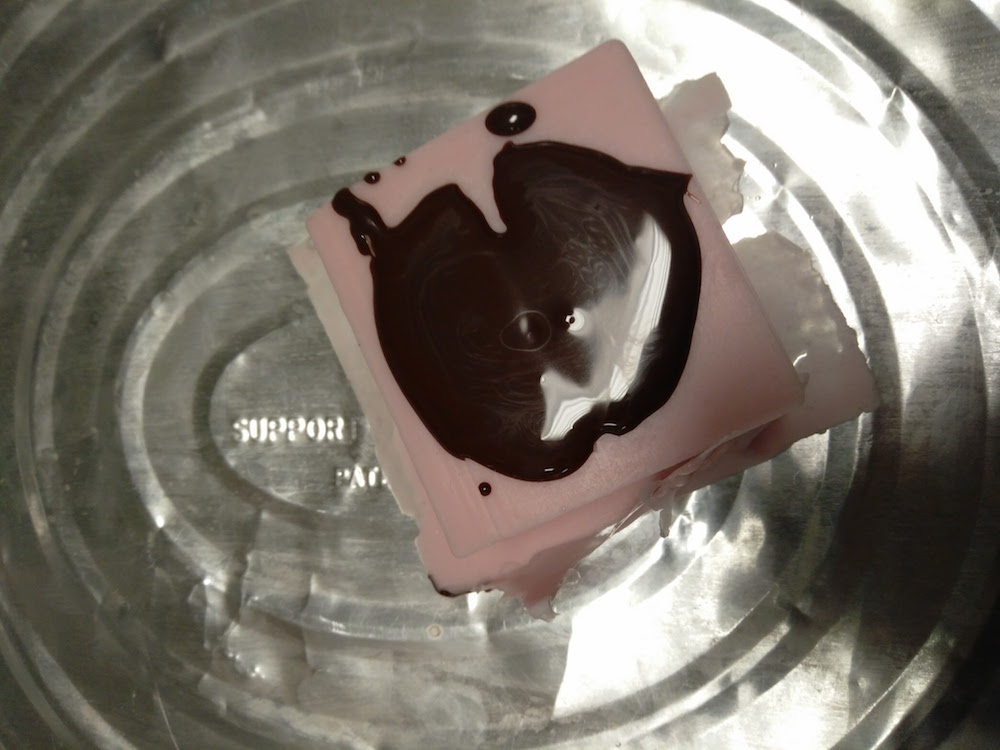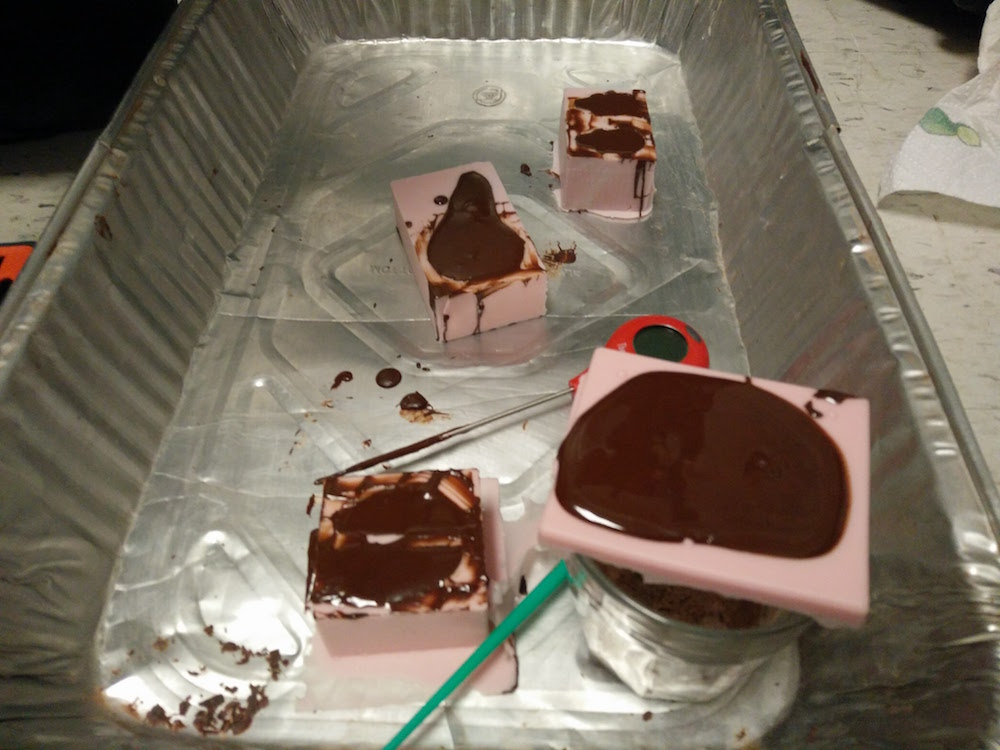 We put the chocolate casts in the fridge for quick setting. Since the skull mold was so thin, we used a cup to balance it on.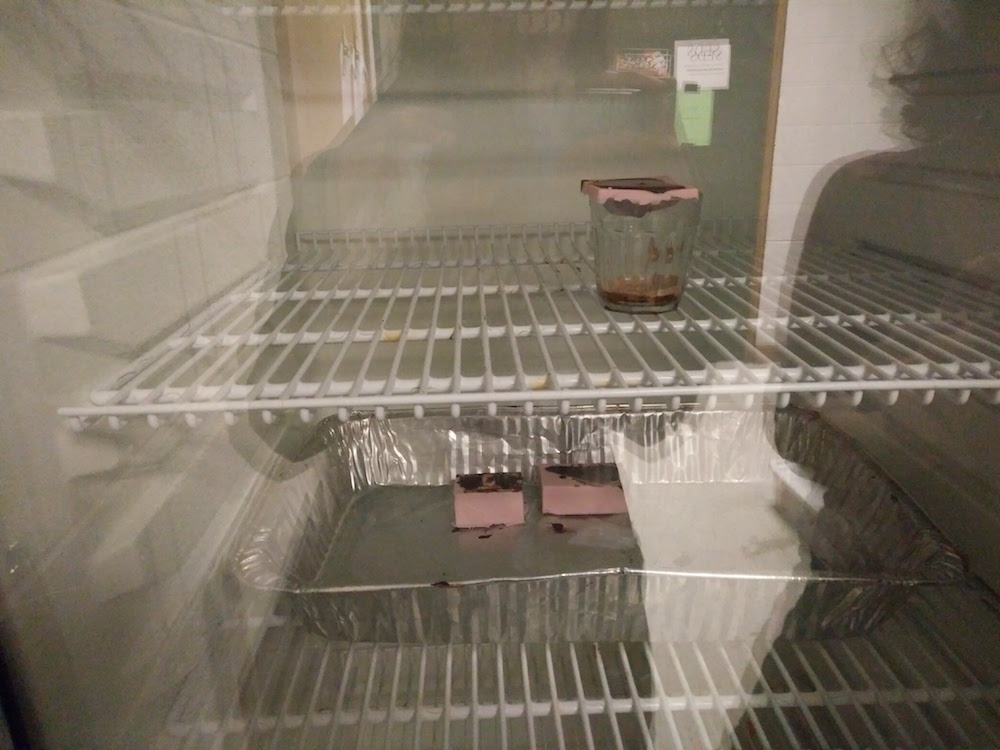 This process was especially fun because it involved eating a lot of chocolate.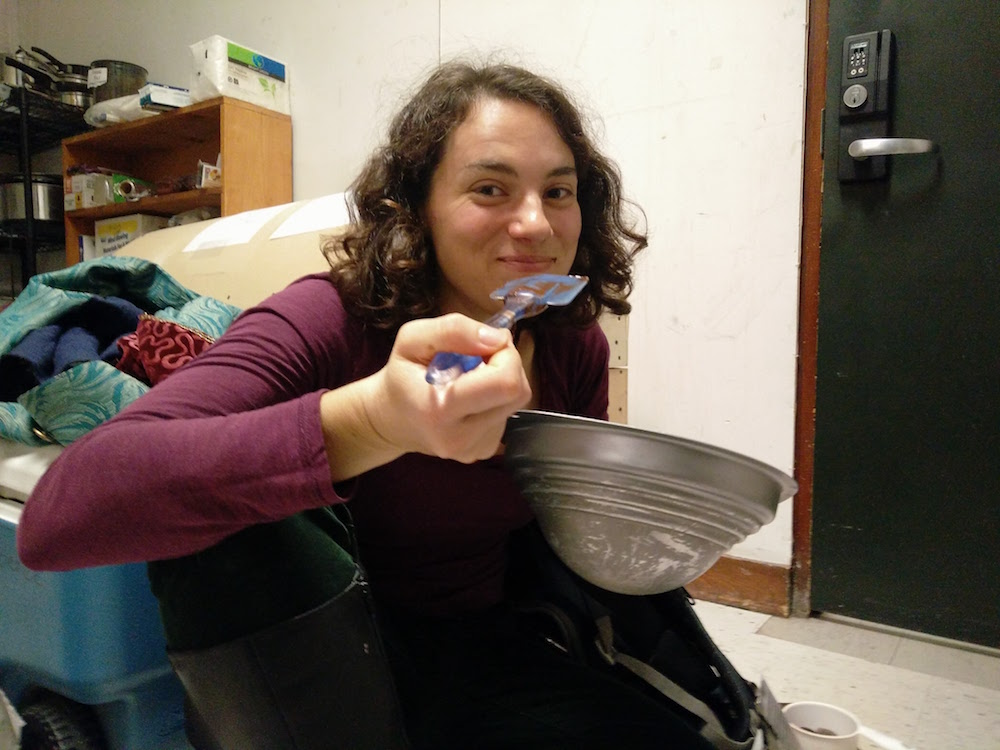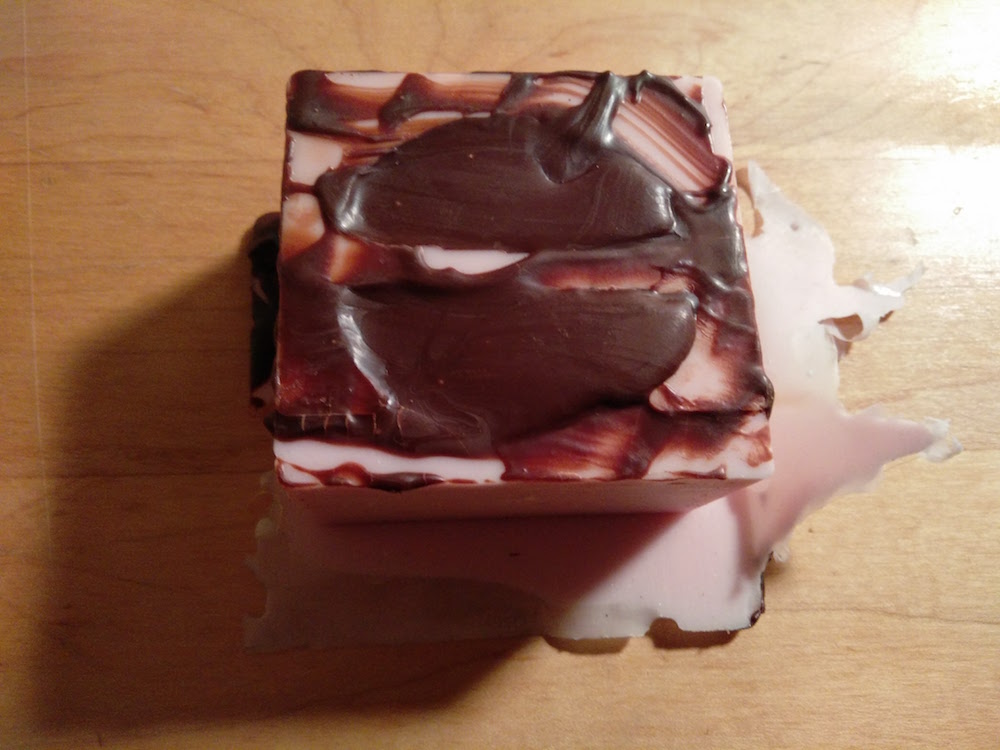 It would be cool to try this with different chocolates and the suspension idea. I could make the skull in white chocolate, and suspend the brain in it, which is made with brown chocolate. I can still make it since I have the molds.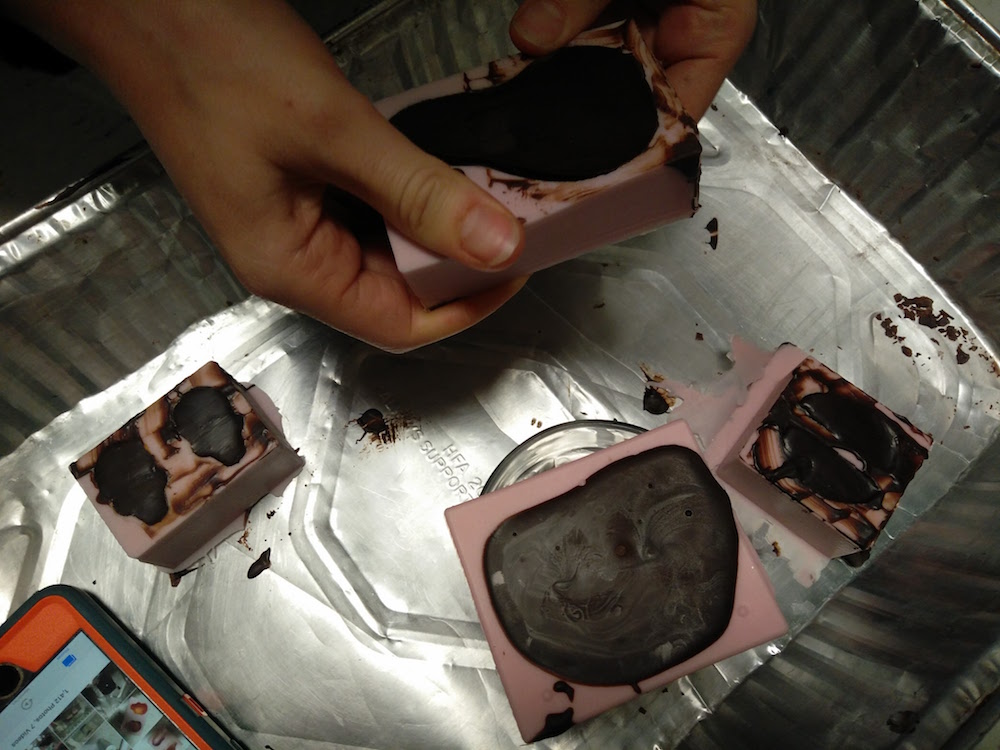 The chocolate molds tool >30 min to settle in the fridge and easily popped out. The thin film of the skull was especially easy to work with while popping it out.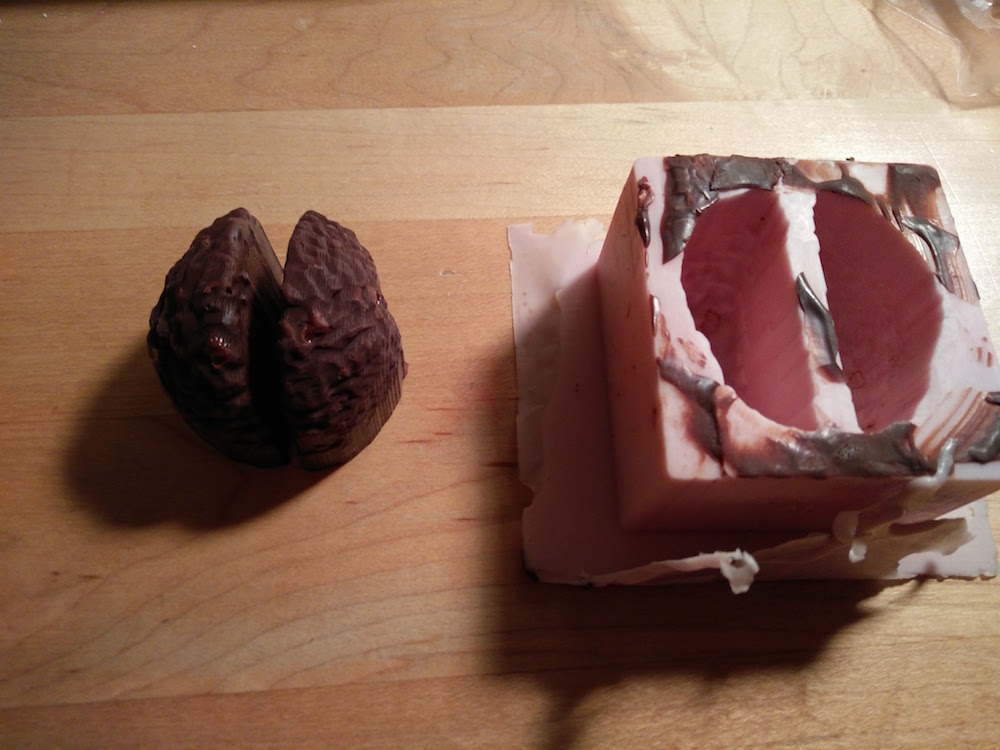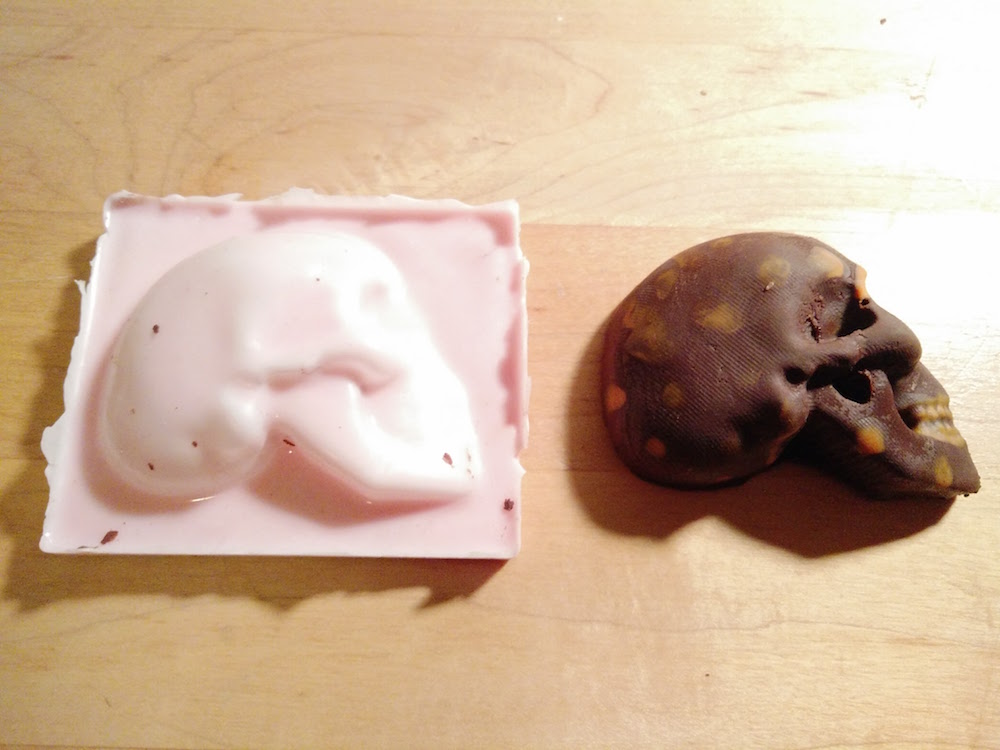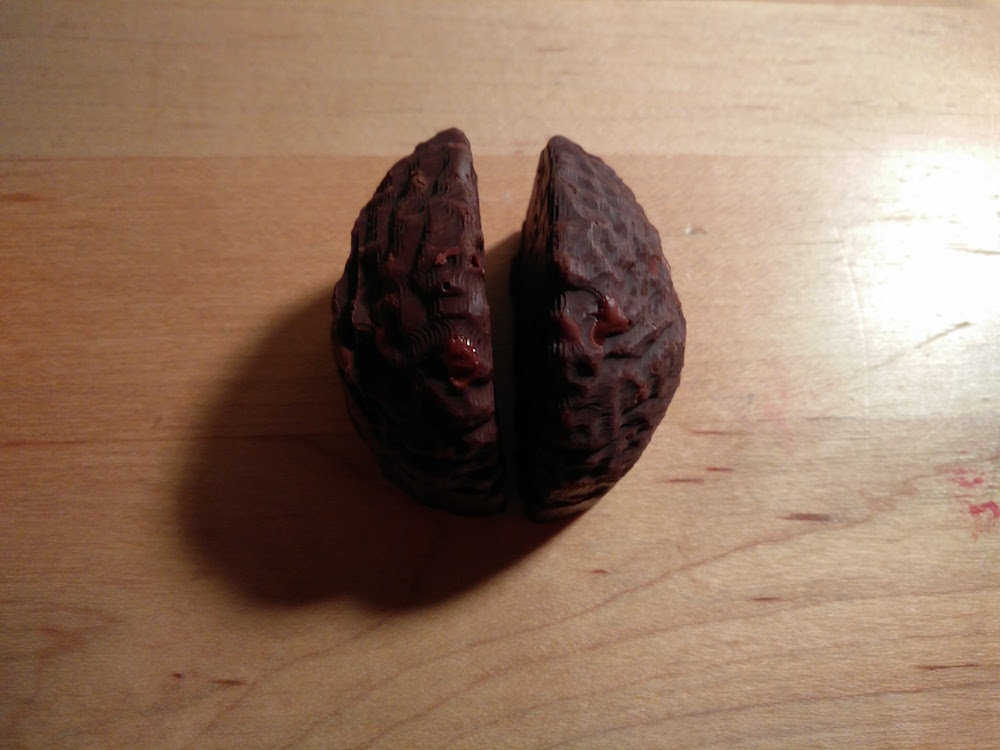 Face masks
I also wanted to use this week to make some plastic masks of real people. I wanted a thin film mask and brainstormed with multiple people about how to do it. We settled on the idea of making 2 separate molds (positive and negative) of faces, and pouring plastic in between them. But first I needed an accurate skin impression, so I headed to Reynold & Blick's to try to get skin friendly casting material. I bought some gauze strips, and skin friendly plaster to do this.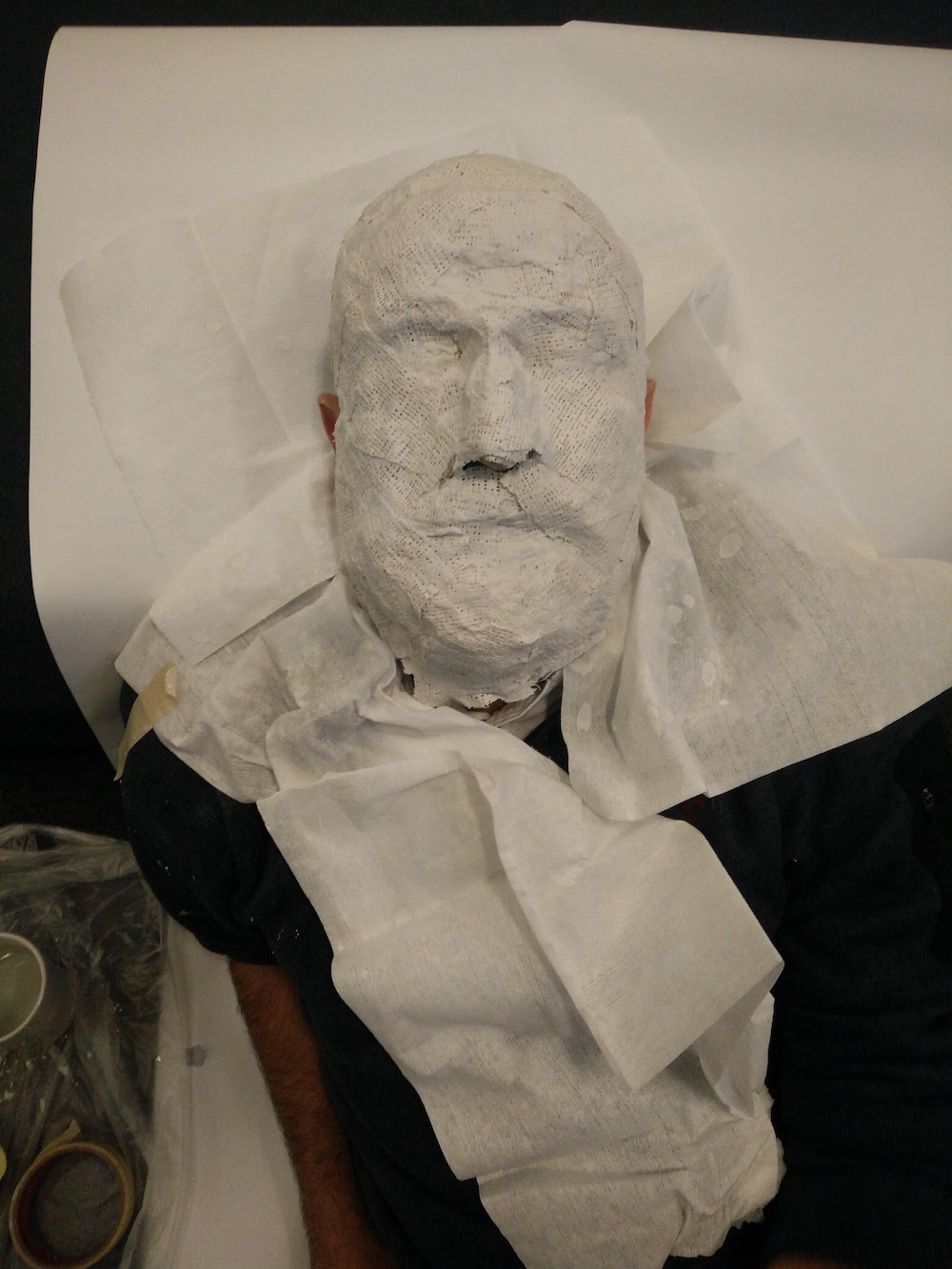 Super grateful to Anastasia and Pedro for volunteering and sitting so patiently through this. I cut the gauce strips into smalled pieces, dipped them in the warm water + skin friendly plaster material, and applied them to the face. I did 3 layers. I left eh nostril portion open so that they are able to breath well. The process was fun. I used a hair dryer for quickening the drying process.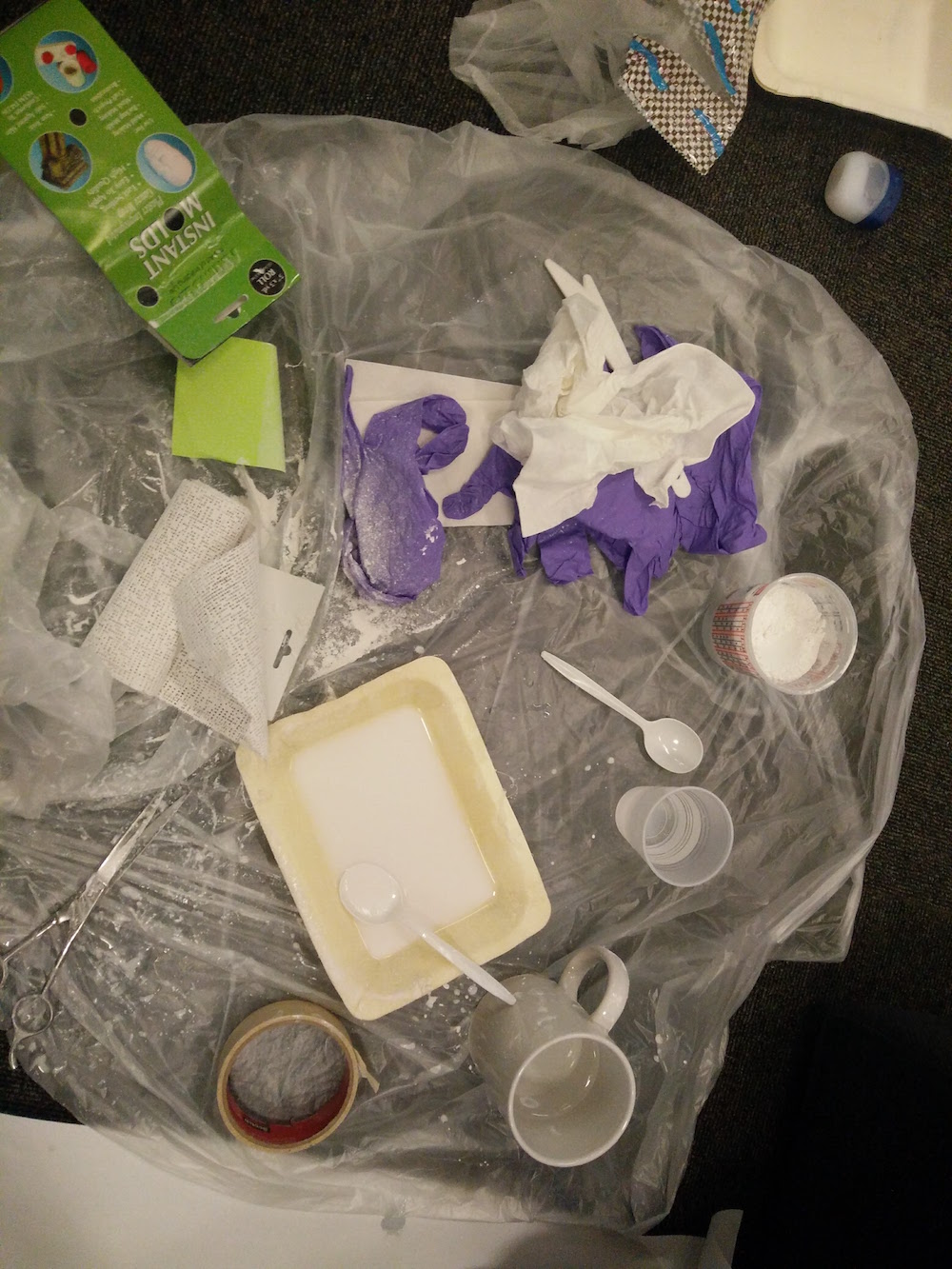 I started by applying a thick coast of vaseline on their face so that the mask comes off easily. Pedro's face was a challenge because he has beard and it was difficult to get the plaster stick to the beard.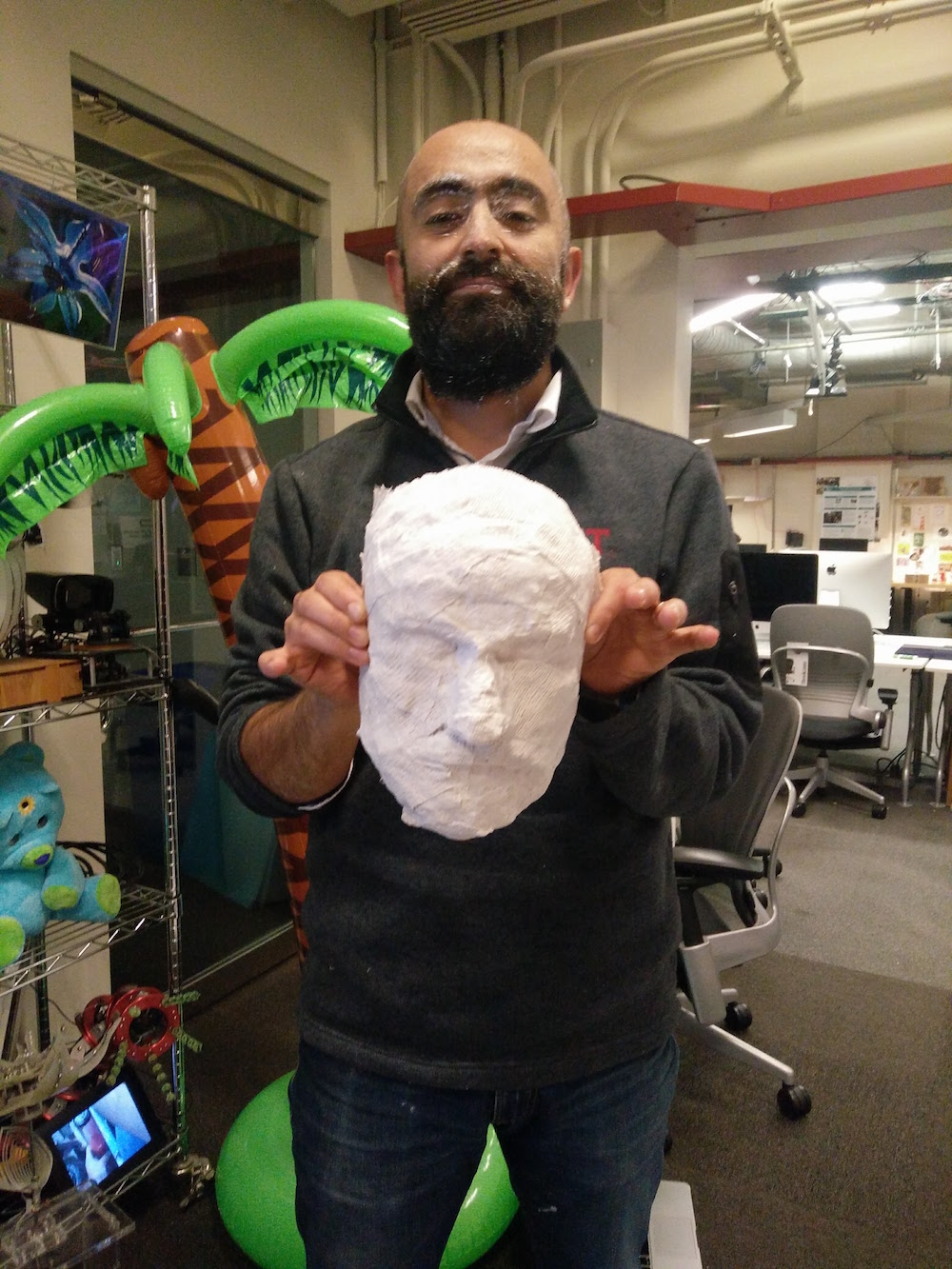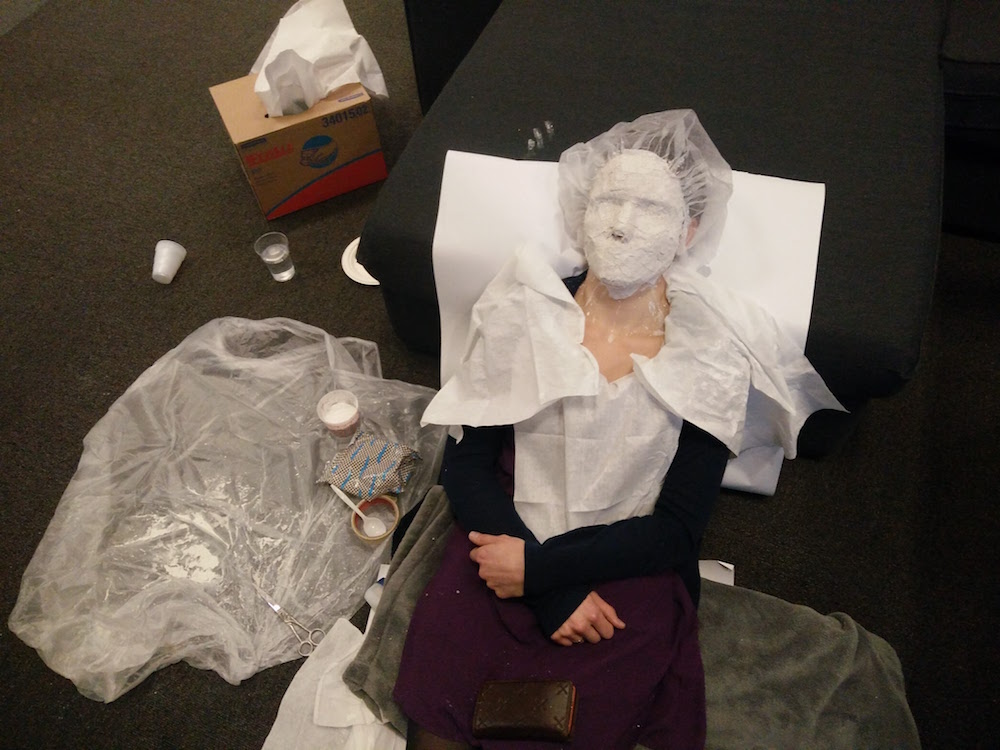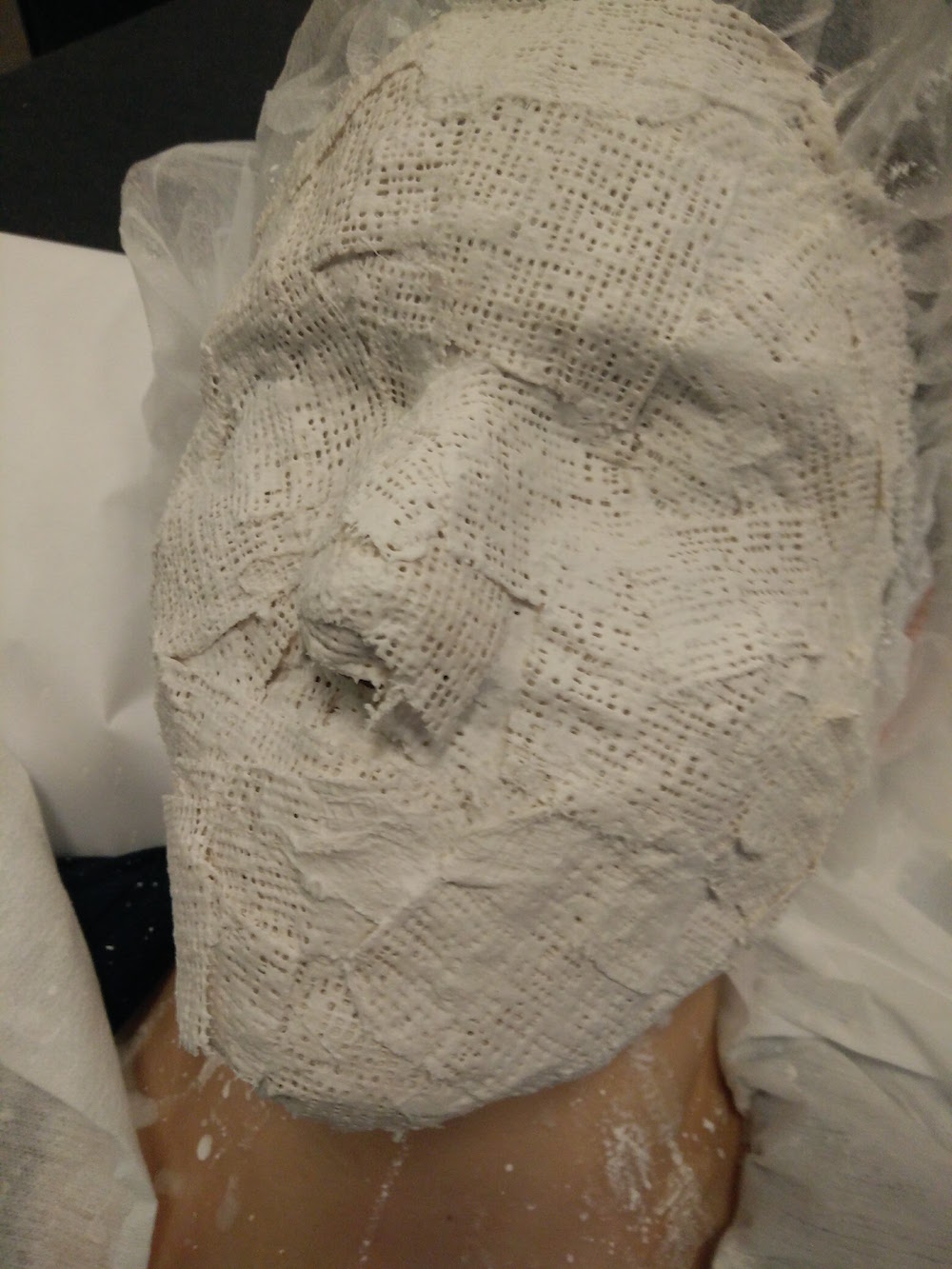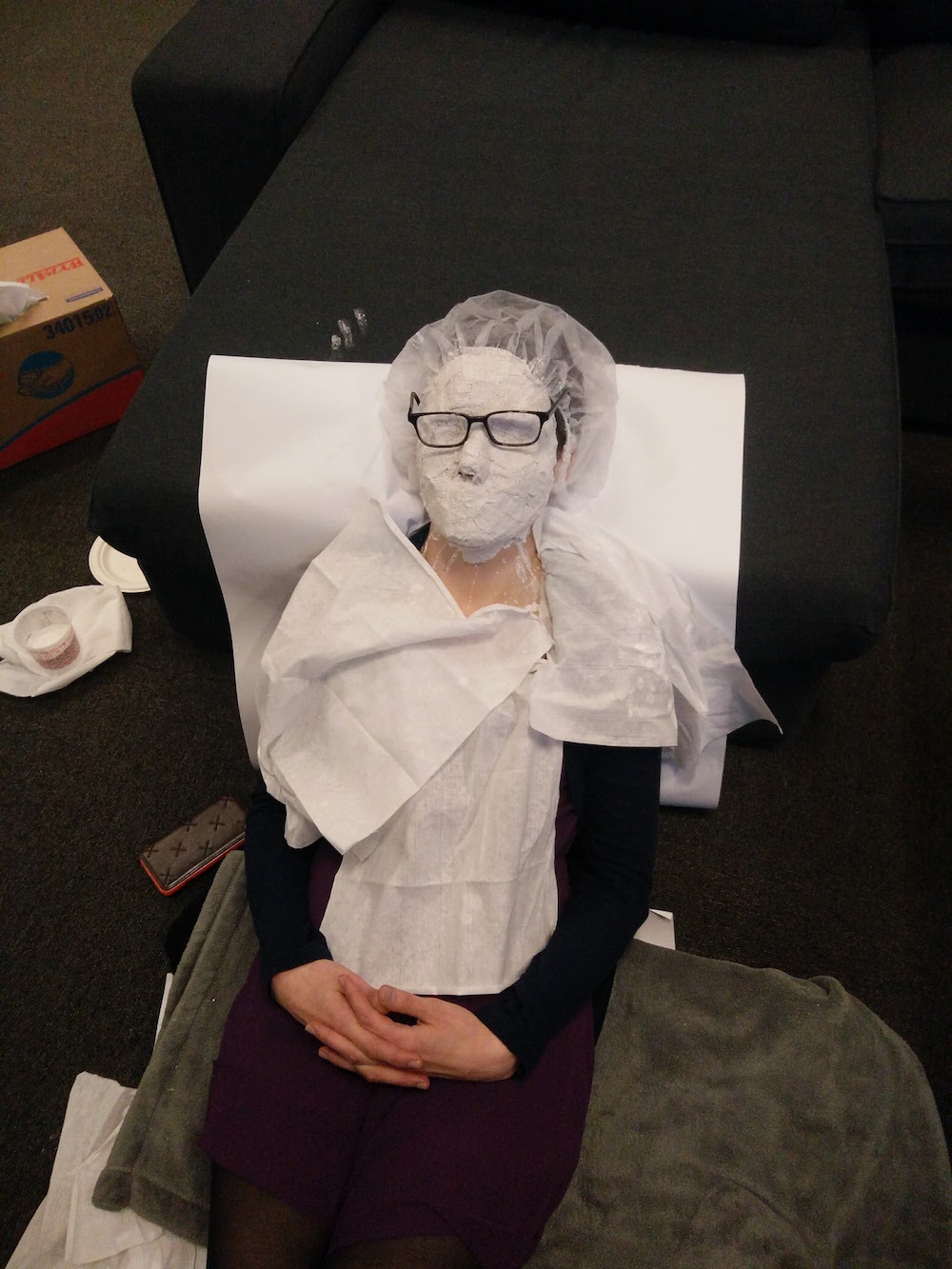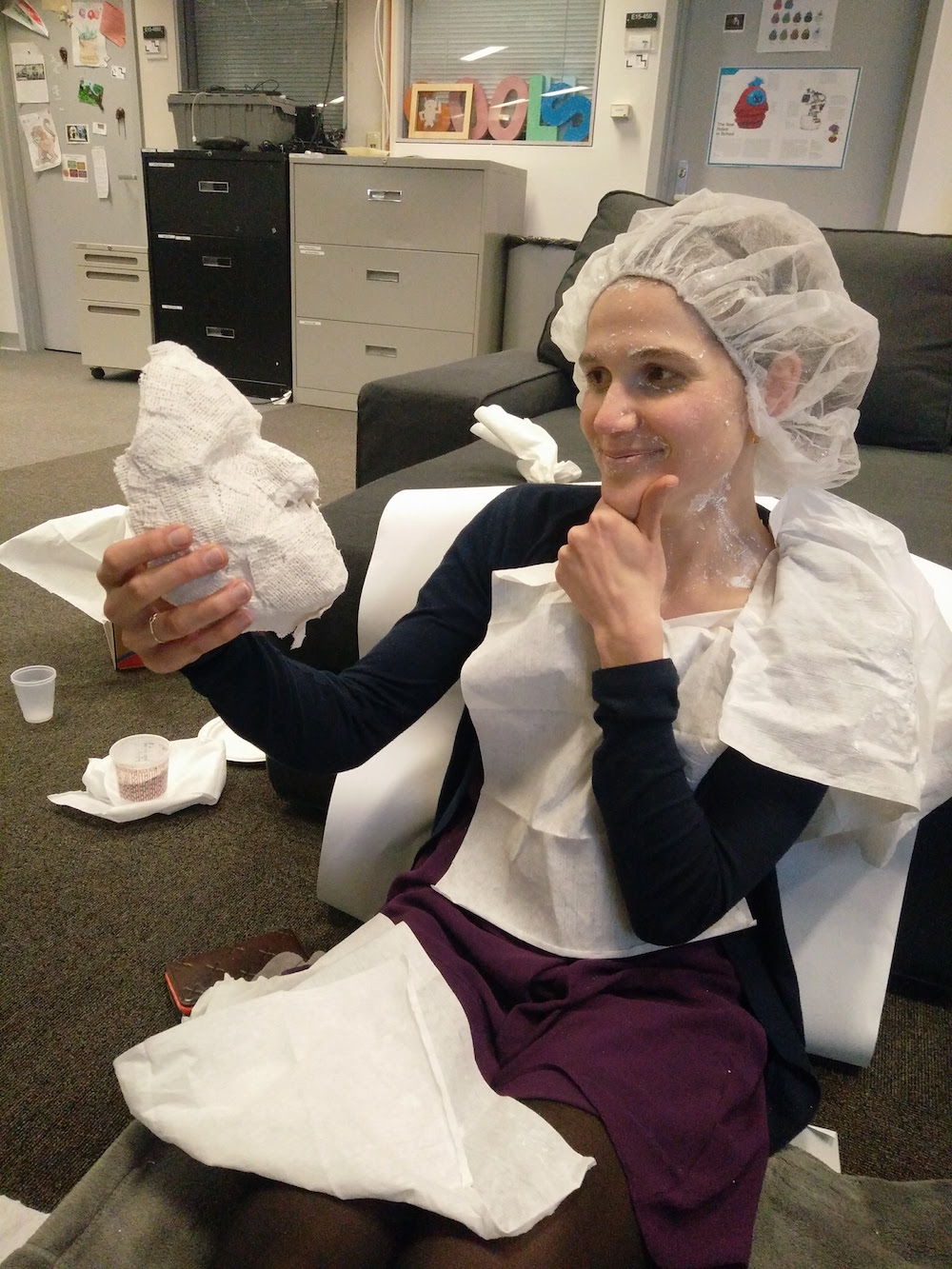 I now have face impressions of Anastasia and Pedro on the inner side of the plasters. I will now use clay to make a positive of the face model.
My next step is to make a positive and negative of the face impression using clay. I want to be able to make translucent plastic / silicon masks and then project different lights behind them to convey emotions.