Mixed Audio (Microphone 2)
How will I evaluate each algorithm?
I will draw guidelines from this paper, looking at distortion. By distortion we mean how the original signals are distorted from the mixed signals in the absence of other source signals. The equations are below.

And here is the code
Part III: Multi-source separation implementation + benchmarking Independent Component Analysis There is another branch of BSS that has been devleoped on top of ICAs: https://link.springer.com/chapter/10.1007/11679363_21 There has also been work dealing with creating varioushttp://www.itfrindia.org/ICCIC/Vol2/255ICCIC.pdf
Voice 1 before, mixed, and estimate Voice 2 before, mixed, and estimated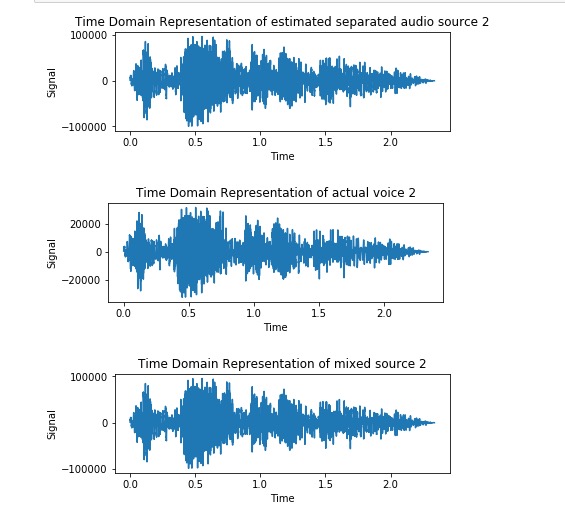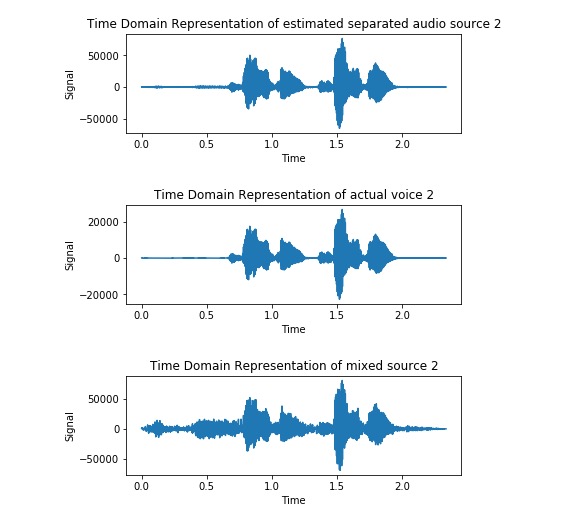 >
I implemented FastiA with logcosh to the problem, implementing the ICA method in this
iPython notebook
.
Evaluation
Below are the two audio files after going through ICA with log cosh function.
Estimated source 1
Estimated source 2
Qualitatively, FastICA preformed well for Source A, and not so well with Source B, although it significantly separated both voices. Distortion for voice 1 is 63.891529805 while voice 2 is 37.458170624.
Deep Learning
AH buzzwords. After doing some literature review (of which there isn't a lot that came up), there hasn't seemed to be an effective way to use deep learning for BSS. However, there are also few articles in general on this subject, so I decided to take a crack at it and implement one of the
papers
here
Here, Sam and I assumed that th algorithm starts at k instead of filling with 0s or wrapping around, and here are the results of the separation.
Estimated Voice 1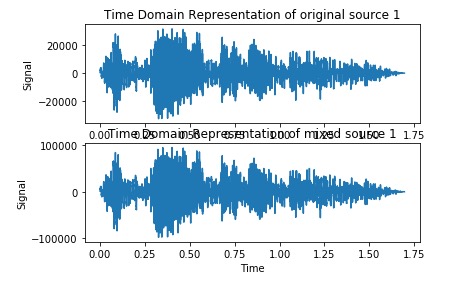 Estimated Voice 2 (which it failed to extract)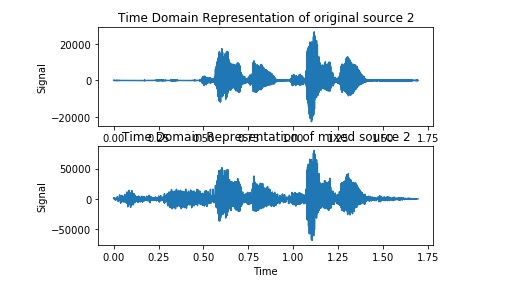 Notes: Simulated annealing could be used instead of back propagation.
Evaluation
Deep learning method produced an average distortion of 72.9566240393 for voice 1, and 40.26824952131 for voice 2. Here is all of my
work
for the
code
.
Compression Sensing
Compression sensing (CS) emarkably reduces the amount of sampling neededto restore a siganl exaclty - instead of sampling at least twice the frequency of a signal, CS depends on the number of non-zero frequencies. It is based on the assumption that audio signals are sparse. Here, the basis used is the Discrete Cosine Trnasofmr (DCT), and using L1 norms, we can reconstruc the original siganls. The literature review for this. Other than a few papers by Michael Z , who explores Bayesian priors of BSS to tackel the case where we do not know A, there is not as much research with BSS using compressed sensing - most CS papers are on reconstruction of one signal. A whole another question is - how to find the basis functions for each audio stream, especially for human voices? There is one demo online with CS for BSS, which fails pretty badly for voices
Here are some cool papers:
CS applied wtih ICA
There isn't that much
Here are the results of ocmpression sensing, after modifying it using L1 norm to retrieve more than 1 signal at a time.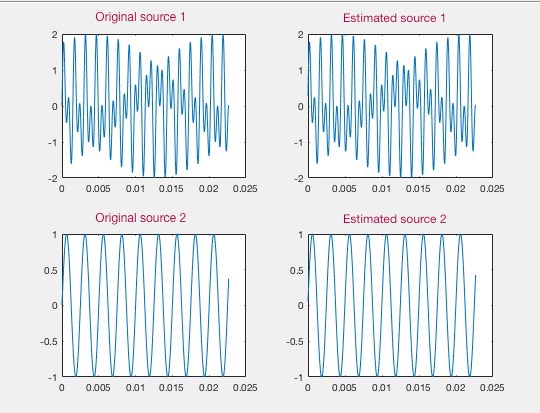 Here is the Matlab code . I also started translating to Python .
For compression sensing, we must represnet audio sources as a combiantion of basis funcitons such that
The literature in this field has been in the L1 norm. Here, we use the L1 norm minimization to extract the x, which is the original signals. Here, we use gradient descnet.
http://www2.ece.ohio-state.edu/~chi/papers/CompressiveBSS_ICIP2010.pdf