final project: brainstorm
September 9, 2020
assignment
Sketch and model a possible final project using computer-aided design.
final project idea
Living on the east coast in Boston for the past four years has been a great experience. Originally from California, I moved coast to coast and got to experience what a real winter with snow was like.

However, one downside was being far away from my family. I'm able to keep in touch via facetime calls weekly, but I'm not able to interact with my dog as much.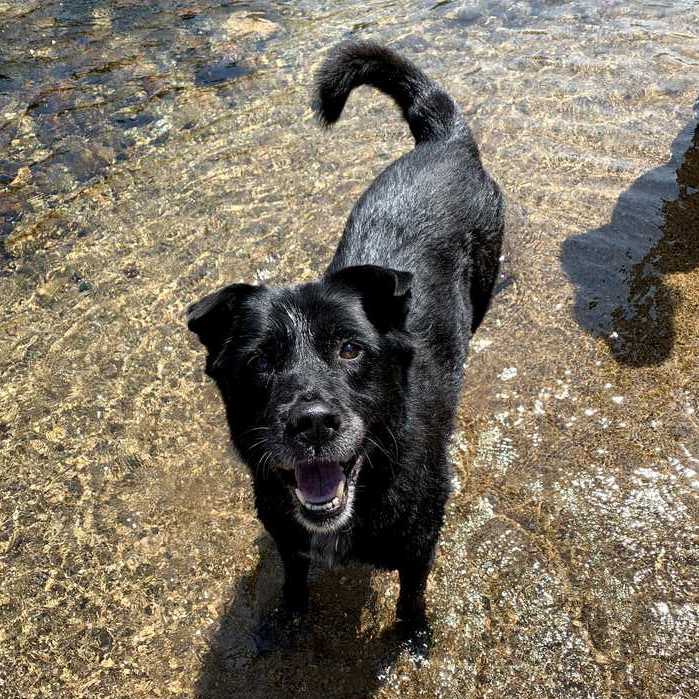 A couple of years ago I stumbled upon this nifty invention called
Furbo
and I thought this was a super neat idea for dog owners to engage with their dogs when they were away. I miss interacting with my dog throughout the school year and I would love to make something like Furbo so I can talk to my dog and throw her treats when I'm at school in Boston.
Some features of this project would include the dog treat throwing functionality and a camera to see my dog. I plan on using some sort of web or mobile application to view the camera and throw treats on demand. It would also include a detachable lid to insert additional treats.
Another feature would be a built-in speaker to get my dog's attention. I would add some default sounds that the device could emit such as squeaky toy sounds, a chime, or a dog barking. It would also be neat to be able to speak into the app and have my voice project from the device.
sketch
For the first part of the assignment, I went ahead and sketched the design of my final project. It looked pretty similar to the Furbo, but if I have ideas for the design that will make it look sleeker, I'll definitely update them as I get closer to the final project creation. I did however want the design to be as sleek as possible, especially if this will be sitting in my living room at home. I made sure to note all the notable features and even included a little sketch of what I imagine the UI would look like.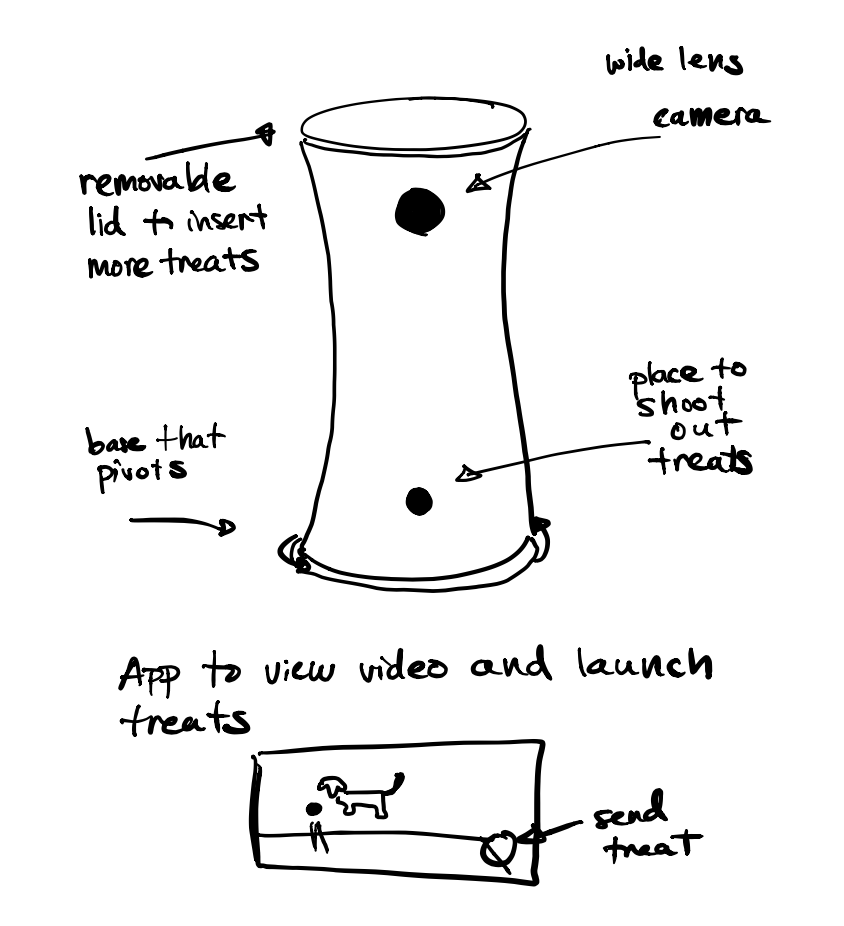 computer-aided design
In the lecture this week we learned about computer-aided design. We covered a bunch of different types of software to use, but I ended up picking Fusion 360 given its compatibility on all platforms and usability. Its also free for students!
I have no experience with any CAD software, so I was quite overwhelmed at the start. However, after watching some
tutorials on youtube
(this was a great video that helped me get started) I got some of the basic down and started to play around with Fusion360.
I was able to design the first draft of my final project. Here are the results: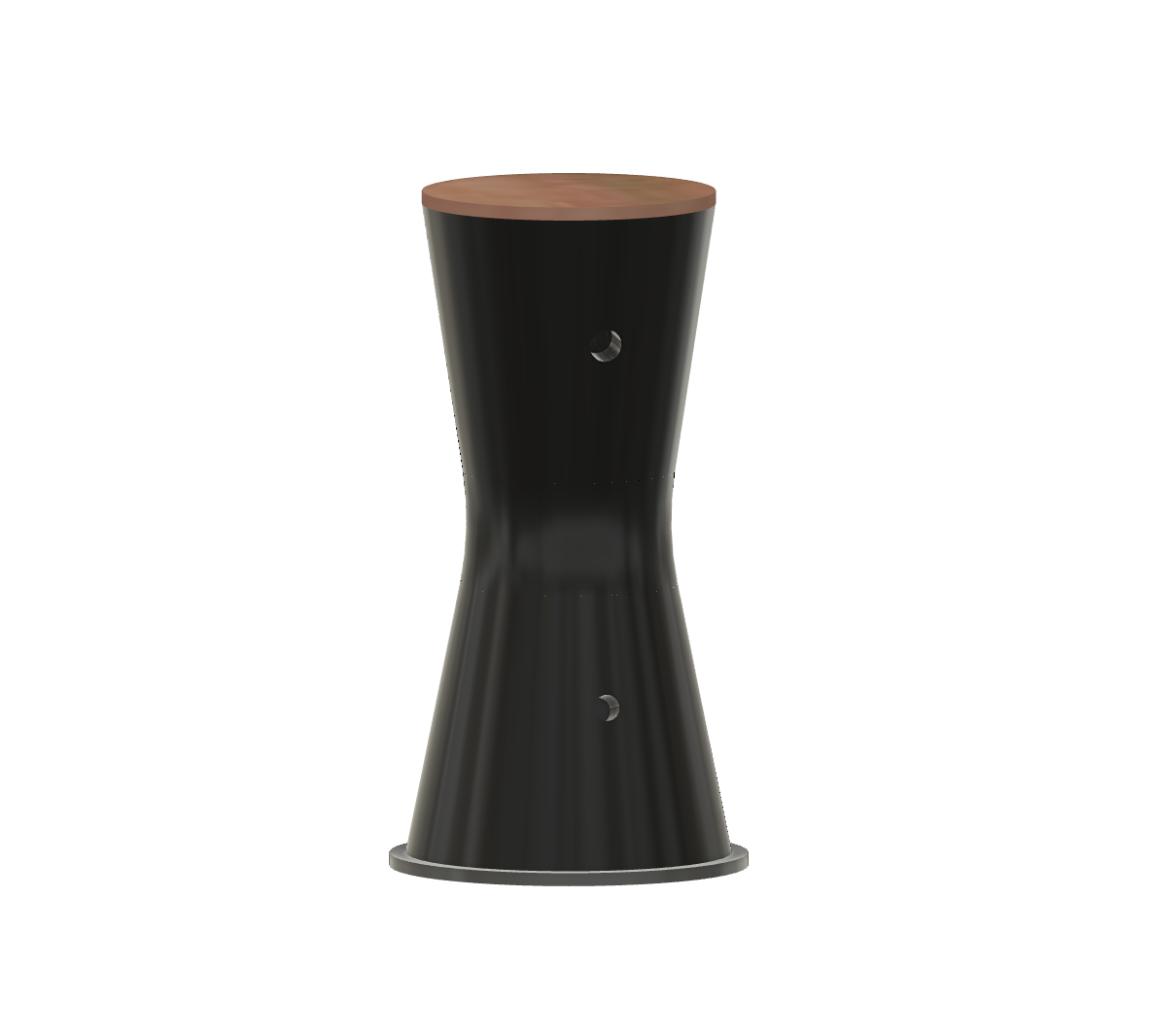 You can see the camera that will be included in the upper half of the device and the hole where the treats should come out in the lower half. I'm planning on stocking the device with the Charlee Bear treats from Trader Joes we usually get my dog. Therefore, I'll have to take in account the size of those specific treats. A lid is also included on the top to restoke the device with treats. Lastly, I added a small disc on the bottom that will allow the device to rotate 360 degrees to help aim the treats I'm launching.
NEXT>