Weeks 1-13: Final Project Documentation

Dec 18, 2015
Final Project

I had another final the day after my HTM final, and had to do a hasty documentation. After taking a breather and finally sleeping, I am doing a proper update. This outline format is inspired by my very lovely classmate Caroline Jaffe.
---
Outline
+Actuation and Pump Design
+Base Design
+3d Scan & 3d Printed Mini Self
Introduction & Background
Self-portraiture has a deep heritage in art history, dating all the way to Ancient egypt. In today's cultural landscape, the selfie looms large and egocentrically, with great prevalance. Given my new skills in fabrication and electronics design, I wanted to push the envelope and create a new kind of dynamic self portrait- a biometric self portrait. I designed a machine that would take something that was emotionally charged, and very personal- my own heart rate signal-- and project it into a mechanical, kinetic, and expressive sculpture.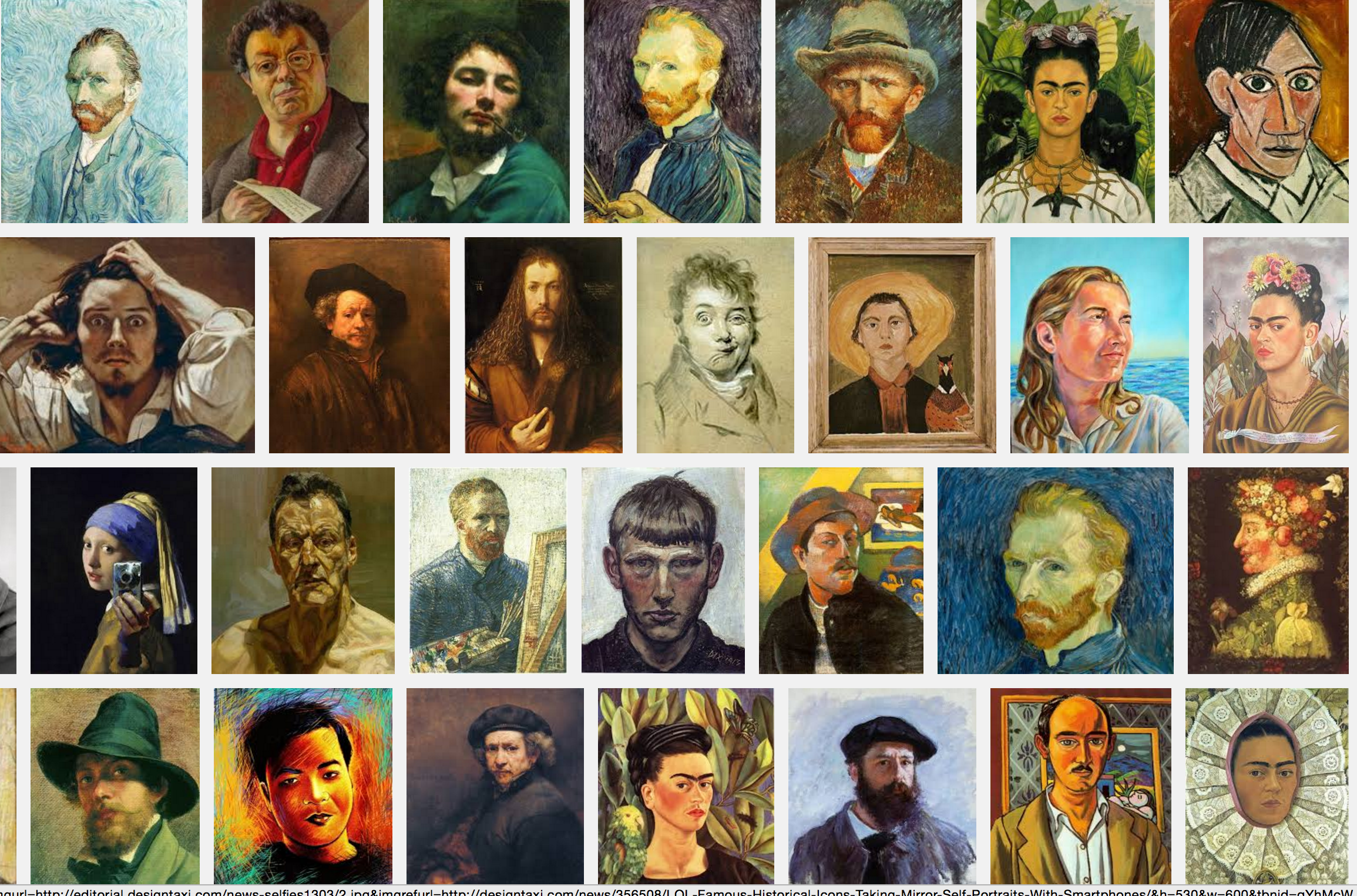 Design
If you read further down this blog, you will see that my original intent was to construct a different final project altogether. When many of the planned components failed (note to the future HowToMake student: have many backup plans!) I had to take as many components of the previous project as possible, and recreate a new one that would work. I think it was a valuable lesson in spiral development, being able to both scale up and down in ambition. The design of this biometric self portrait was salvaged from different parts of different prototypes I had been experimenting with, and the design was broken down into several components, which are described in mini categories below:
Actuation and Pump Design
I had spent the semester learning about pneumatics and valve control. Many of the challenges I faced had to do with noisy pumps, cumbersome size of compressed air canisters, the tradeoff between strength of airflow and size of pump. These were all problems because I wanted to create a wearable inflatible garment, but could be mediated in a sculpture that had a base, and could be plugged into an outlet.
This is sketch of how the system would work conceptually: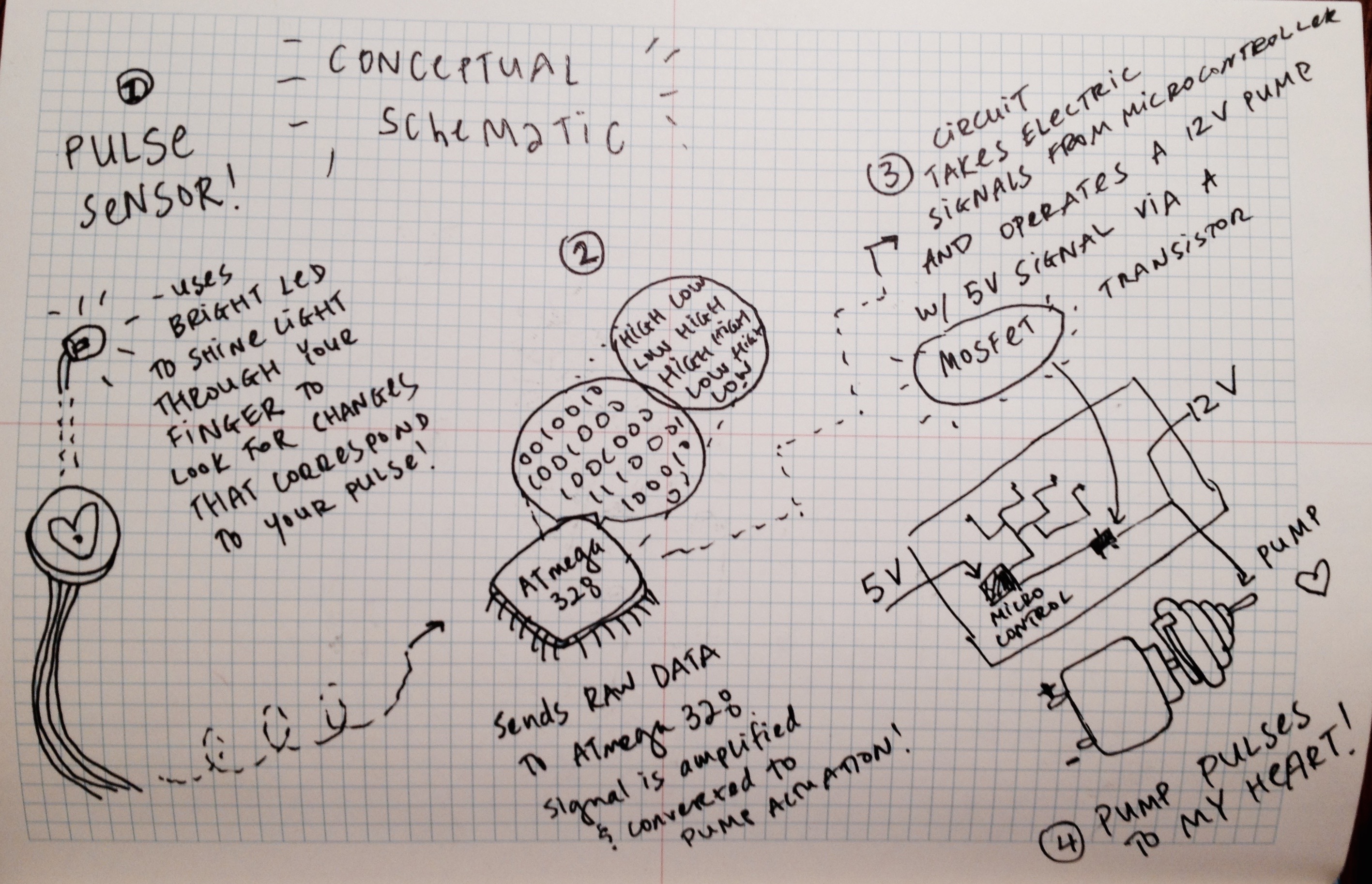 Base Design
I knew from the beginning that I wanted to incorporate and integrate as many of the fabrication skills as possible that we learned in class. I also knew that I wanted to mill a wooden base for the juxtoposition between an organic material and a algorithmically derived process. The design of the base features a signal from my pulse captured from my application and programming week, displayed in two ways. The first way is in a 2d linear cut, to be used to house the wire of the pulse sensor. The second way is by sweeping that pulse around a circle, to create a base for the valve that would be displaying my heart rate.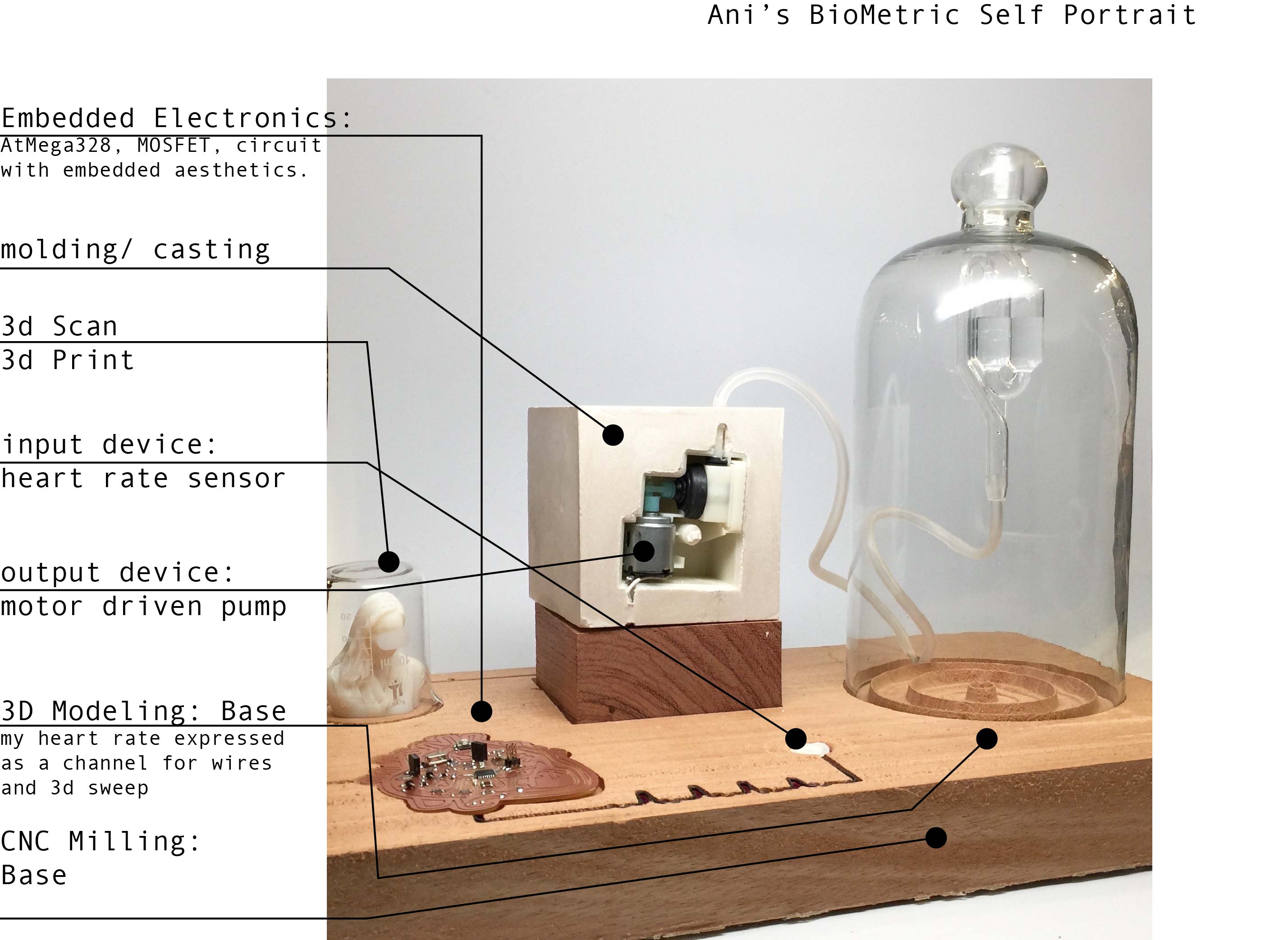 (Above) Diagram of integration.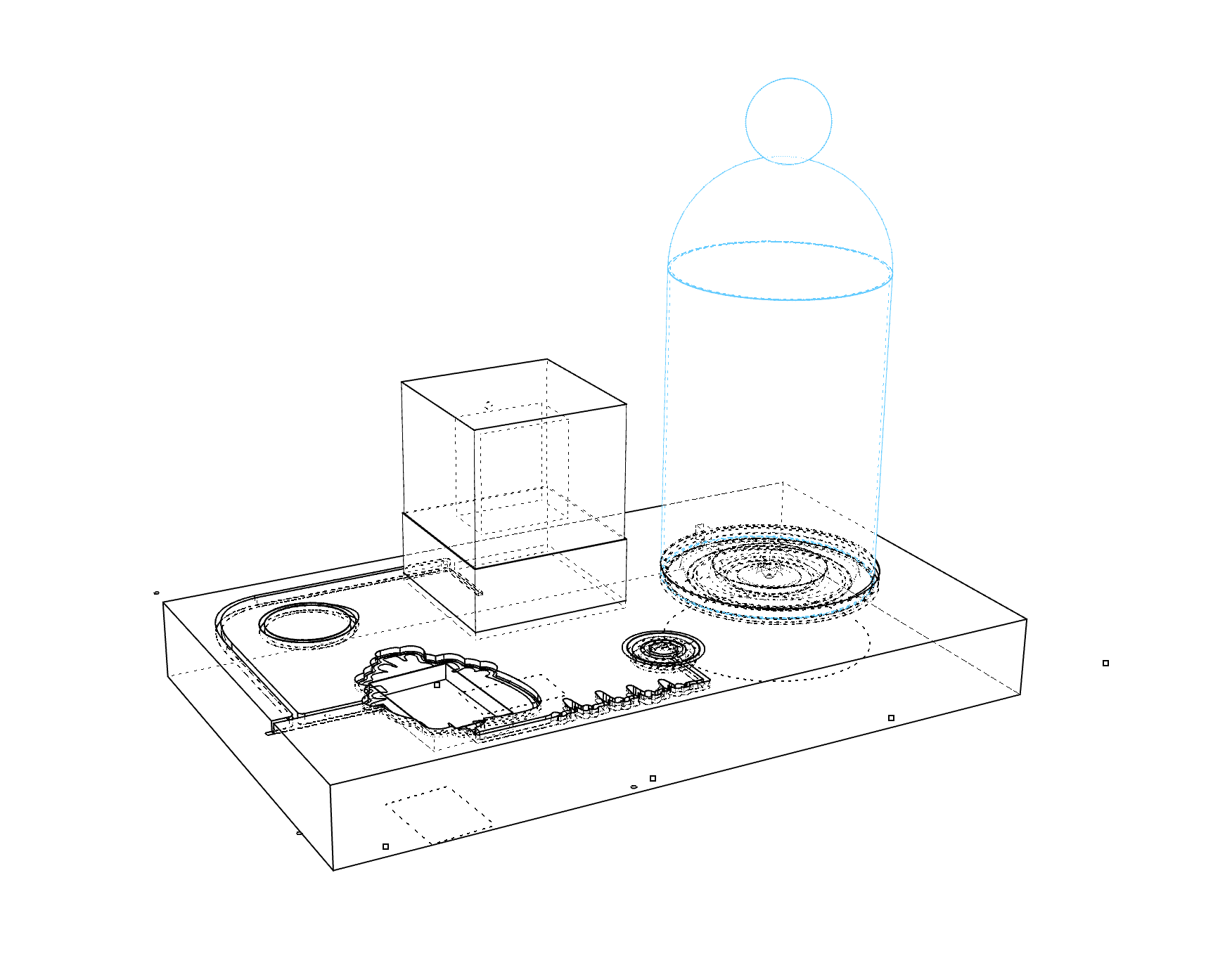 3d modeling for component tolerances (above)
3d modeling for material study (below)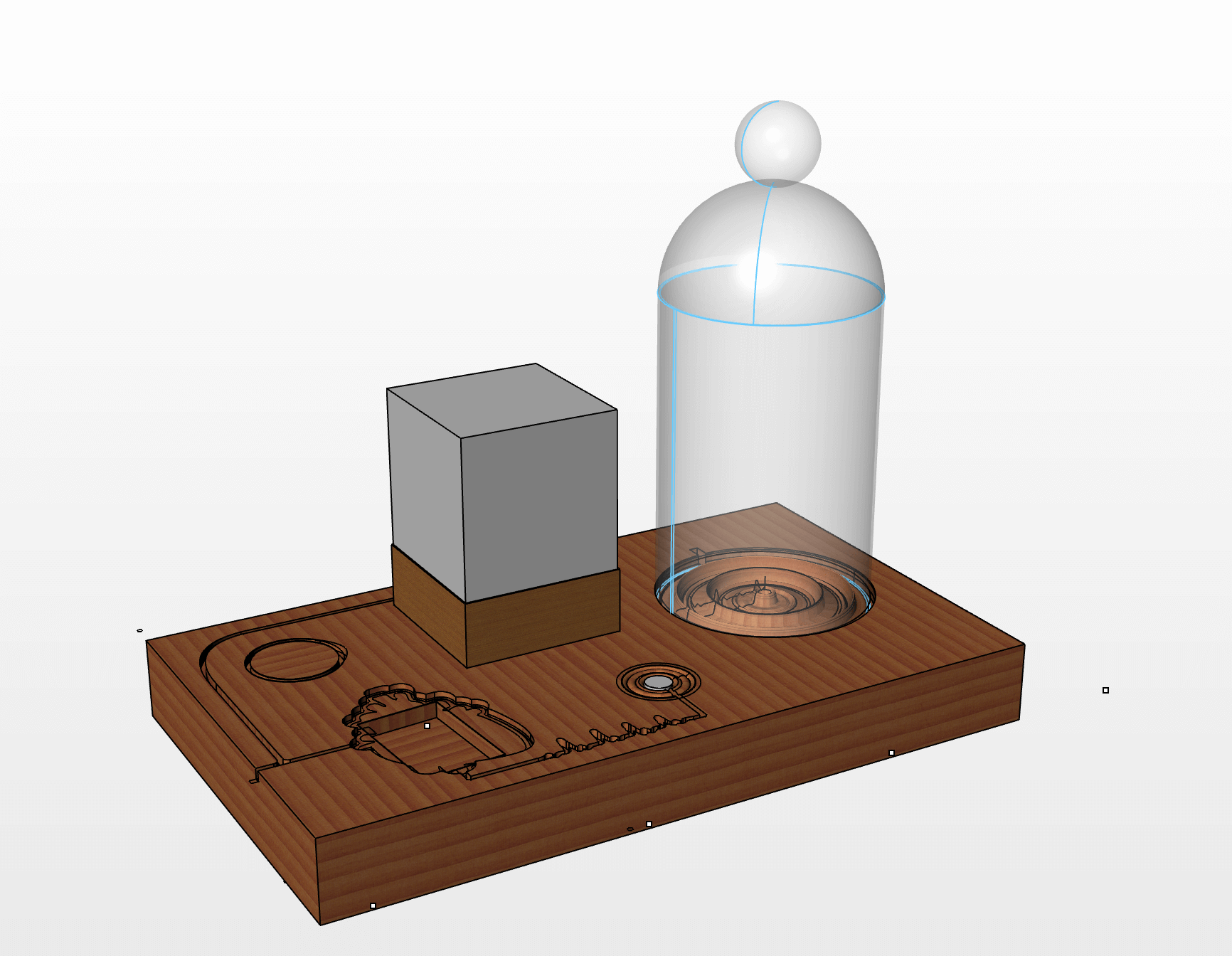 STL file for partworks.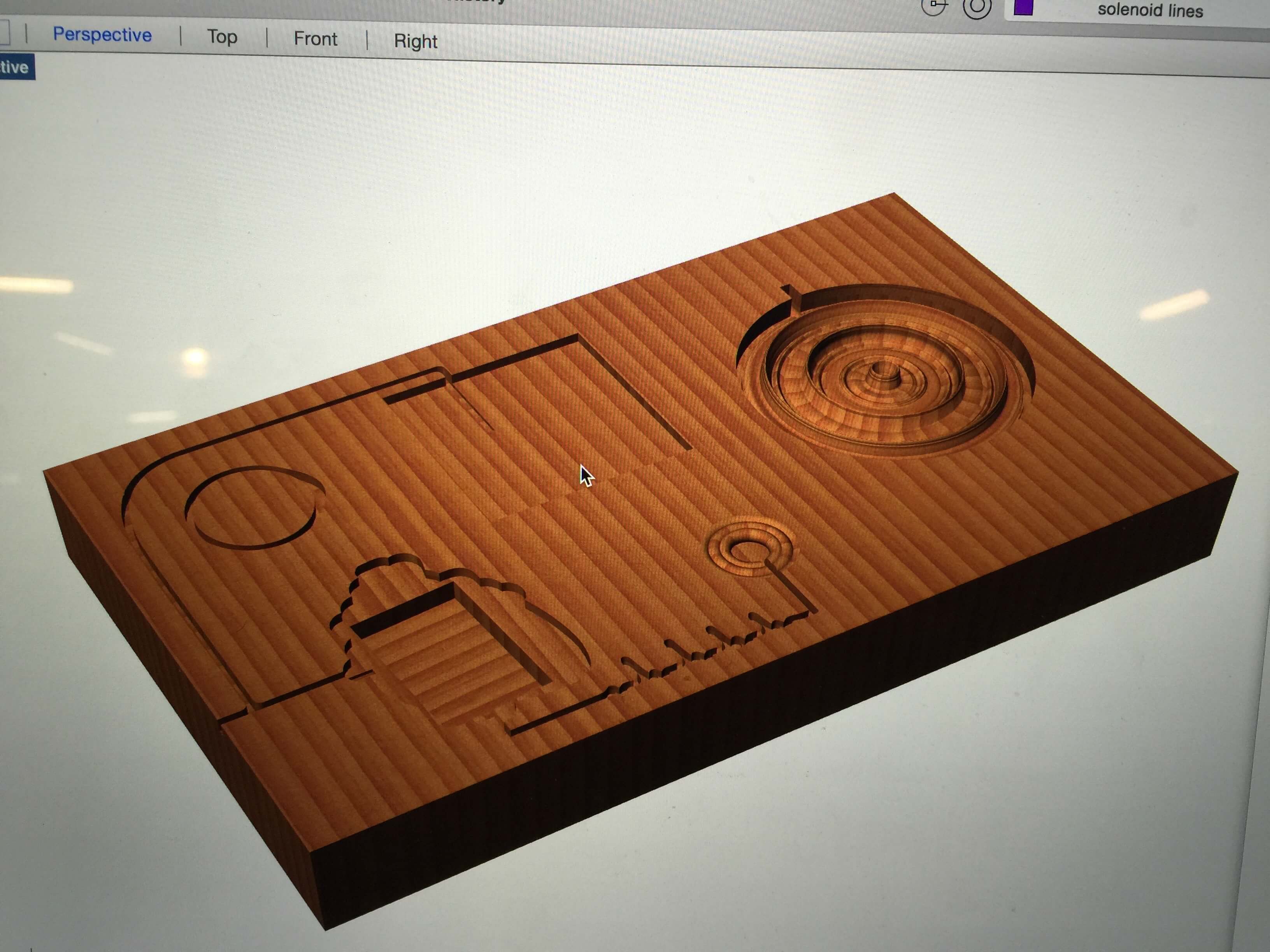 3d Scan & 3d Printed Mini Self
For the more didactic part of my biometric self portrait, I chose to include a 3d scan of my head as a sculptural aside. Dan Chen graciously offered to scan me: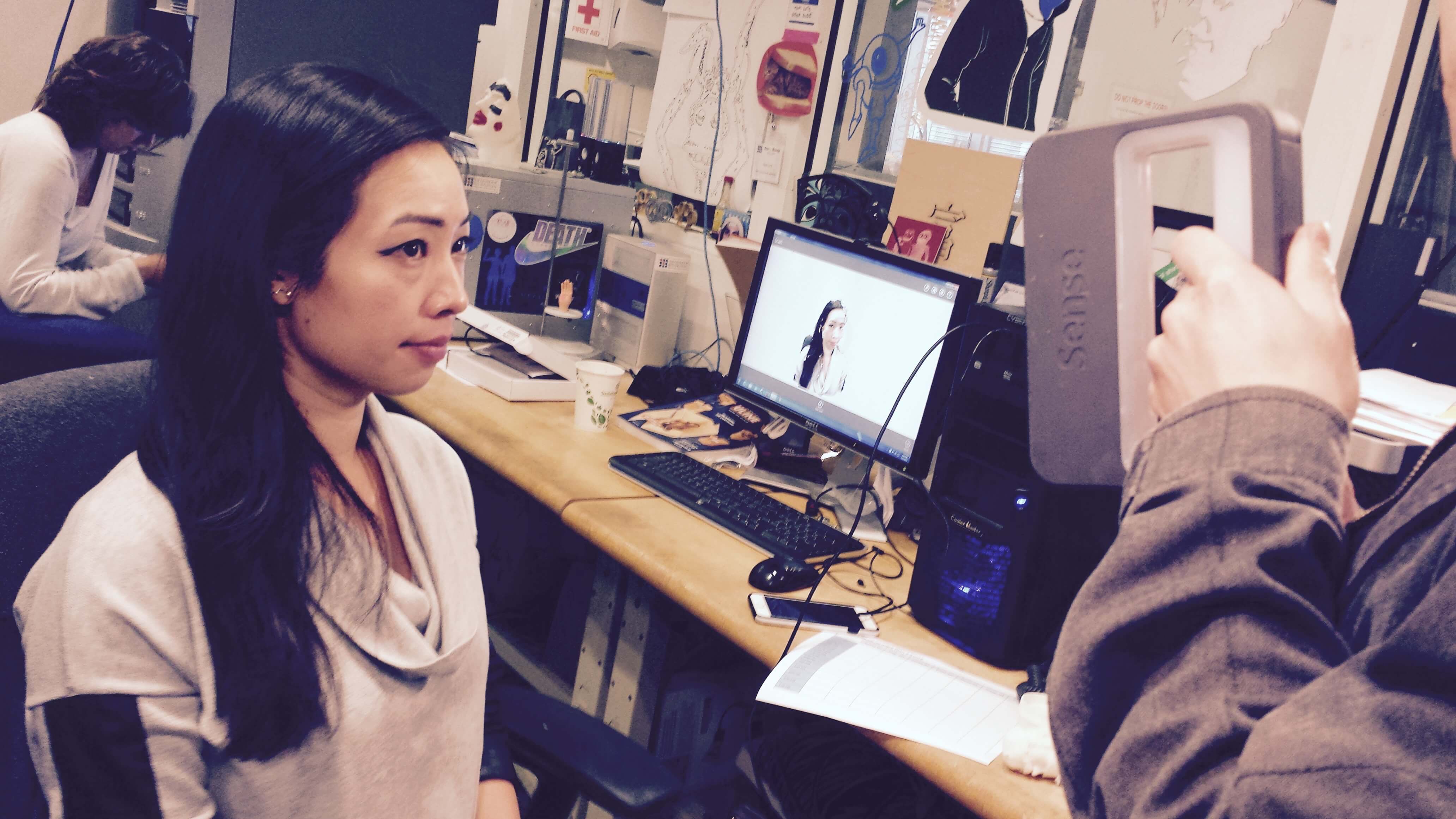 >
This is the [eerie] result of the scan: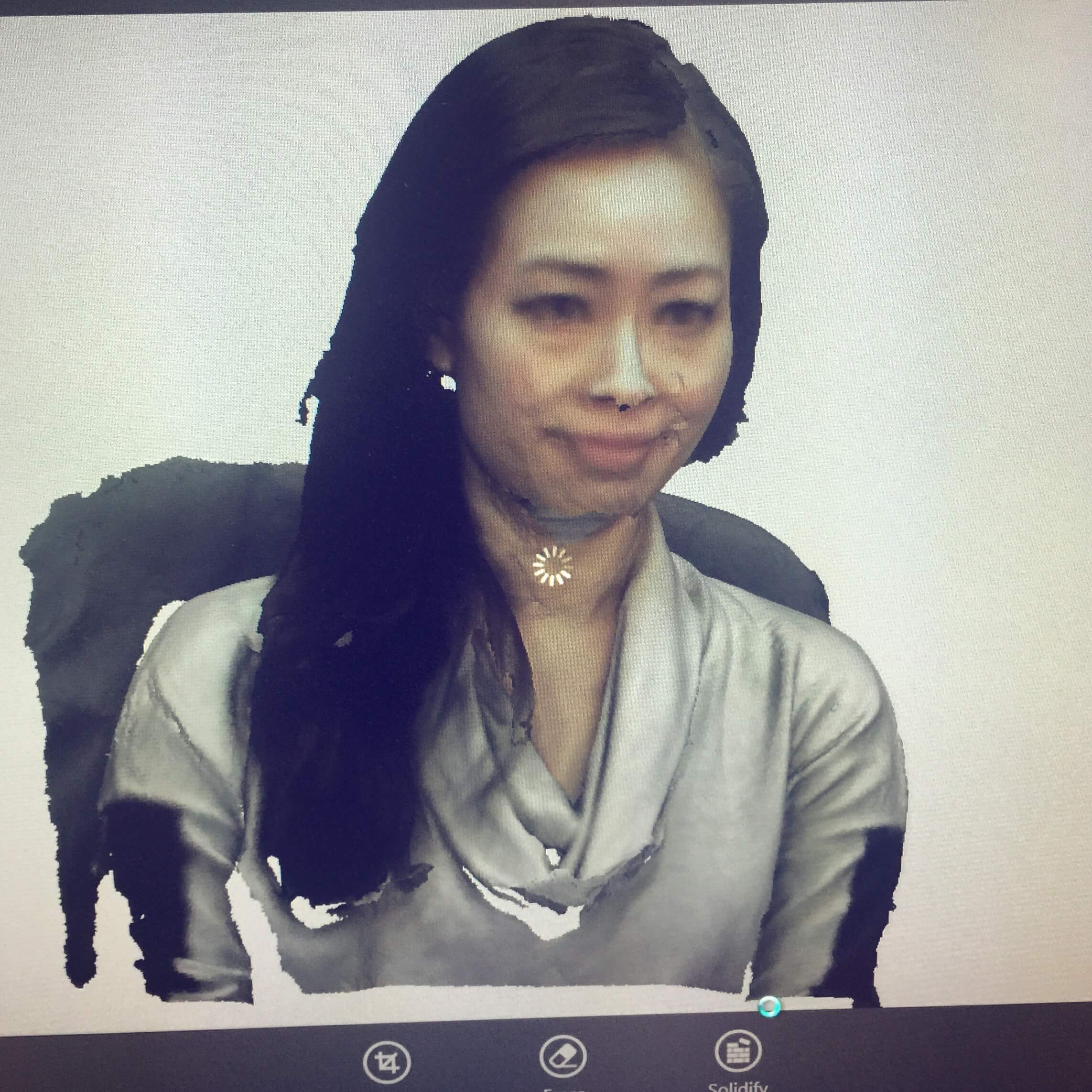 >
Tom printed it on the Polyjet printer for me, and the results carried my resemblence.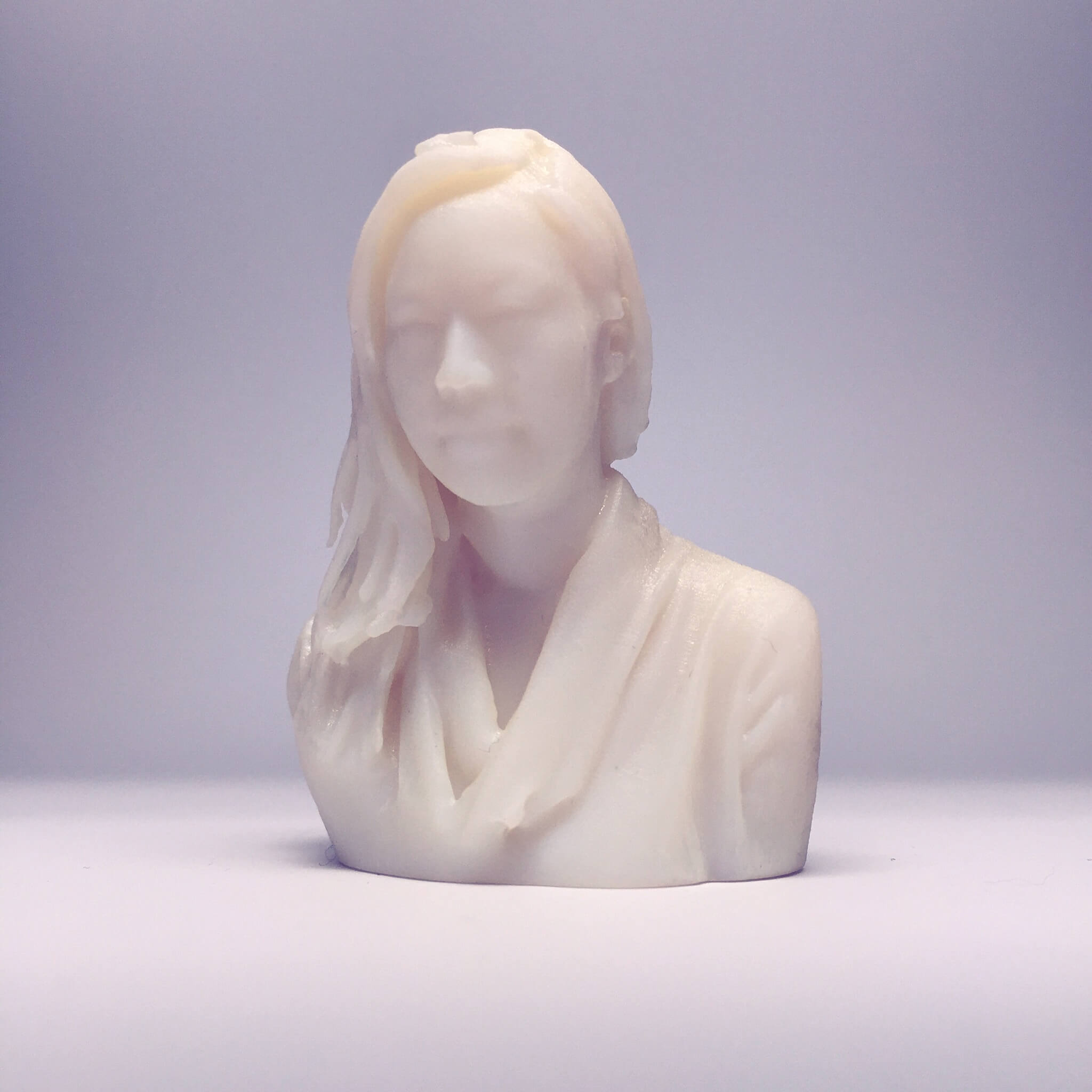 >
Circuit Engineering
I had worked towards the schematic of this circuit when I studied output devices. The goal is to drive a 12V motor in correspondence with the input from a pulse sensor. I chose the ATmega328 because initially I had grander plans and wanted to be able to scale up.
This is the schematic of the PCB. As I have been developing this technique all semester, I have integrated the circuit into a graphic and symbolic representation of a heart and valve. You can see the clear breakout between the circuit used to power the ATmega328 and the circuit to power the valve, which is slightly below it.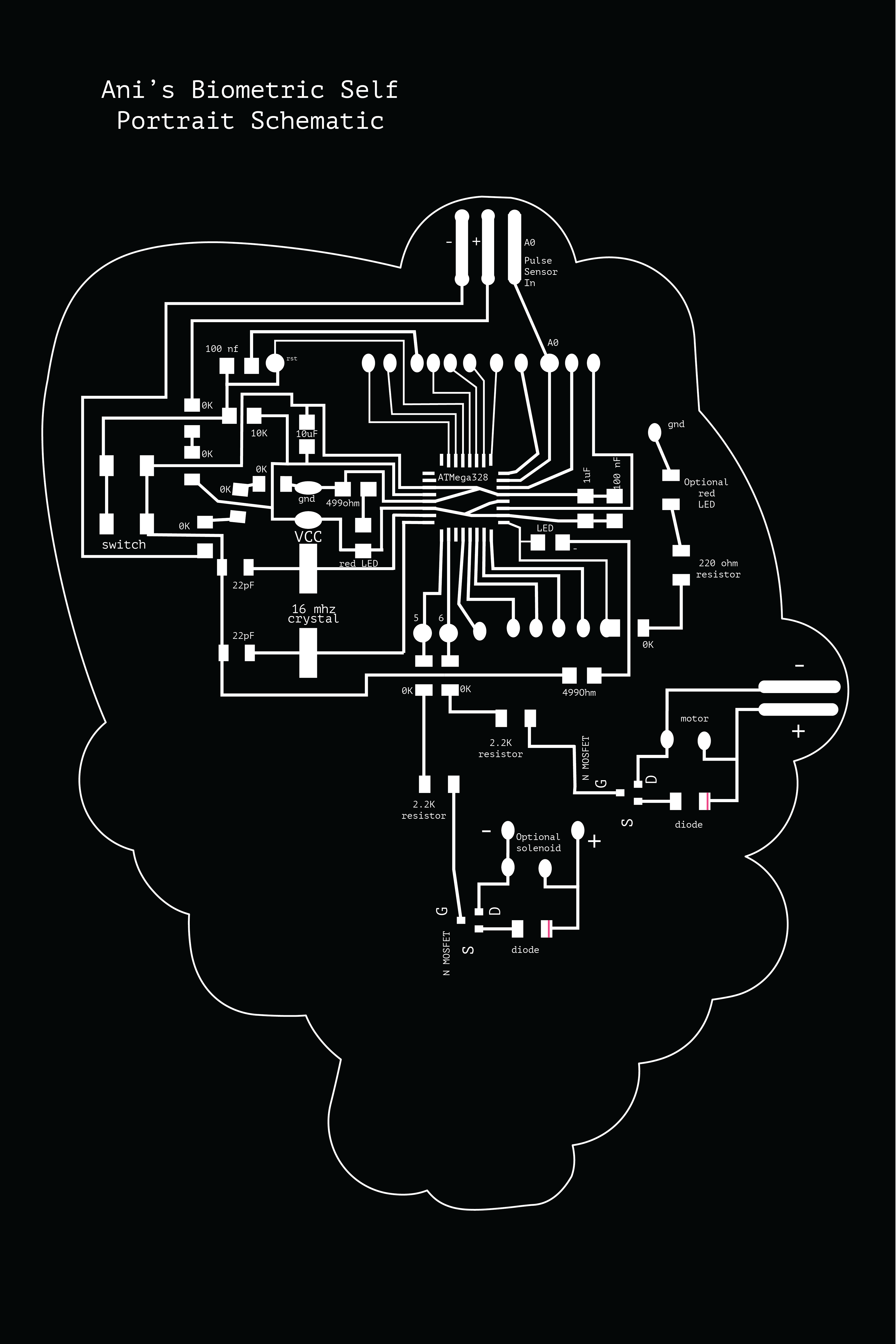 This is actually the intended way I wanted the circuit to look, but at the last minute discovered an error and did not have time to redraw the whole circuit in this veiny way: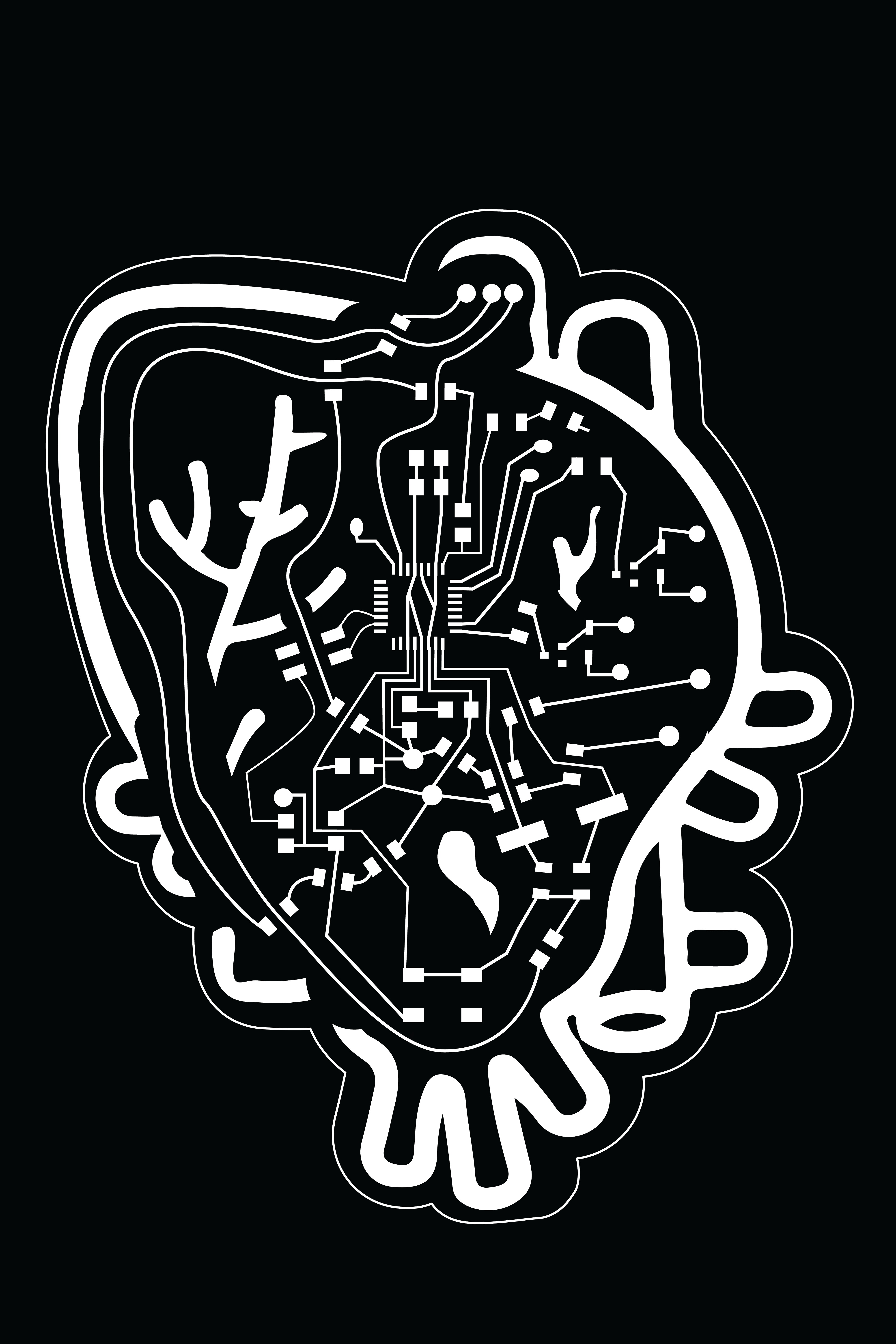 Process & Assembly
Now came all the fun and nail biting process of putting it all together.
First up: milling the base. First off, Big thanks to Tom Lutz and Sam Callisch for their patience and expertise. This was my first time milling wood and I learned all about feed rates and spindle speeds for machining. A cutting speed is the speed difference between the cutting tool and the surface of the thing you are cutting. It is expressed in units of distance along your workpeice/time (usually surface feet per minute, (sfm)). A feed rate is the relative velocity at which your cutter is moving along your workpiece. A feed rate will depend on the motion of your tool, such as whether you are cutting straight paths or curved paths. The unit is usually distance per spindle revolution (in/rev or ipr). Main variables to consider include: hardness of your workpiece material, your cutter material, nature of tool path, desired finish. There are calculators online to help you find the sweet spot: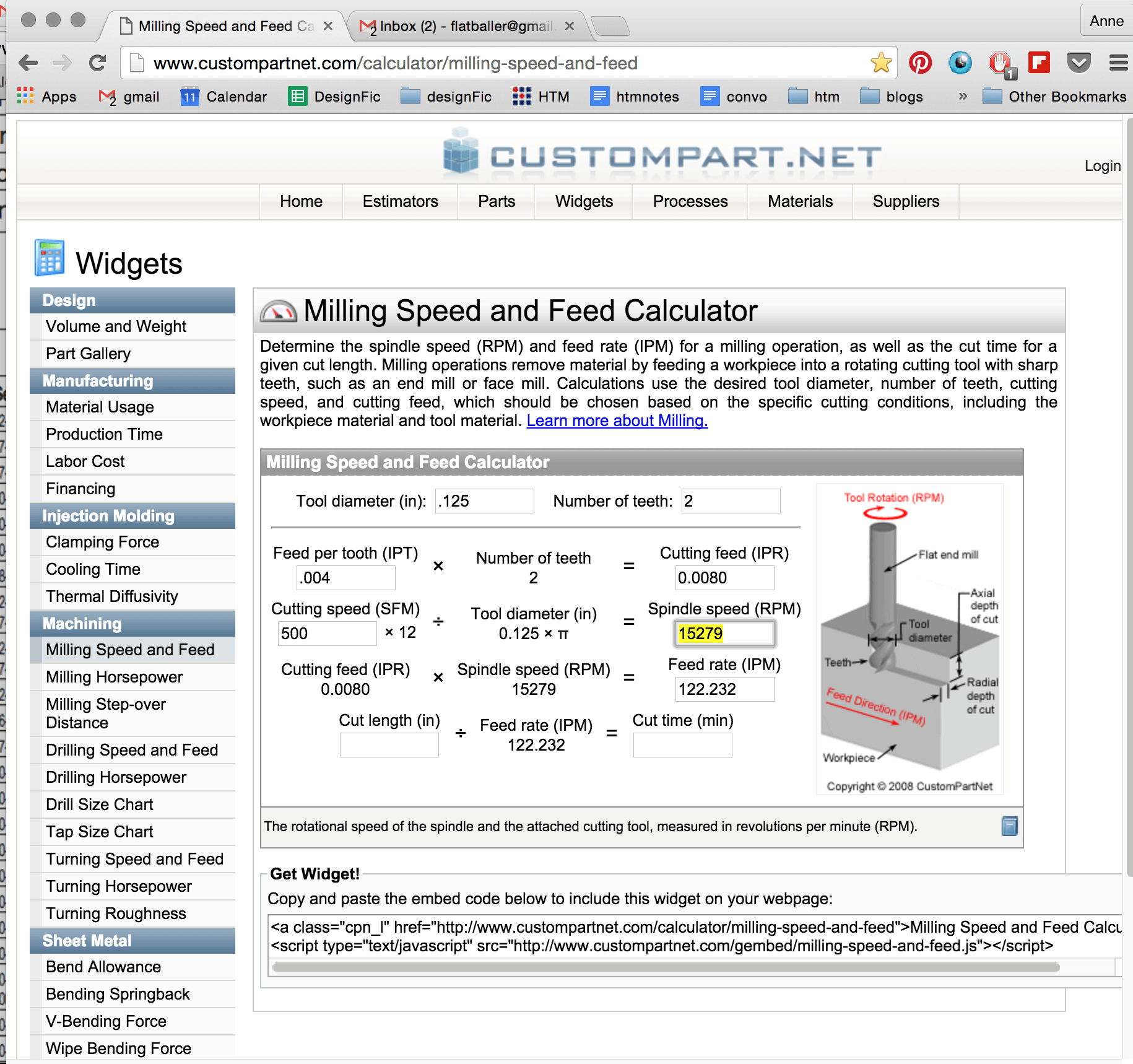 An image of the milling in process. The form here is my pulse wave, swept in a circle: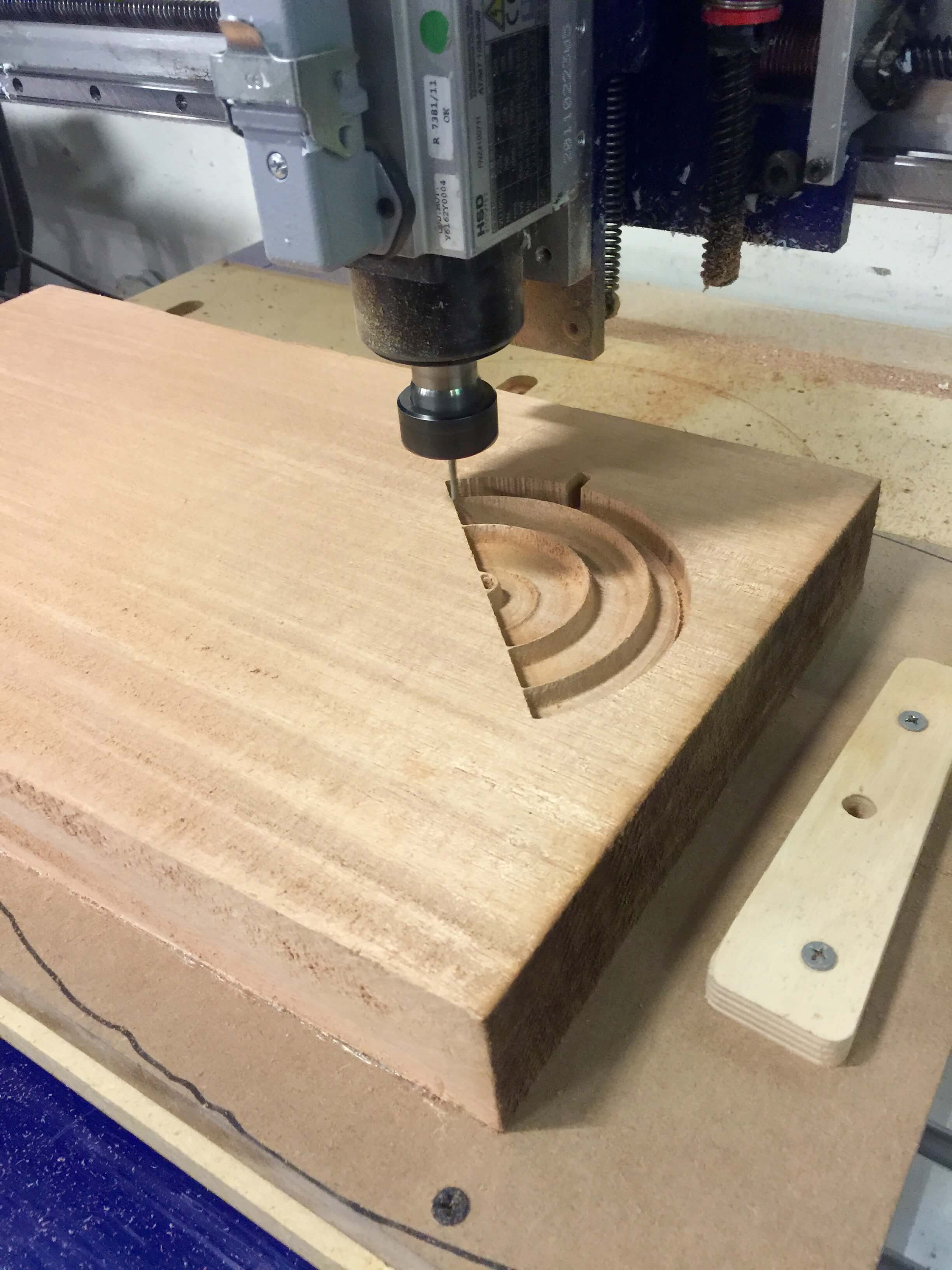 A video of the endmill carressing my heartbeat:
CATASTROPHE!I encountered this error in an utterly terrible moment.
Sam and Tom came to the rescue.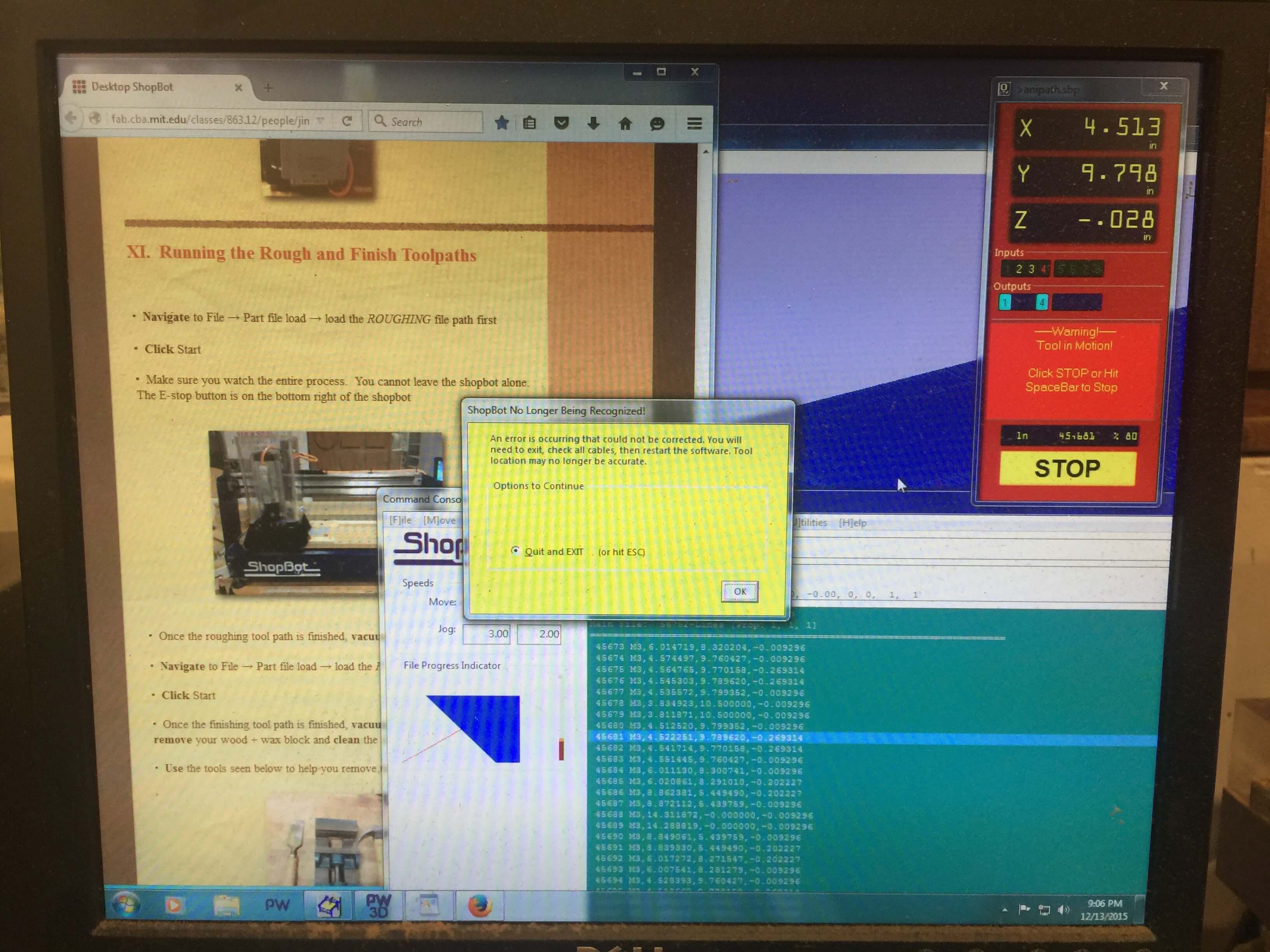 To save some unlucky future students some pain, I wrote this quick tutorial:
WHAT TO DO IF SHOPBOT FAILS
> Take a picture of everything.
> Things to note:
_line of gcode that it failed at
_ xyz position that it failed at
_ don't move the position of the spindle at all
> Go into partworks text editor and open your original gcode file
> Make a copy of that file so you have a safe file
> Find the line you were last at.
_ note the position of xyz of your failure, and compare it to where it should have been
> Delete all M3 lines before the fail point (maybe save one line before the fail for reference)
> Thing to note: take note of your Z position. The shopbot might blast through all of your material trying to return to where it was

HOW TO FIND THE NEW ZERO.
> Take the note of the x y z position of the fail was
> Tell shopbot that this is the new zero
subtract those coordinates from the new zero. This should be the old zero!
> Note: my zeroing was not 100% accurate but it got most of the way. We ran the file with the new zero, cut a tiny bit, and then used calipers to measure the difference in the x and y dimension
Using this new info, we were able to get a super accurate, almost seamless continuation of the shopbot file where it left off


Milling successfully finished despite glitch.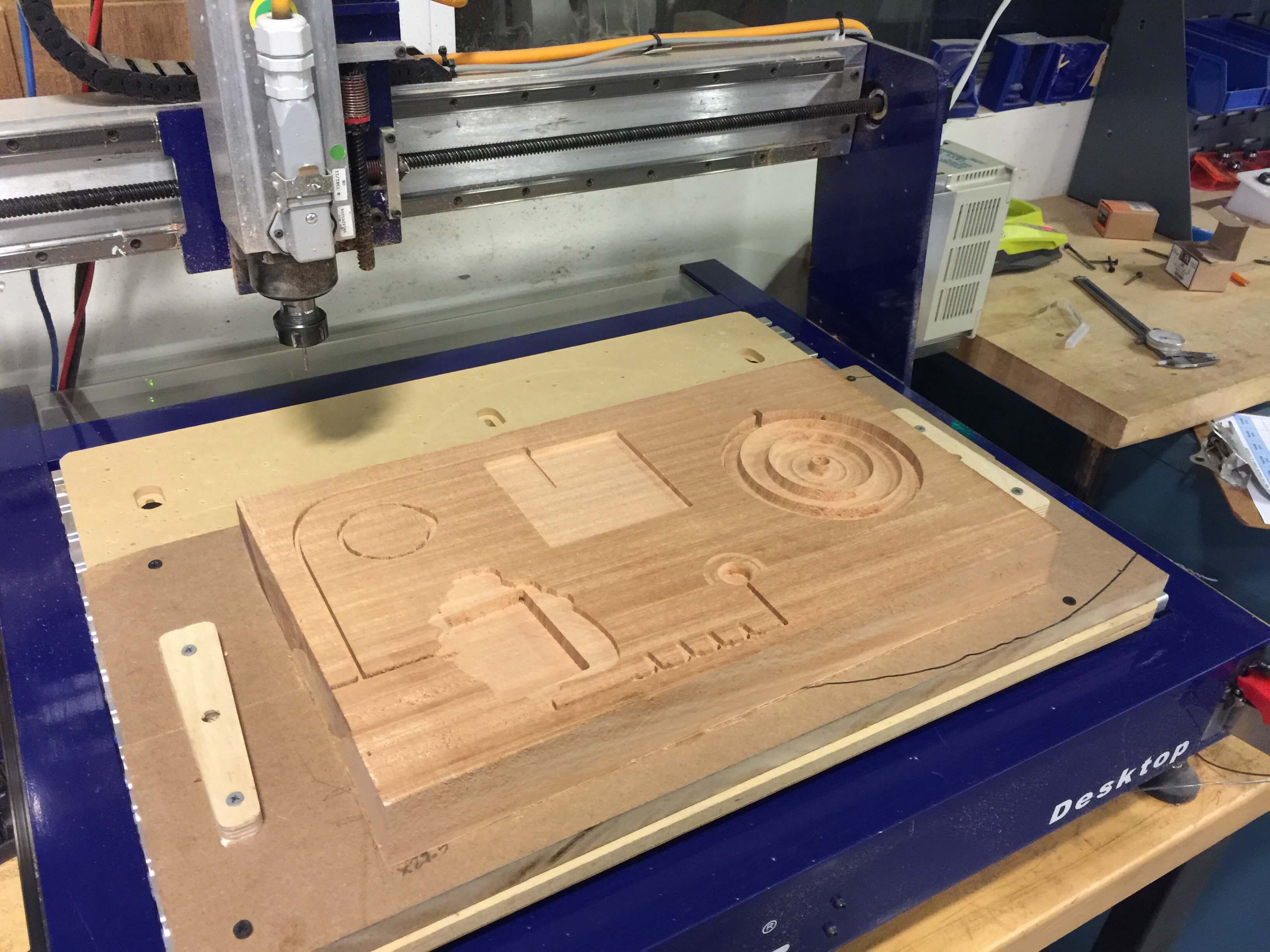 Onto PCB fabrication. I have spent more hours with the Modela this semester than any other machine.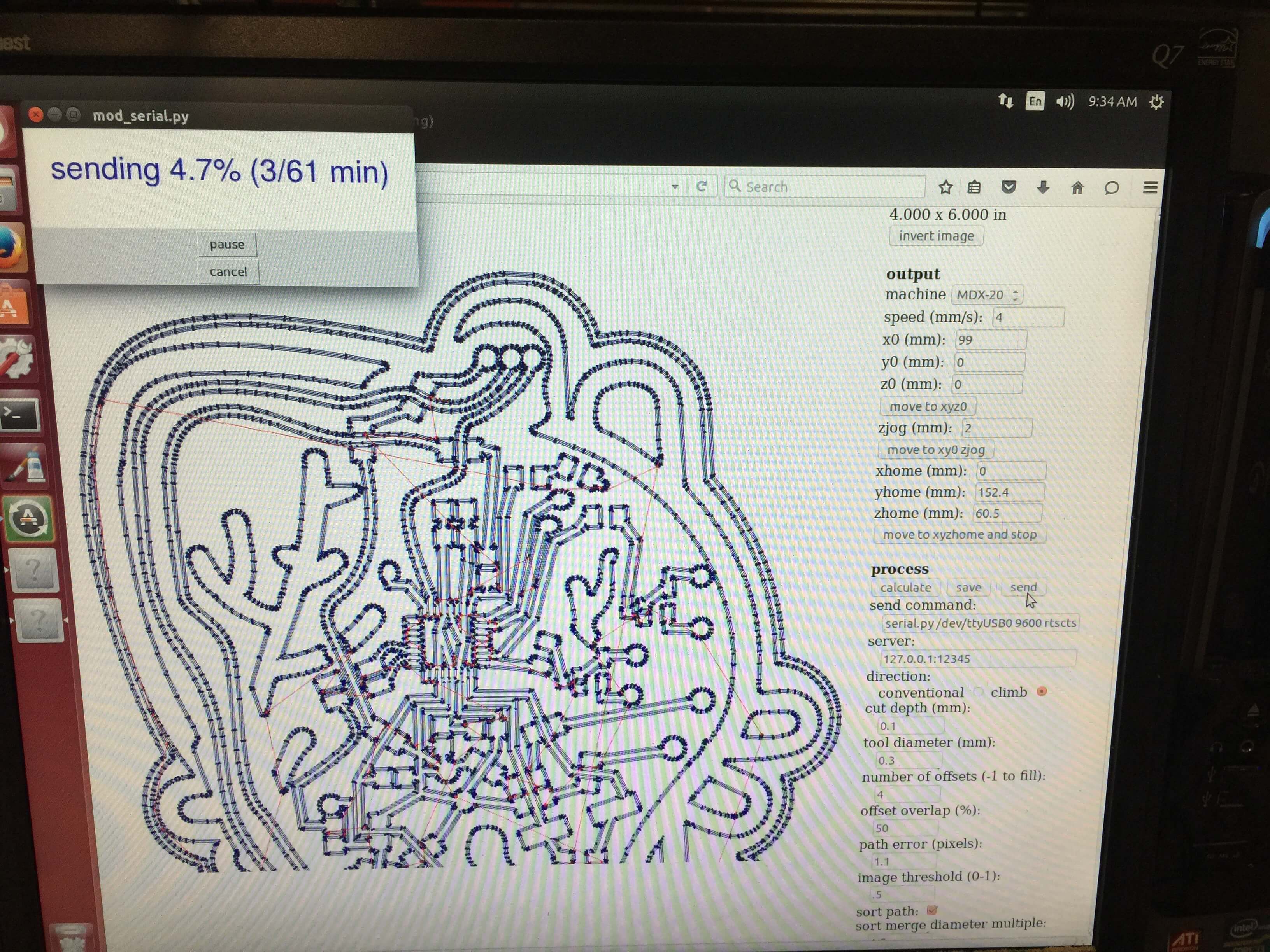 My traces: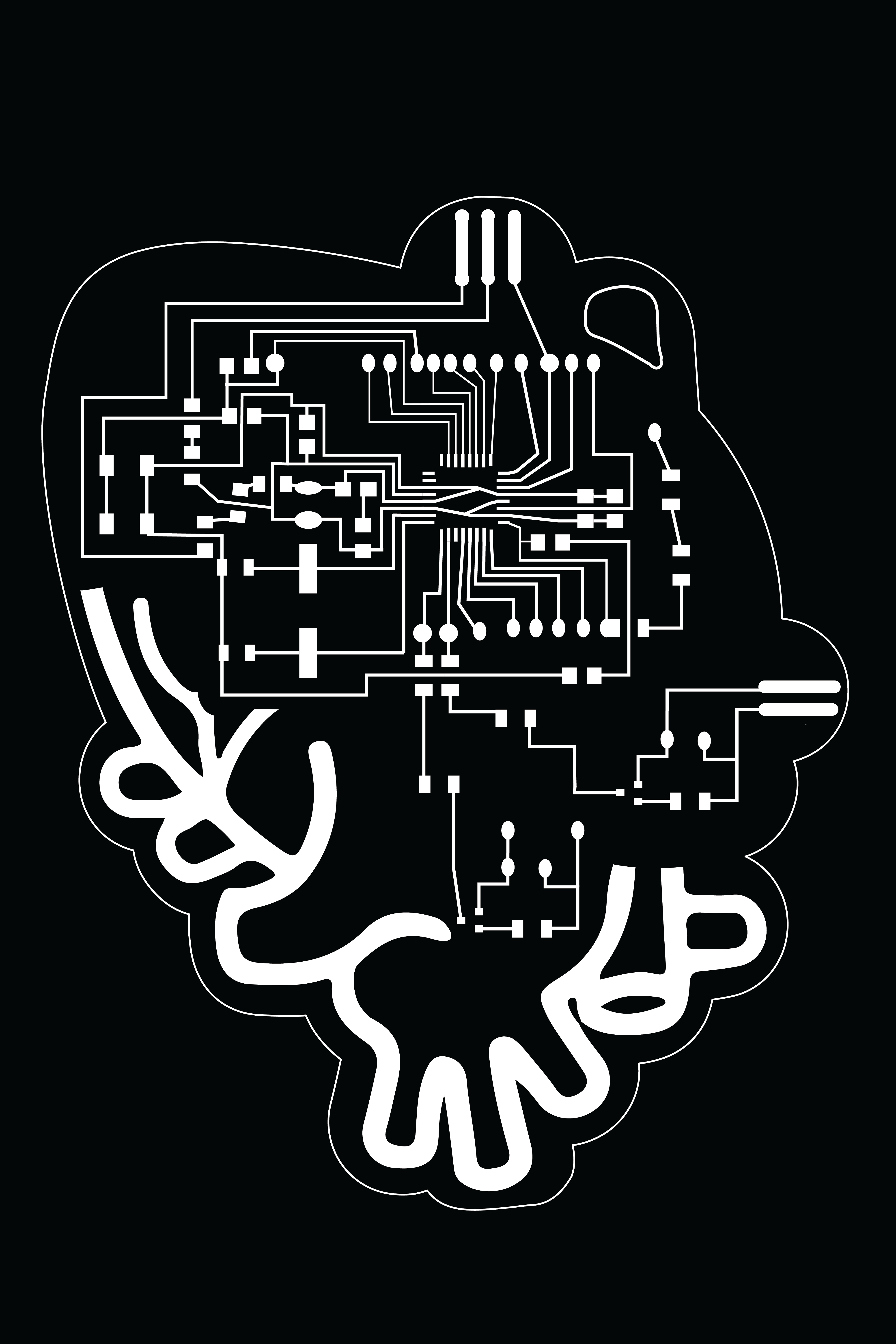 My cutout: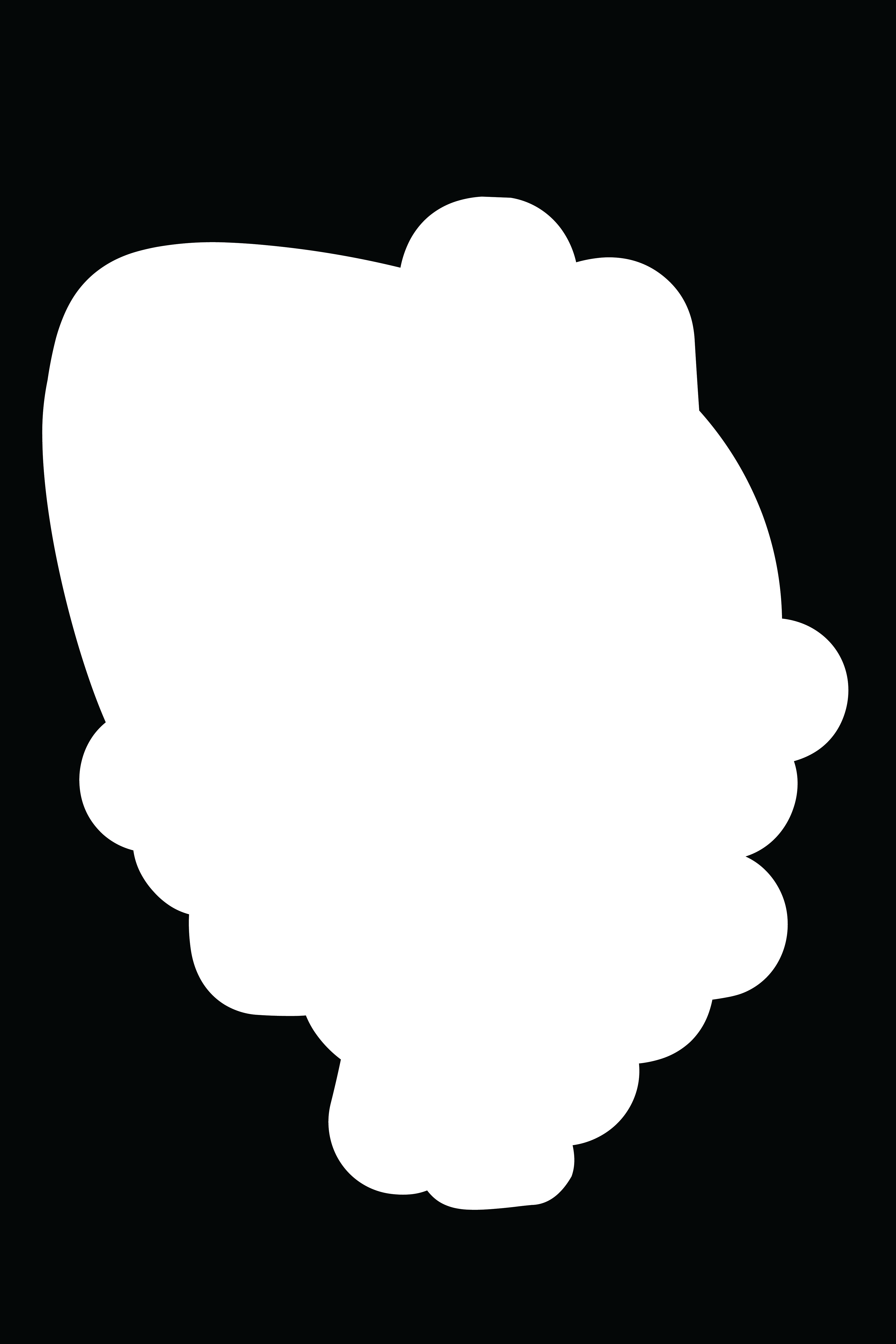 Milling on the Modela. Sometimes the machine is feeling kind, sometimes not. While I milled the final file, six traces popped off. Which lead to acrobatic bootloading, as you will see two images down.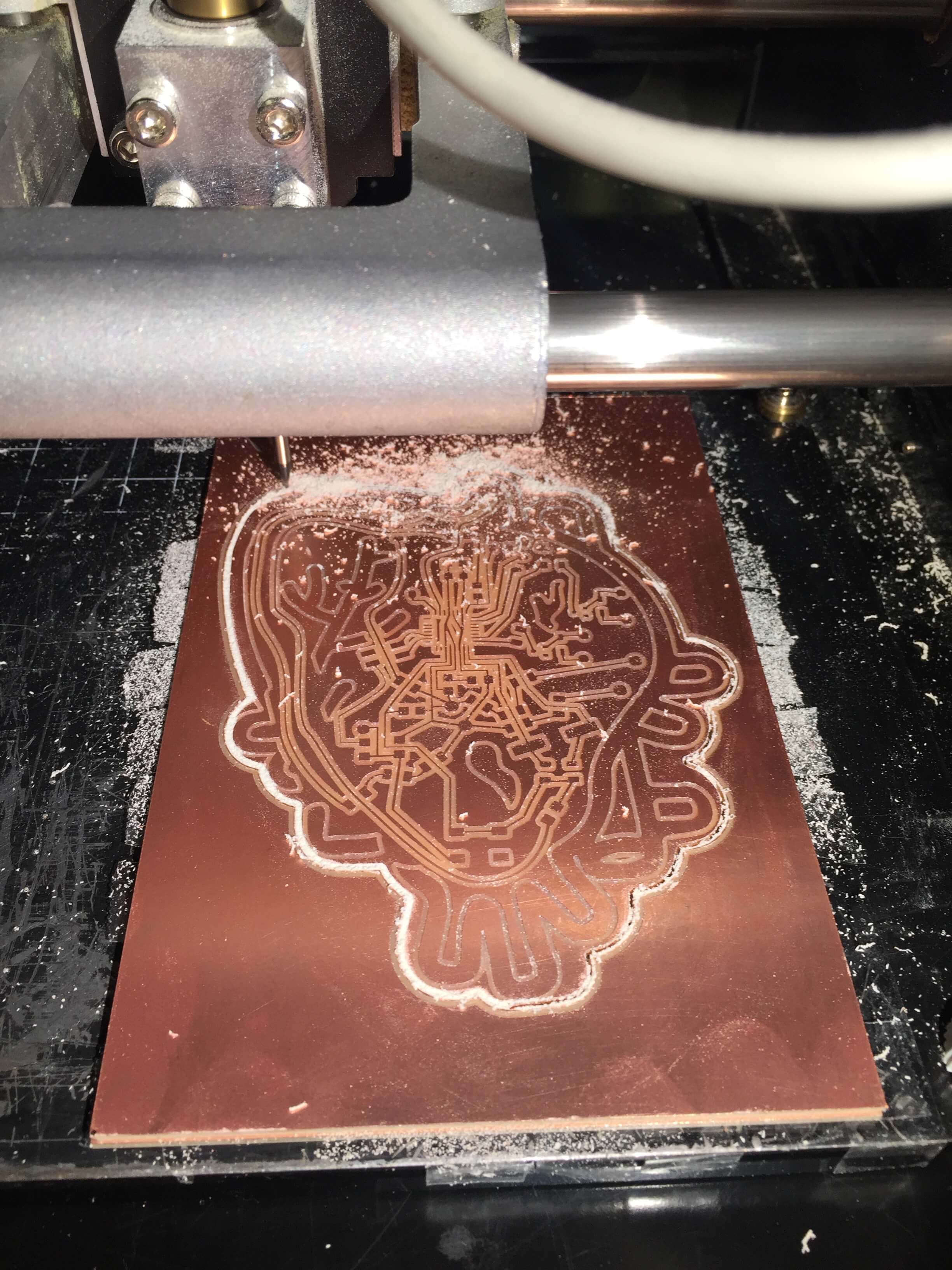 Board stuffed. First of two.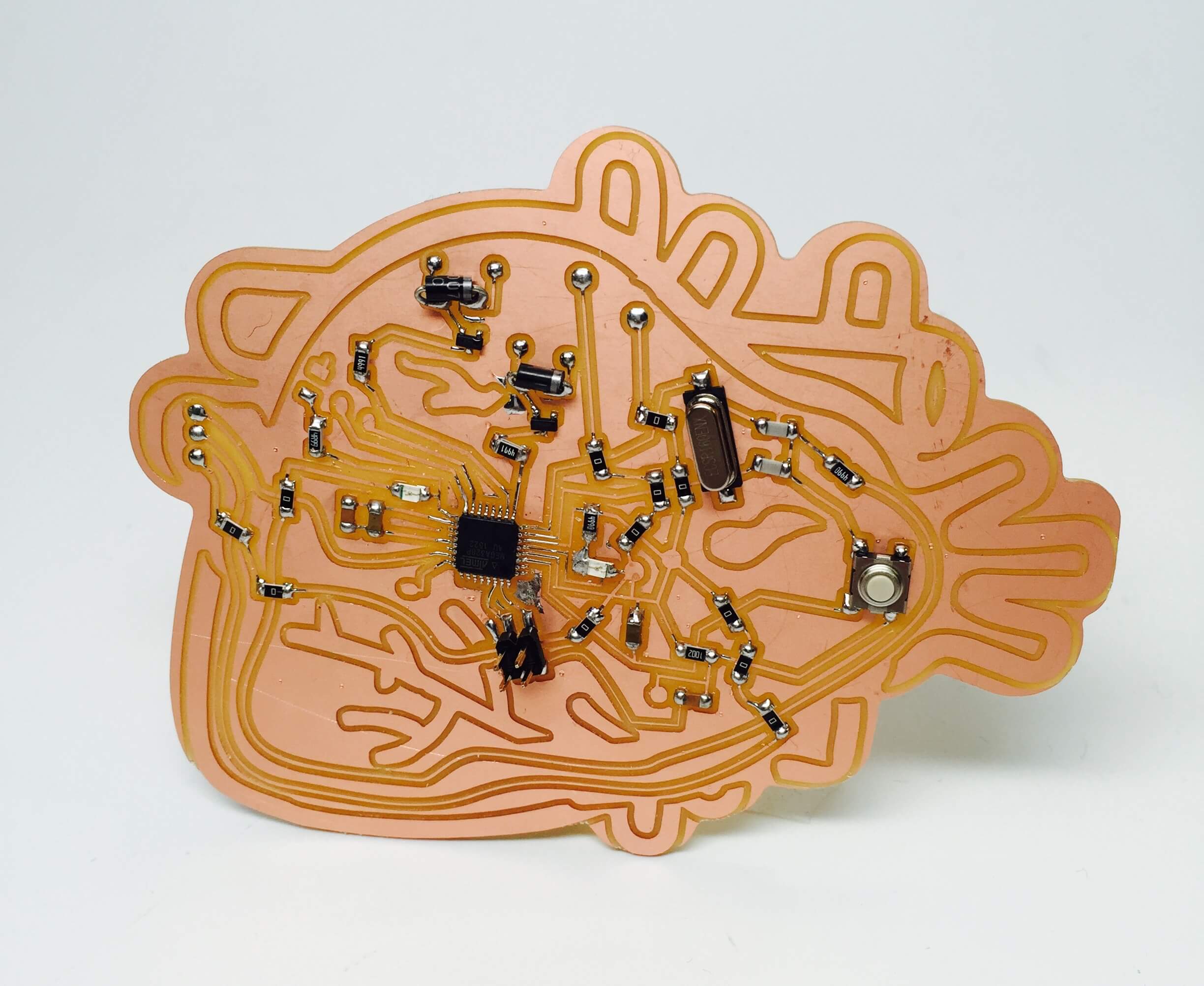 Because my traces broke off while milling, I spent many painful hours trying to bootload and program by soldering directly on pins and partial traces. Was crazy, miraculously successful. I have to thank Sands, Thras and Dan for a their steady hands and constant encouragement.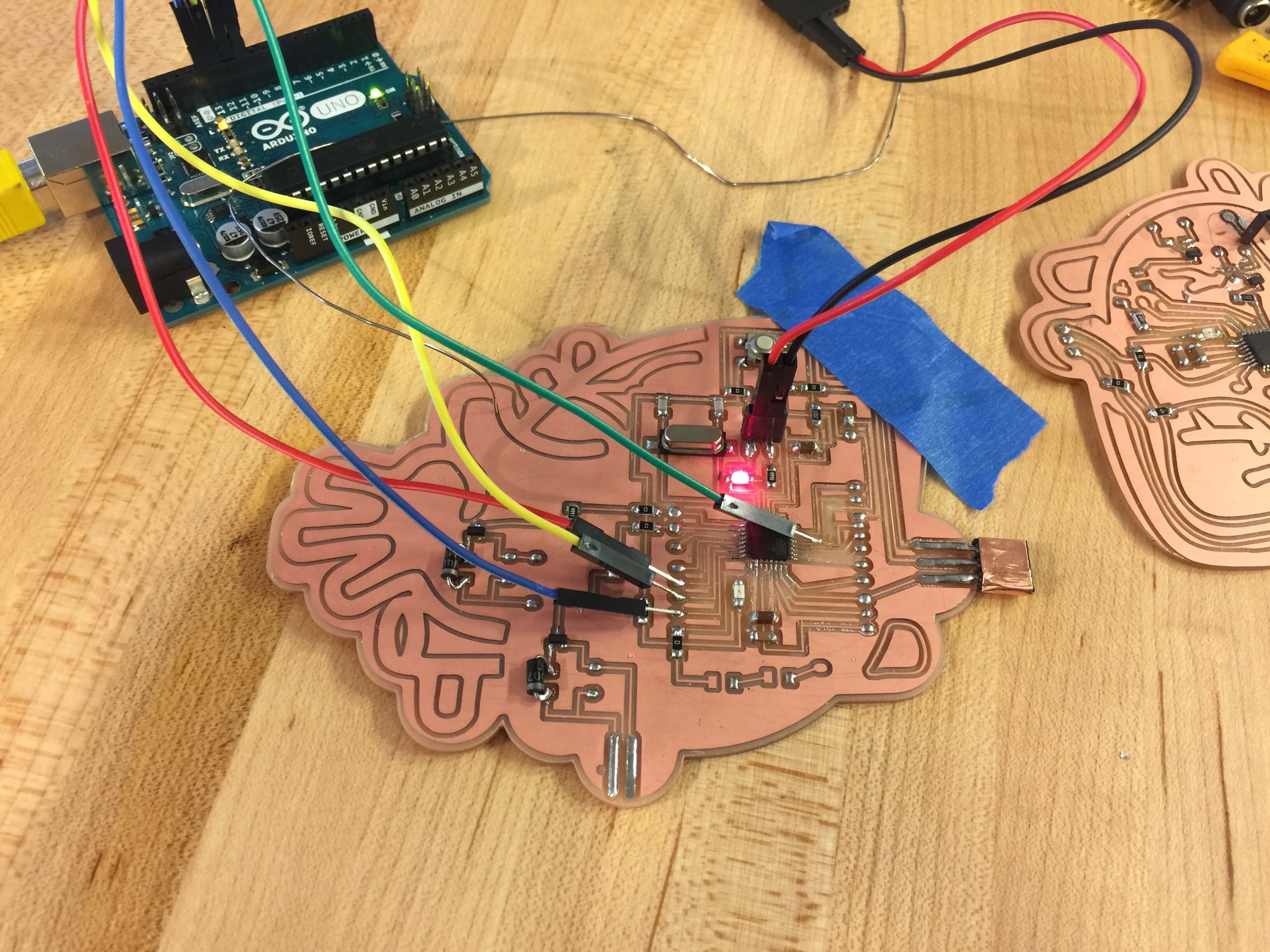 I have learned that you need just a teeny tiny momentary connection to load a program onto the microcontroller. It is kind of amazing.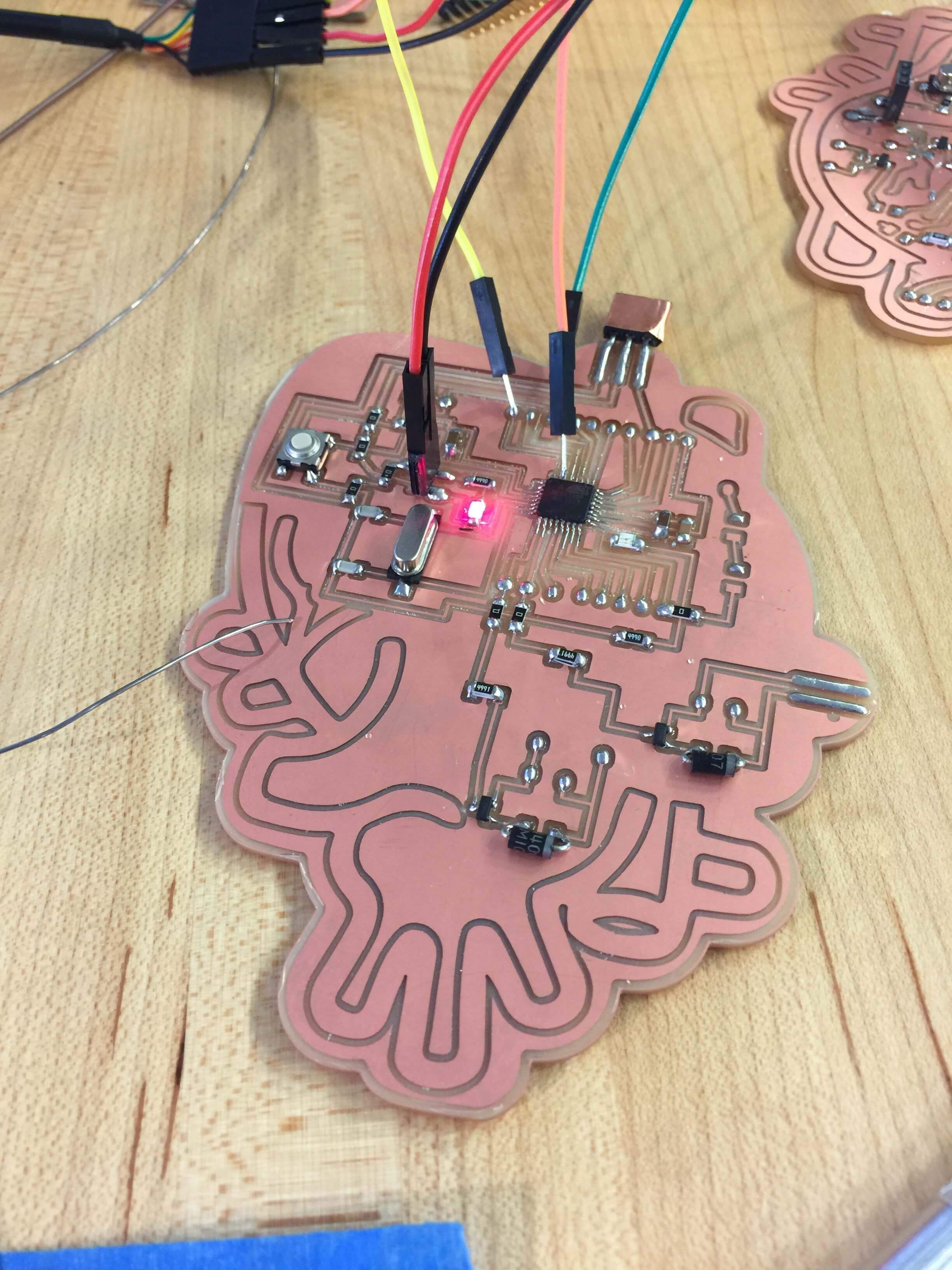 Onto casting an actuator in gypsum to dampen its noisy operation.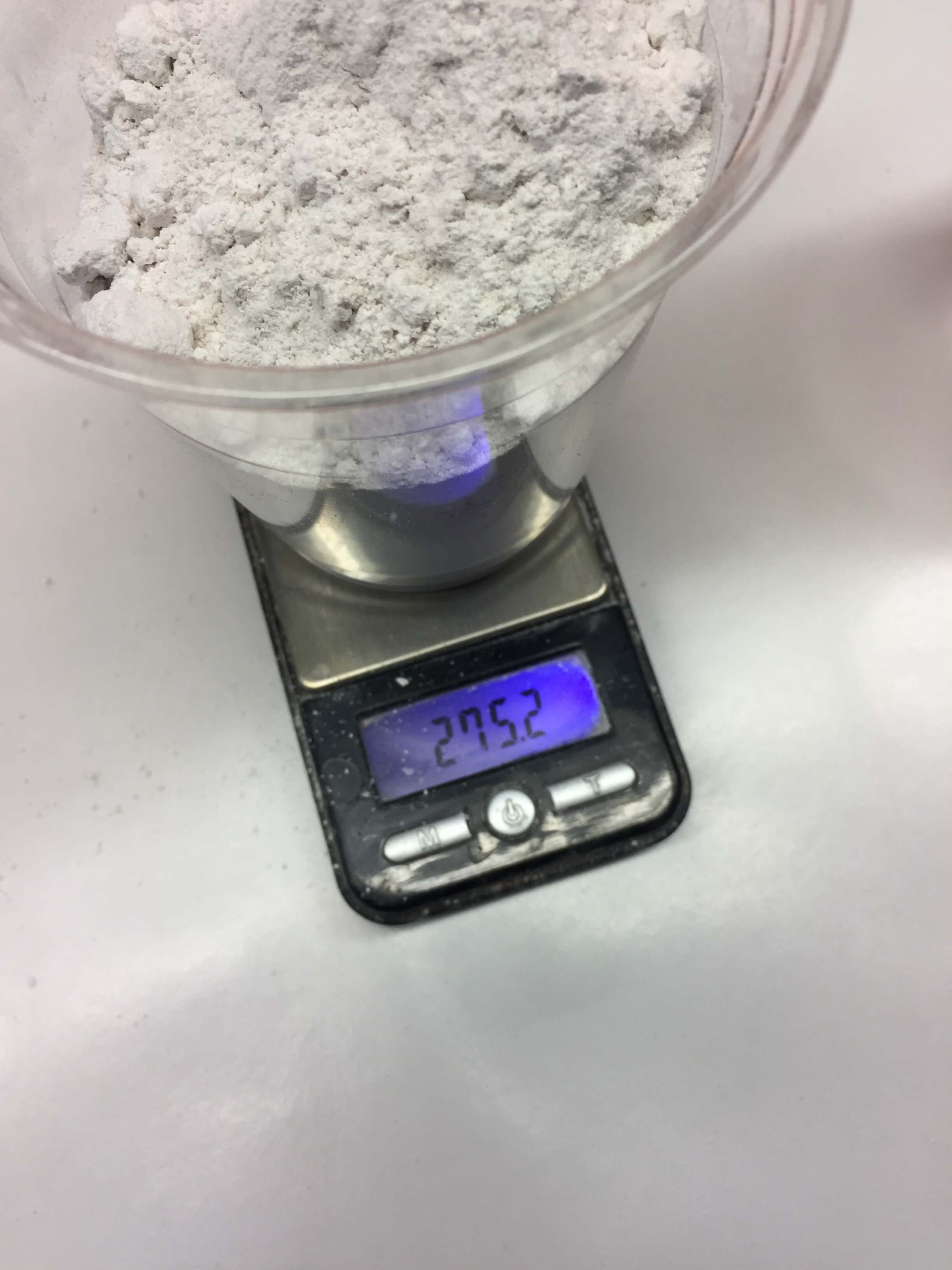 Demolding the cast. I liked the way it looked like some sort of ancient ruin.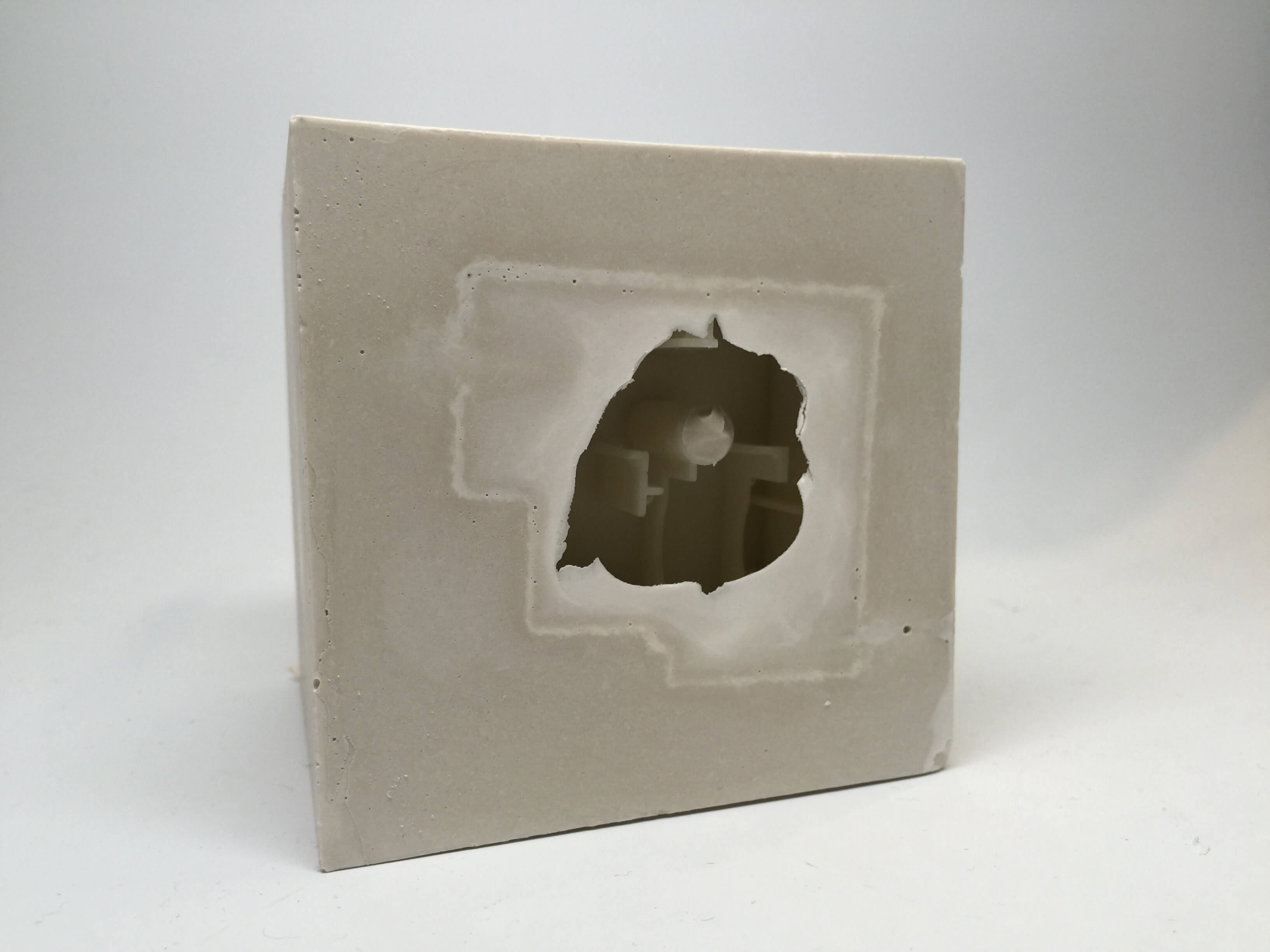 Miscellaneous other tasks: laser cutting backup cover in case circuit doesn't work out, and hole needs to be patched.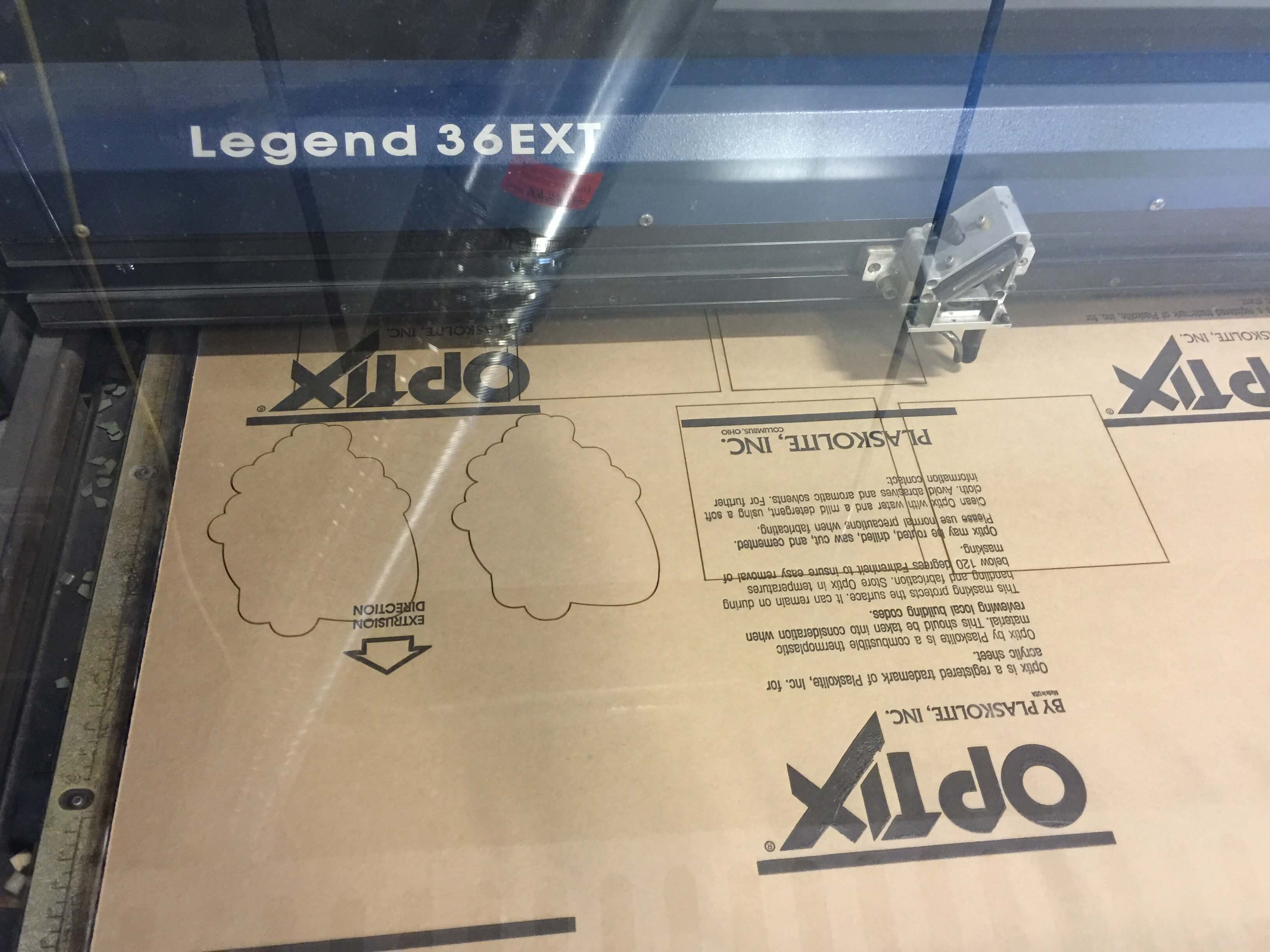 Physical set up in progress.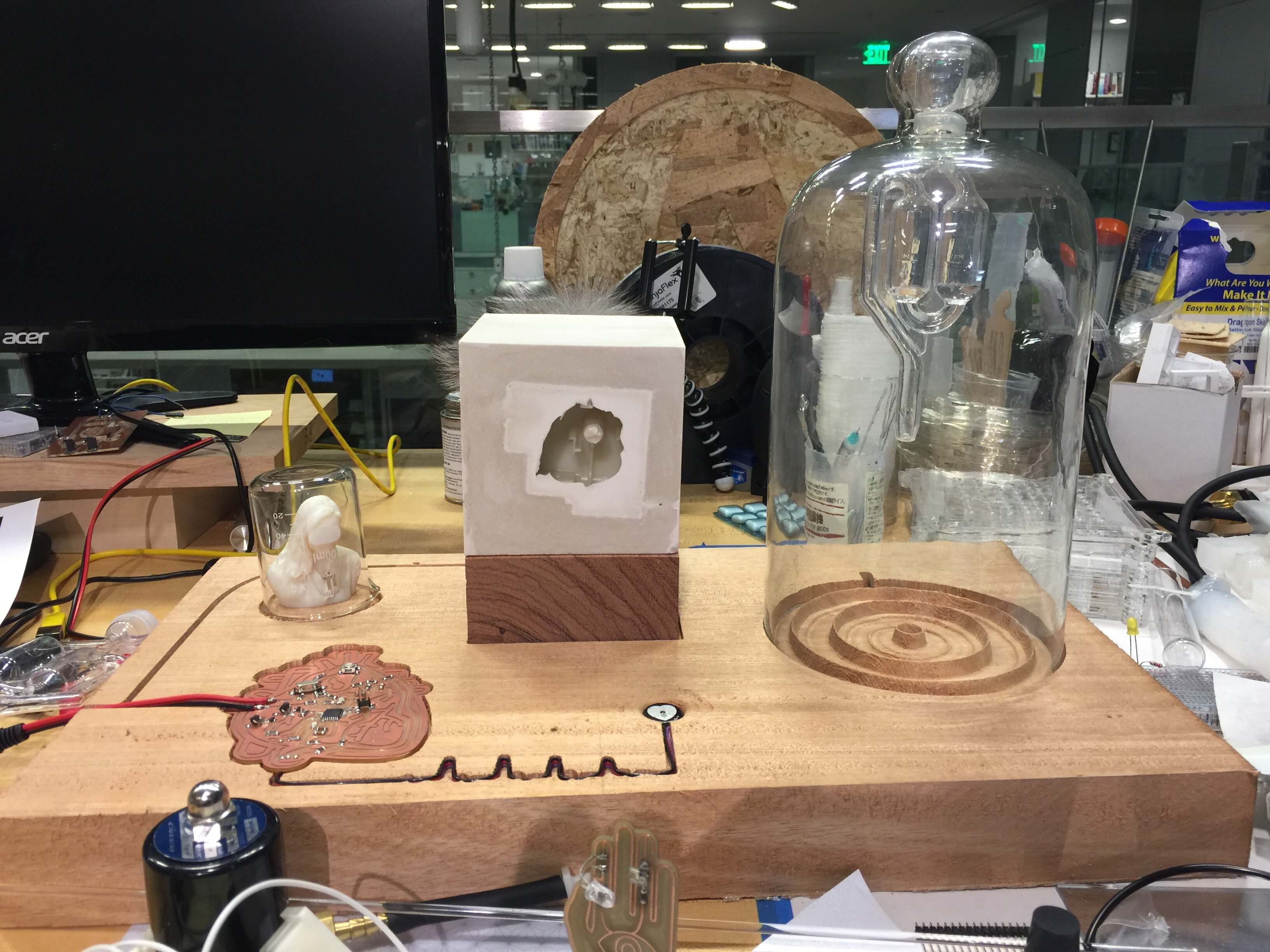 Final setup: it Works!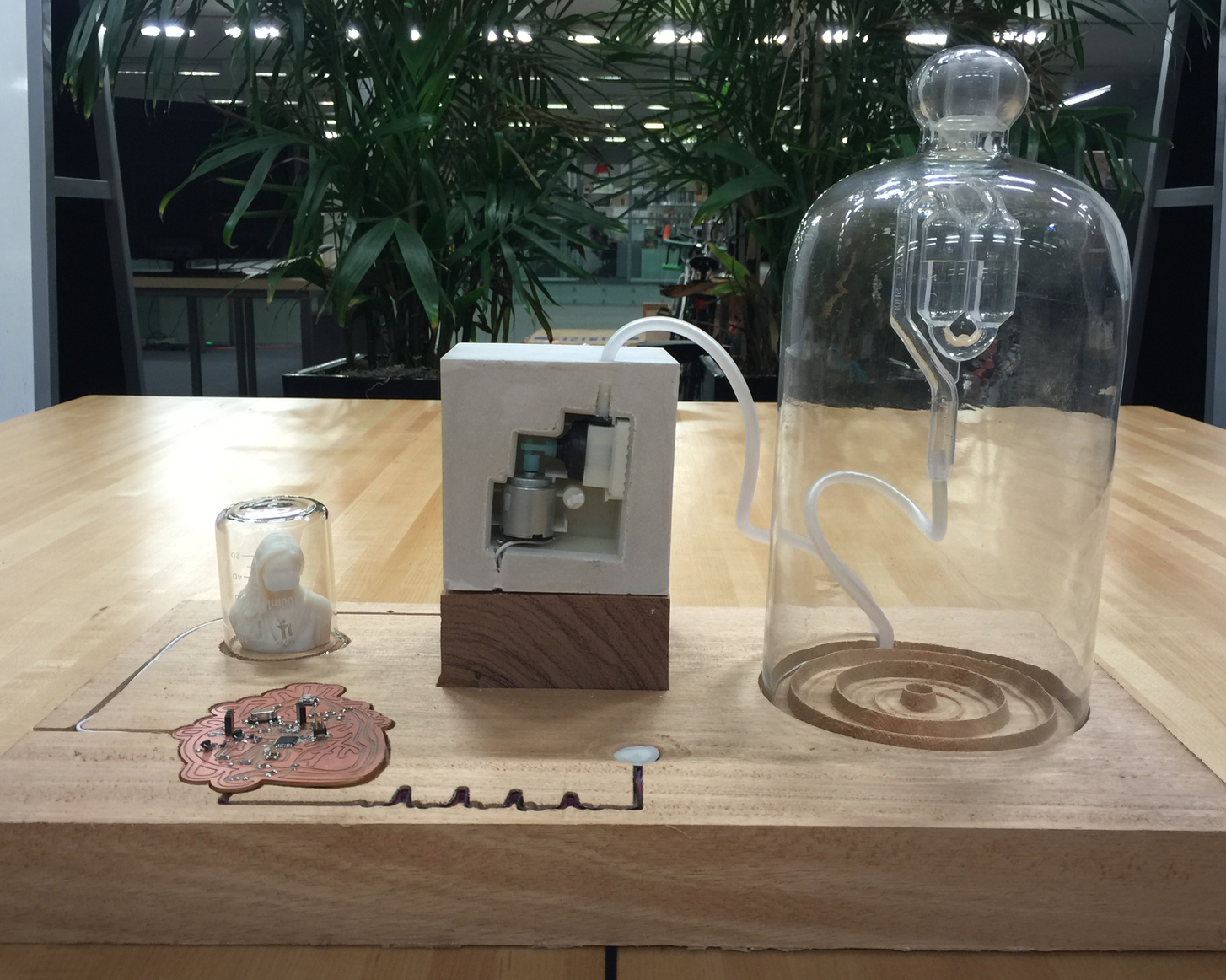 Materials
This is a bill of materials from this project. Some of the parts, such as the PCB stock and microcontroller are doubled because I made errors. There are components such as FTDI headers that I used but do not show in the final circuit beacuse I desoldered them for aesthetic reasons. A challenge I took up in the design process was integrating high tech components with traditional materials to create integrated and interesting juxtapositions.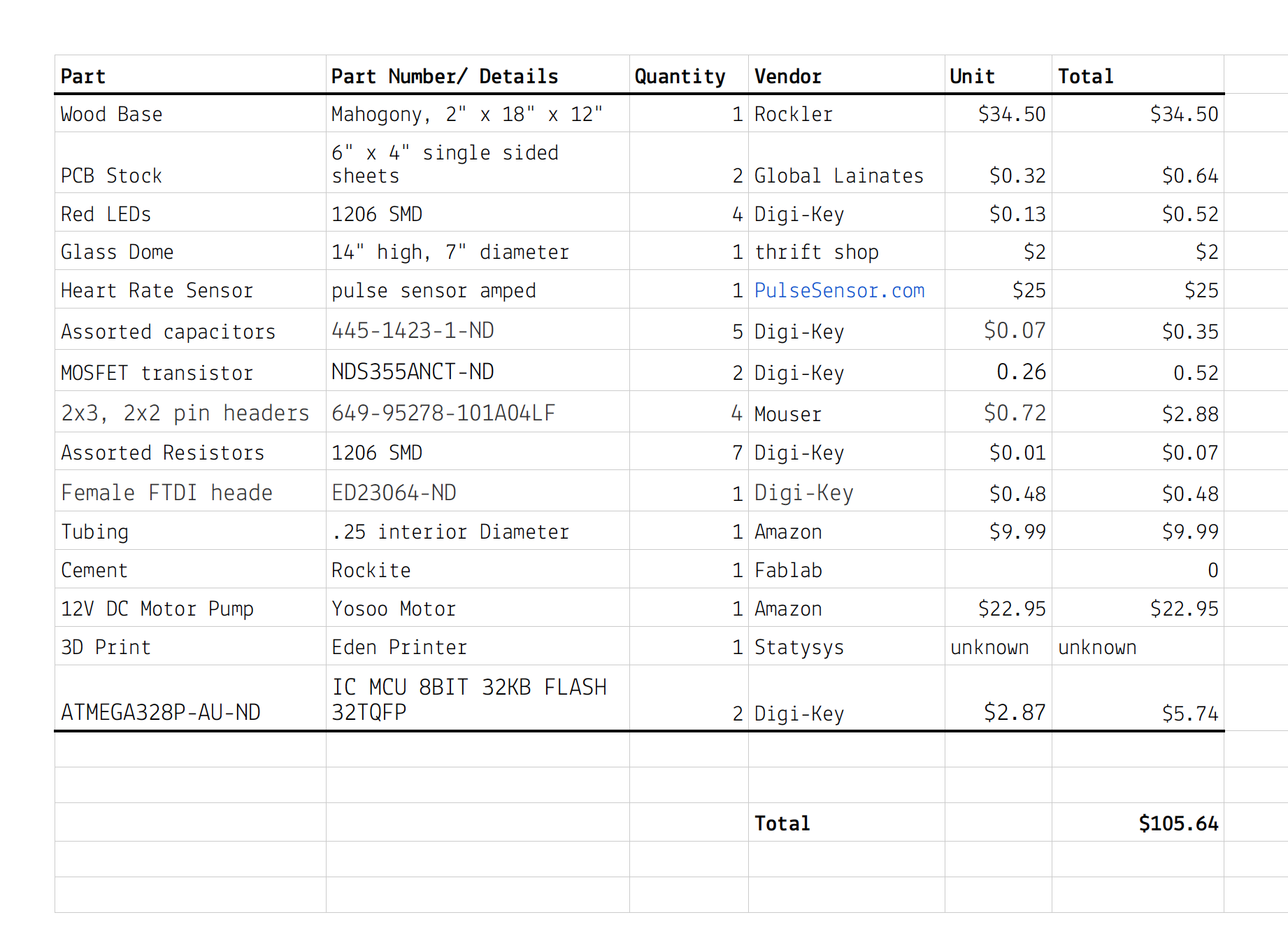 Evaluation, Testing, & Reflections
I demoed successfully at the final review, but haven't taken a video yet, because my phone, which serves as my camera broke that very morning. I am still looking forward to doing a proper documentation of the final product.
I have learned so many things in this class that have little to do with actual fabrication, but a very integral part of the process. Skills such as patience, having (many) solid backup plans, and learning to creatively apply one skill towards varied outputs was very useful. In a way, I had to learn how to learn, but more importantly, I had to learn how to fail, and learn how to learn from failure. I have immensely enjoyed suffering through, and learning all these new skills. I am excited to continue the journey of fabbing/ making/ programing, especially designing more PCBs with embedded aesthetics and making pnemuatics that work well, consistently, and expressively. Thank you Neil for the great learning experience!

Dec 8, 2015
Casting Pneumatic Hairs

Probably against all better judgement, I had the idea for a different kind of pneumatic actuation, which is a small array of tubes that would act like "arm hairs" that could stand straight up when filled with air.
This is an image of the design. While I have CNC milled and 3d printed my previous molds, I decided to laser cut this one, because I thought it would be faster. (It was not, but more on that later.) On the left is the intial sketch for how to make such a device. On the right is the model with fabrication details such as holes for aligning and clamping with screws, extra layers for over flow material and airholes for debubbling.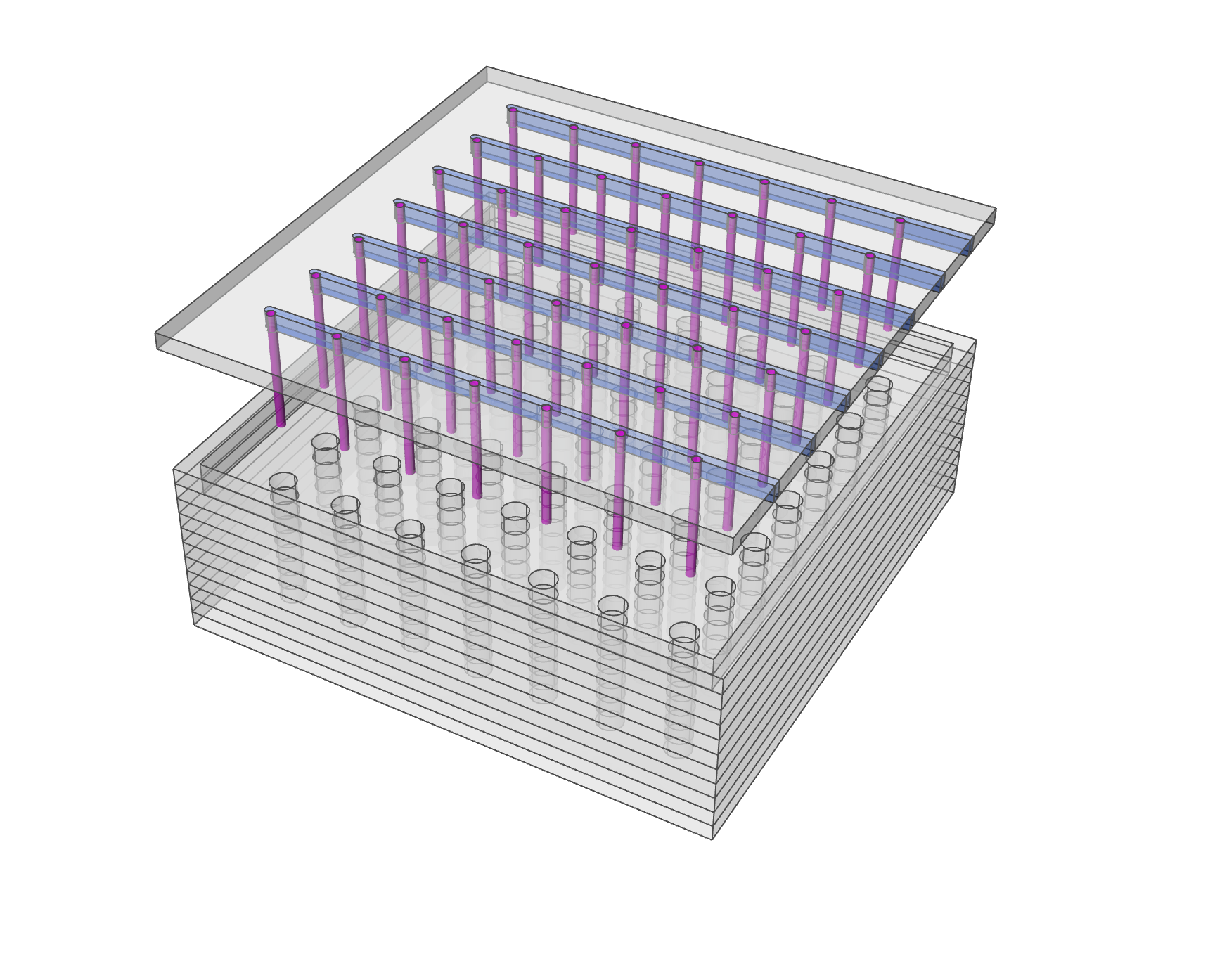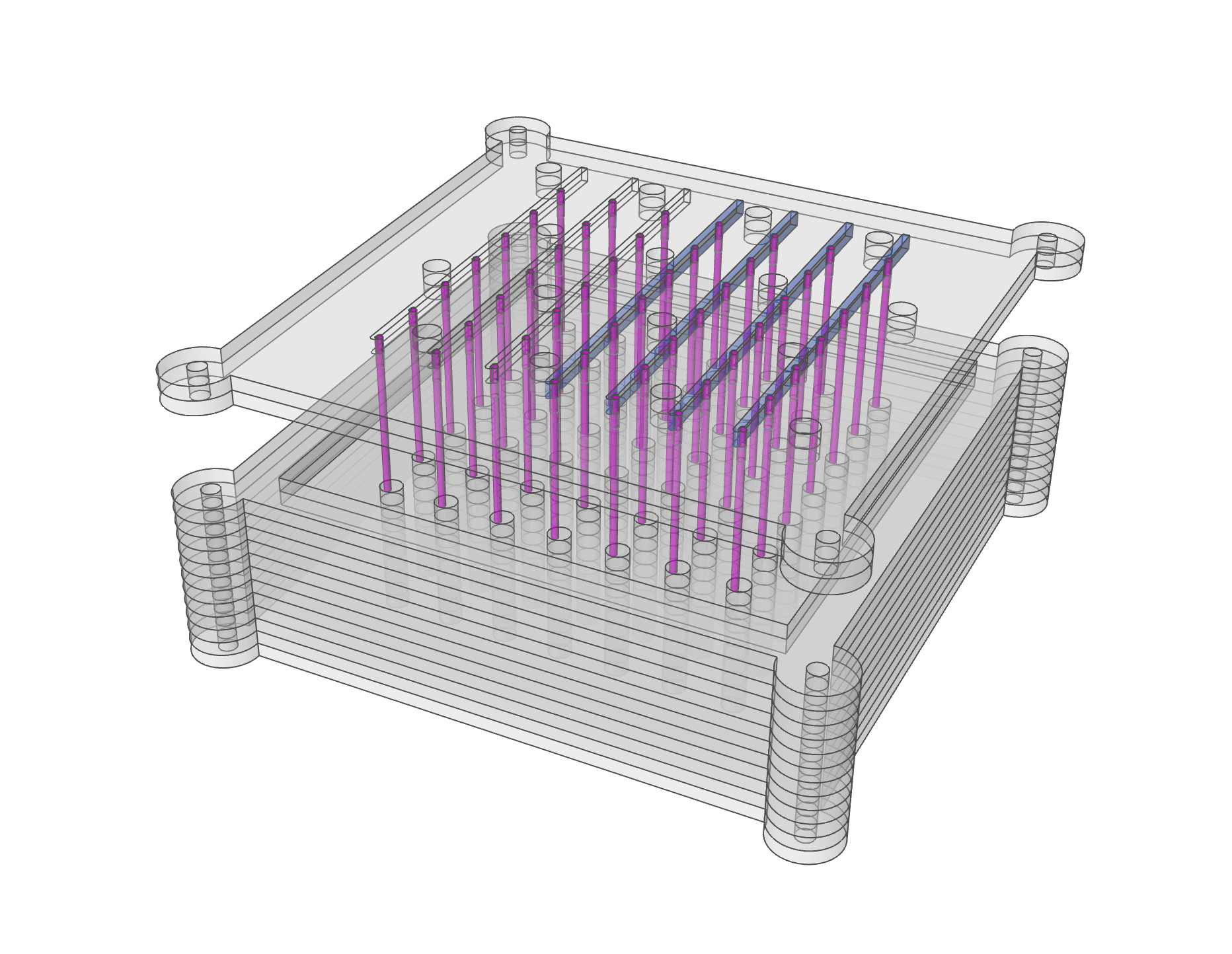 This is an image of the design with a section cut. The grey represents the mold for the hairs. The pink represents the voids where pneumatic actuation will happen. The blue are air channels for air to move to each hair.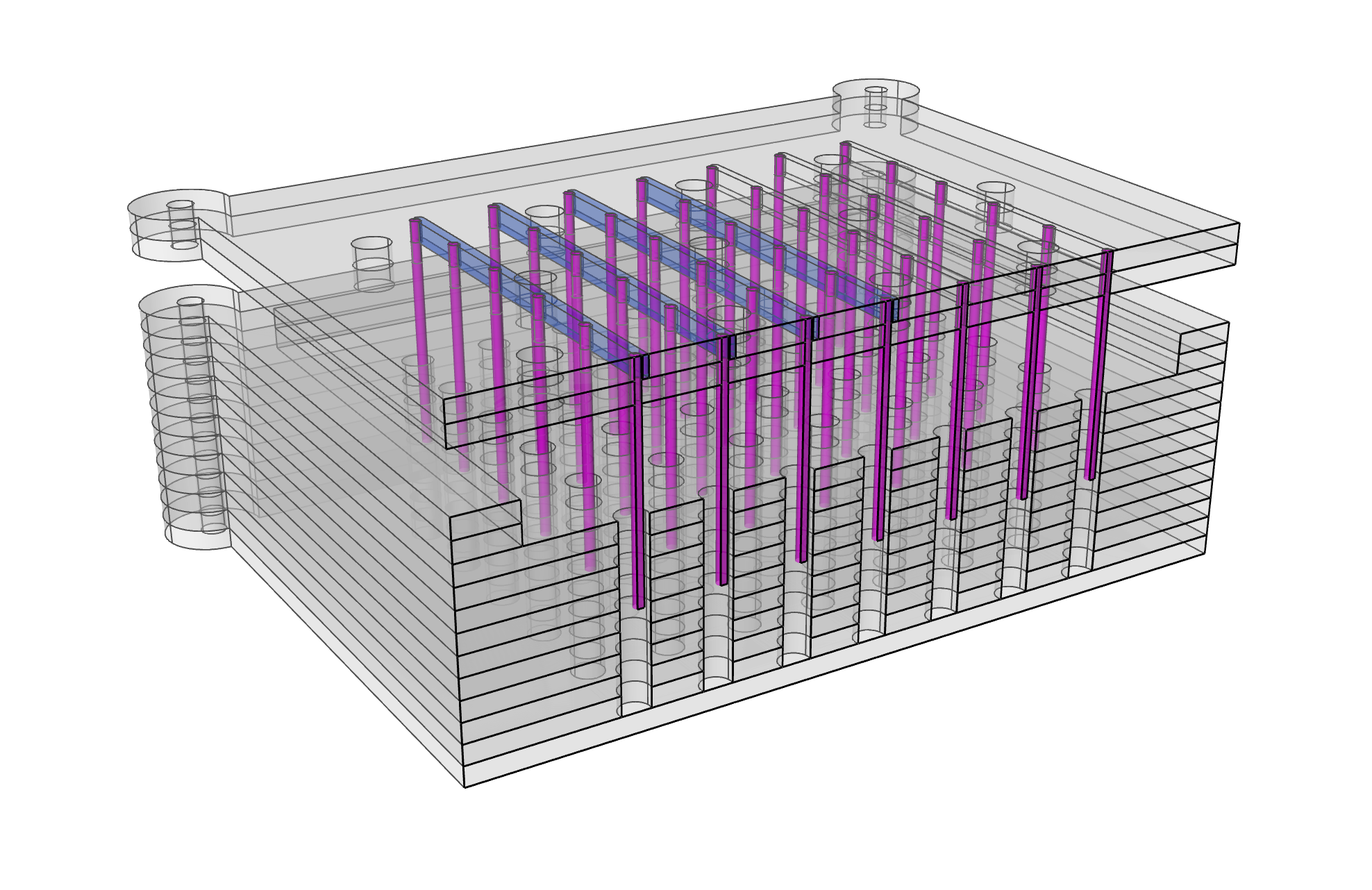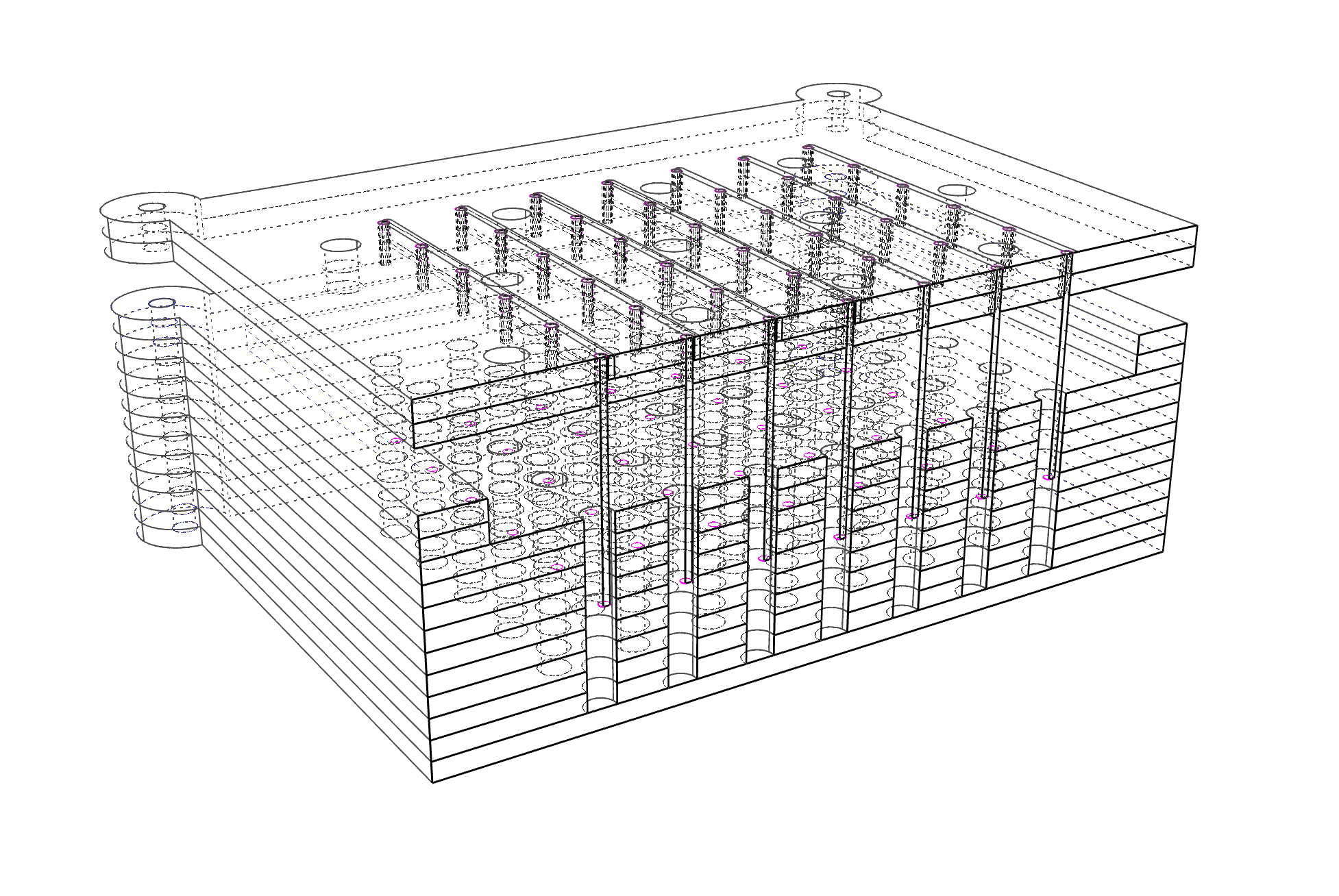 I laser cut small samples first to test for tolerances with the screws and plexiglass rods.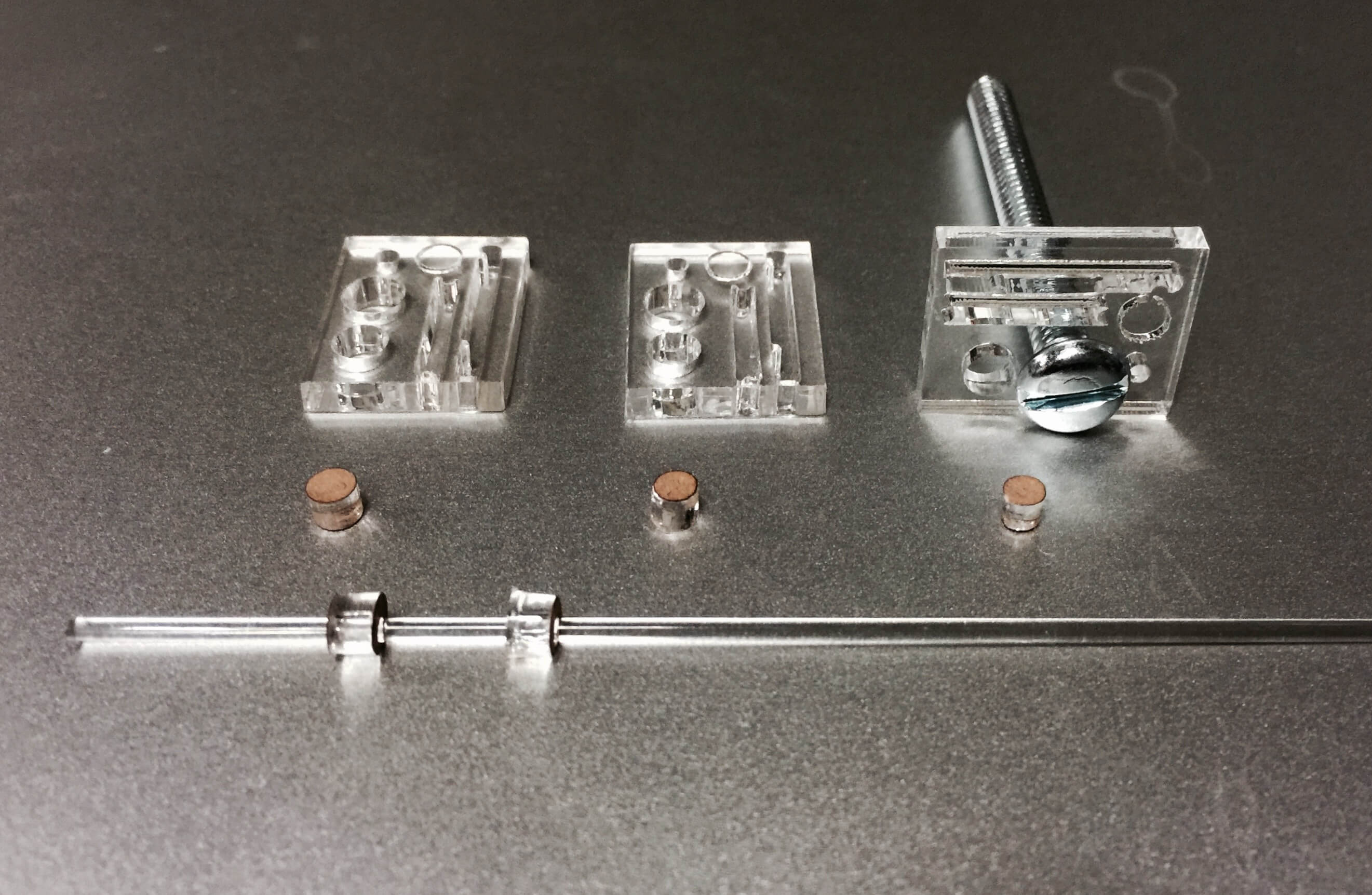 But alas, even though the tests came out fine, the laser did not cut consistently through the entire bed. I spent a lot of time removing peices that cut well and recutting in some areas over 4 times. It is the small details that end up making your project take four times as long as you anticipated. :(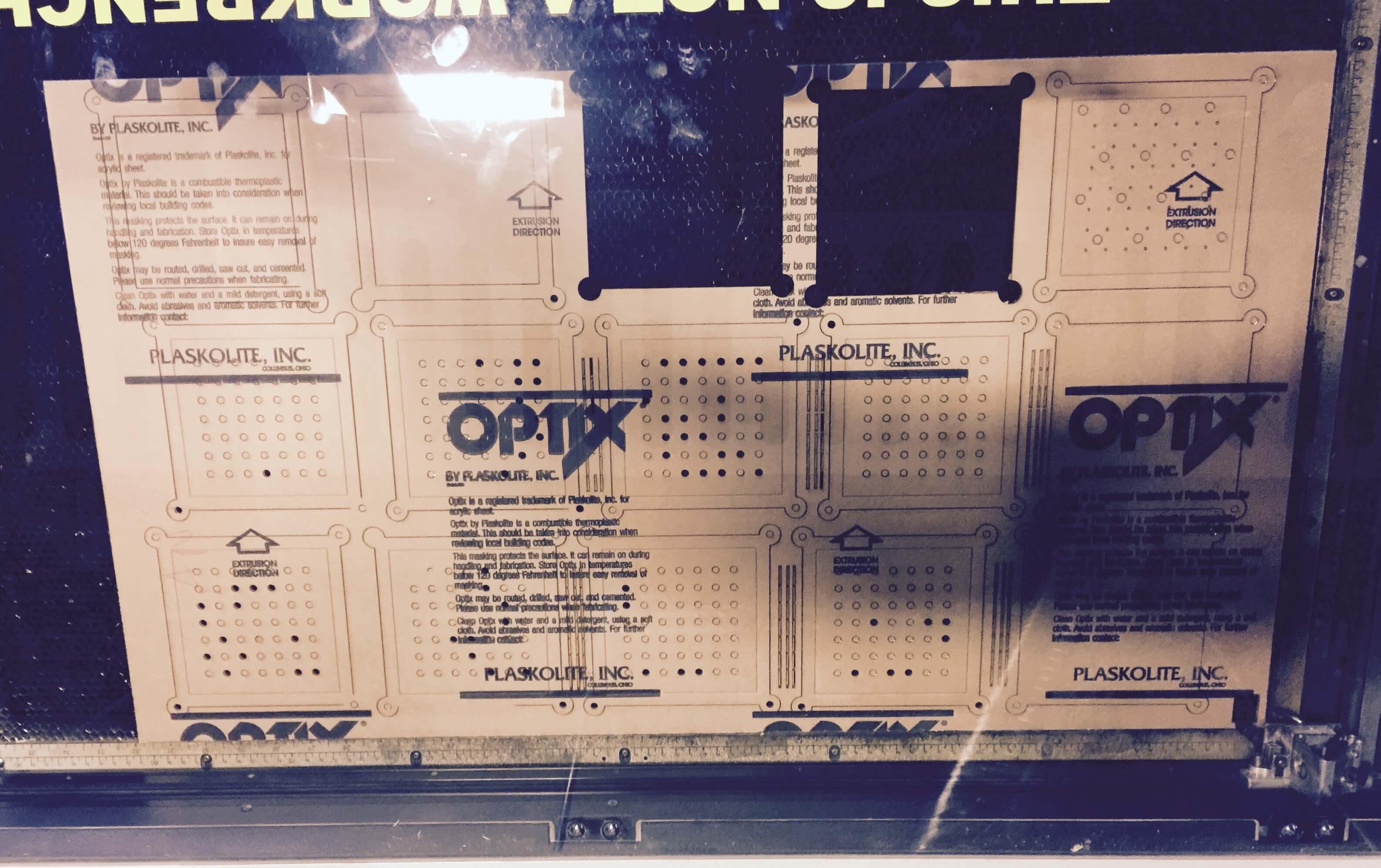 I finally got all the pieces cut, removed all the backing, and got to gluing. I used a syringe and SCRGRIP 4, which is a water thin plexi bonding adhesive that works very well. You can get it locally at Altec Plastics.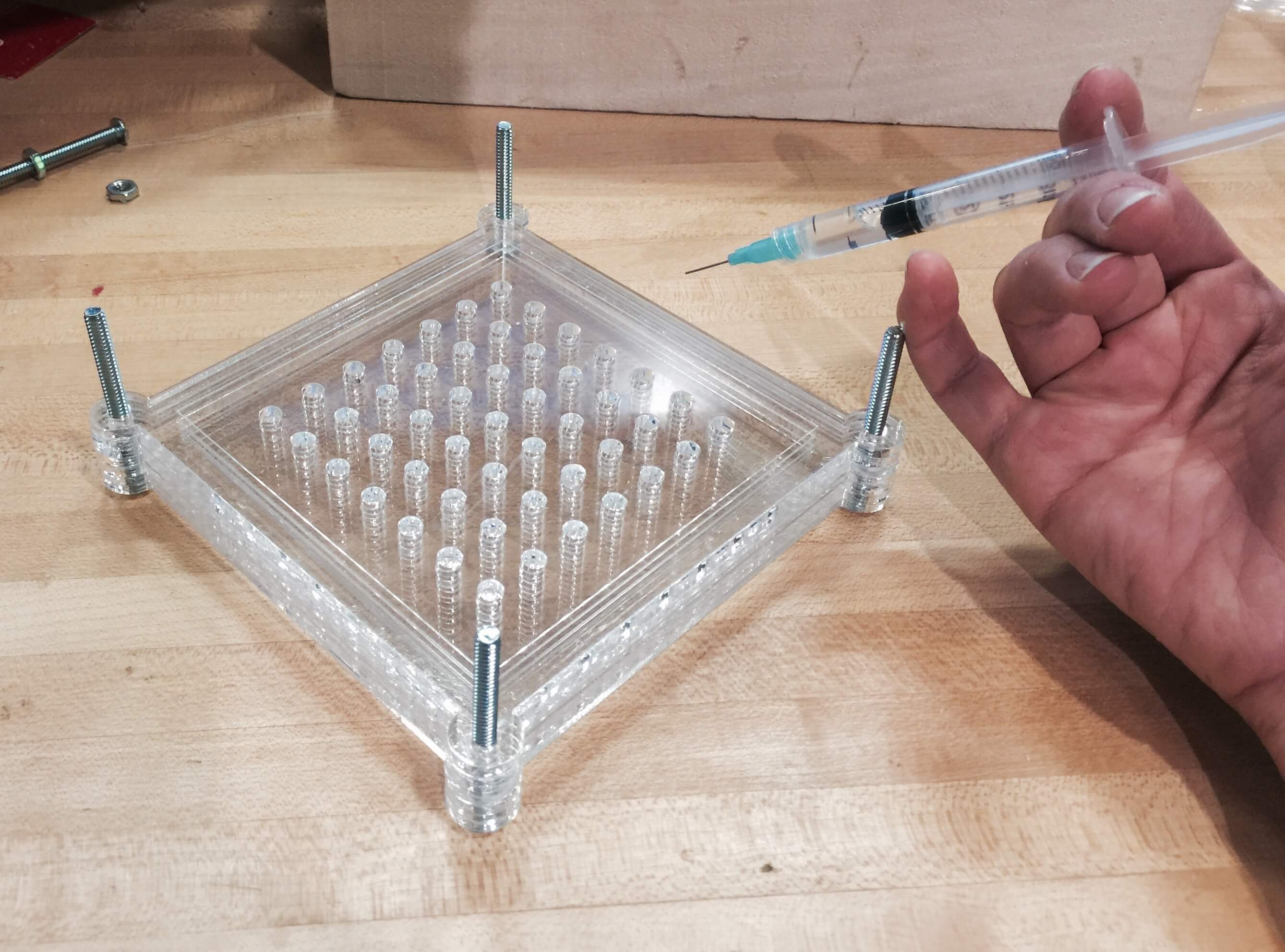 Images of the finished mold, and a detail shot of the chambers.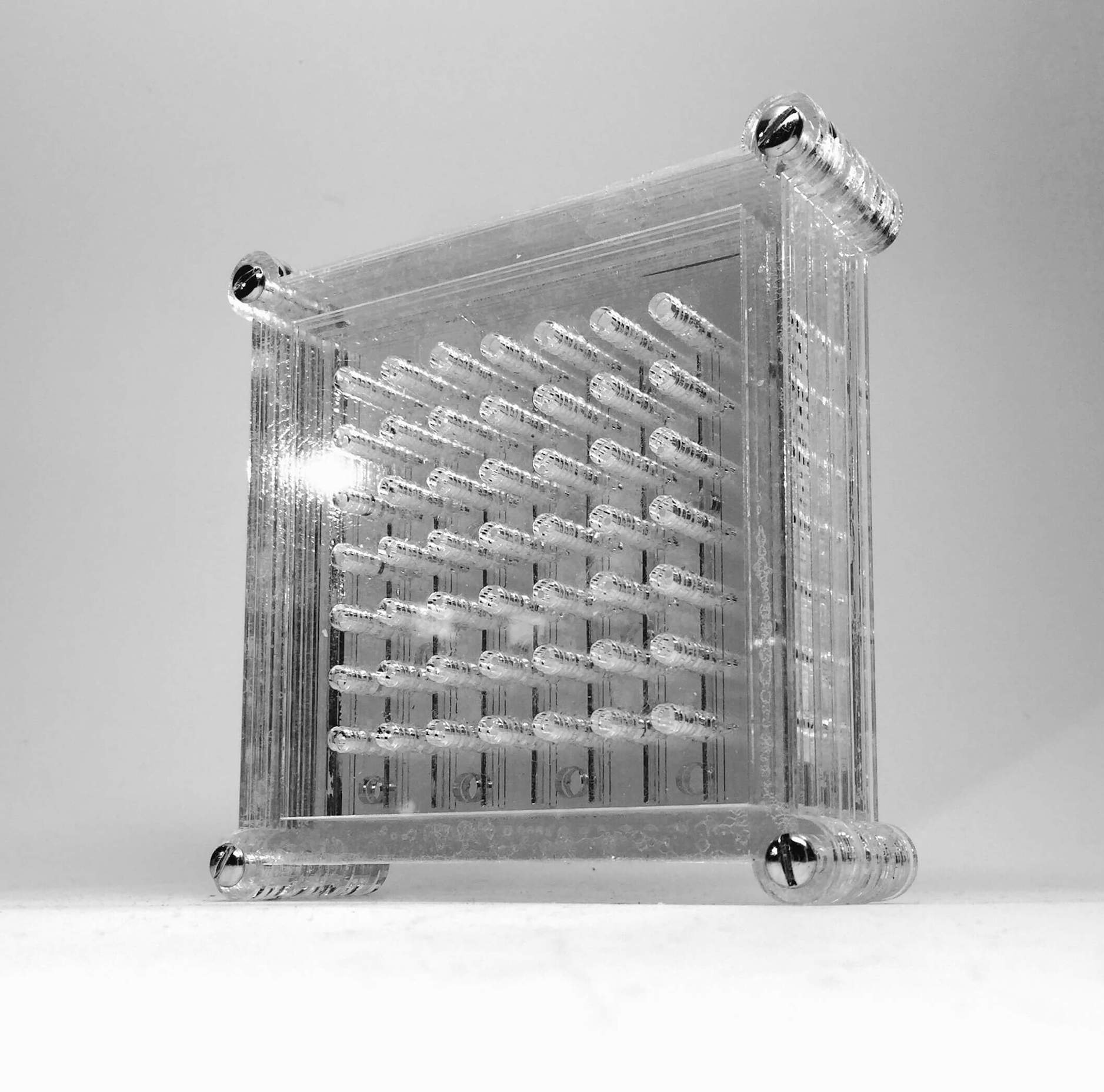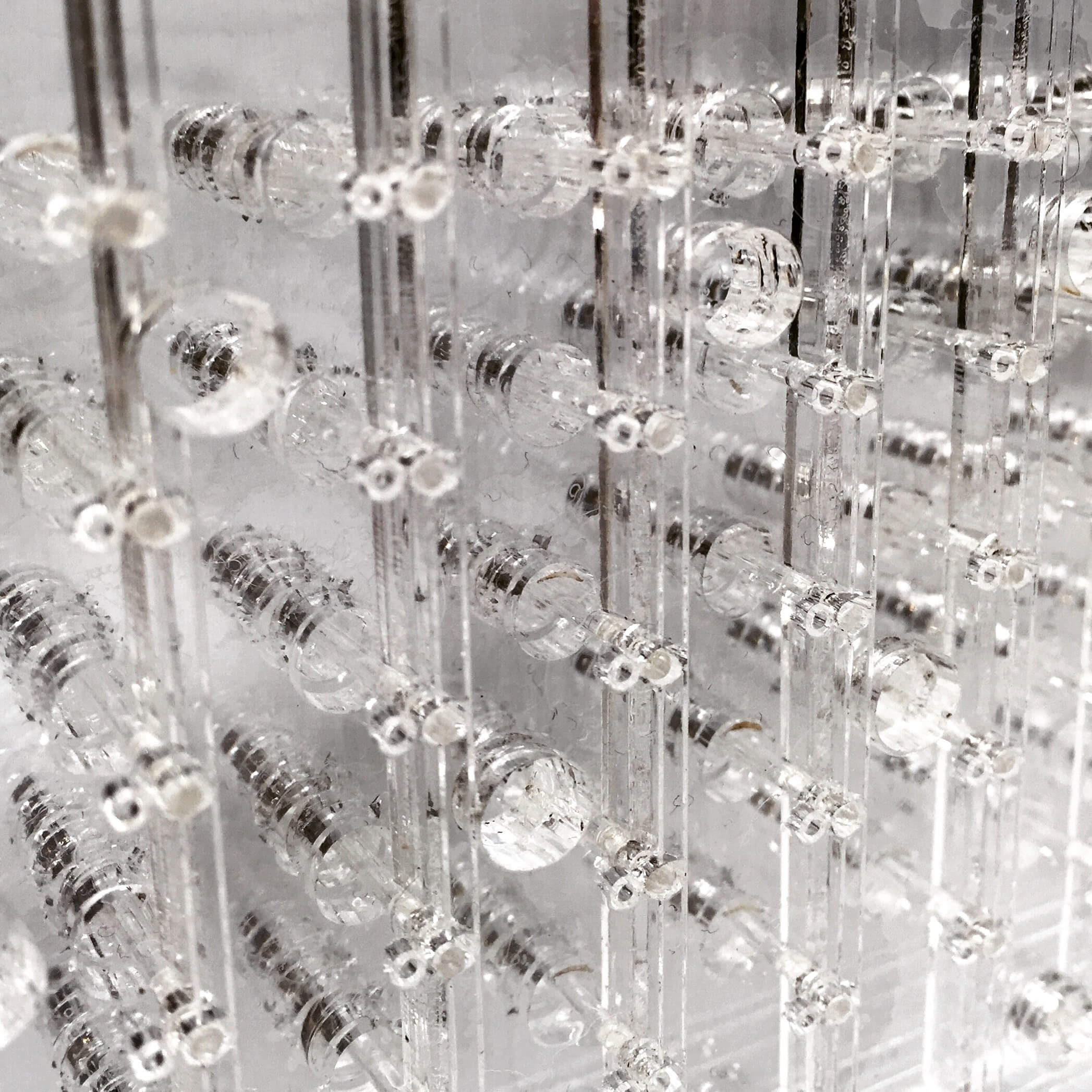 An image of the two part mold.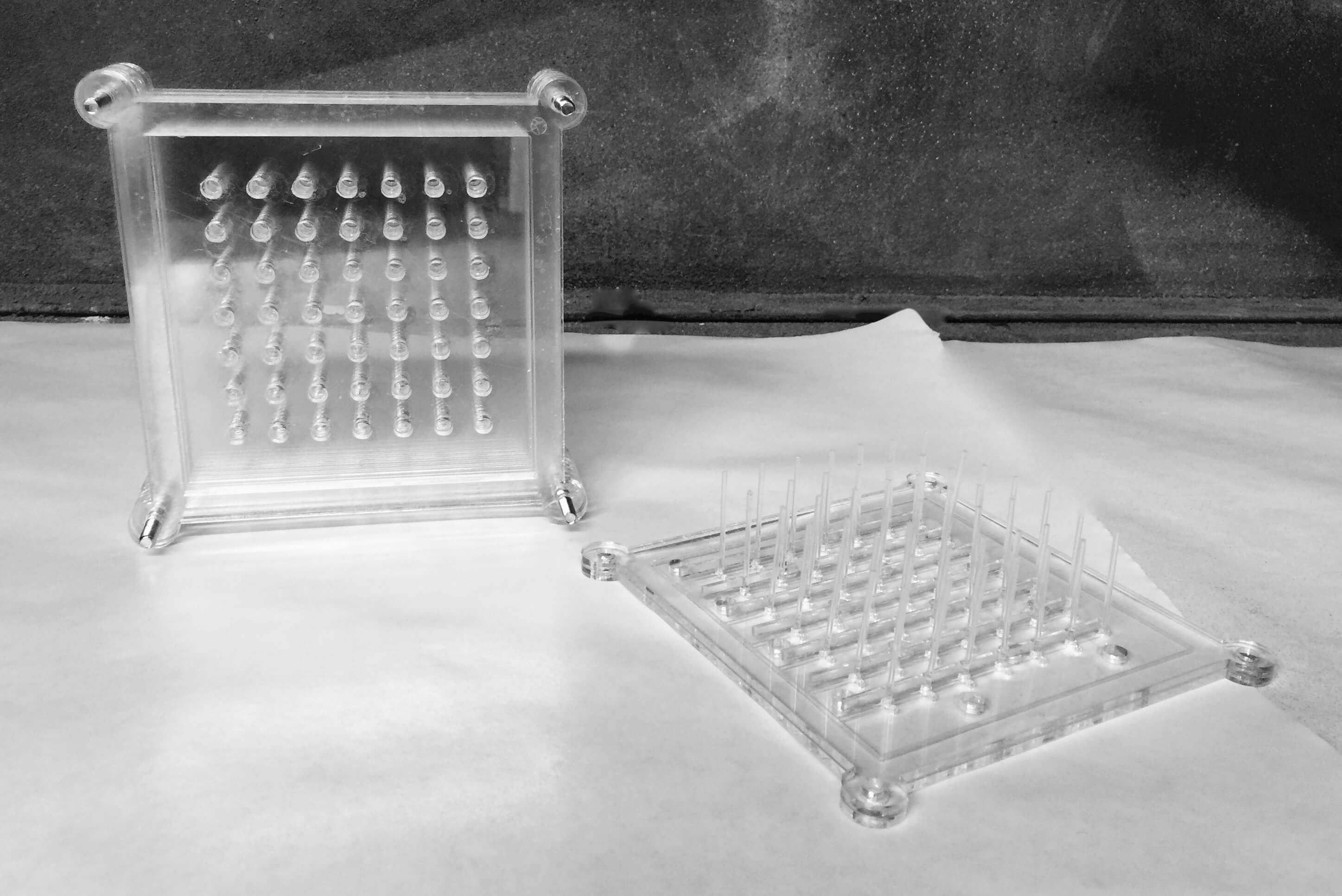 The air chamber positives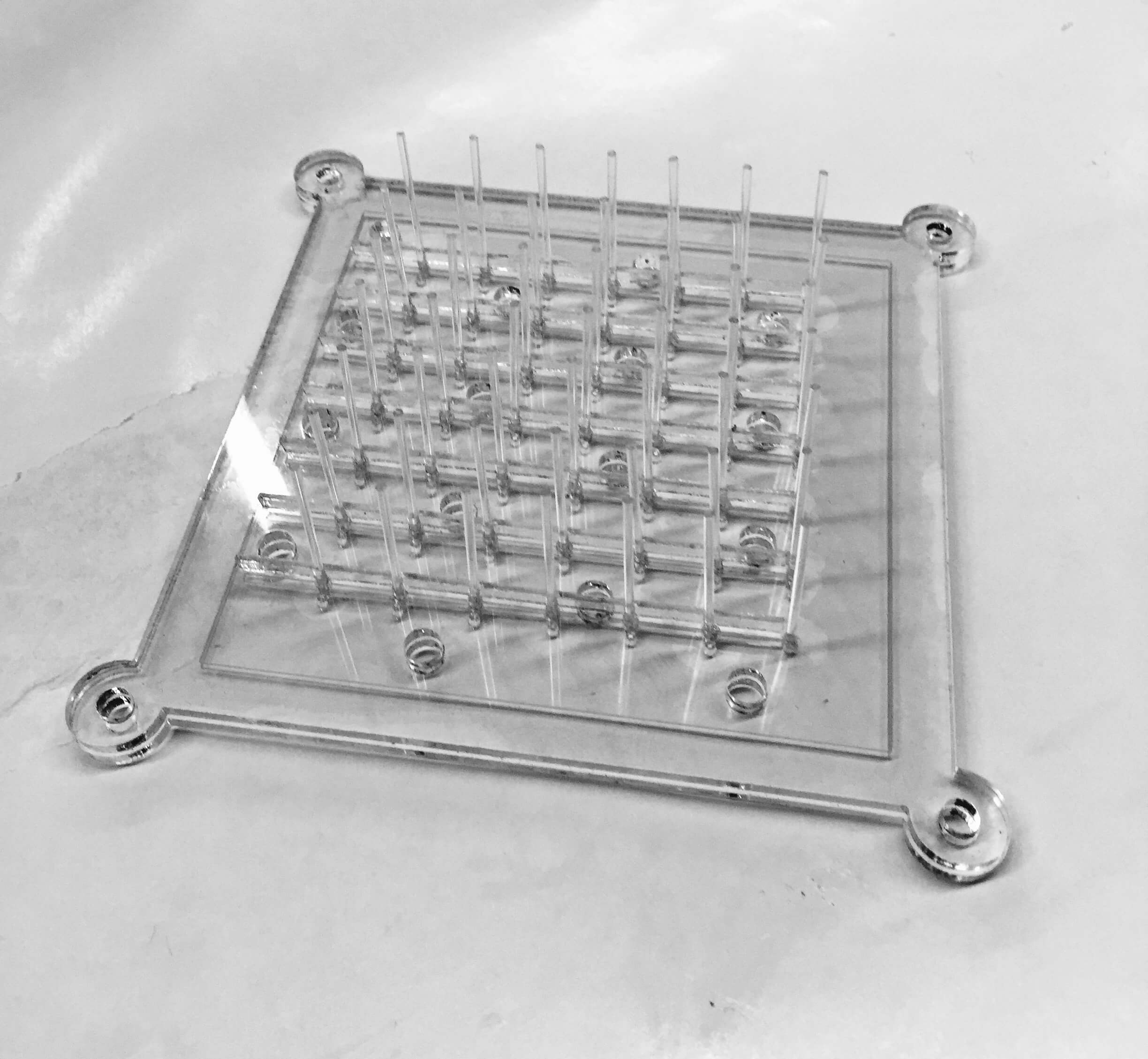 Silicone casting time!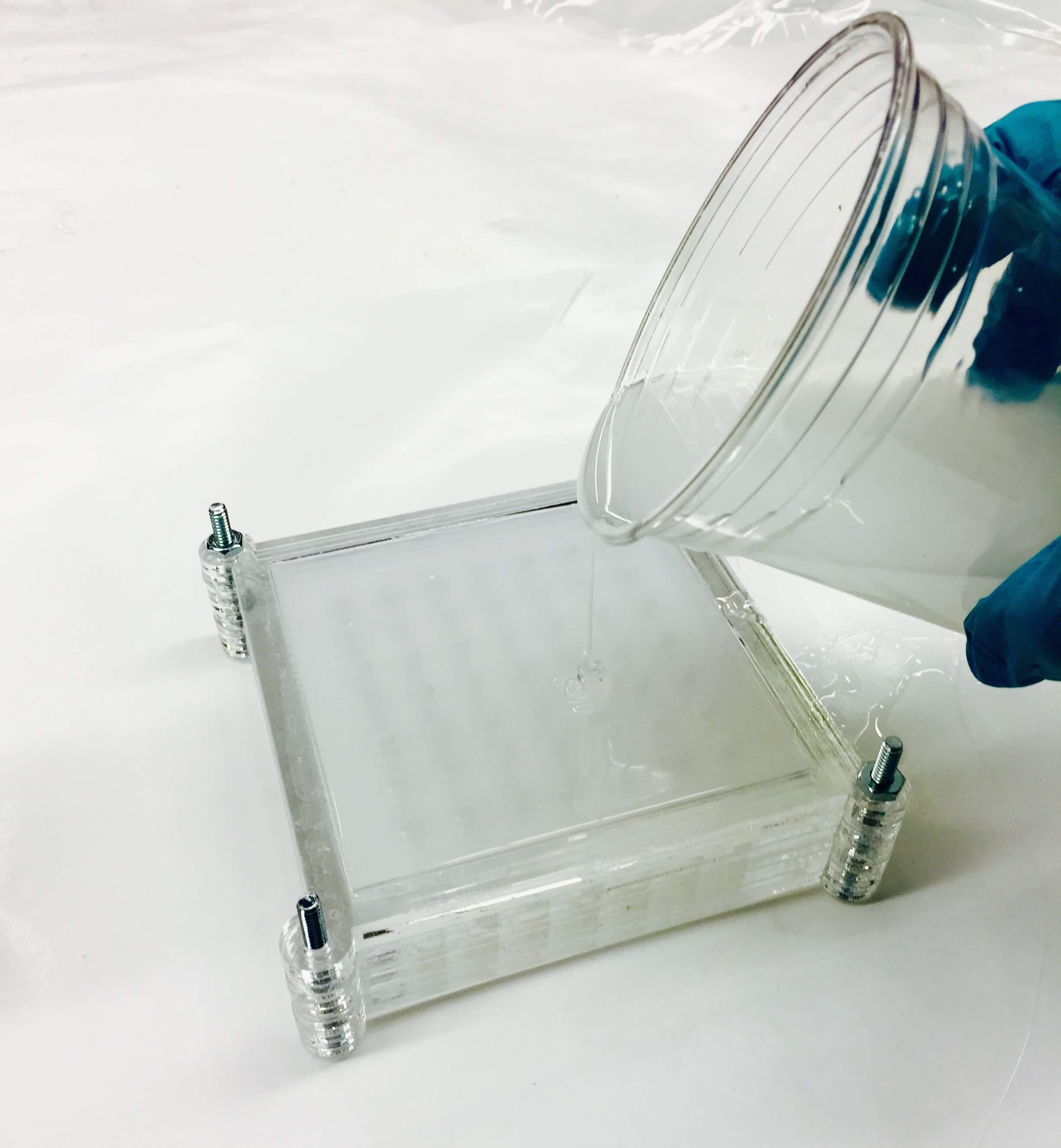 It helps a lot with soft robots and silicone casting to use a vaccum to pull out the bubbles. Here is a video of this process if you've never seen it:
Image of each cast chamber with a positive for the voids: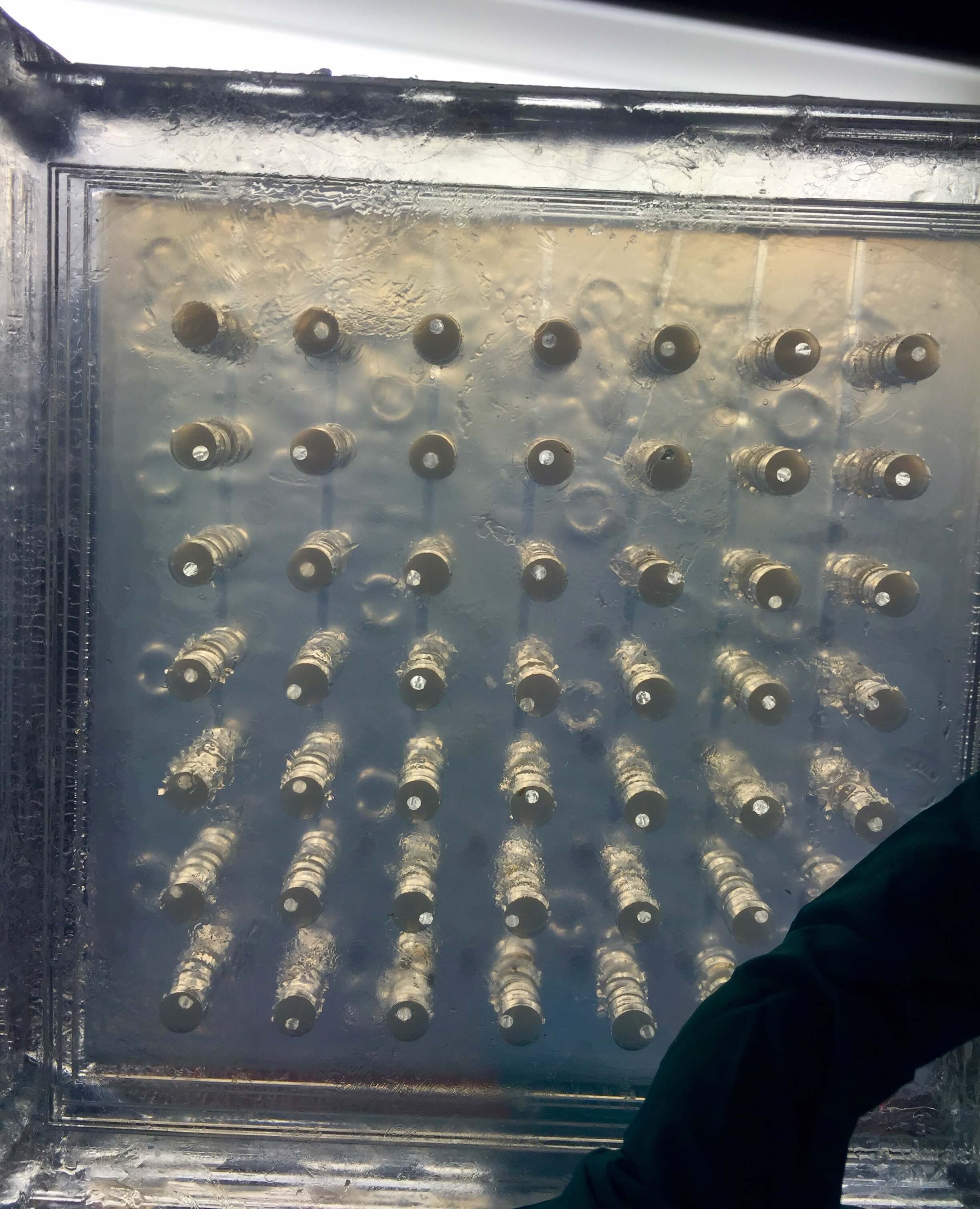 Heartbreak Haven: I recast this twice with two different techniques but I could not get the whole array to actuate. Instead of trying to continue to innovate a new method of actuation and debugging the fabrication technique, I have moved on to focus on a deployable project for the final review. Here are some images of the (naievly optimistic) detour into pneumatic array actuation: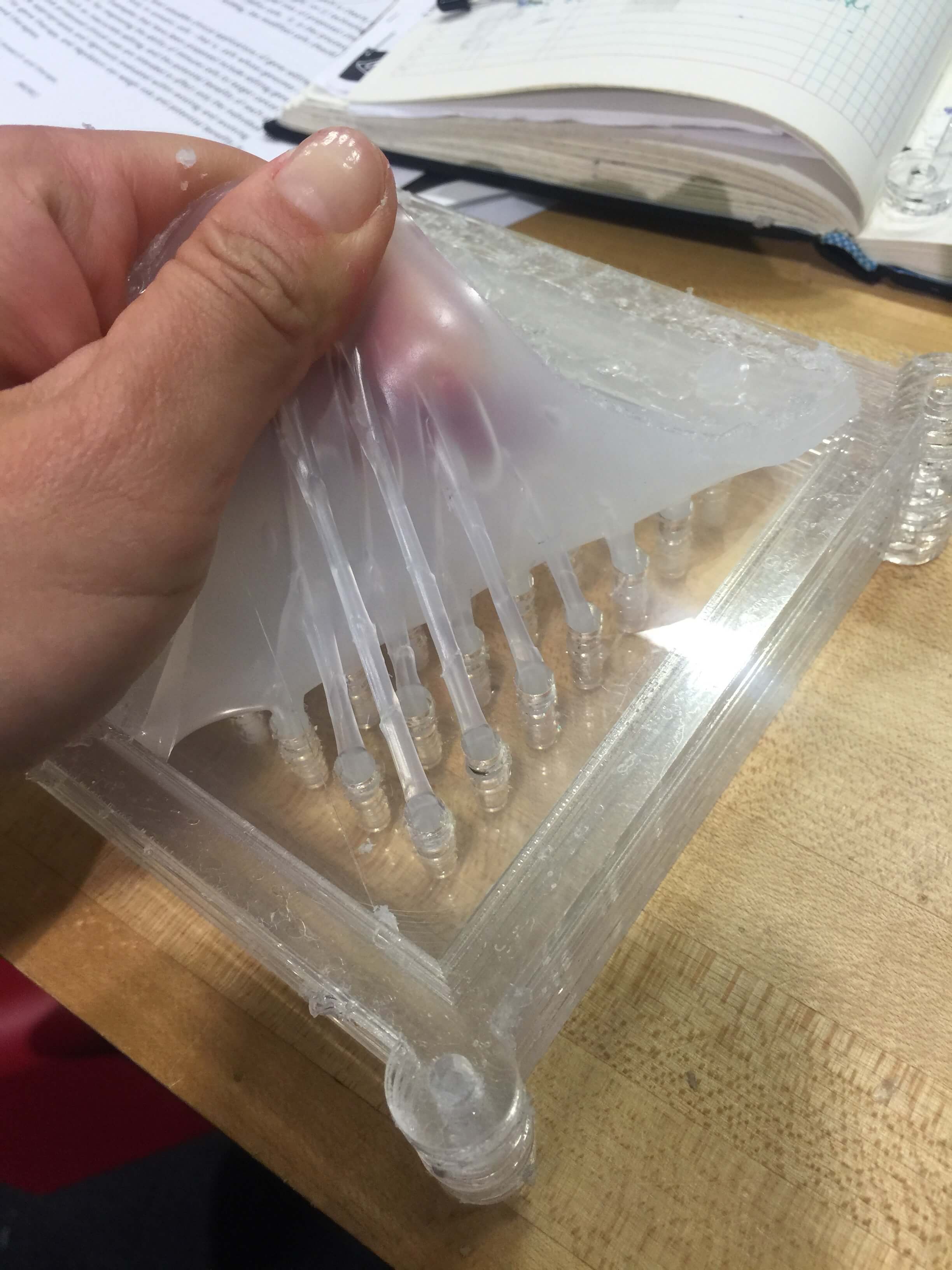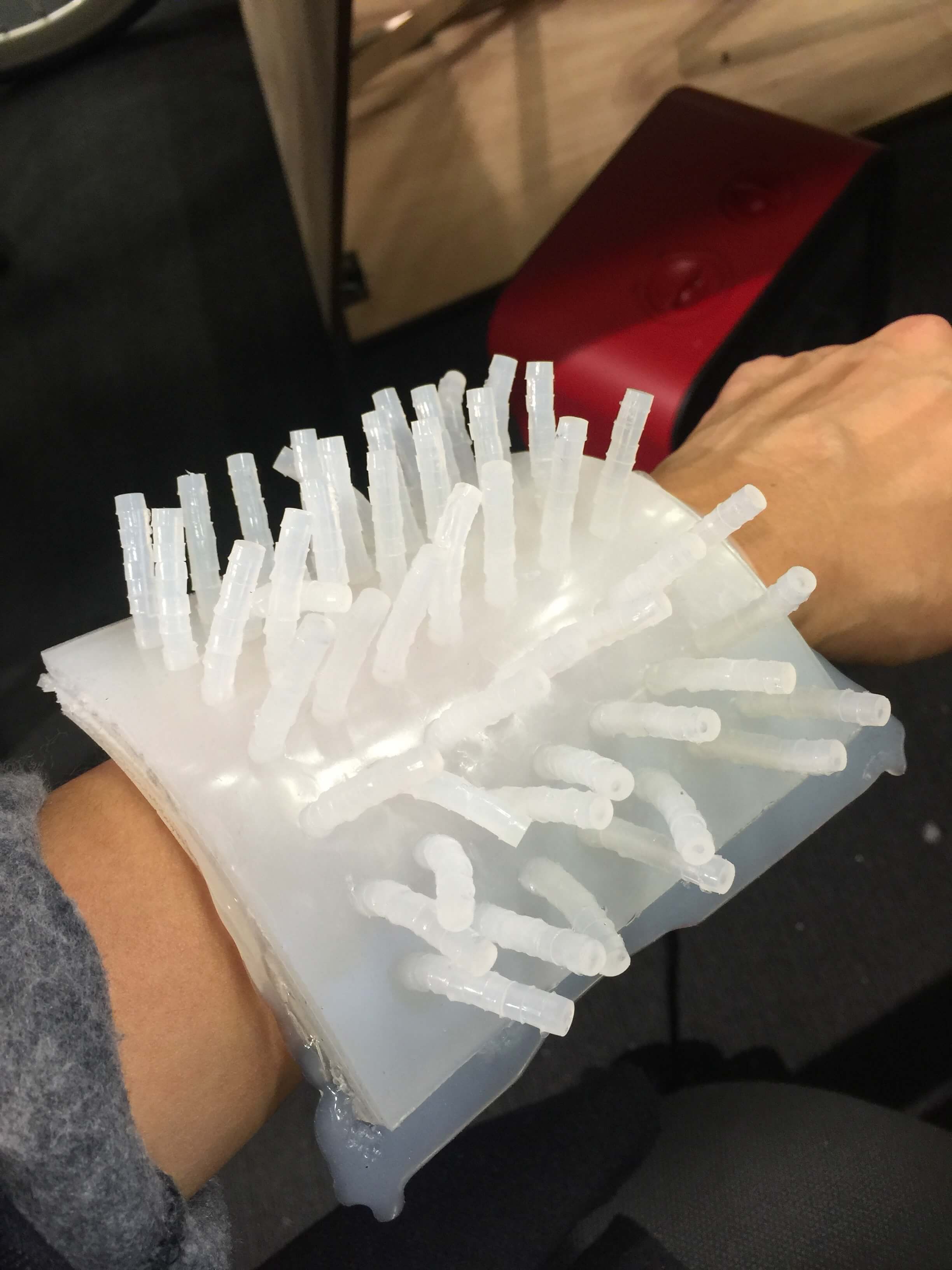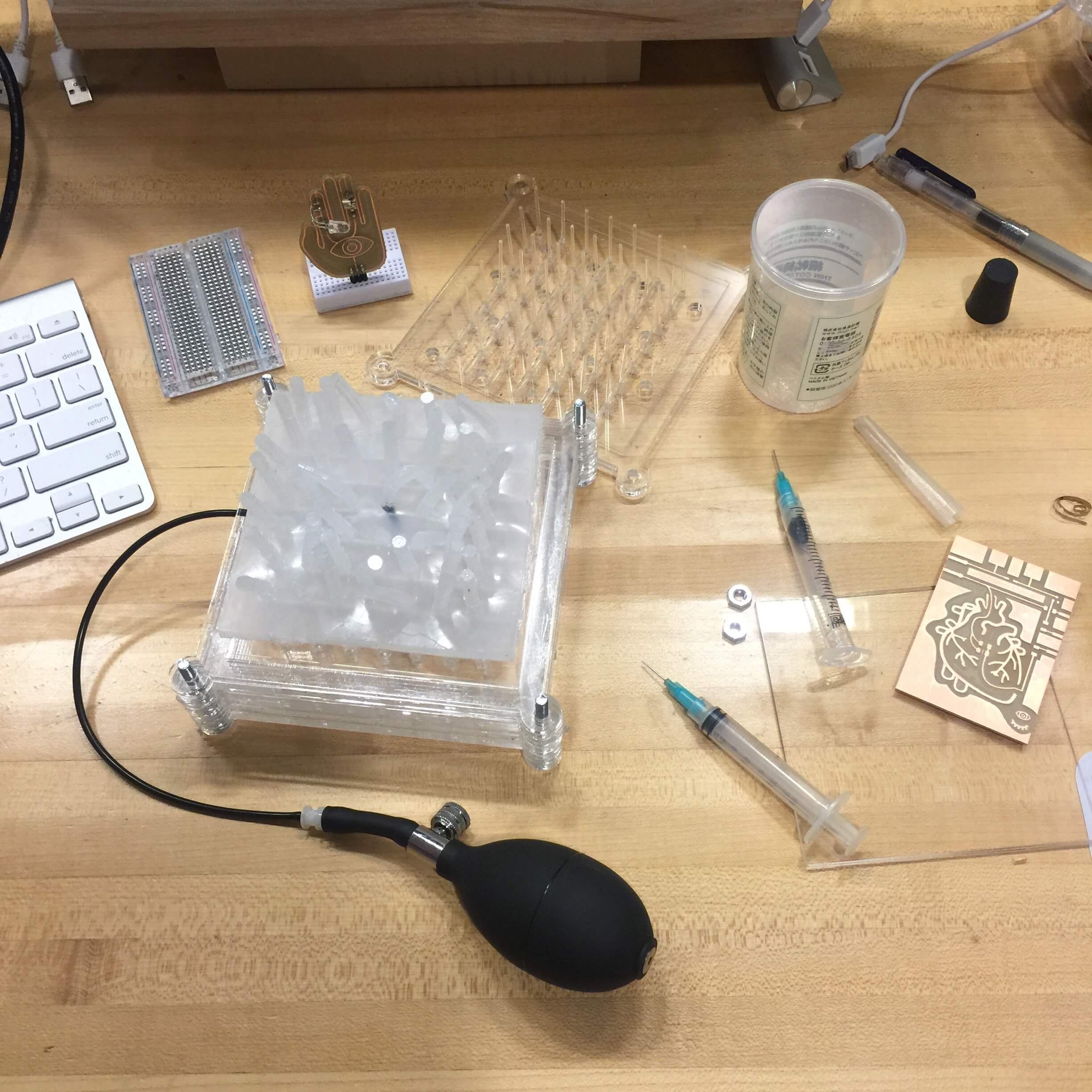 A video of the single hair actuating:

Dec 1, 2015
Designing Control Boards and Breakout Boards with Embedded Aesthetics

The last few days I have been working designing circuits that I have successfully tested out on the Arduino. Because I am a designer, I could not help but wonder if I could embed another layer of design to the PCB, in addition to its elctronic function.
I designed six different boards: two have three are complete control boards with microcontrollers on them, three are breakout boards. Of those, two are for valve control (which have design allusions to a heart,) and one is for pulse detection (which illustrate the sesnsing via the hand.) These are some of the circuits, followed by some photos of the boards. I am still in the process of stuffing and testing. I am happy to report that I am getting a lot better at debugging circuits. I feel that I am actually chasing electricity around the board and seeing where they go and accomplish (or as often the case is, not accomplish) on the journey.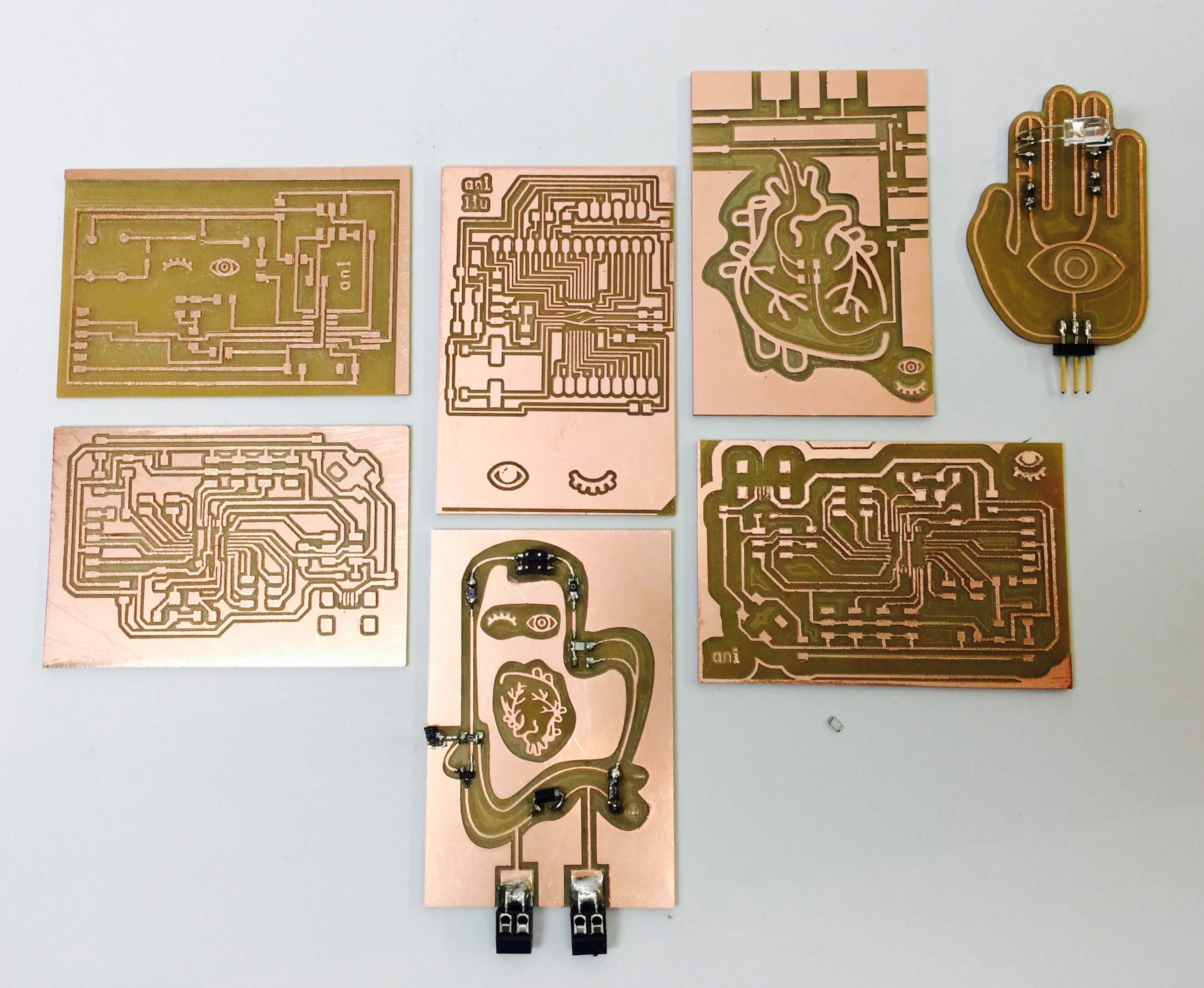 This is the schematic for the control board for solenoid valve control using a MOSFET: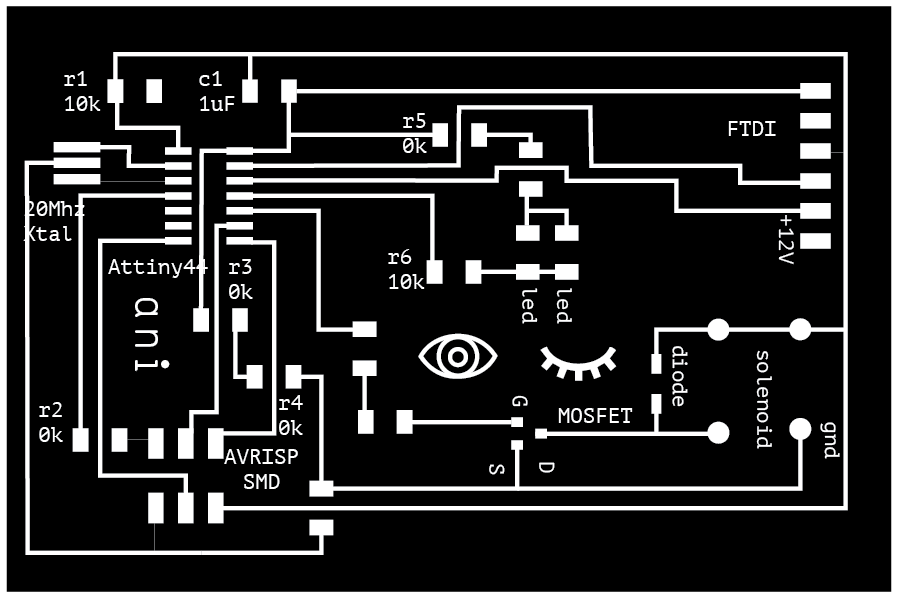 This is the schematic for valve control breakout: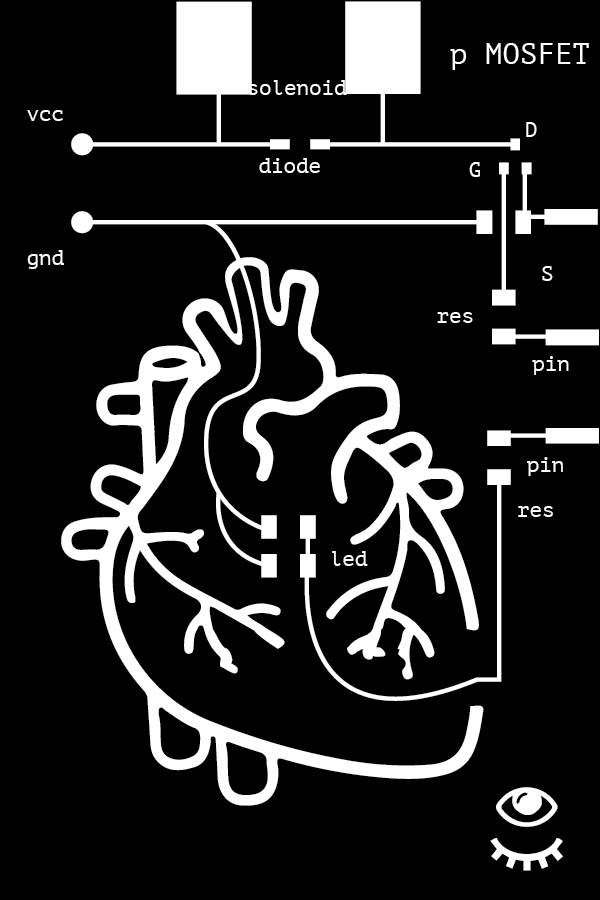 This is the schematic for pulse detection: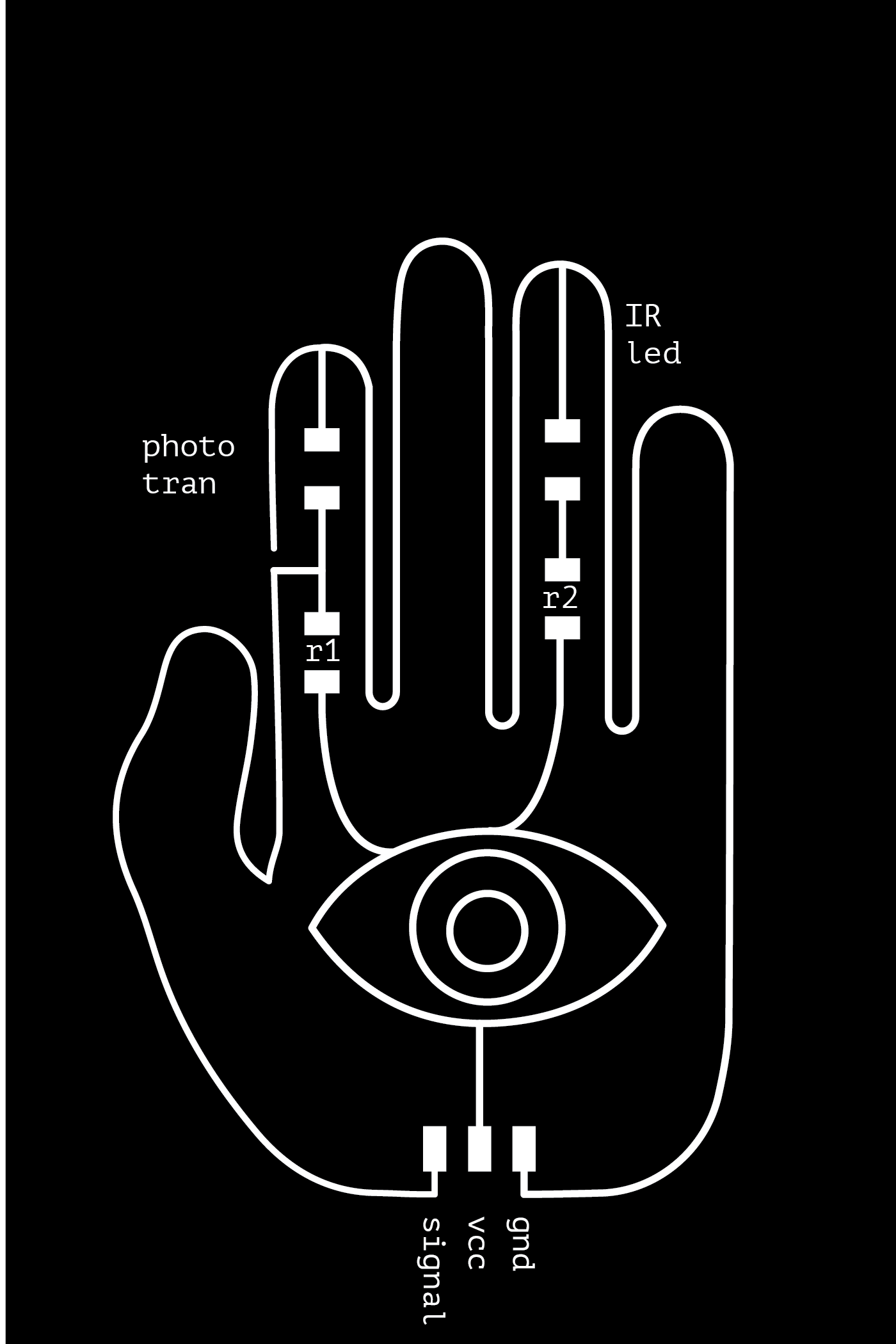 Some images of the boards: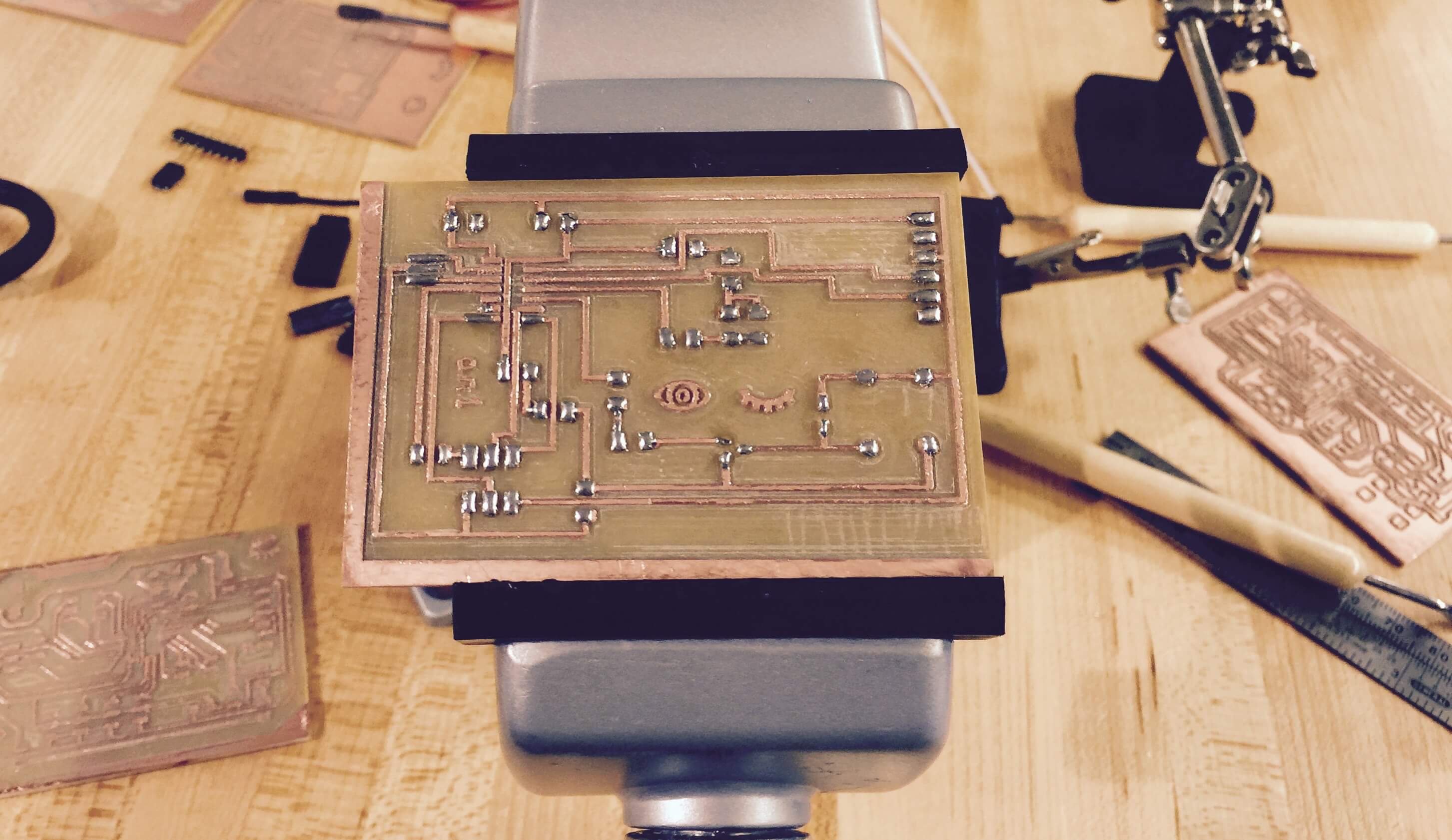 Video of my control board working:

Nov 30, 2015
Concept Development: Machine for Empathy

This is still a working title, but this past few days I made another breakthrough in my project conceptually.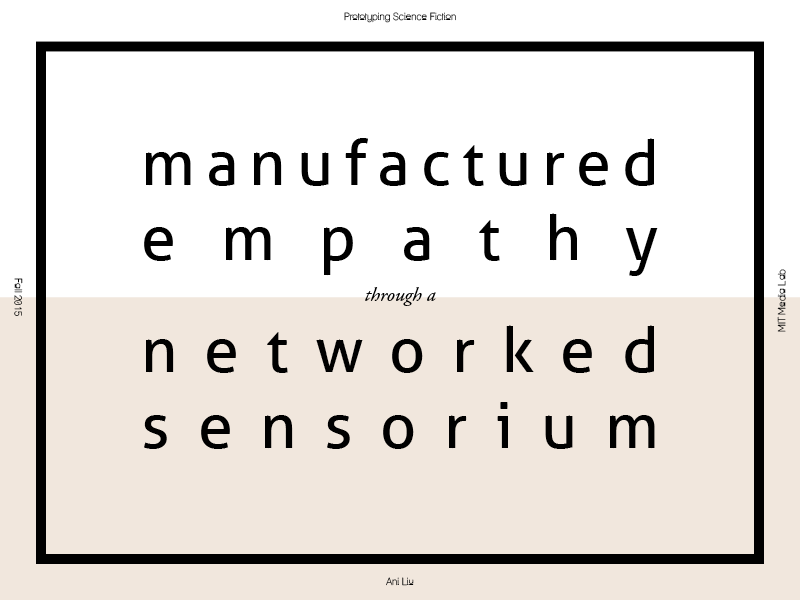 I have been doing a lot of searching about what it is that I a trying to build with this bodily extension that I have been so obsessed with, and the last week or so I started to think about it differently...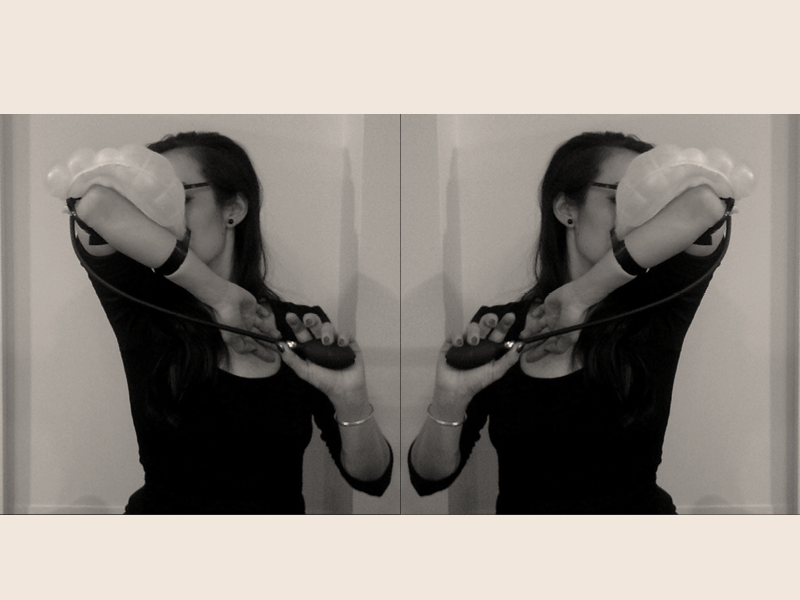 ...that maybe this desire to build a prosthetic to expressed the repressed is actually an attempt to build something to be understood.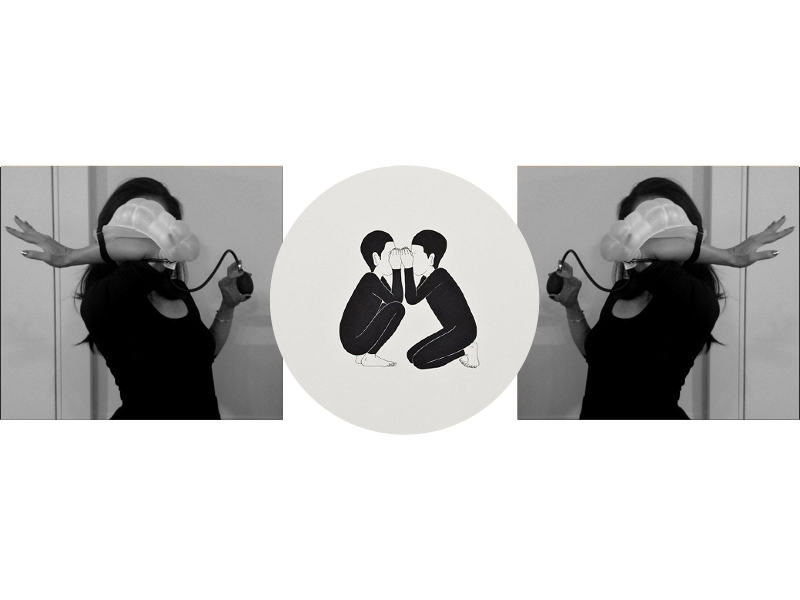 I started to think a lot about how to make less distinct, the differences between the self and the other, which made me realize that I was thinking about empathy.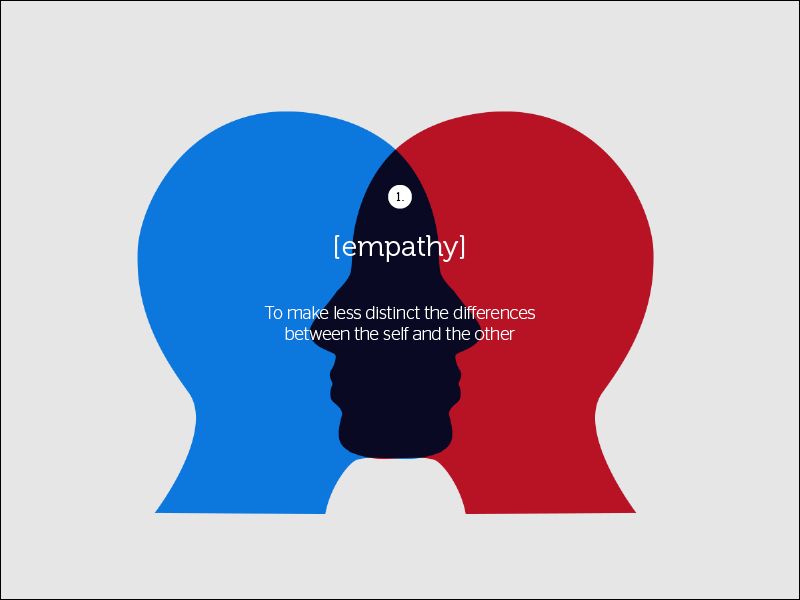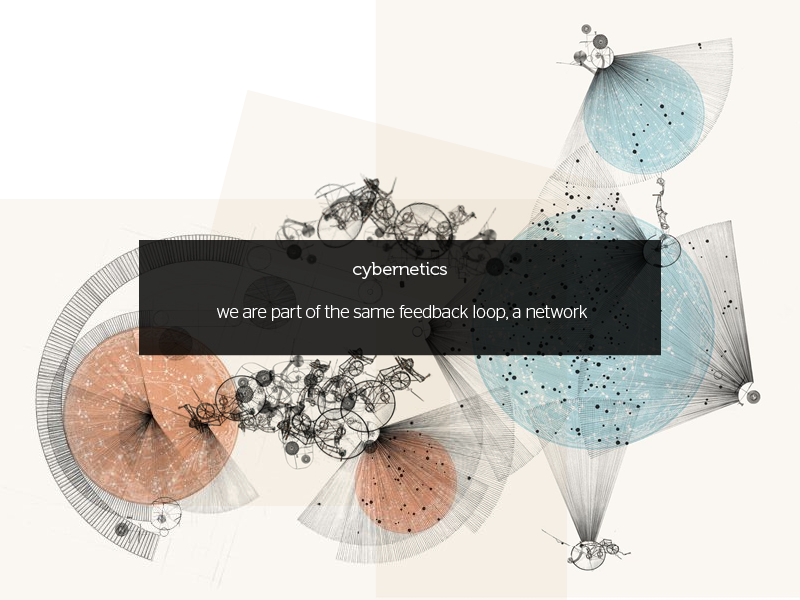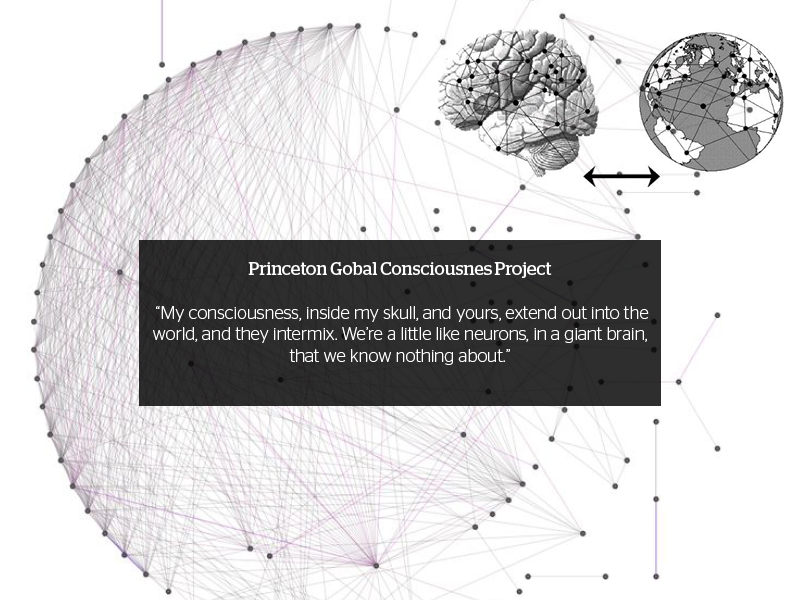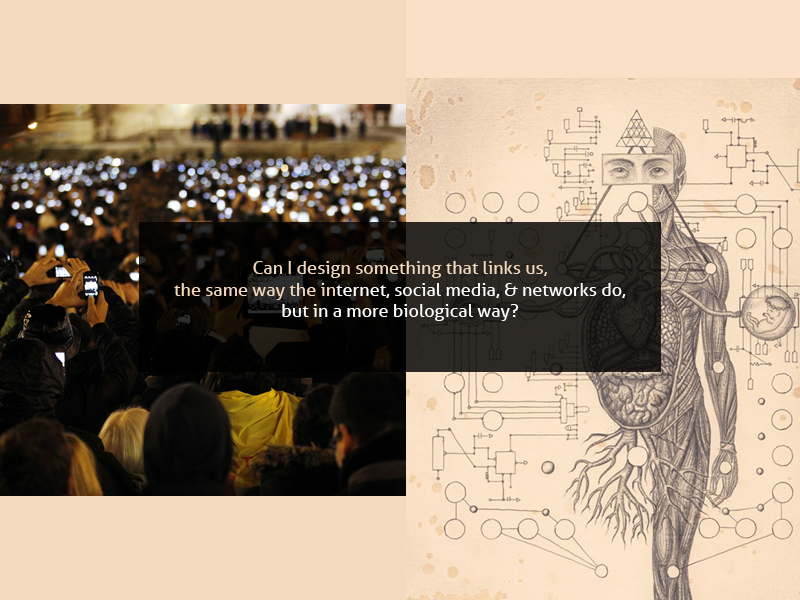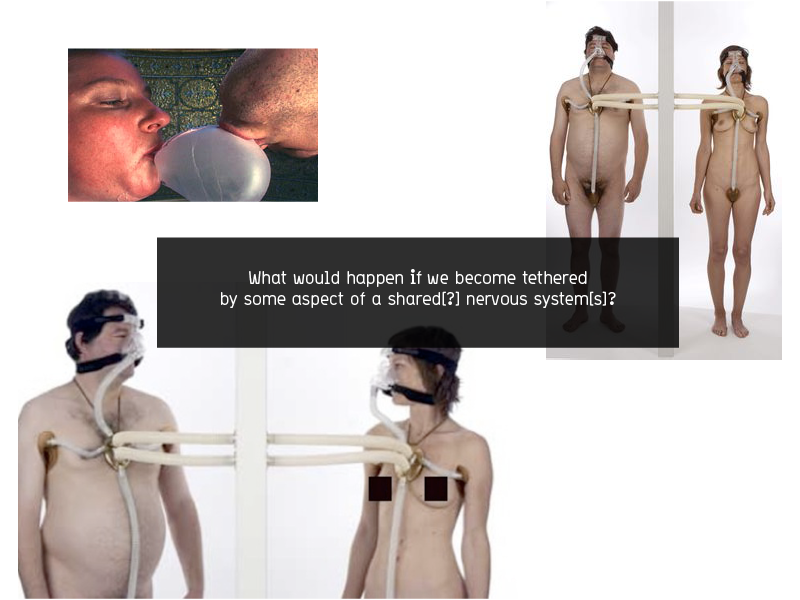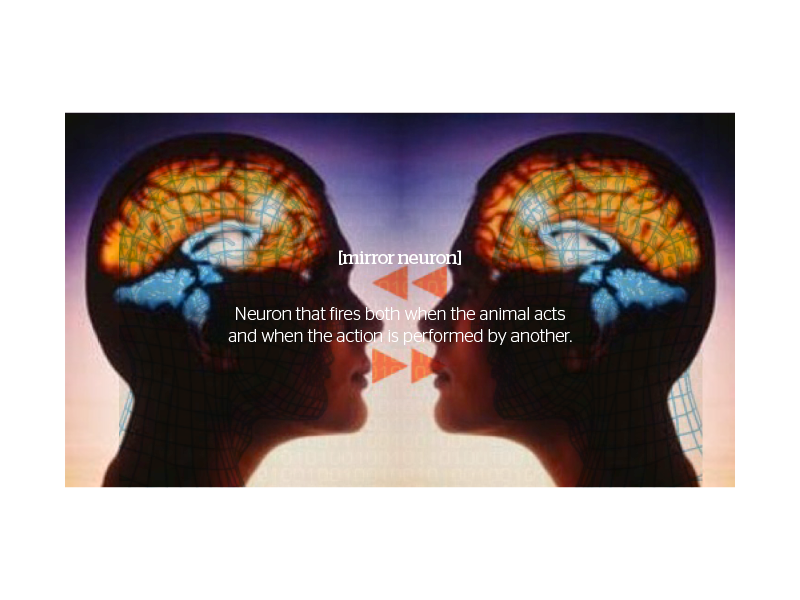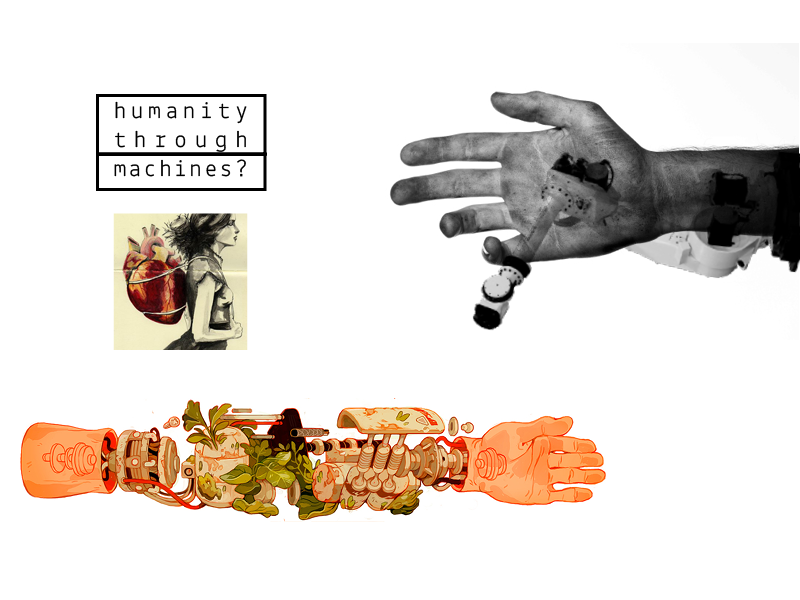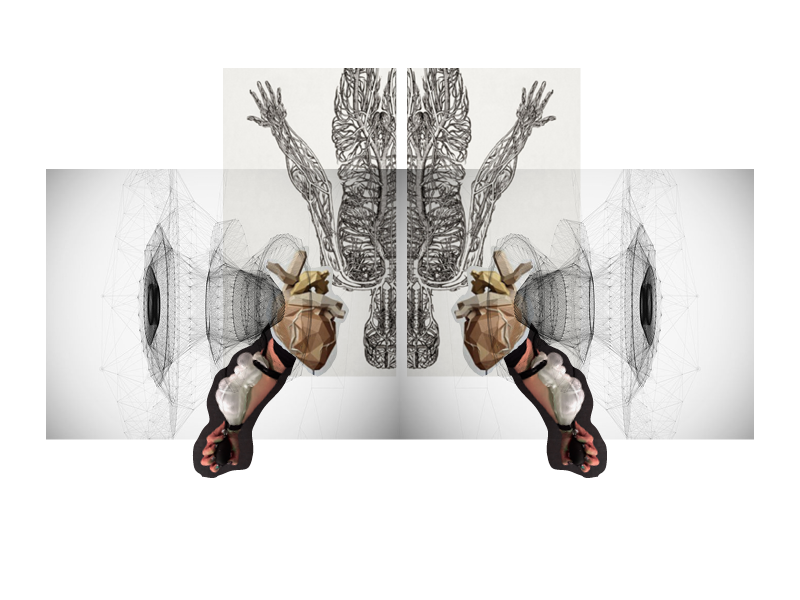 Nov 27, 2015
Testing with a Heartbeat

The last few days I have been working on taking a biometric reading (currently heart rate) and mapping it to an actuator. As I am trying to work the technical aspects out, I did this little sound collage and rhythm test to see how my device might feel, to consider and inform my design process going forward. Right now I am considering whether the assymetric distribution adds a desirable uncanniness or not. I am also learning that the rhythm of a heart requires two quick pulses which might be difficult for my valve/ fish tank pump to deliver. I am looking into compressed air canisters, and other methods of actuation.
I also made this composition. A gut feeling made me take a photo. Not sure what else to say for now.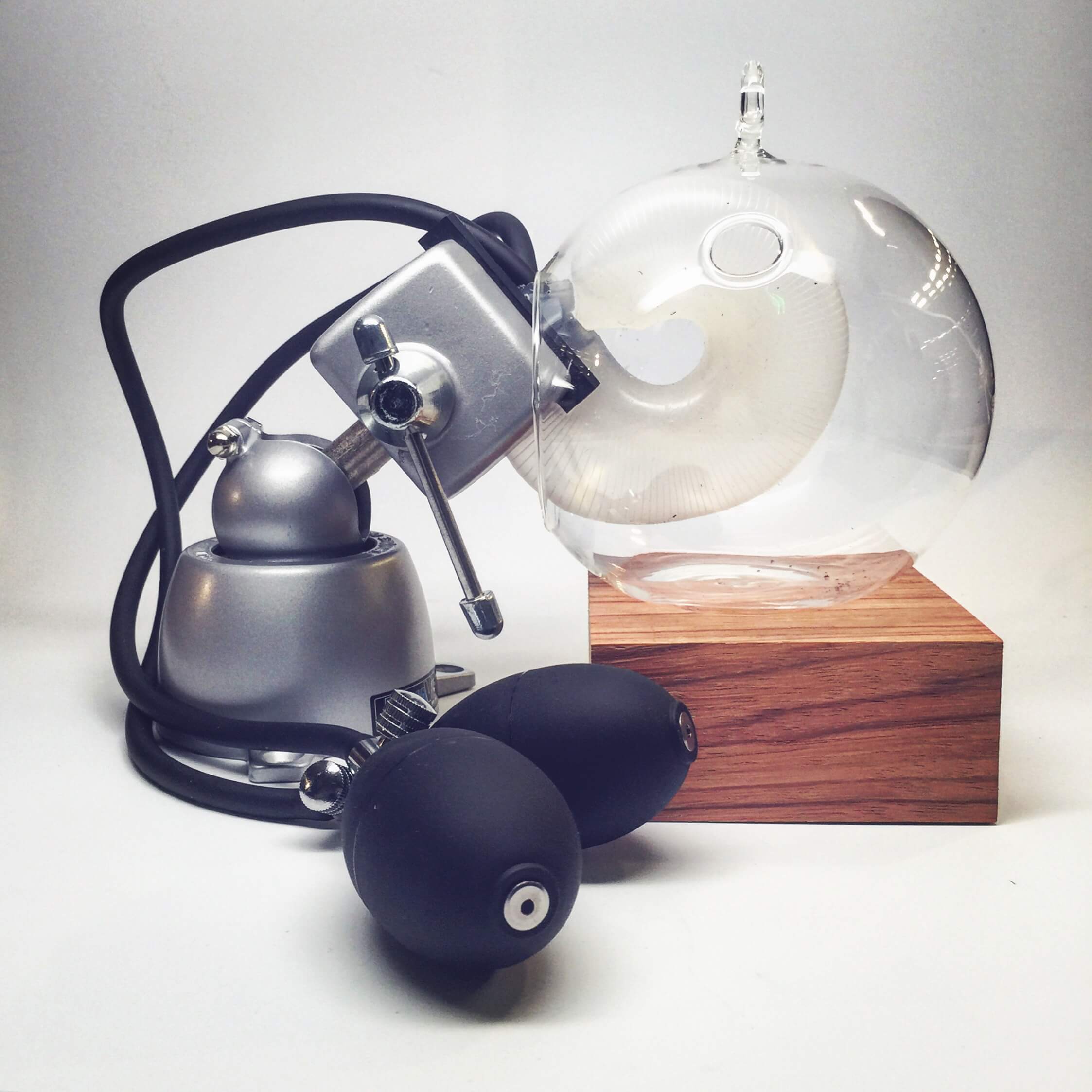 Nov 27, 2015
Testing Pnuematic Morphologies

I am continuing to cast and test different materials and shapes to see how different morphologies will respond to pneumatic actuation. While the previous tests achieved a satisfying pulsating effect, this week I wanted to aim towards actual motion. My first test was cast in a small tylenol bottle with a peice of jumper wire that I lubricated and pulled out to create a small thin void. The material was EcoFlex20. This was the result:
The test above produced a decent amound of motion. Motivated, I cast into a bigger tube, this time a container for urine samples, and placed two pieces of threaded rod to create the voids. This was the result:
Placed on a table, actuation simulates a feeling of taking my pneumatic tentacle out for a walk:
I am also continuing to test the chambered forms developed at the Wyss institute, this time varying the thickness of different walls to achieve a different actuation effect:

Nov 23, 2015
Testing Automated Pnuematic Actuation

After some testing with automating valve action, I was ready to try to connect the system to an automated circuit. This was totally a moment of "IT'S ALIVE" thrill for me.
I enjoy the sound of one of my solenoids because it sounds a bit like a beating heart:
Just to see what would happen, I also connected a small pump, with no valve, to the soft robot:
A lot of my challenges had to do with coupling the air pump openning (1/8" diameter) to the large openning of my solenoid valve (3/4" diamter) through to my soft robot (incision roughly 1/6"). Sharing an embarssingly cluttered photo of my desk to show the coupling problems. Many, many thanks to Eric VanWyck who helped me obtain a few valve couplers.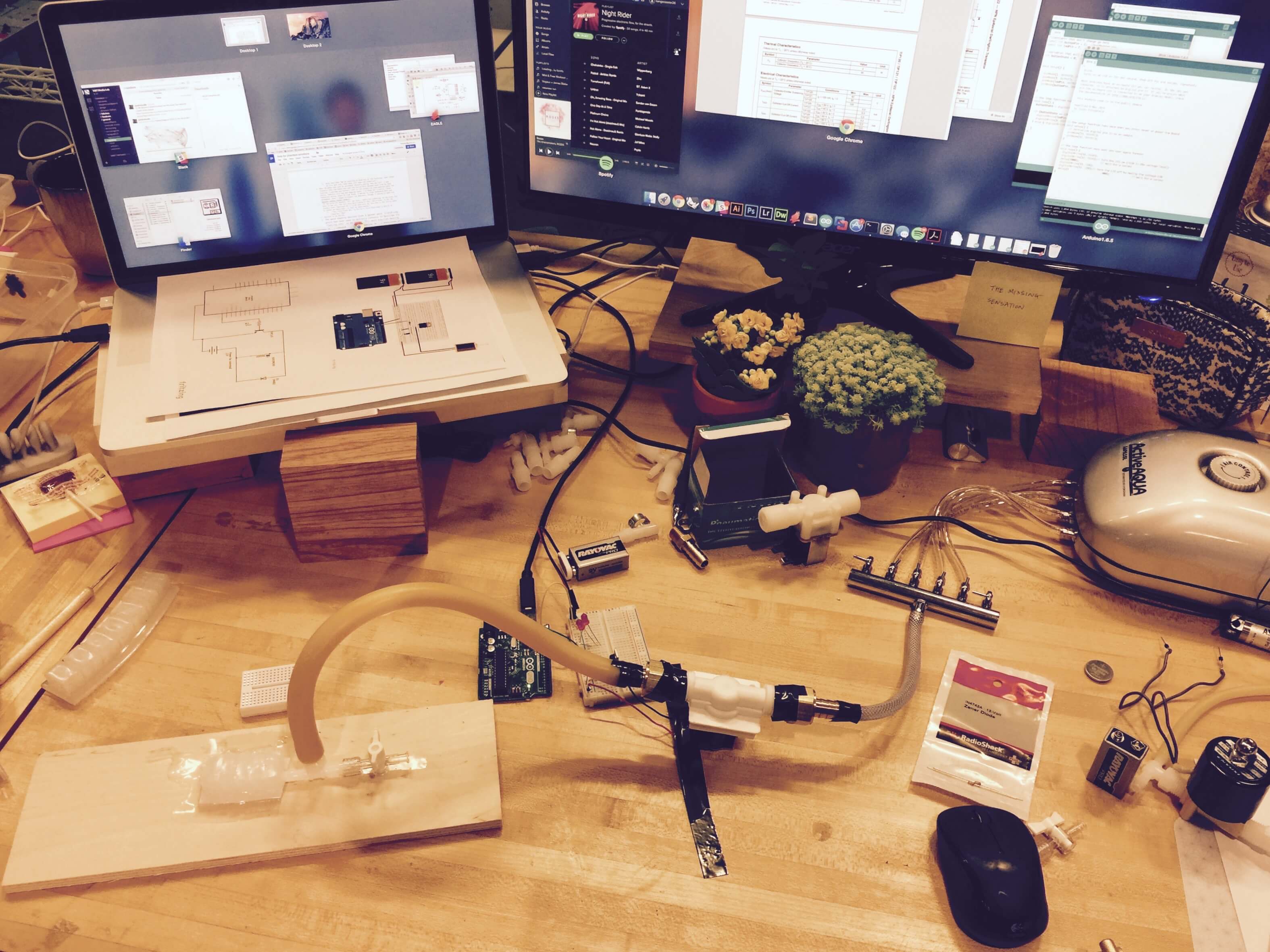 Nov 22, 2015
Concept Development

This weekend I had a conceptual breakthrough, and I am not working towards creating an empathy machine.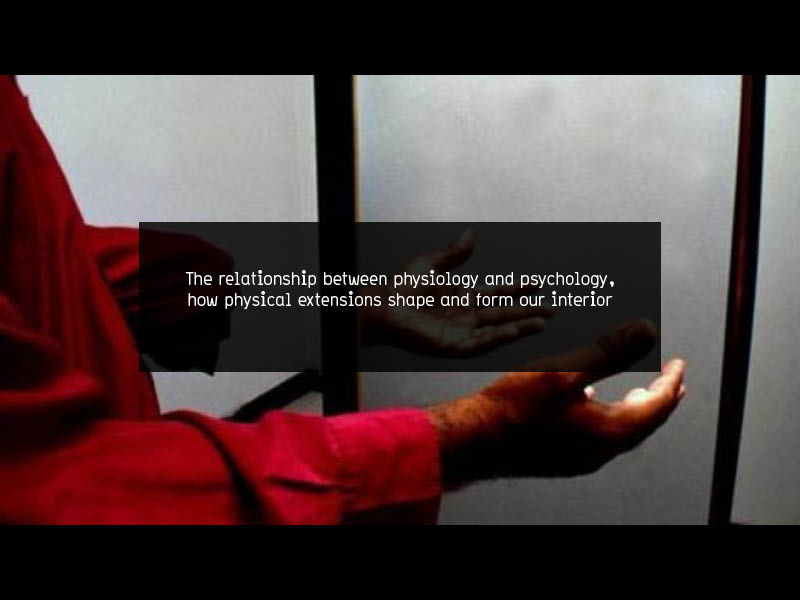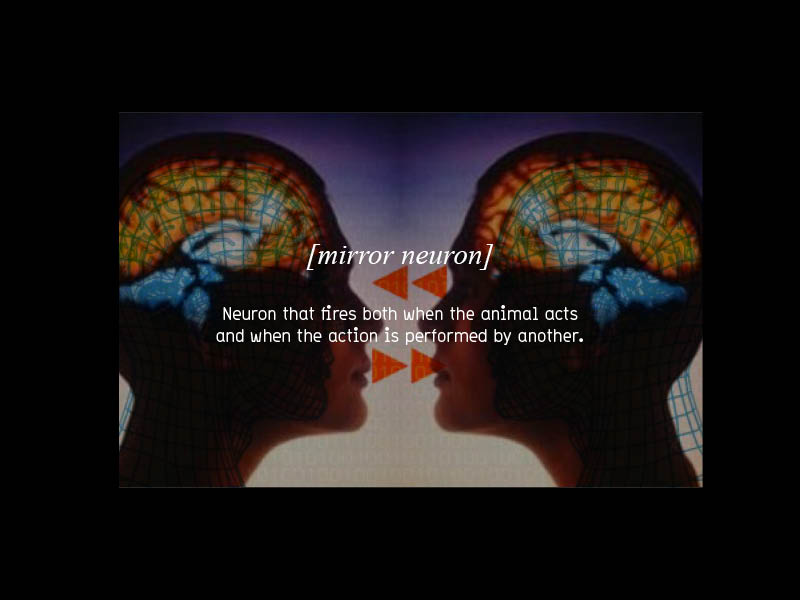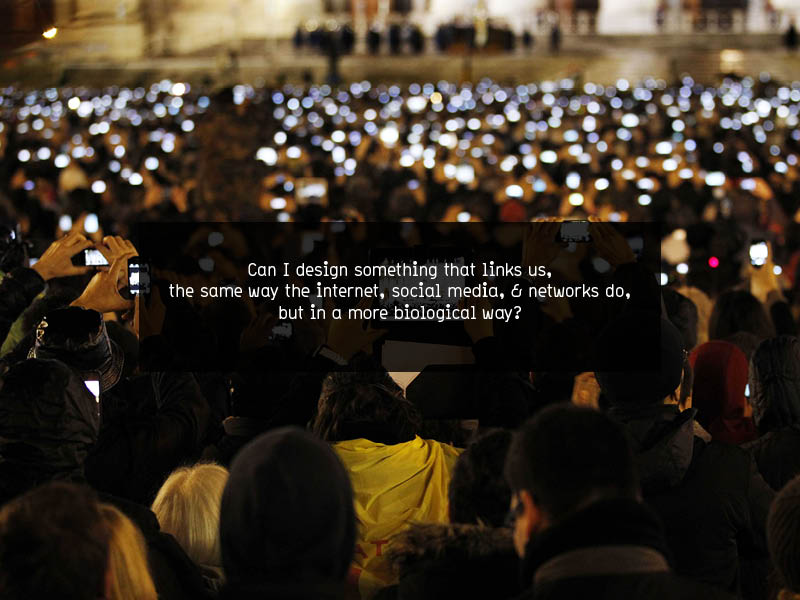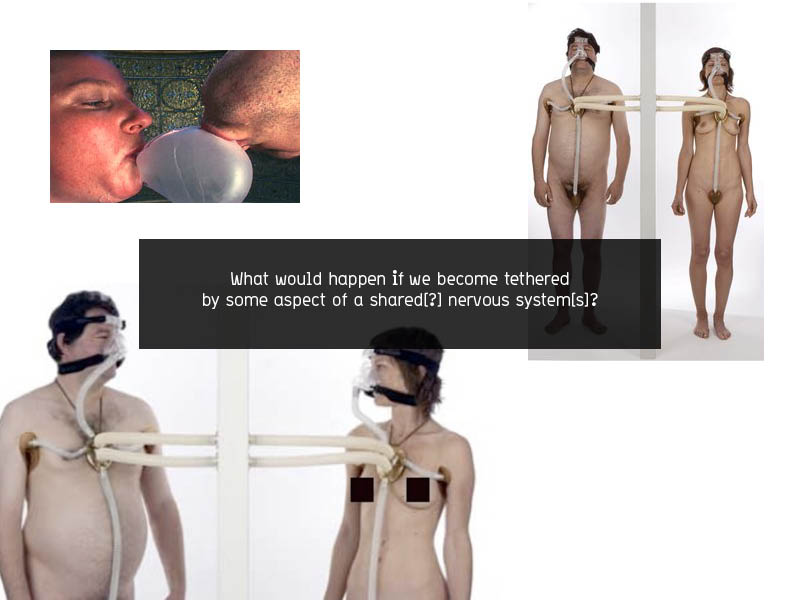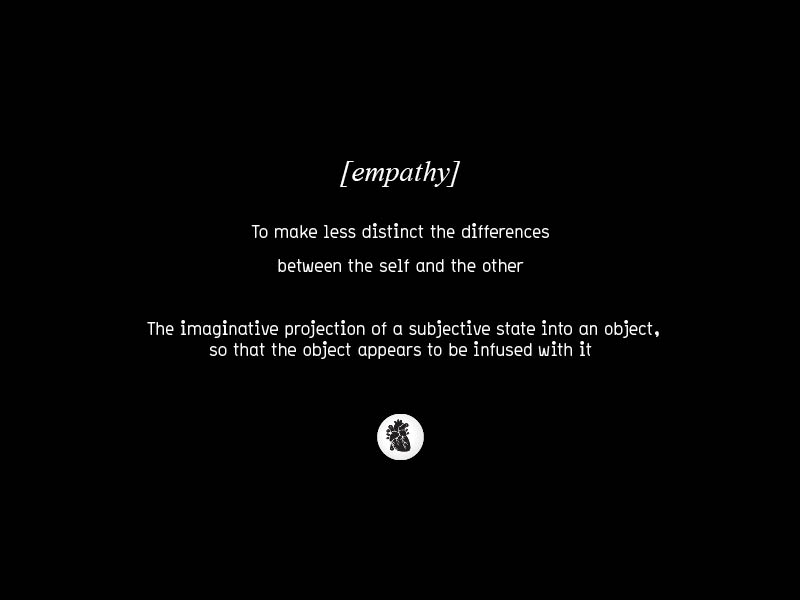 Nov 20, 2015
Solenoid Valve Actuation

This was my first test with a higher quality solenoid valve. Oh the thrill of hearing that electro magnetically induced thump:
After switching solenoid valves, I was able to get the cheaper plastic valve working as well. I added some LED lights so I had a visual indicator of when the solenoid should be going off.
I plugged in a bunch of different output devices in here, to see how they would react in this setup with a transistor.

Nov 12, 2015
More Casting/ Form Finding

After playing around with the first cast, I wanted to do more iterations with different stiffness and pliability of materials, as well as different forms that could potentially be easier to cast. I got busy testing: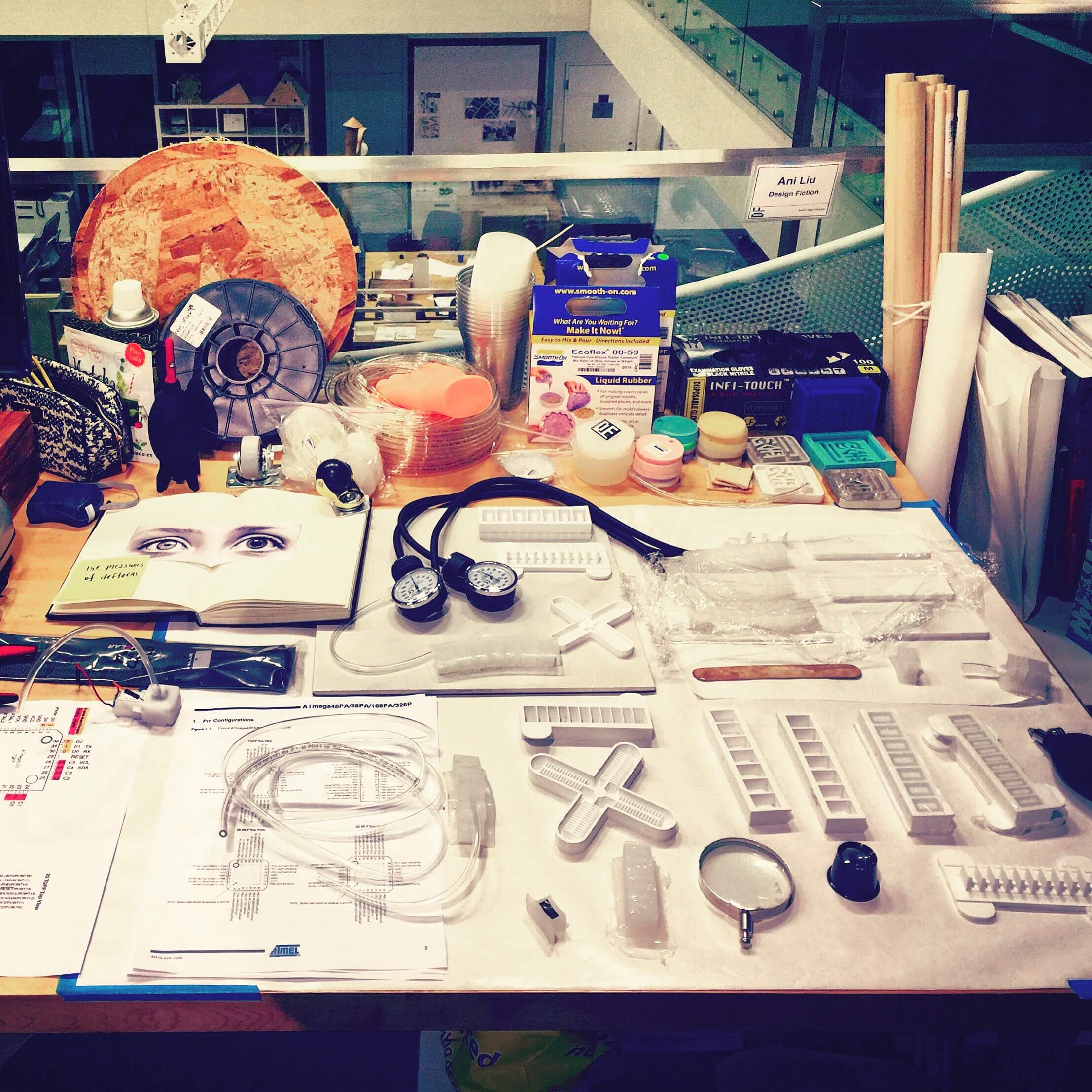 I made smaller molds this time, so that I could prototype and test more economically. I started with these open source designs from Soft Robotics Toolkit.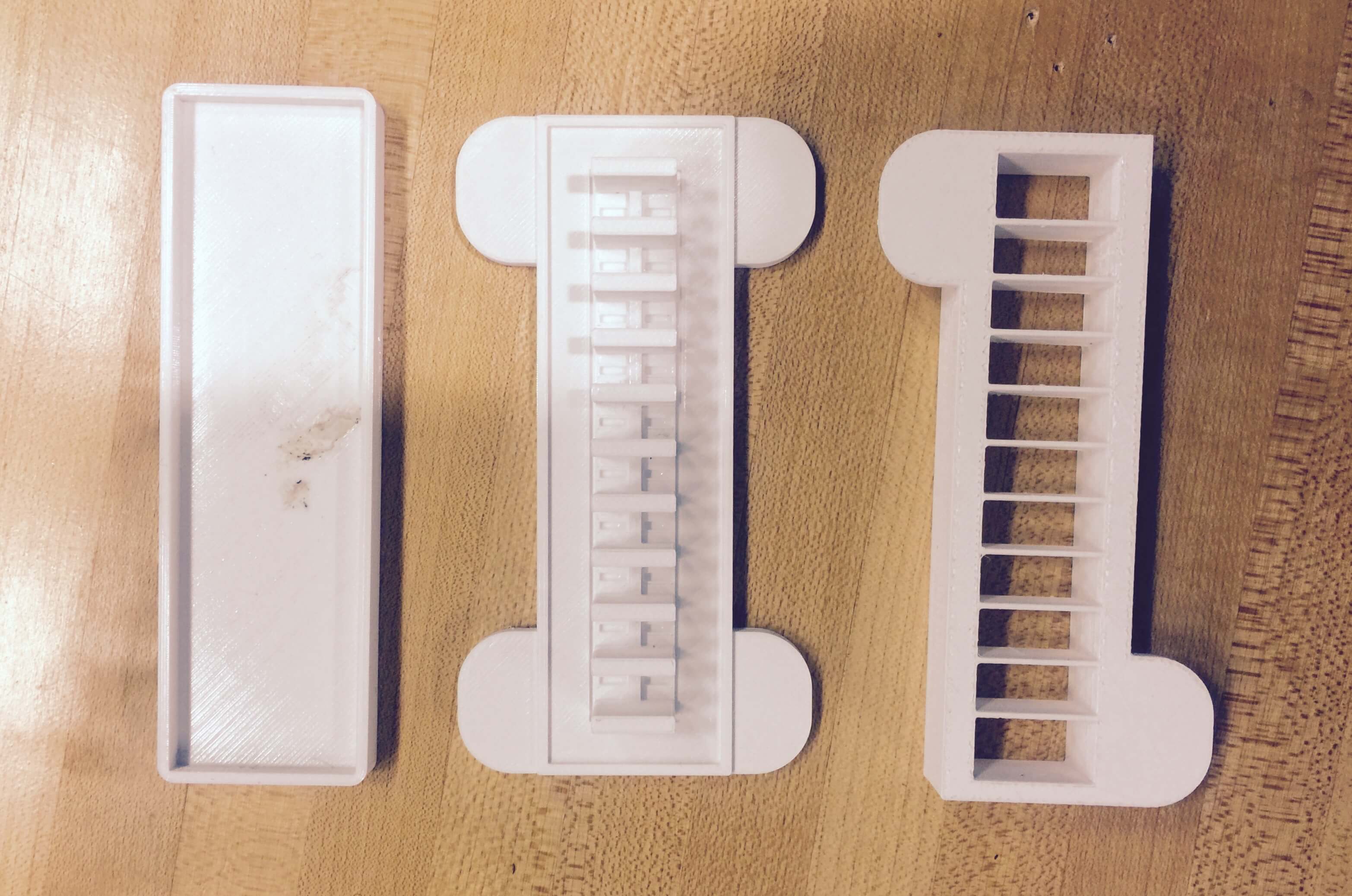 Testing out two durometers of mold material: Ecoflex 20 and DragonSkin 10. Added more combinations by inserting paper into some of the molds for a stiffer base, and cross bonding Ecoflex chambers on DragonSkin and vice versa.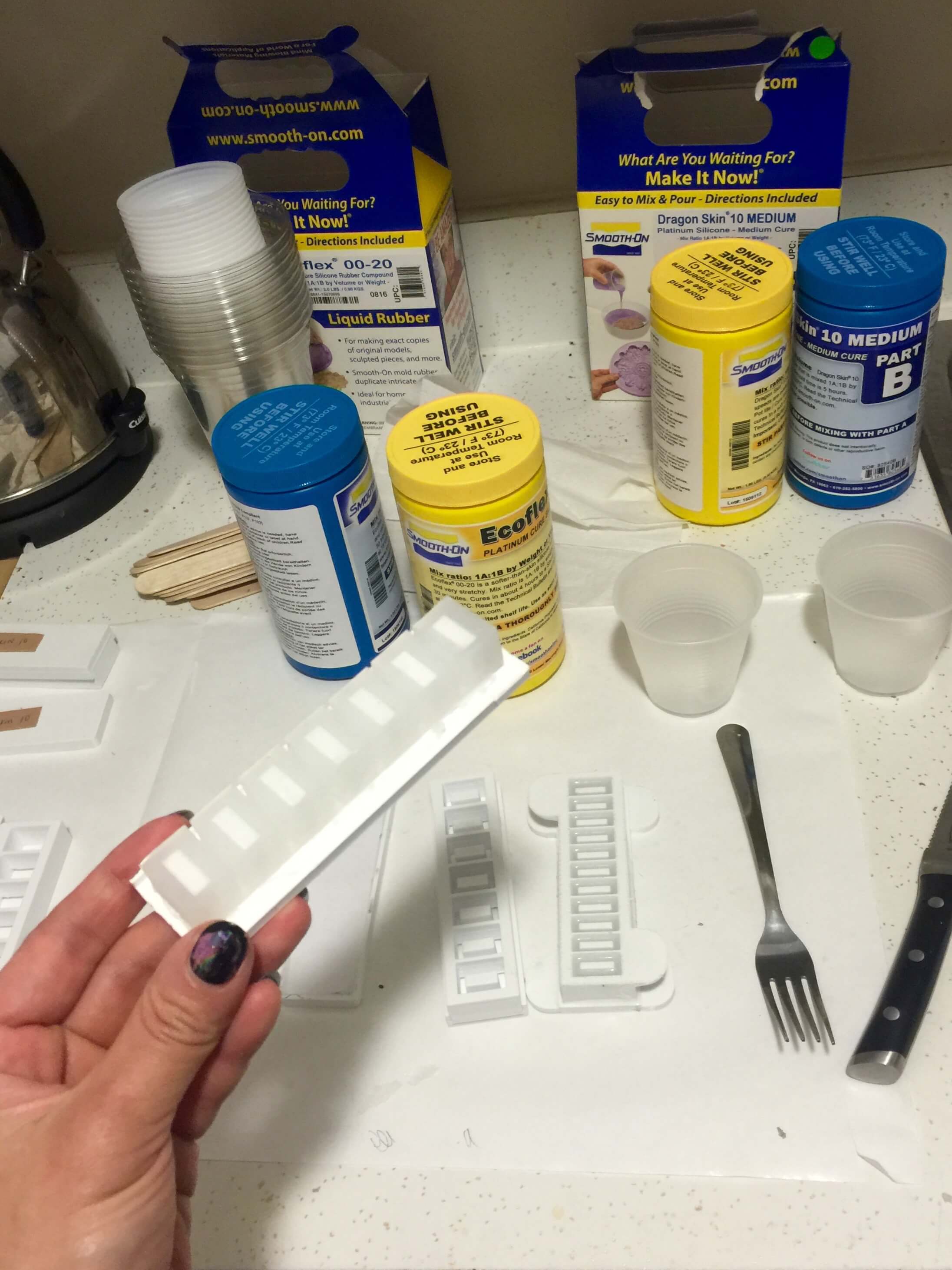 Despite their petit size, the molds were incredibly difficult to take apart. Despite printing at 80% density many of my molds ripped apart. I suggest printing on the Eden if you have access; FDM printers are just not that great for this kind of mold making.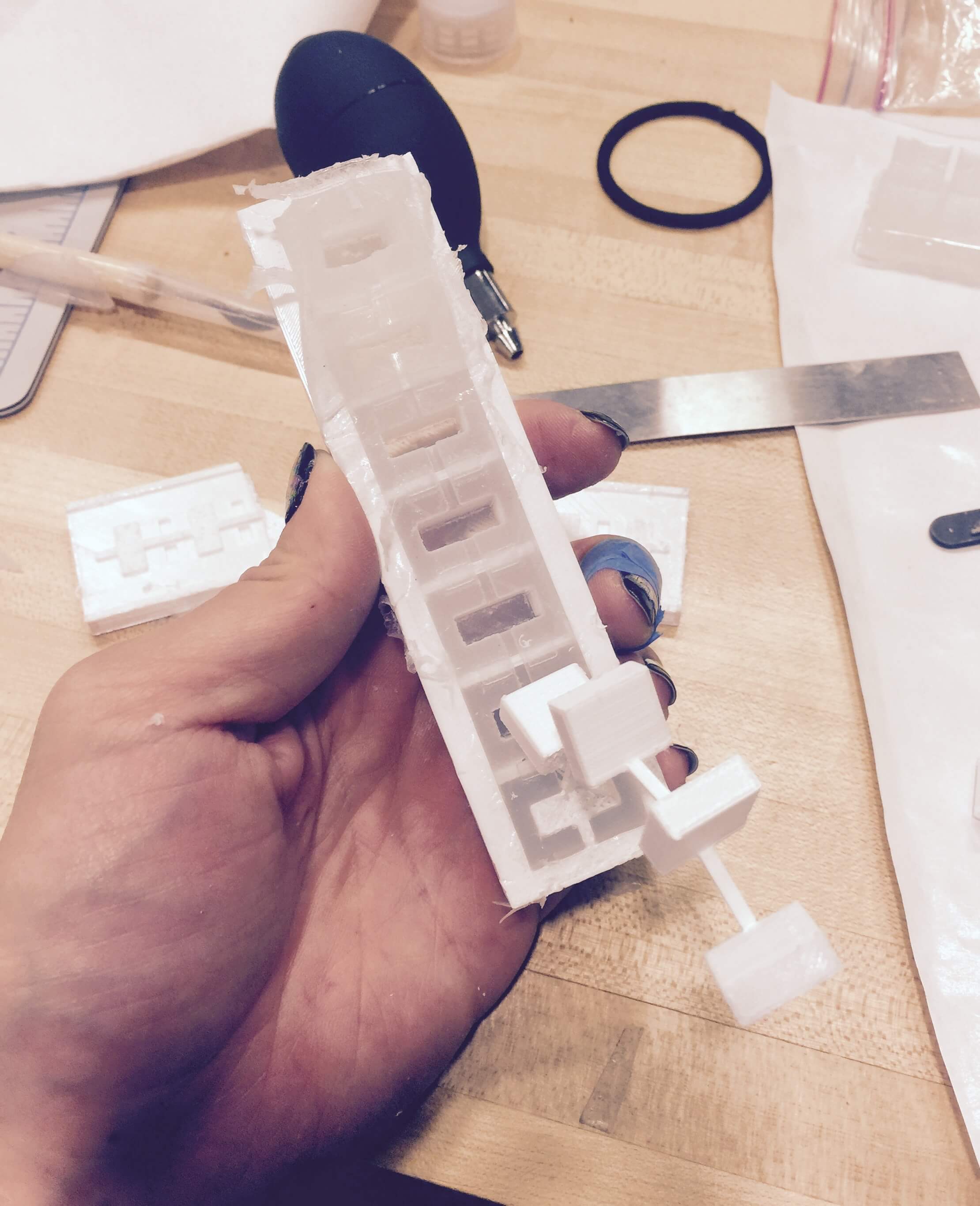 Moment of inflation always gives me thrills.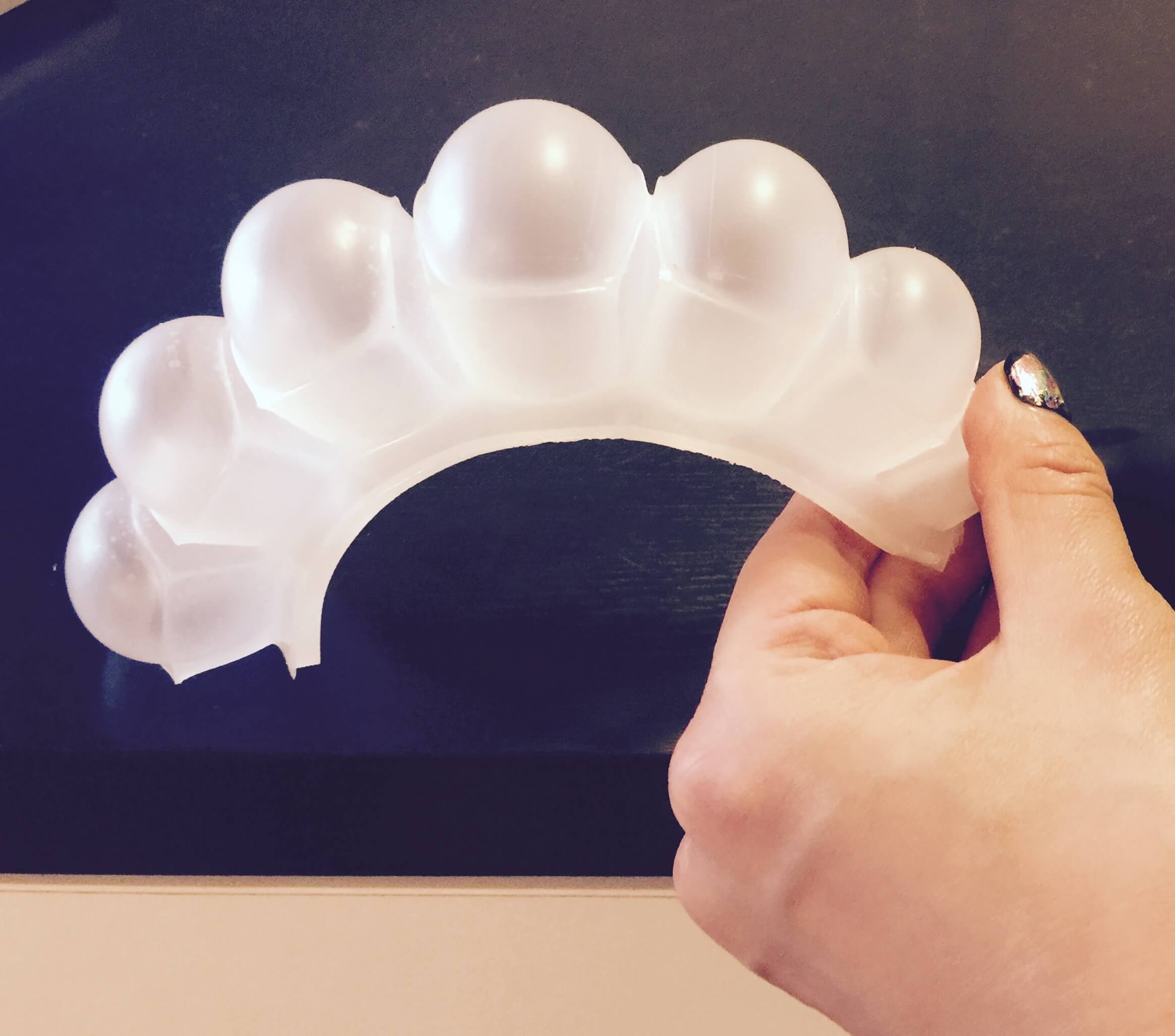 But it is definitely not always smooth sailing.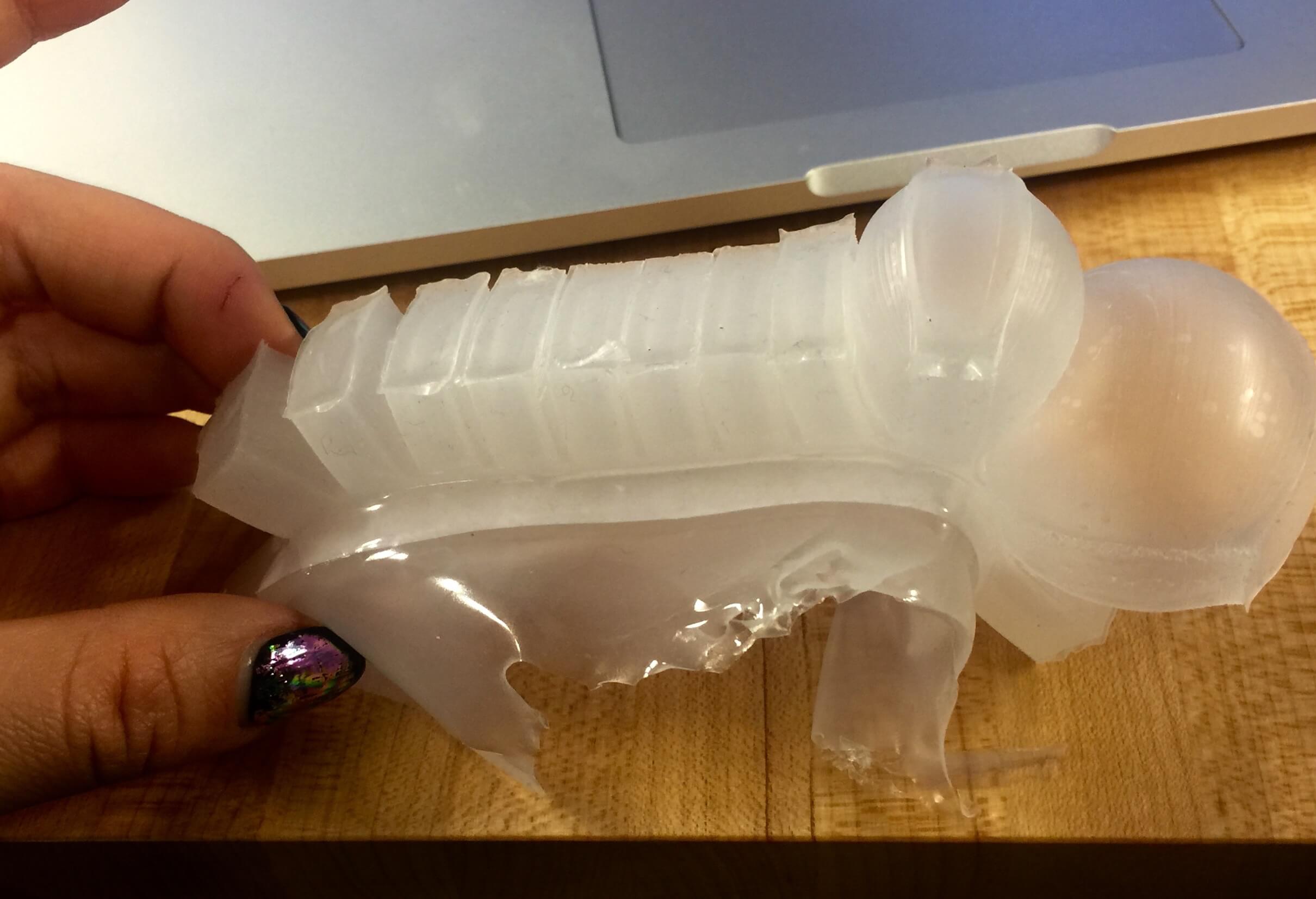 Testing pneumatic actuation with the new formwork:

Nov 2, 2015
Concept Development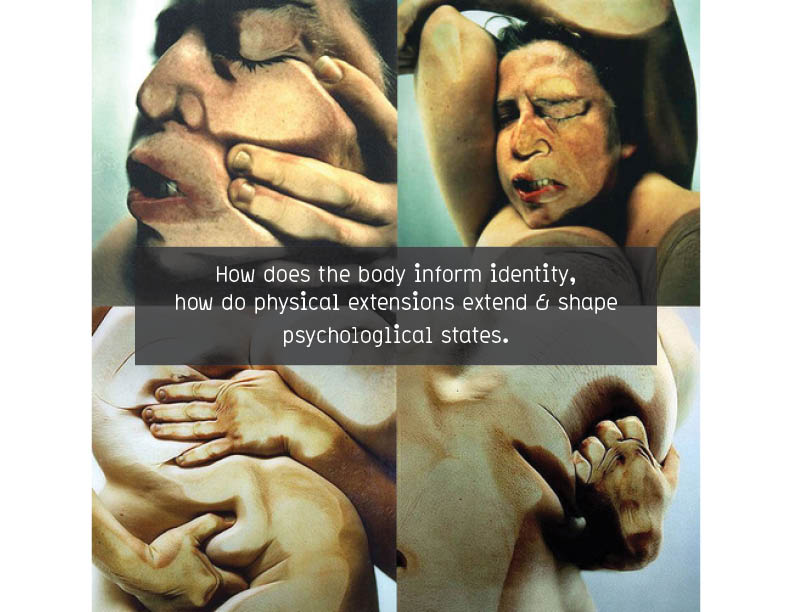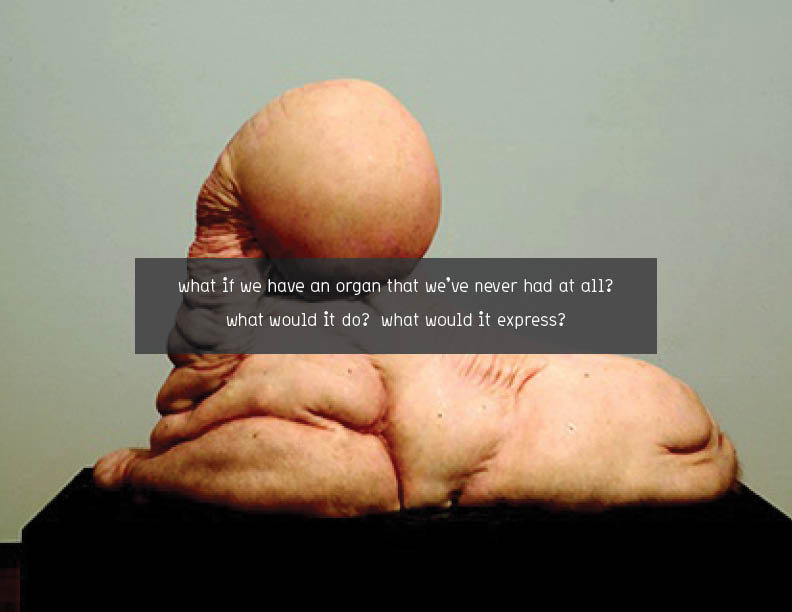 Oct 29, 2015
Concept Finding & Prototype Testing

Now that I had a prototype, I could test out some basic manual actuation, but more importantly for me, the affective components of its design and concept.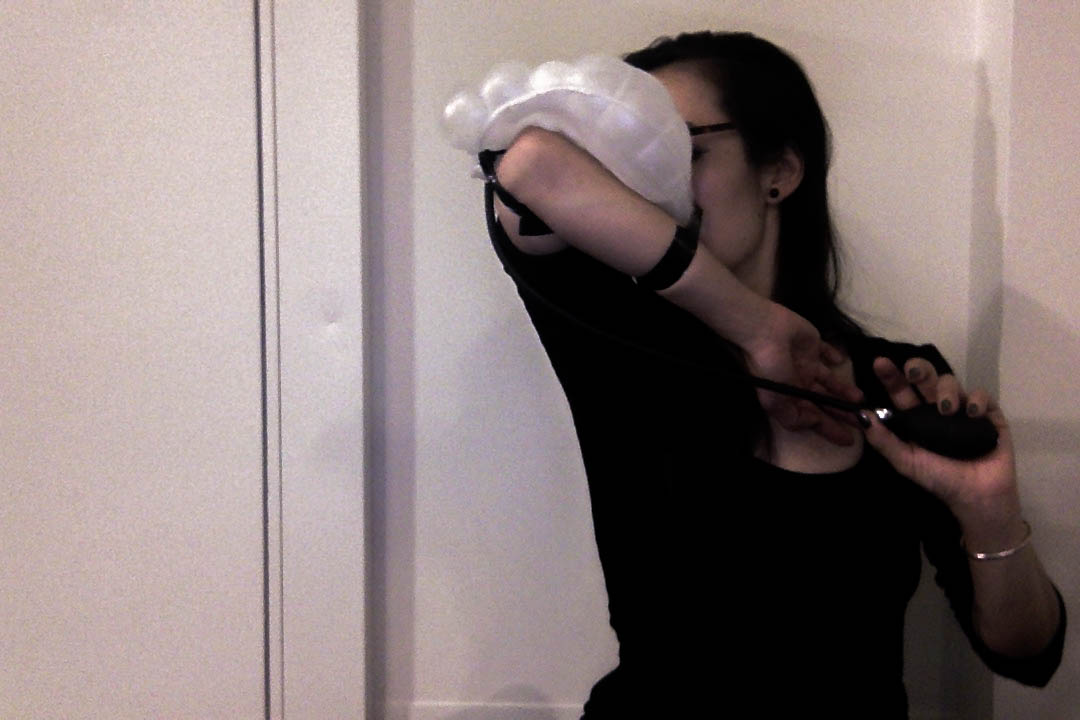 A test to see the inflation effect just by hand pumping.
Actuation test to see its emotional qualities next to my body:
Actuation test to see if I could sensorially connect it with breathing, or an autonomic response, such as heartbeat.
Test to see if it could feel like an extension of my flesh.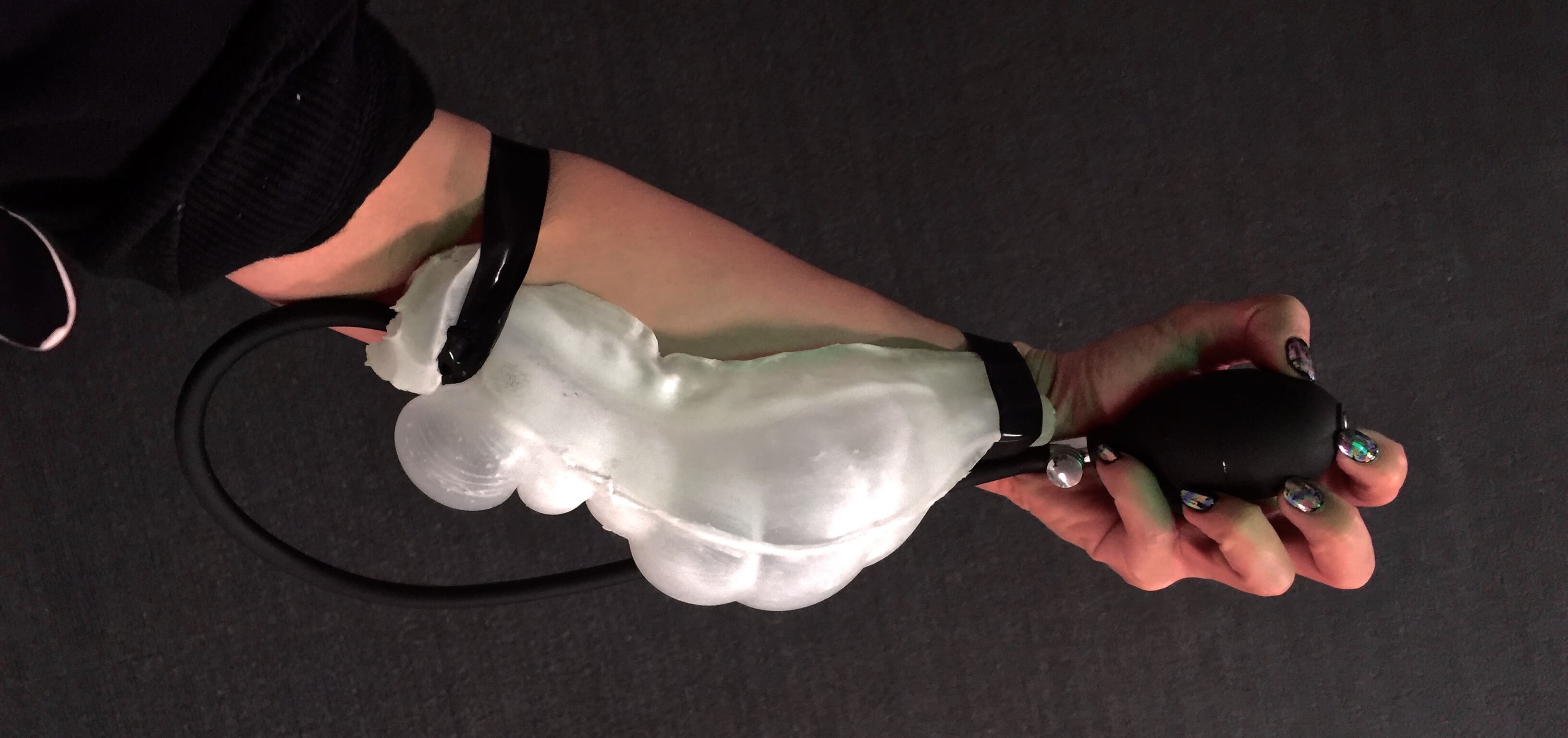 Testing for body placement and affective qualities.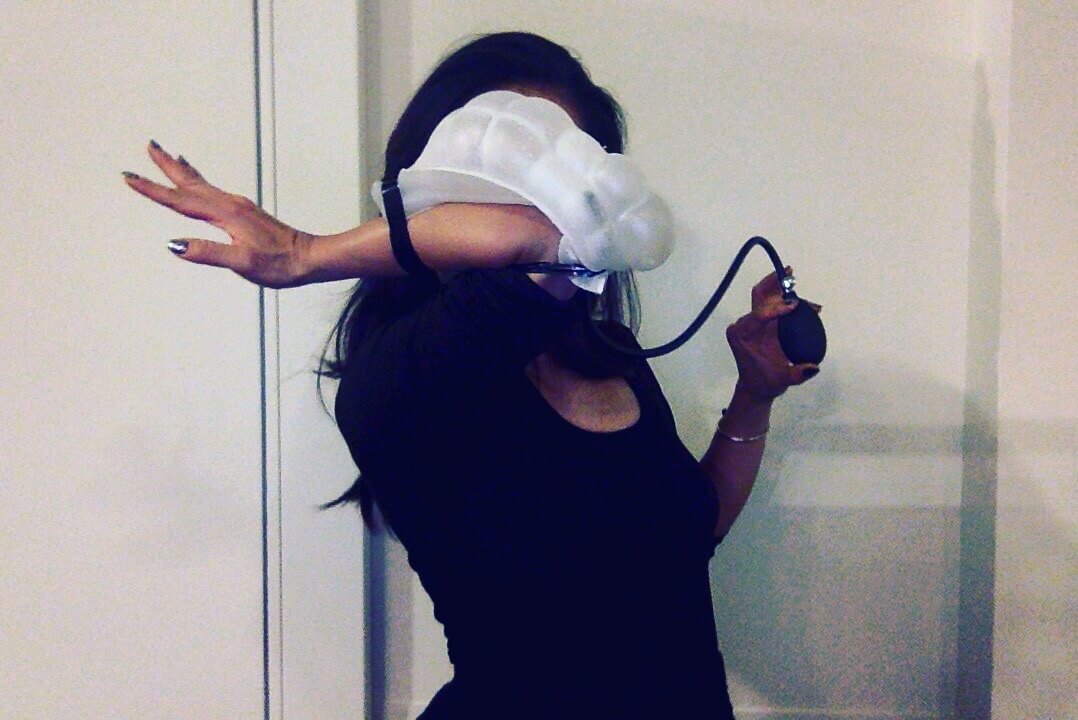 Oct 25, 2015
Form Finding/ Lost Wax Casting

I wanted to take the casting & molding week to create a prototype for my prosthetic device, but this cast turned out to be trickier than I thought, and I resorted to blogging about a simpler mold. But now I can finally blog about my journeys with the tentacle!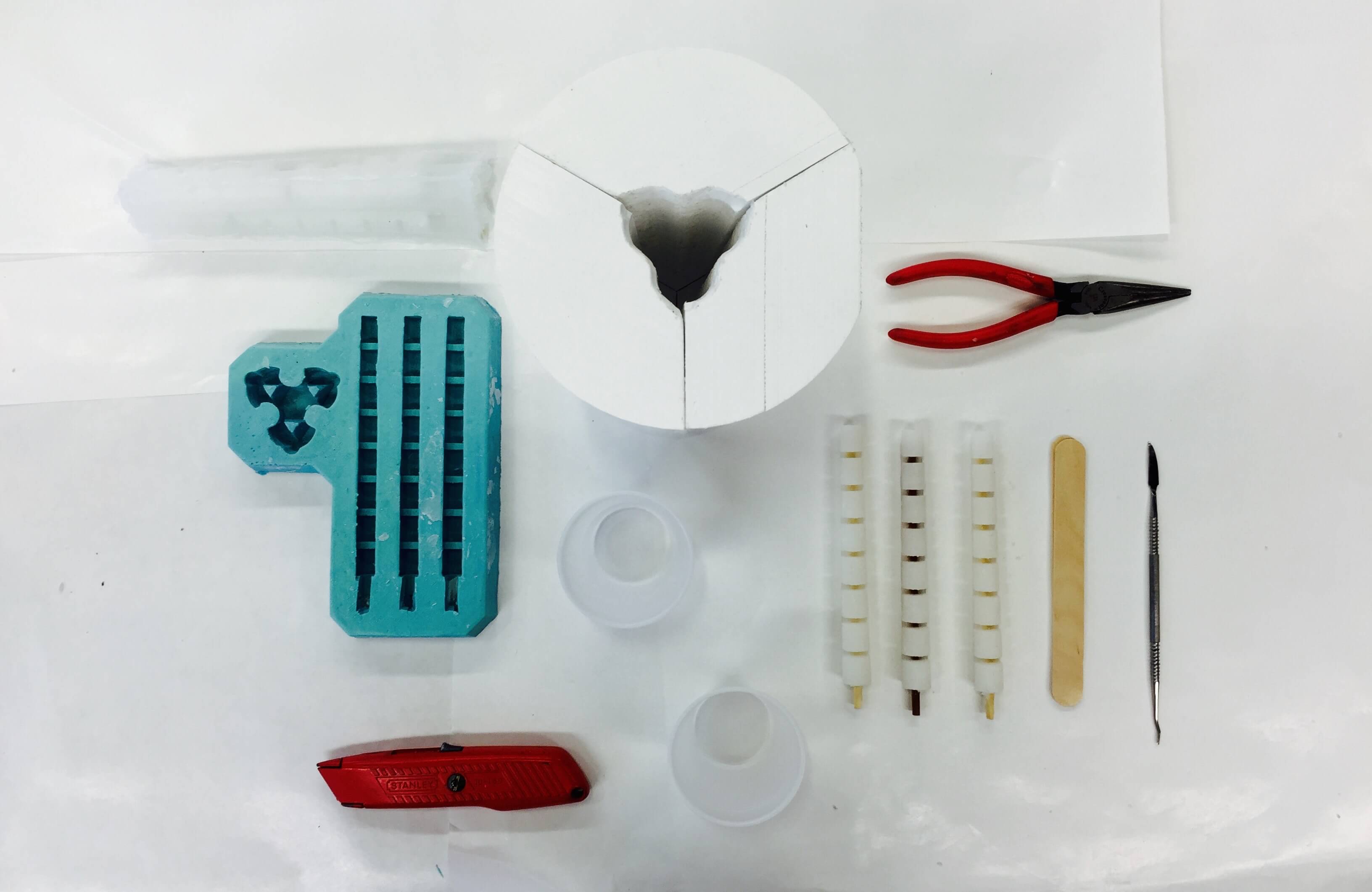 As I was searching around for prosthesis inspiration, I stumbled across this Robo-Tentacle Guide and immediate became obsessed with the idea of a soft robot for my final project.
For practice and experience, I followed the guide exactly to try to recreate my own to experiment with, and of course, the journey was not straight forward at all, and I failed many times.
The general idea of this pneumatic robot is that it is made from soft silicone with three voids inside. Depending on which void is inflated, the tentacle will move away from the inflation. This gives the soft robot three degrees of motion.

What this means is that the molding and casting needs to be done in several stages: 1. To create the mold/formwork for the entire exterior. 2. To create the positive formwork for the interior hollows 3. To create the negative mold for the interior hollows 3. To cast the entire exterior embedded with the negative molds 4. To excavate the interior hollow material from the tentacle.

One of the first problems was that the recommended mold size could not fit into the Ultimaker. I had to scale down 85%, but I forgot to scale the interior hollow mold down as well. This required my placement of the hollows to be very precise, or else some walls of my mold would be very thin. In the end a few did rupture, and I learned that I could patch them with SilPoxy. However, this oversight continued to be a problem for this prototyping iteration.
I started by 3d printing a positive form of the wax pieces that would eventually become the hollow negatives of the final product. This mold had some gaps between the filament that I tried to fuse with a hot soldering iron, and then eventually by rubbing wax into the gaps. I taped off the entire exterior to make sure it wouldn't leak and make a mess in the shop.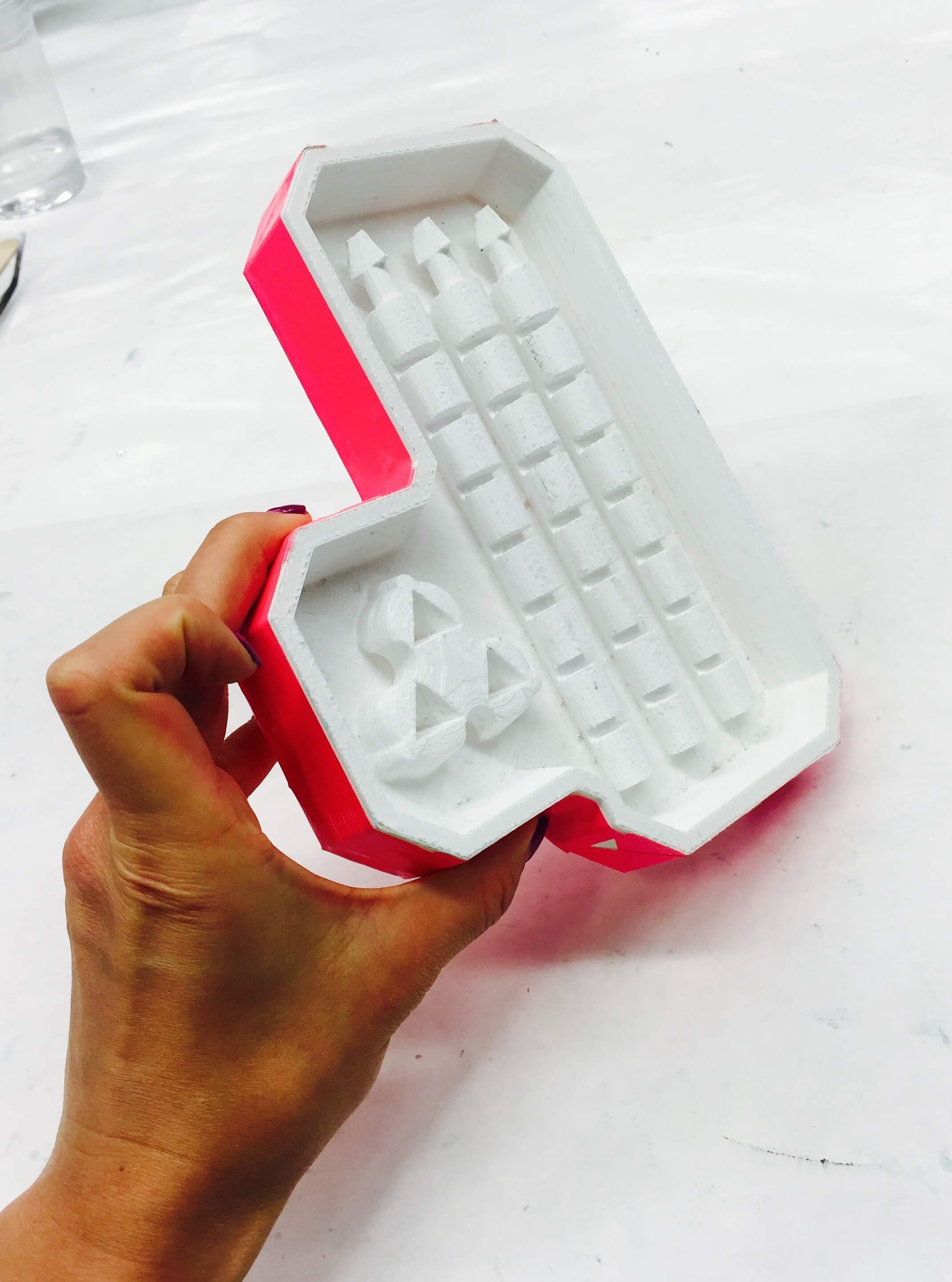 I cast OMOO directly into the 3d print after a light spray of mold release. I destroyed the original formwork in the process of demolding.
Lesson learned: For 3d printed molds, set density to 80% or higher on the Ultimaker for robustness.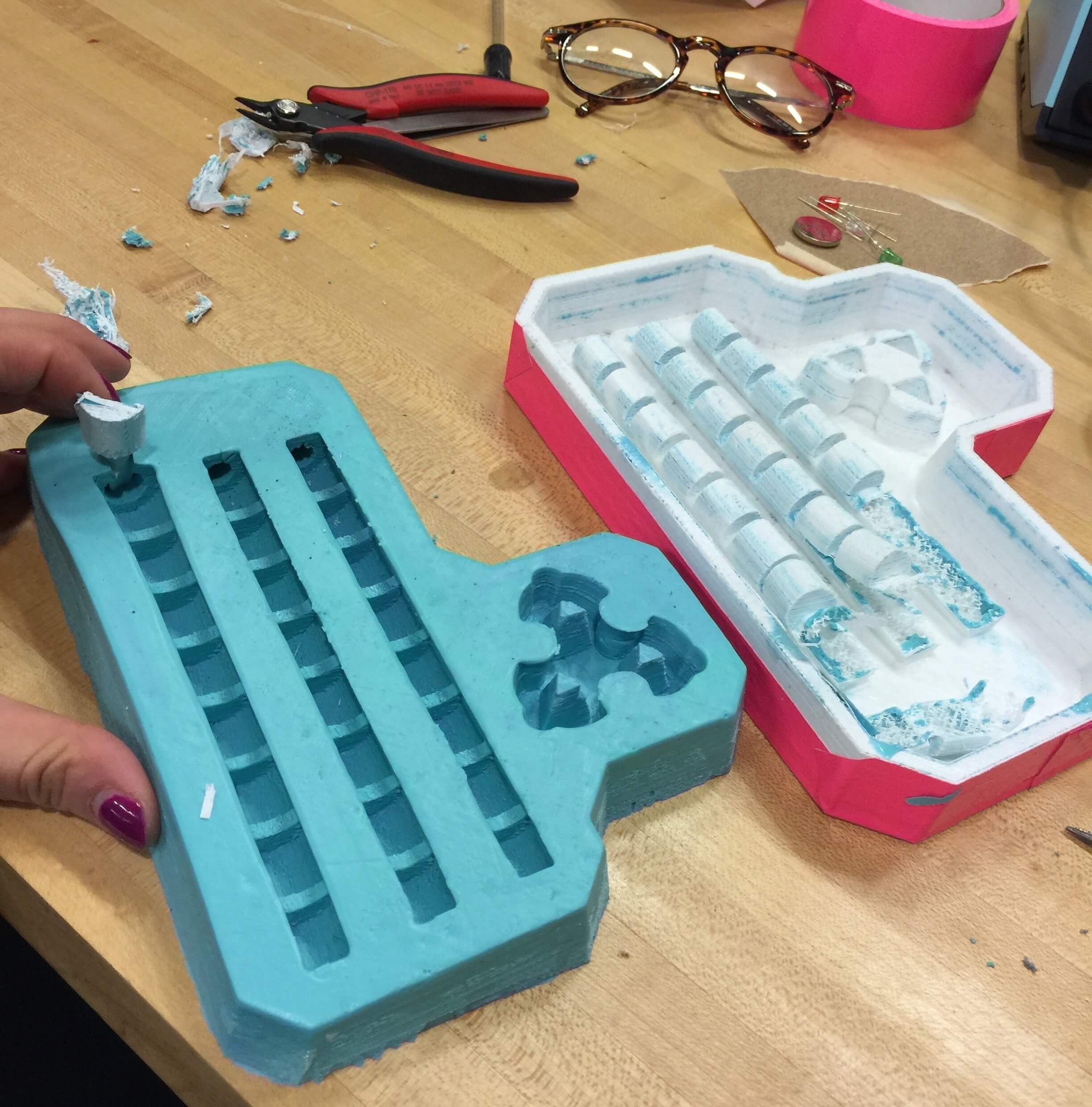 I used parafin wax because I wanted a clear wax that would not stain or be so noticeable incase I couldn't excavate all of it. However, the parafin wax was prone to breaking beacuse it was so oily and soft.
Lesson learned: For lost wax casting that requires structural integrity, parafin wax is probably too soft.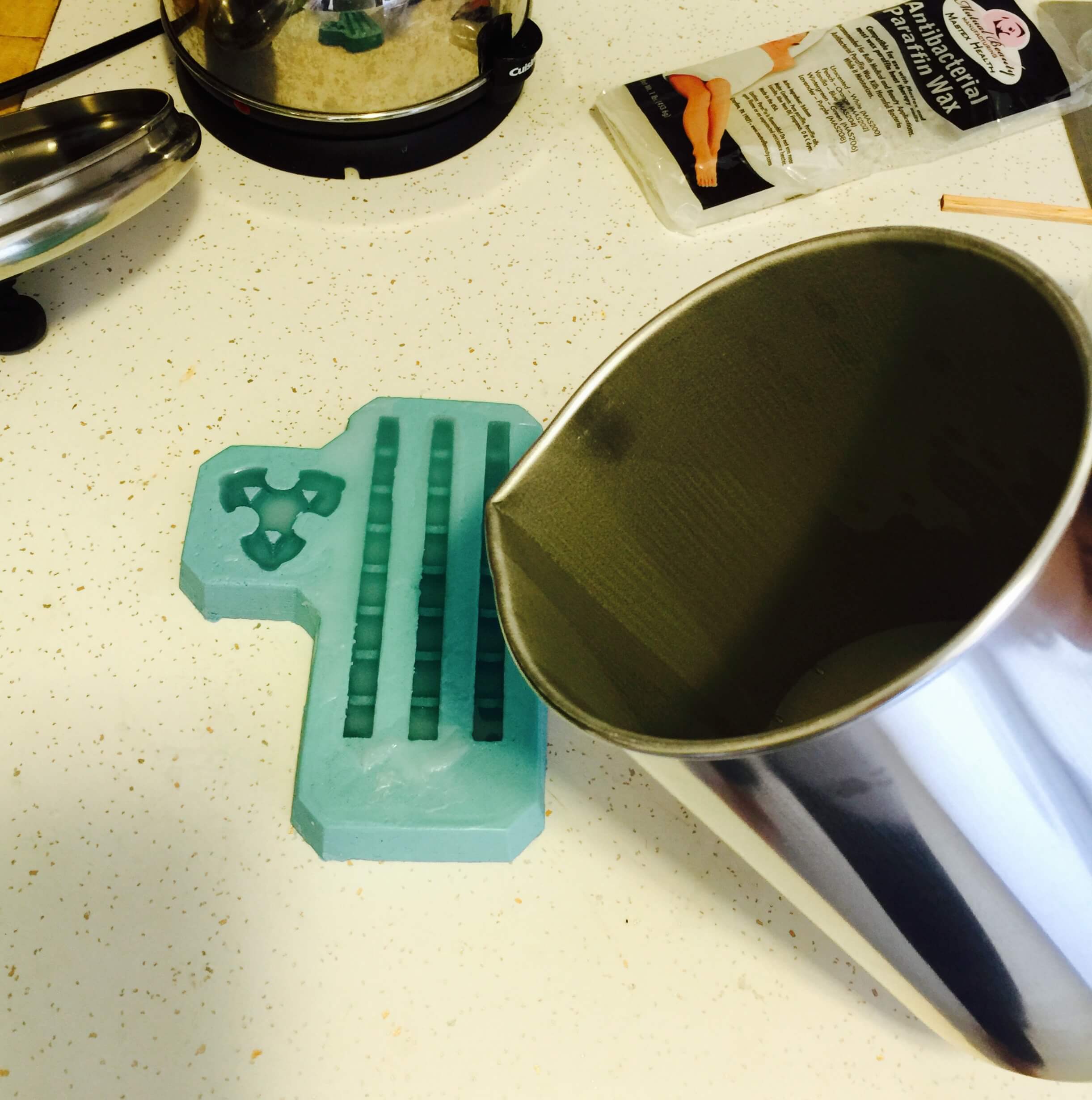 The next headache came with printing the exterior molds on the Ultimaker. Even after constraining the size of my mold to the maximum the bed could take, setting an infill of 80% made each print (1/3 of the mold) take about 27 hours each to print. Additionally, when they were finished, because of the orientation necessary to make the print fit, a lot of post processing was necessary.
Lesson learned: Orient the valuable part (aka the part you are casting into) of your 3d prints cleverly (facing up) to avoid post proccessing.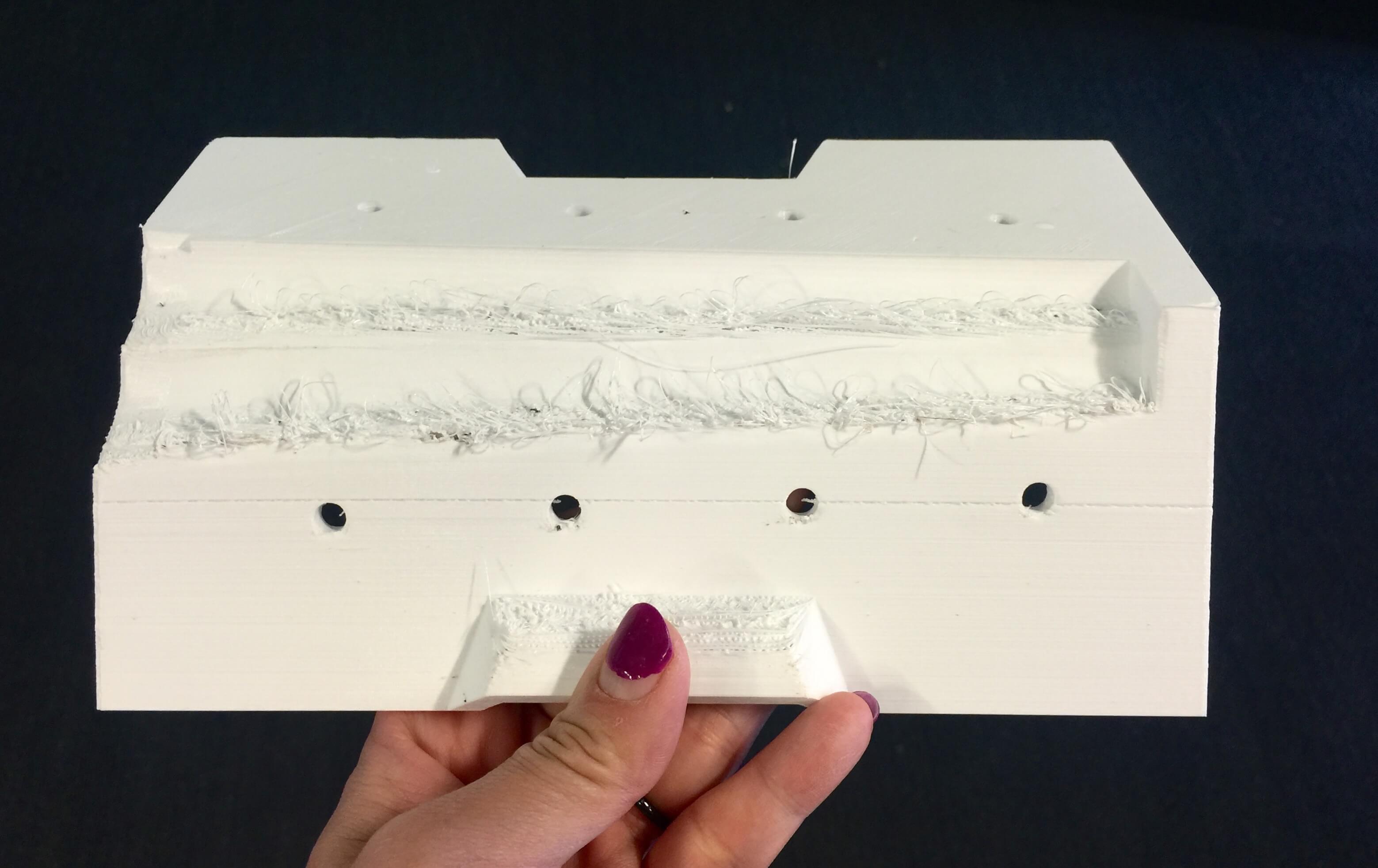 I clipped off the excess filament with angle cutters, filed and sanded the casting surface smooth, and then applied a thin layer of wax to futher smooth out the ridges.
Lesson learned: A dremmel and sandpaper go a long way in cleaning up FDM prints.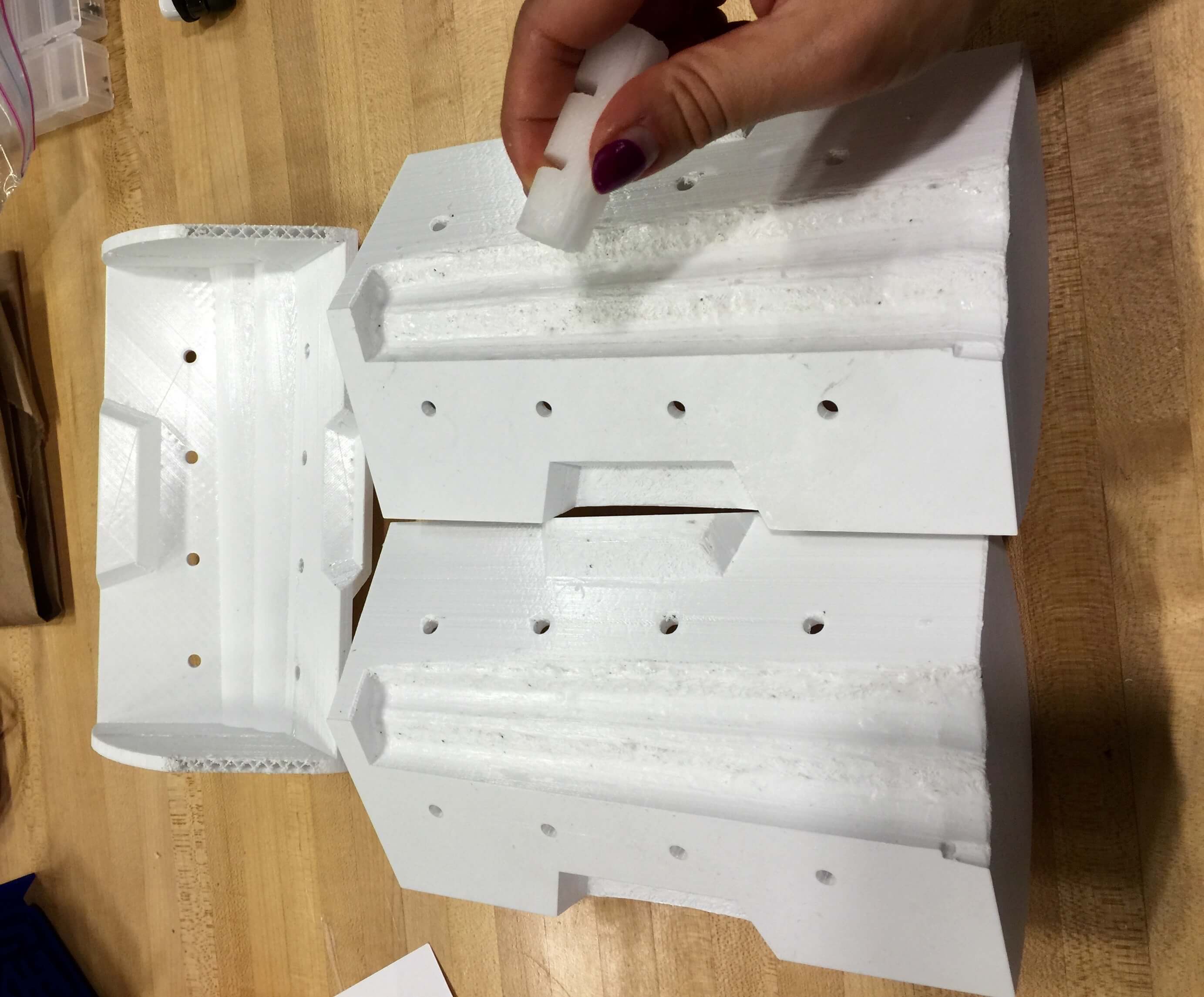 I put the 3 part mold together and prepared to cast. This photo is actually from my second try. You can see in this iteration I reinforced the wax with chopsticks.
Lesson learned: Use struts to reinforce paraffin wax when using the method oflost wax casting.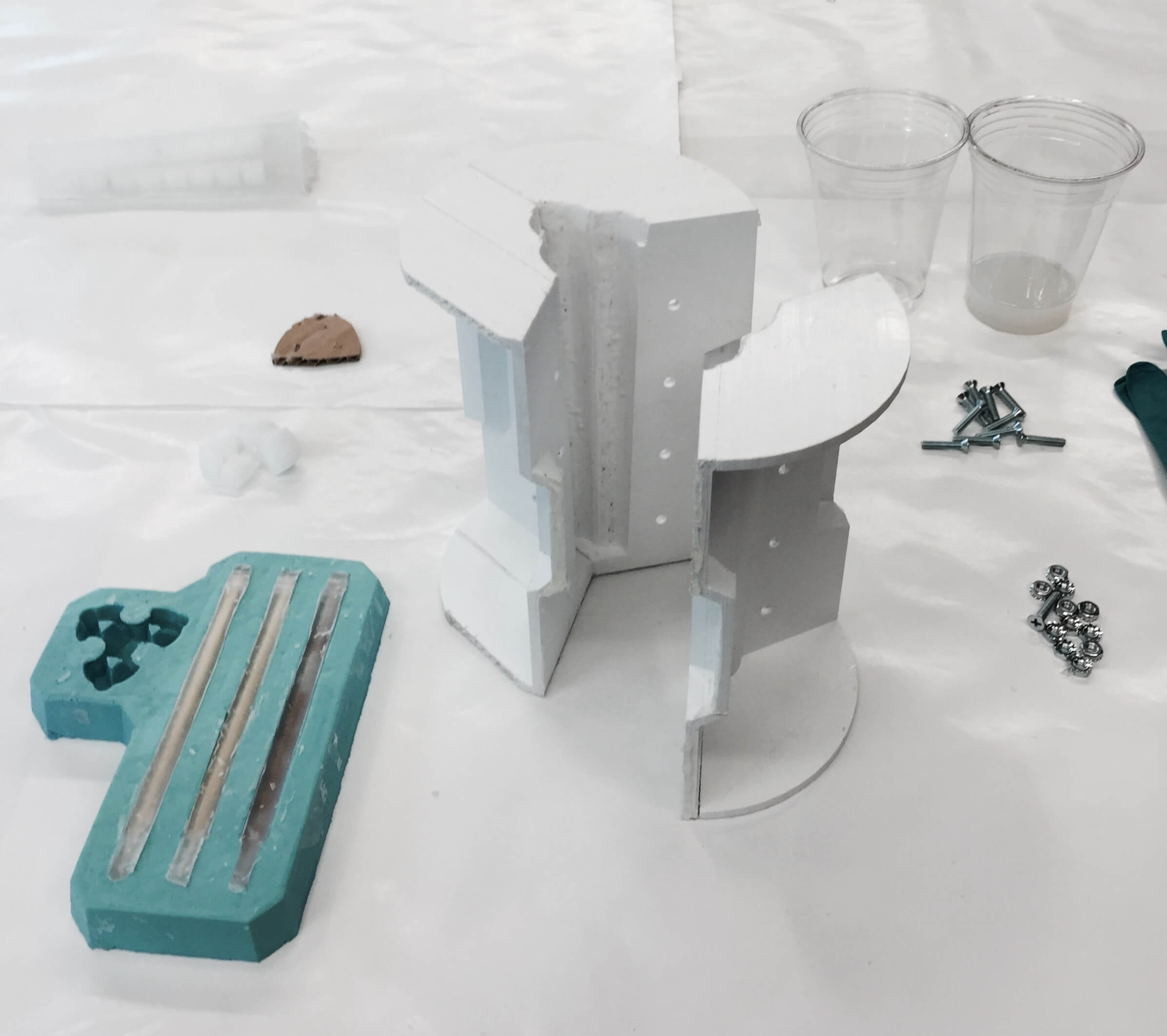 You can see the broken wax inside my first cast. This creates an airchamber that will not actuate properly because the void is not continuous.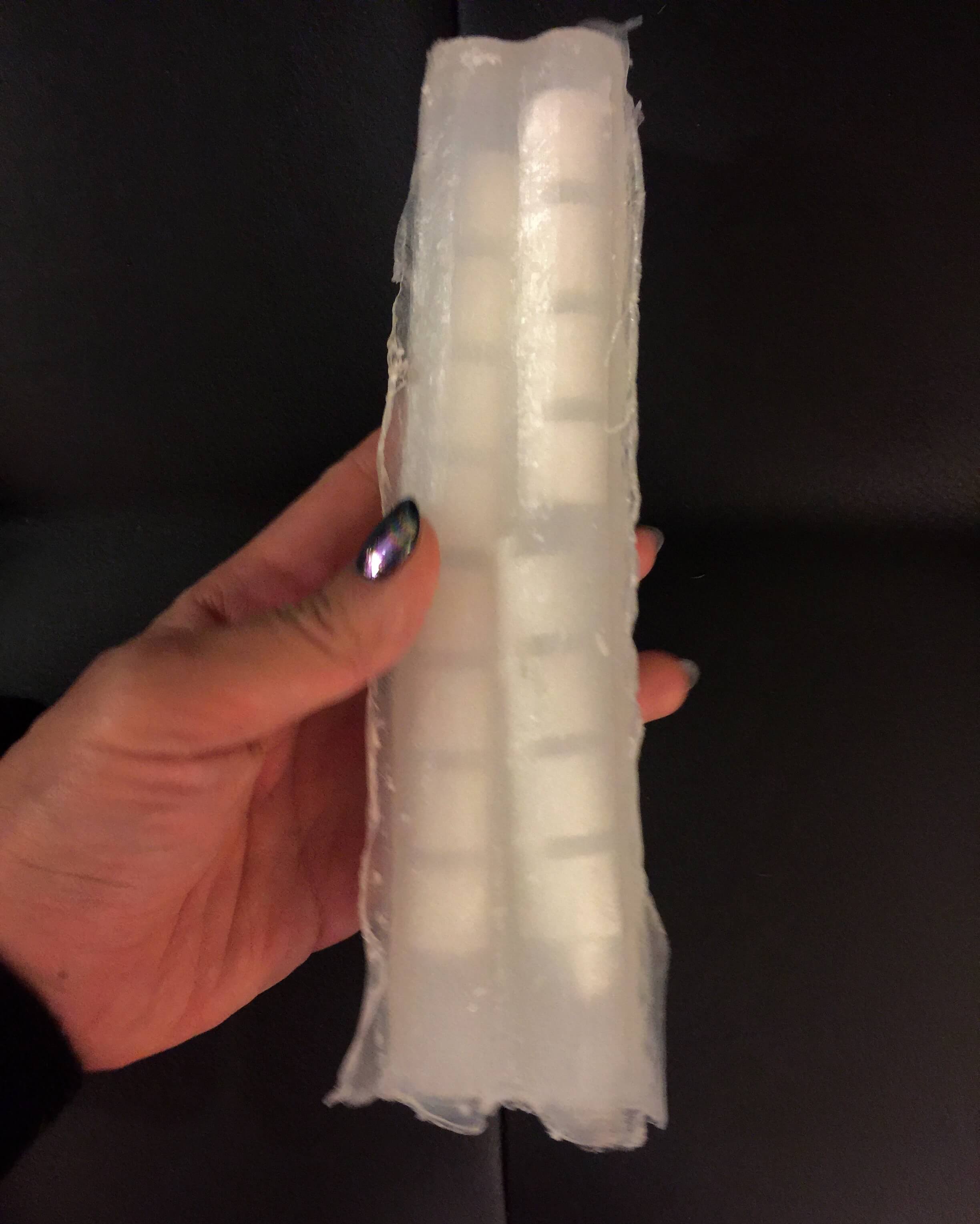 Image of the reinforcement method for the wax.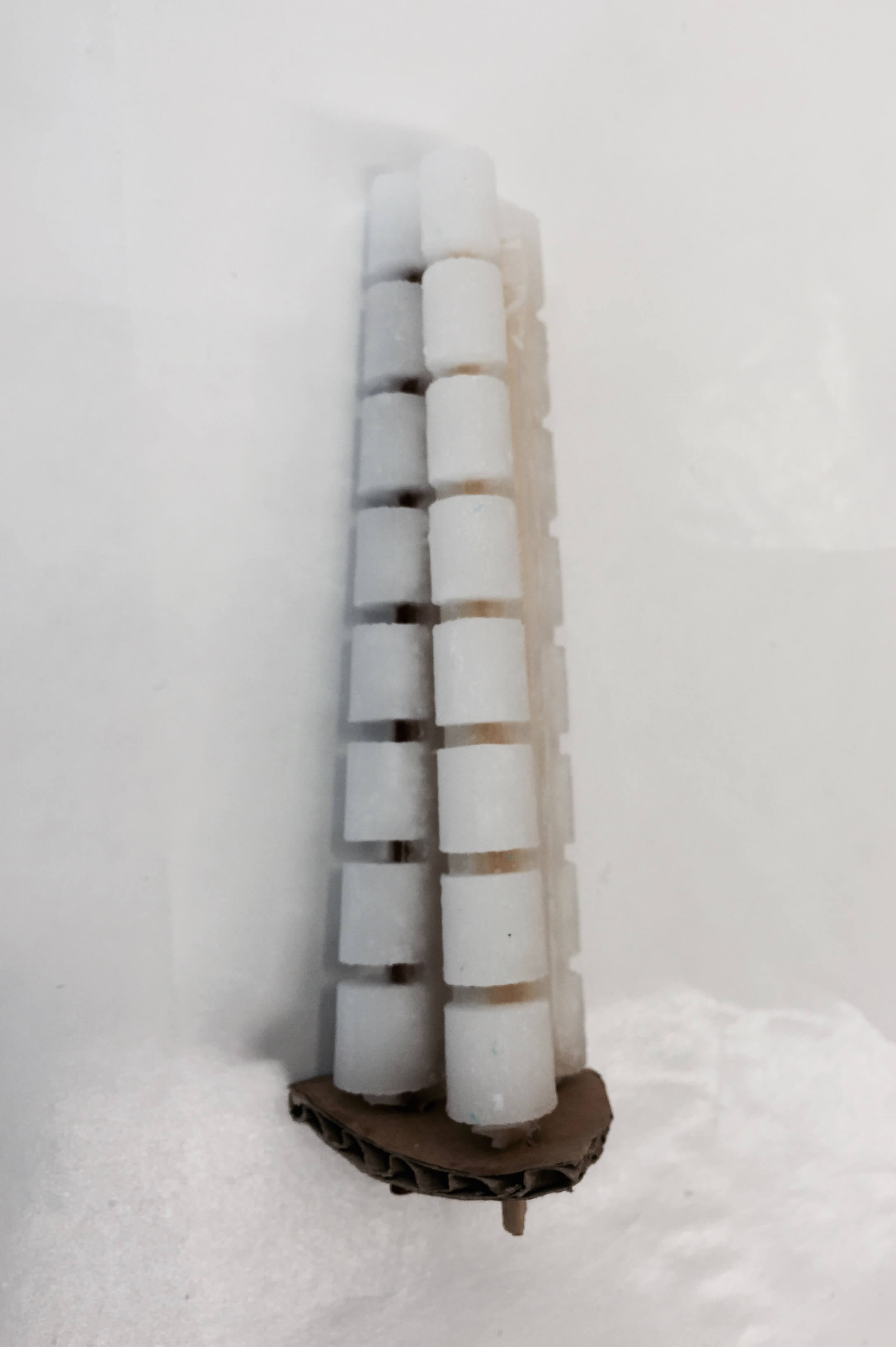 It yeilded much better results.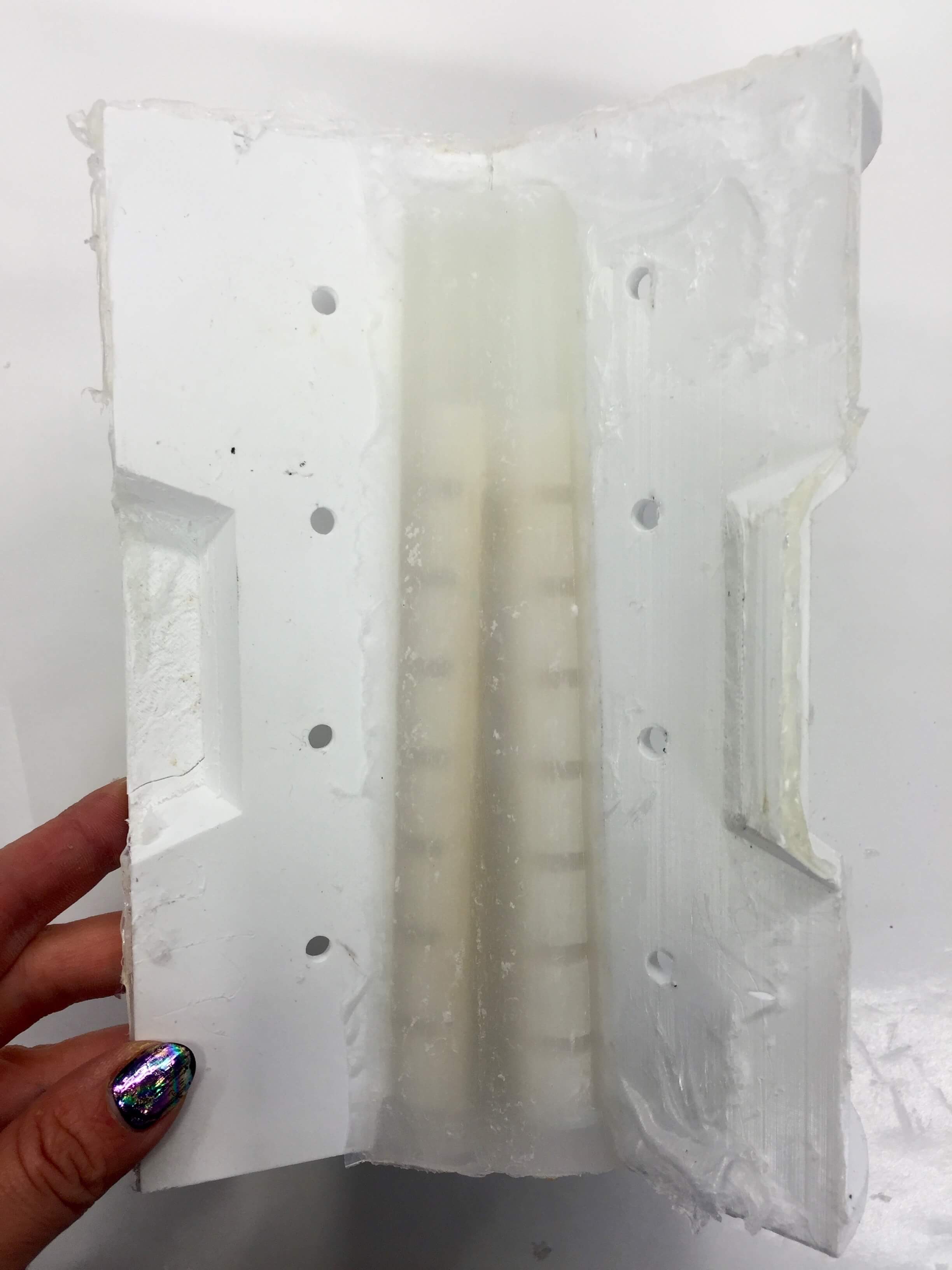 I placed the whole mold in the oven at 200 degrees F to melt the wax out of the interior.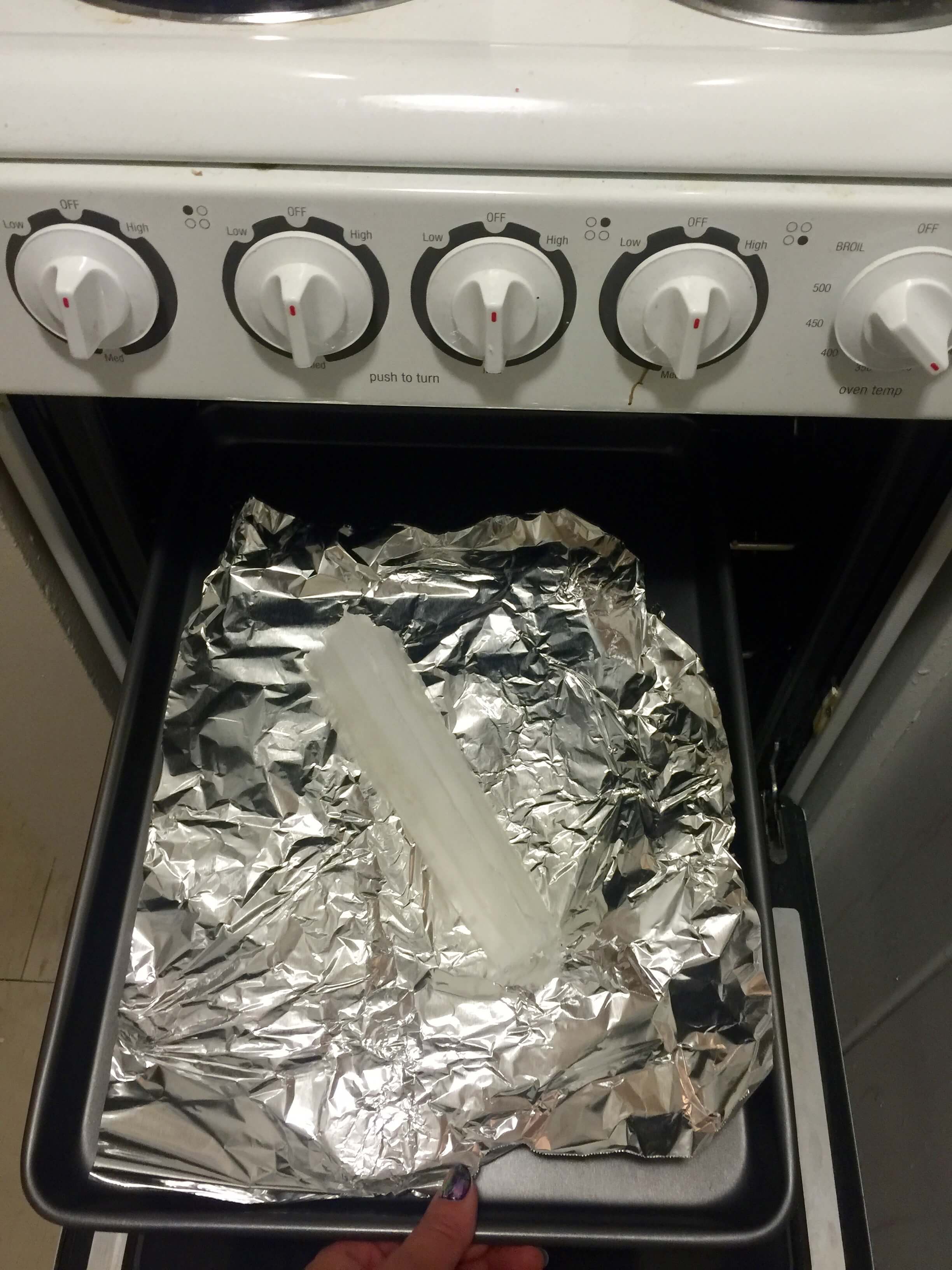 Now that I had a prototype, I could test out some basic manual actuation! I hooked up some appropriated hand pumps from blood pressure cuffs. The next post will be about testing my two prototypes.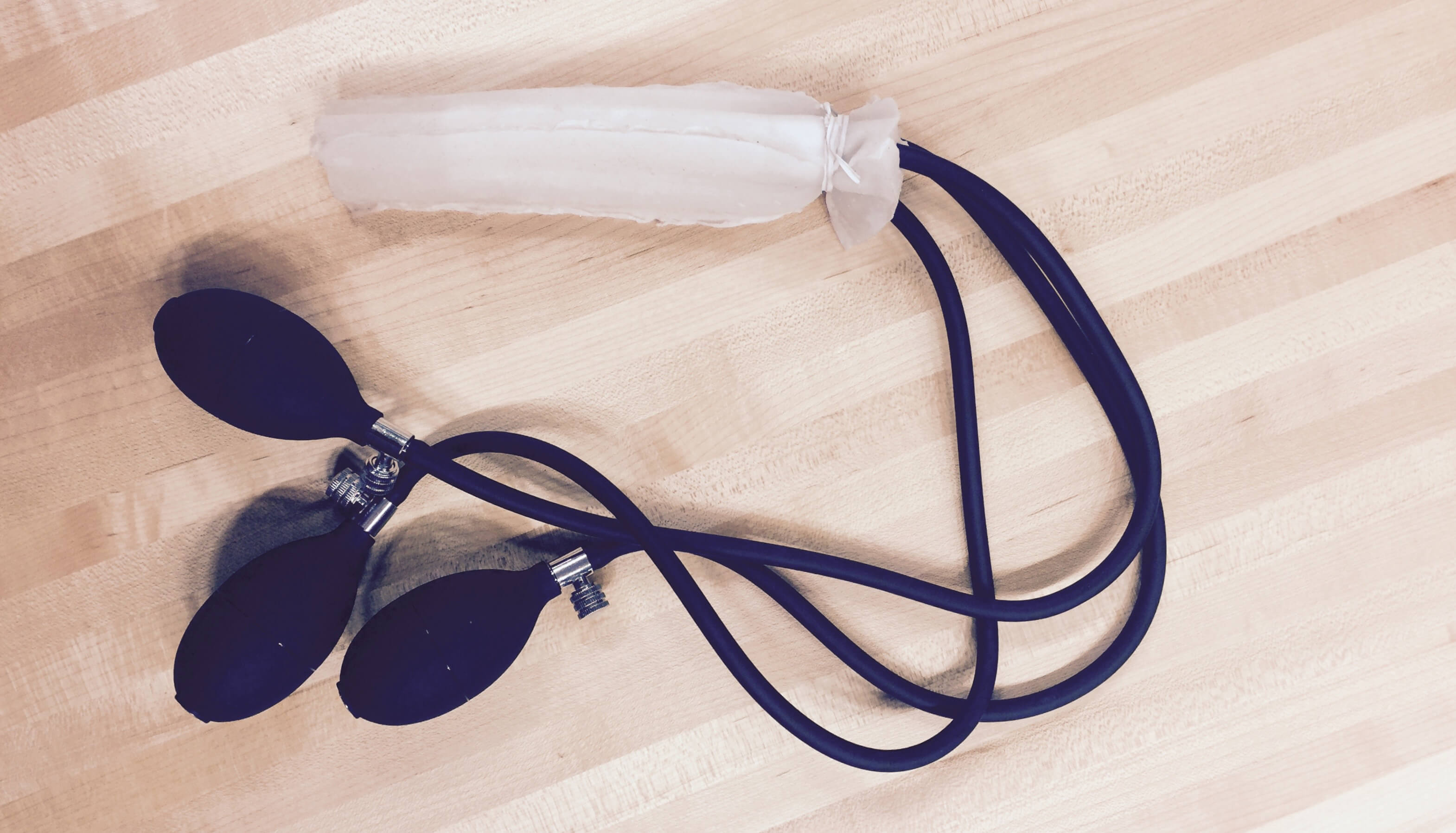 Sept 16, 2015
Beginning Ideations

This marks the beginning of the concept ideation. I am including the sketches from the first week as a reference.
This is scenario: In the near future, humans, cultivated by the supremacy of a logic based computational world, will become so obsessively hygienic and reason driven that they will lose a connection to their biological and animal impulses. To aid in this tragedy and release the inner ID in every computer scientist, I propose a robotic limb that will allow the refined urban dweller to release his or her animal urge for short recreational durations. I made a mini slide show to create a character sketch for the narrative I am trying to build. All photos are from this amazing artist named Michael Wolf.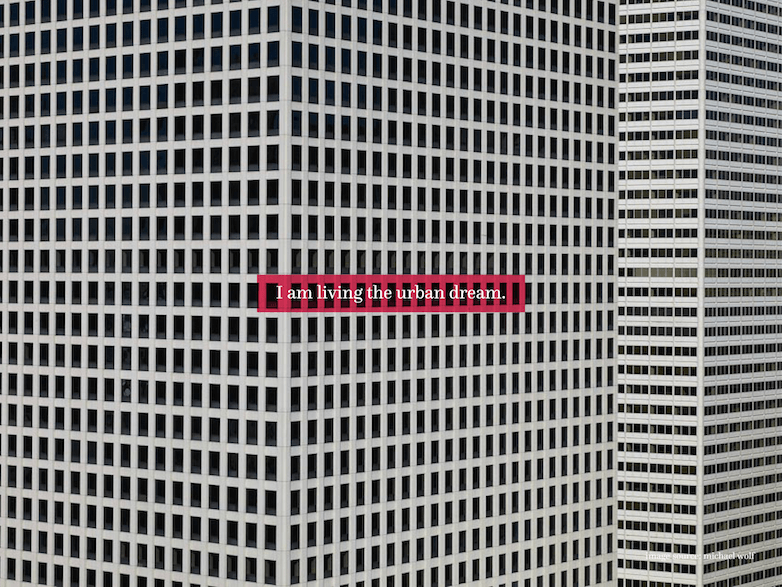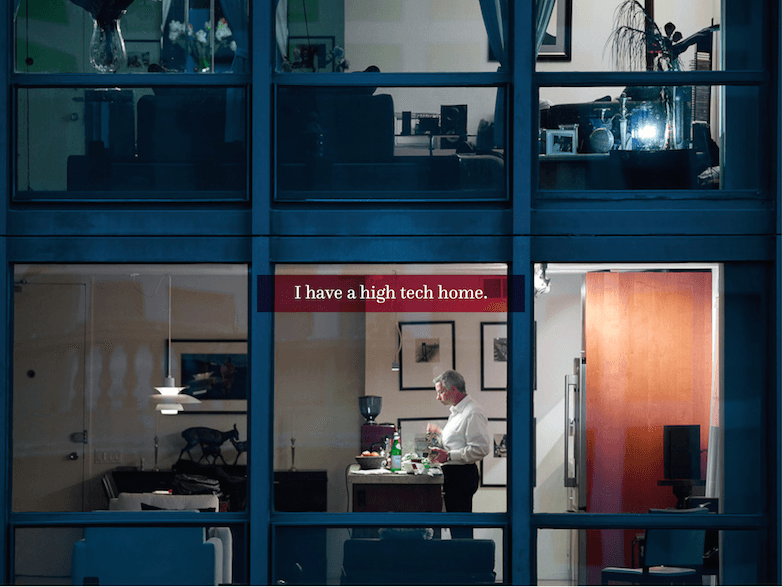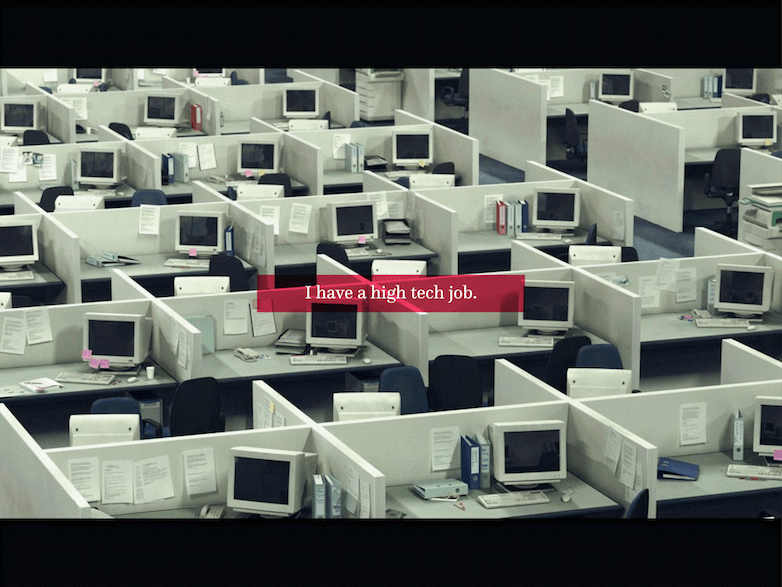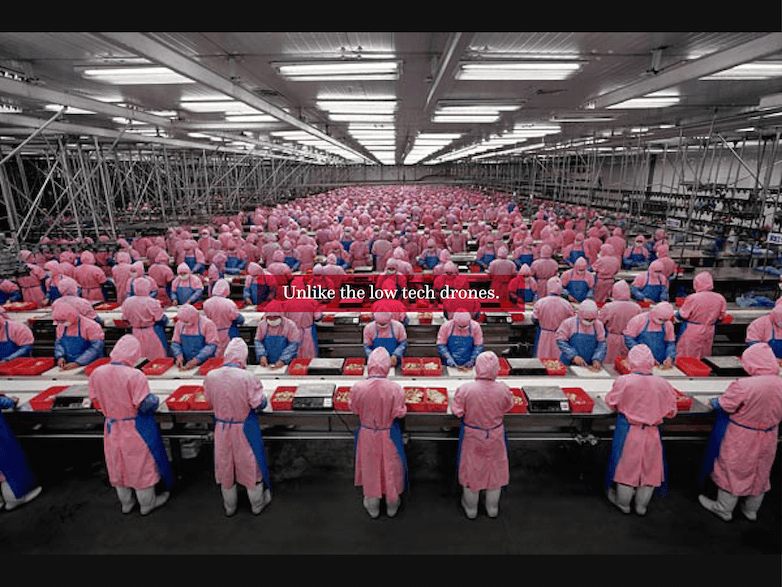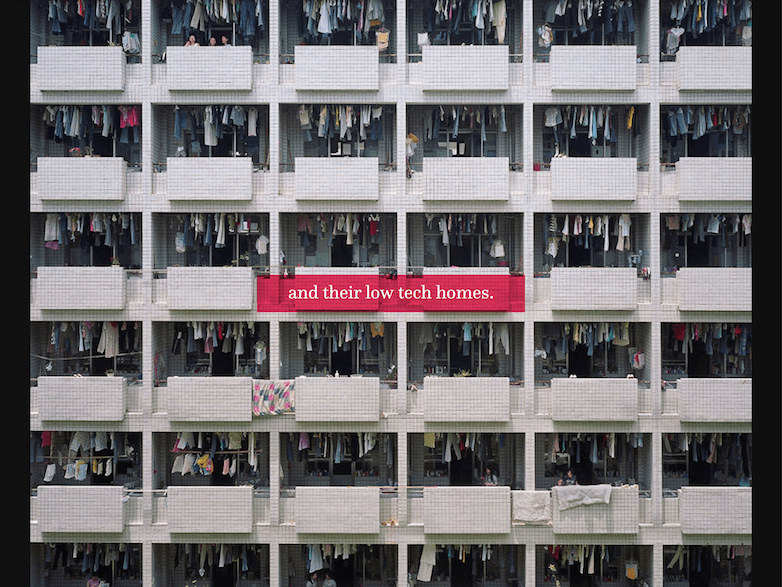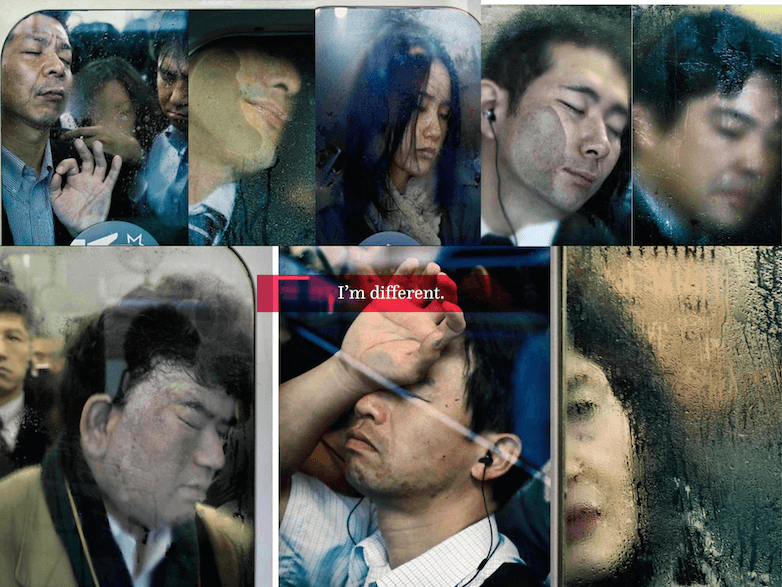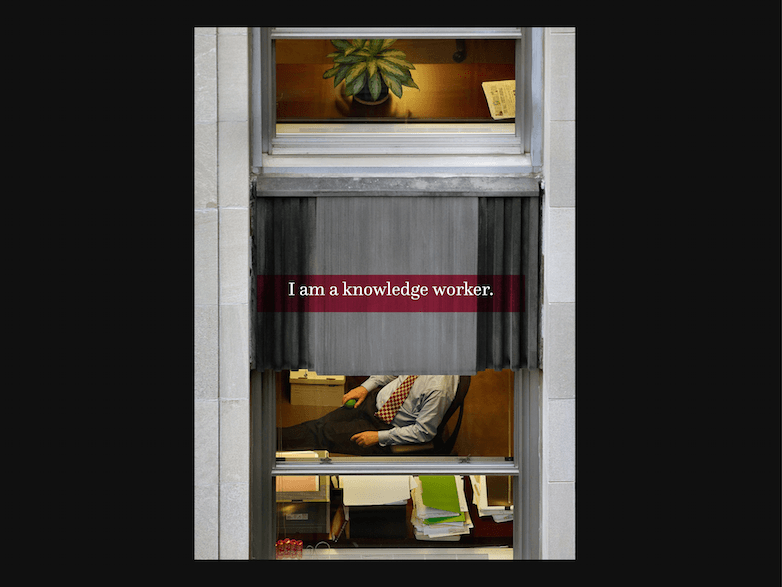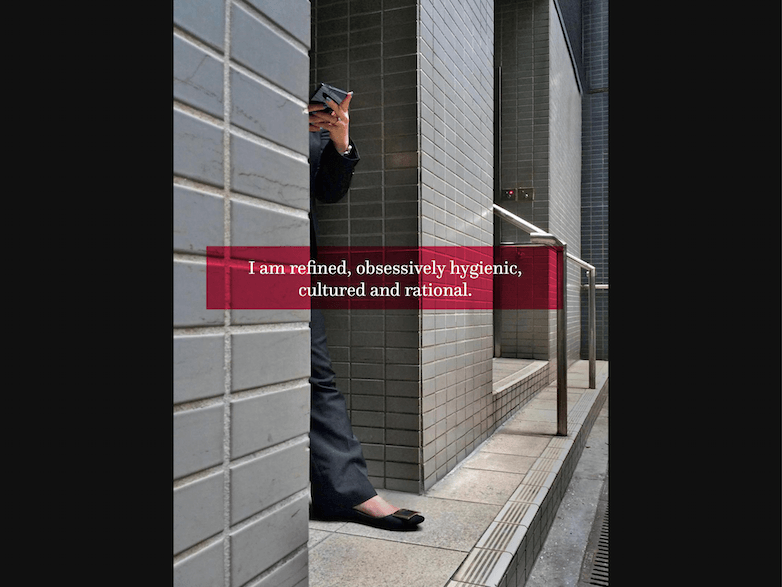 Conformity, self control, rationality, emotional regulation are traits we commonly aspire to in a civilized, regulated world (and for good reason.) However, this overly hygenic regime can be numbing. The antidote I would like to engineer for this desensitized urban dweller is a prosthetic to lose control, a sort of phantom limb for emotions. A limb that allows me to express emotions that i am too repressed or obedient to express.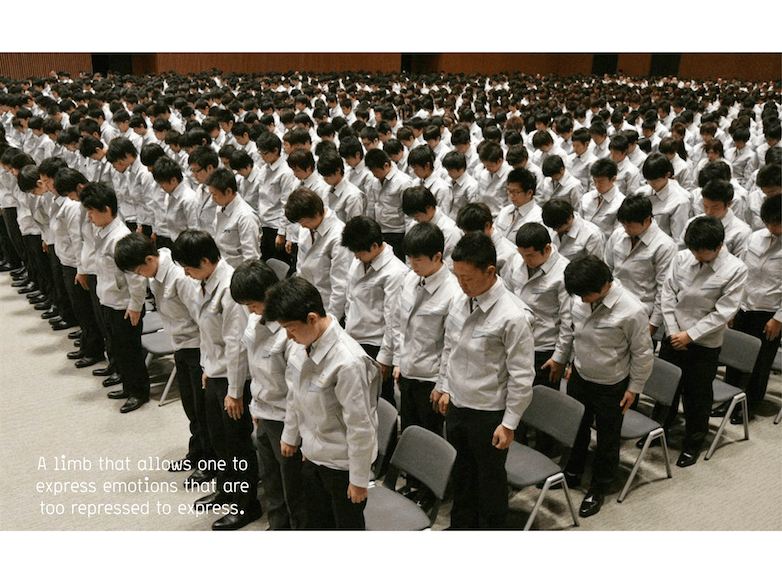 Right now, I am experimenting with anger. As an asian, as a woman, as someone living in this contemporary society, expressing anger feels embarrassing and unacceptable, like losing one self or not maintaining control. These sketches experiment with the idea of an angry arm that bangs on the table and flips people off.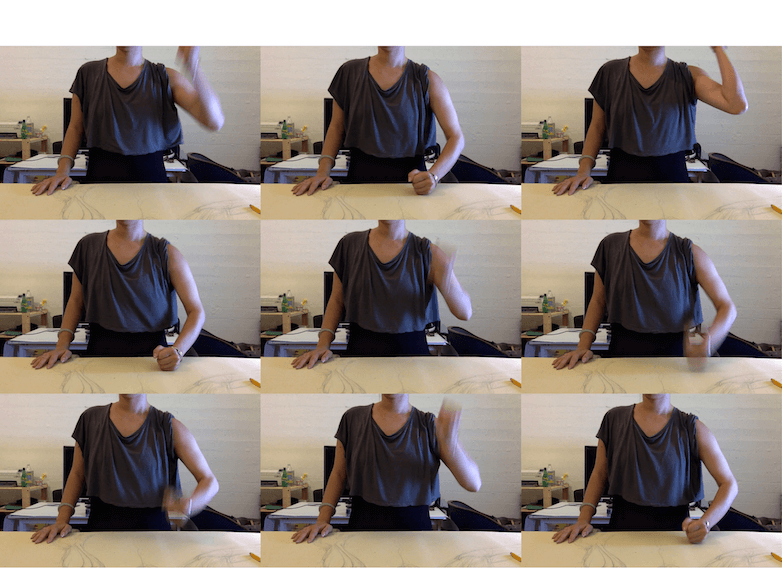 I'm still in the process of working through it; there are many repressed emotions and i feel like this is still a very simple one. It is definitely in progress.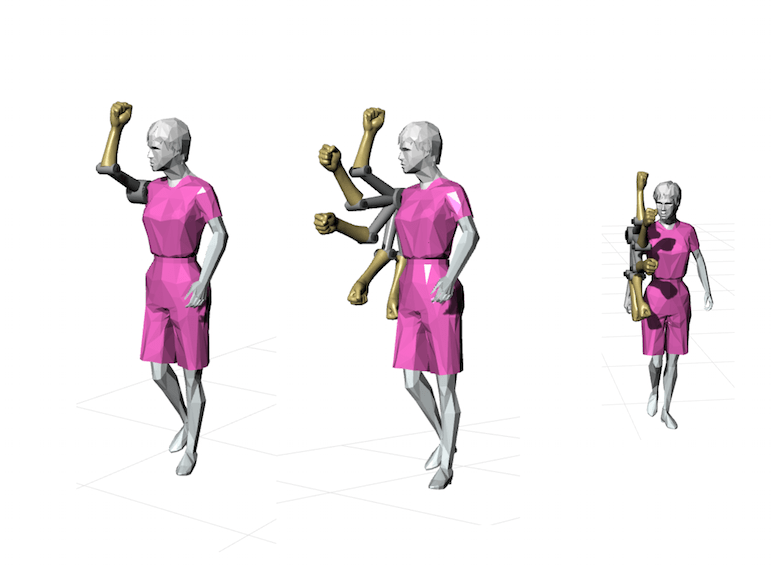 The antidote I would like to engineer for this numbed urban dweller is a prosthetic to lose control, a sort of phantom limb for emotions. A limb that allows me to express emotions that i am too repressed or obedient to express. I propose a limb that frees the wearer from these norms and allows the repressed to come out to play, if only for a short recreational while.
Thanks for reading my ongoing progress on my final project.
I hope you are enjoying the insights into the creative process!
Week 1-13
Date: Fall 2015
Assignment: How to Make Almost Anything