About me
Hi! I am Rehana and I am a graduate student at the Harvard Graduate School of Education, studying learning design, innovation and technology.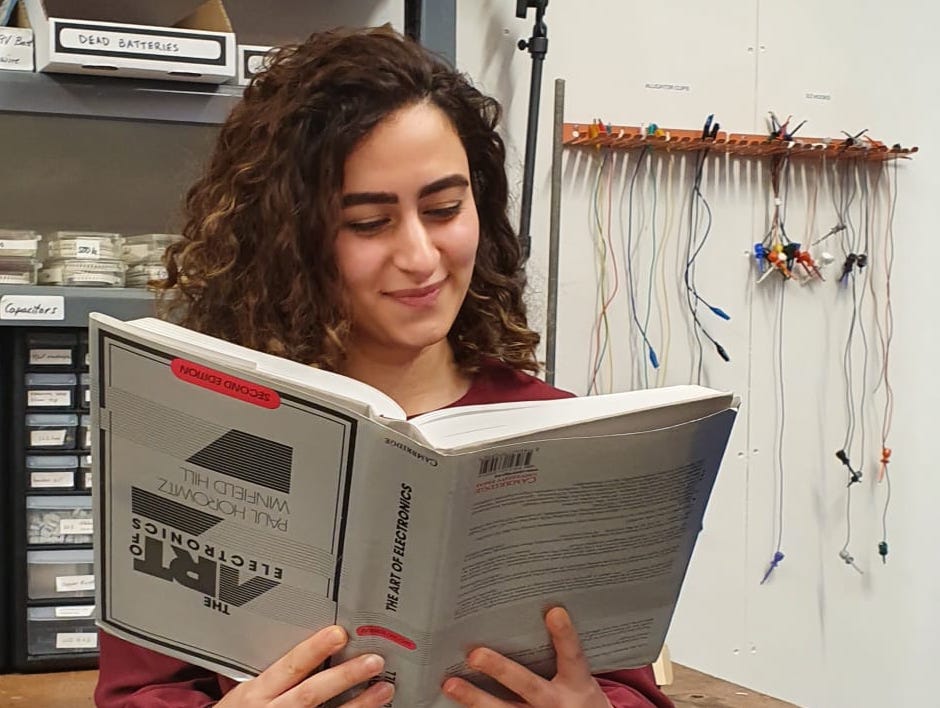 My academic background is in Psychology and Pedagogical Sciences, and I specialised in educational research and technologies during my undergrad. For my dissertation I wrote and taught an interdisciplinary, hands-on activity that used robotics to teach 10-11 year olds physics.

At HGSE, I am delving deeper into the philosophy of learning by making and sharing. This is at the core of HTMAA too! I also interned at London's first ever FabLab, Machines Room, so taking HTMAA is a incredible.

Here is some of the work I have done so far:


Robots and such
I worked as an in-house robotmaker at a start-up called Smartibot, which makes AI-enabled robotics kits that you can build yourself out of any material. It comes with an app to control and move the robot after you assemble it. It is also programmable in Espruino (both text- and block-based). I made a few fun projects!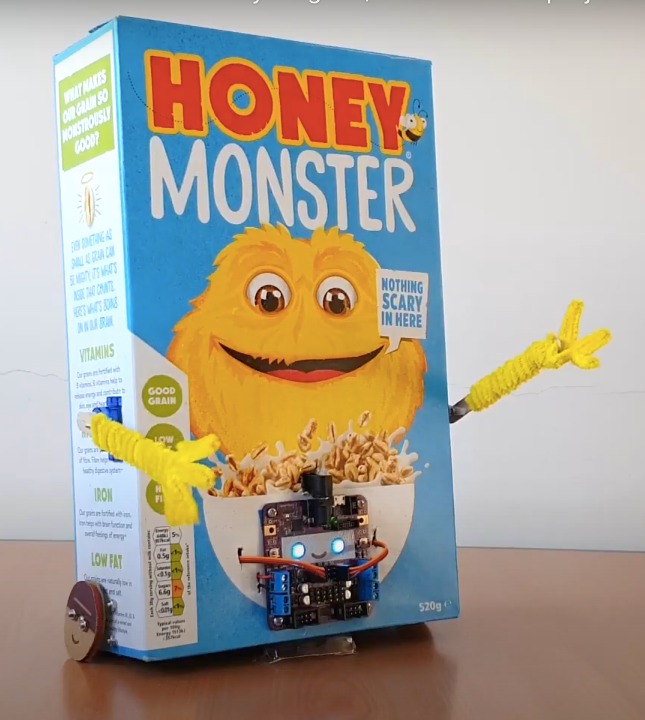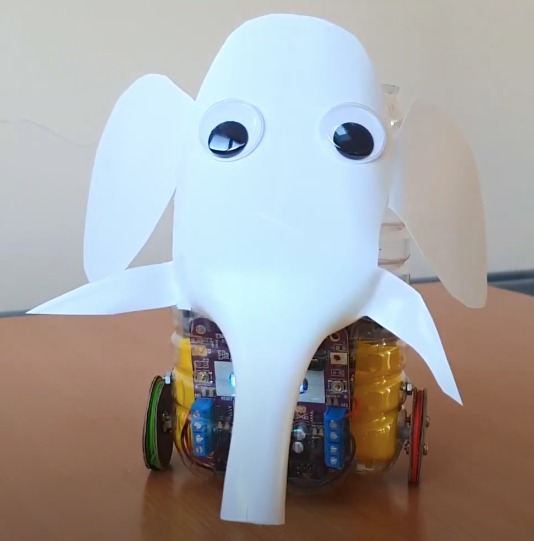 Blimp
By far the coolest project I worked on, making a blimp that actually flies!




Robot Wars with Vegetable Robots
A frequent workshop I ran is Vegetable Robot Wars. Ever wanted to make a robot out of vegetables? I got you covered.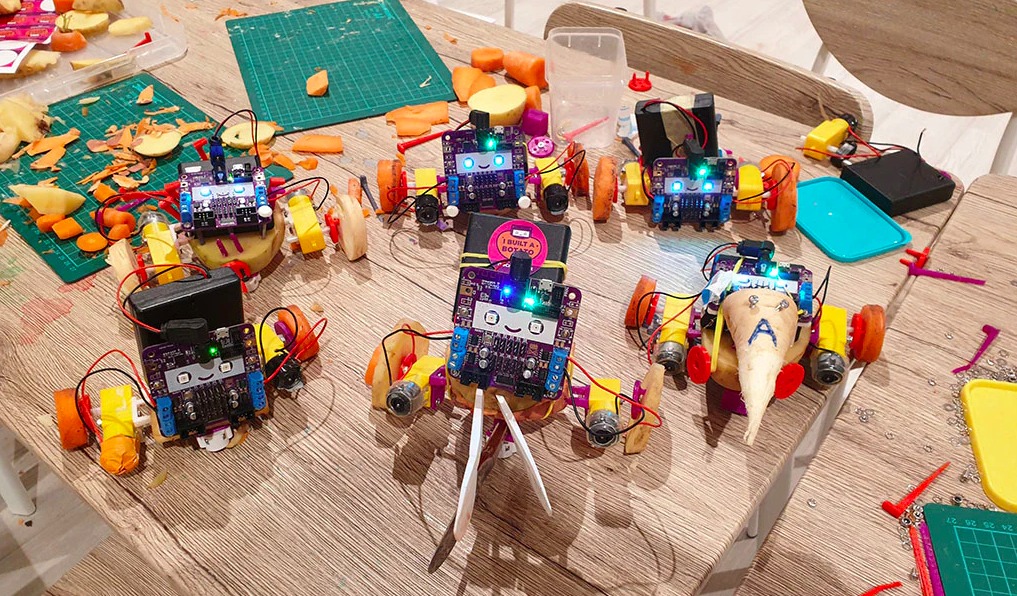 Here are some pro tips:
Carrots and parnsips make for great wheels. Potatoes don't, trust me.
Potatoes, on the other hand, make for a sturdy chassis
Don't make it too heavy or your robot won't be able to move swiftly, but you also don't want it to be too light otherwise it can be flipped over by your opponent!
CS Education
Apart from making robots from trash and potatoes, I am also involved in various educational initiatives aimed at educating and empowering girls, ethnic minorities and women through free CS education. I run workshops in creative coding with Python Turtle, musical technology with the BBC micro:bit, and physical computing with the Adafruit Circuit Playground Express.


We're having a funky LED party here at Avye's @girlsintocoding with the @adafruit Circuit Playground Express!⚡💃 pic.twitter.com/88iyntJt5L

— Rehana👩🏻‍💻⚡ (@rehana_makes) June 26, 2022


One of the workshops I have written is on making a DIY piano keyboard with aluminium foil and cardboard using the Circuit Playground Express.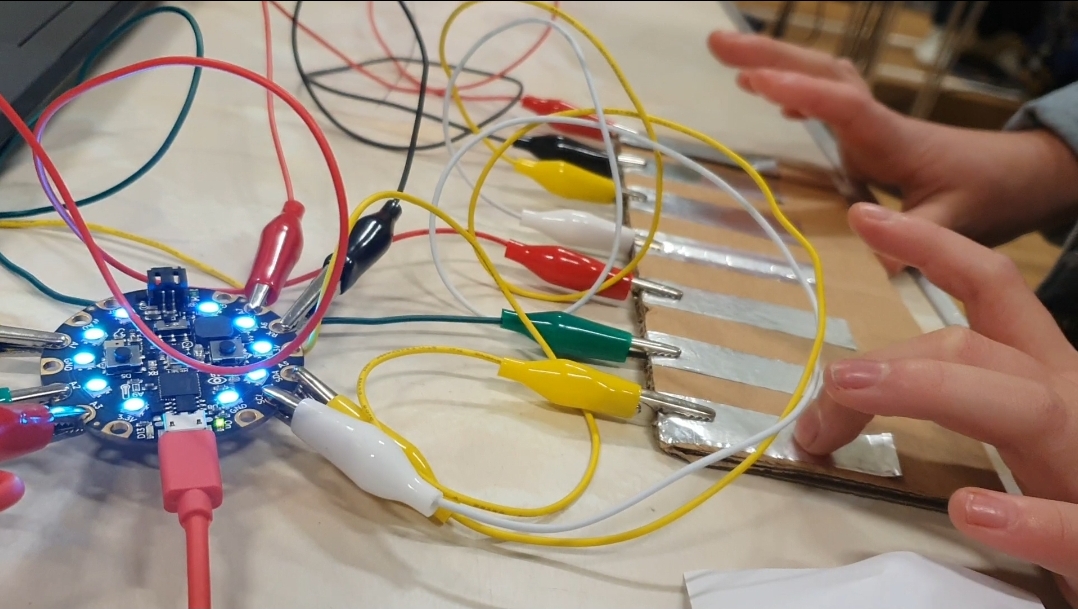 And of course, sewable circuits!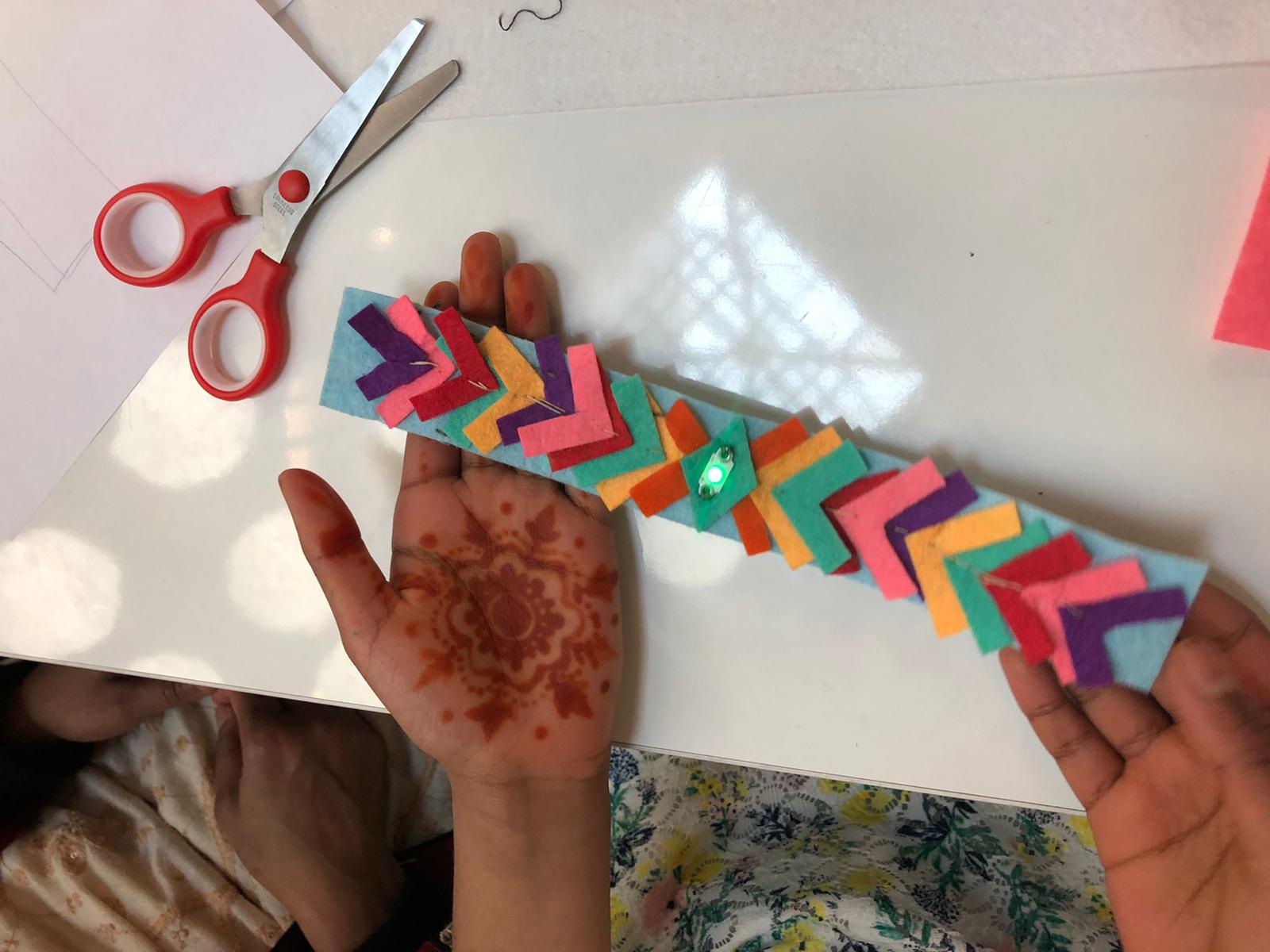 I even ran a workshop a few weeks ago at T550, a class I am taking at HGSE about constructionism and maker education.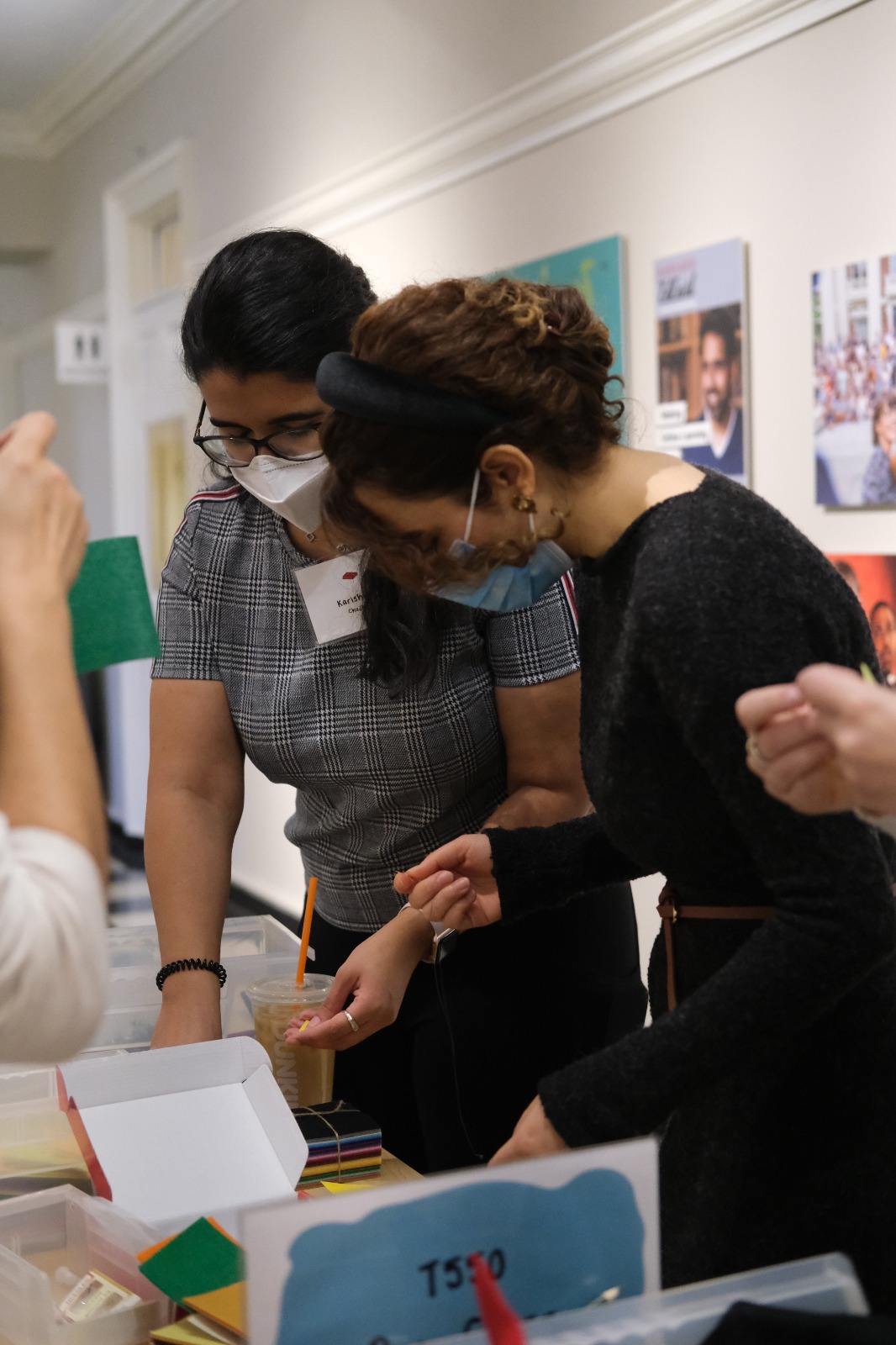 Sewing etc.
I also sew a lot. Like a lot. I have made countless dresses. Here is one I made over a long summer break, where I cut 2,000 petals out of silky fabric I had, burned the edges of each petal to give it a shape, and sewed four together to create a flower: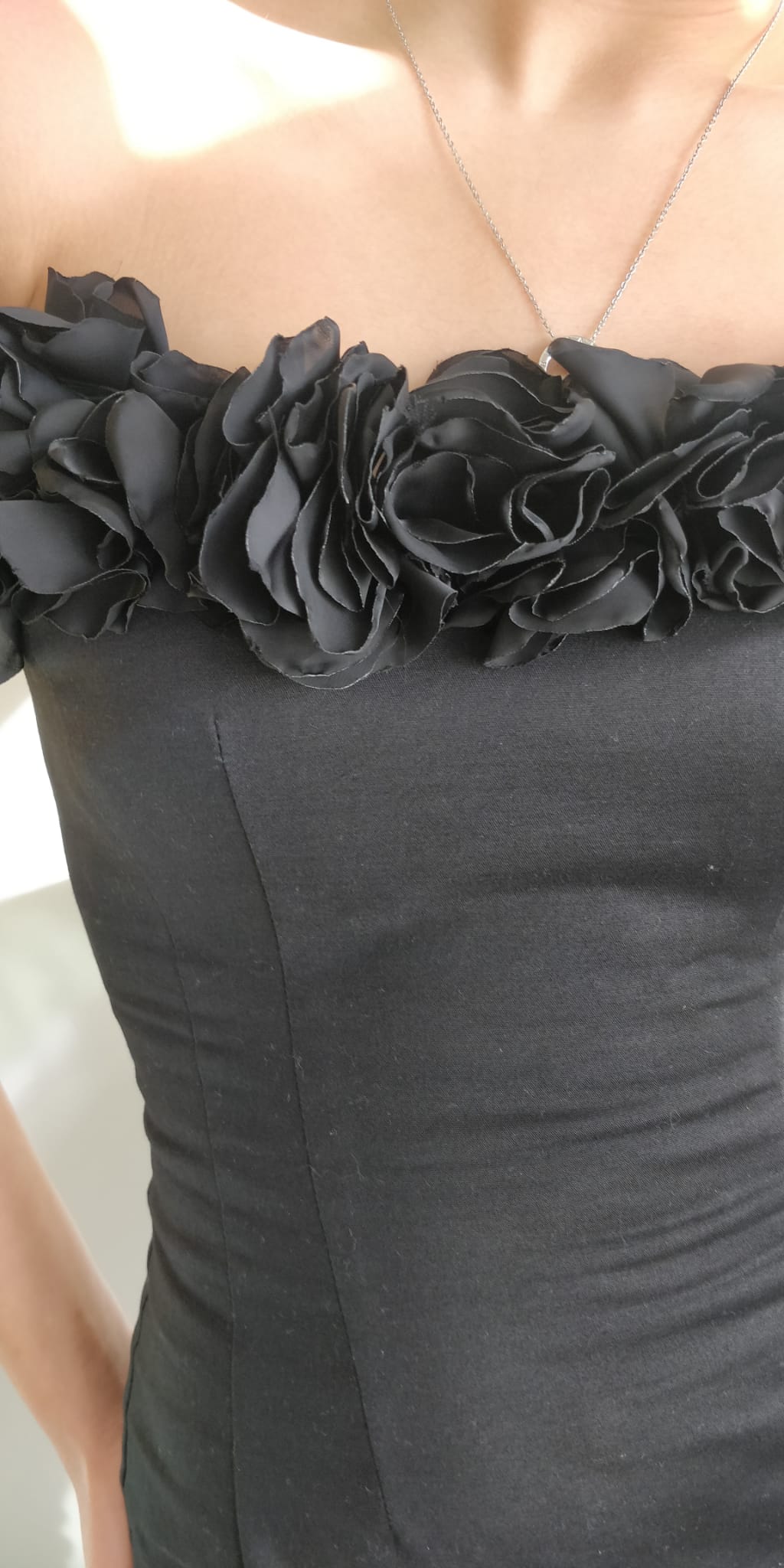 Another dress I made is with scuba fabric, the same type of fabric they make scuba diving suits from. I also learned corsetry along the way.

I took one whole day painting the dress freehandedly, where I discovered the best way to paint on fabric through trial and error. Instead of using actual paint (acrylic is usually recommended for fabrics), which mixed with glitter will fall off within minutes of drying, I mixed small batches of clear glue with silver glitter. Clear glue does dry up fast so having small batches is important.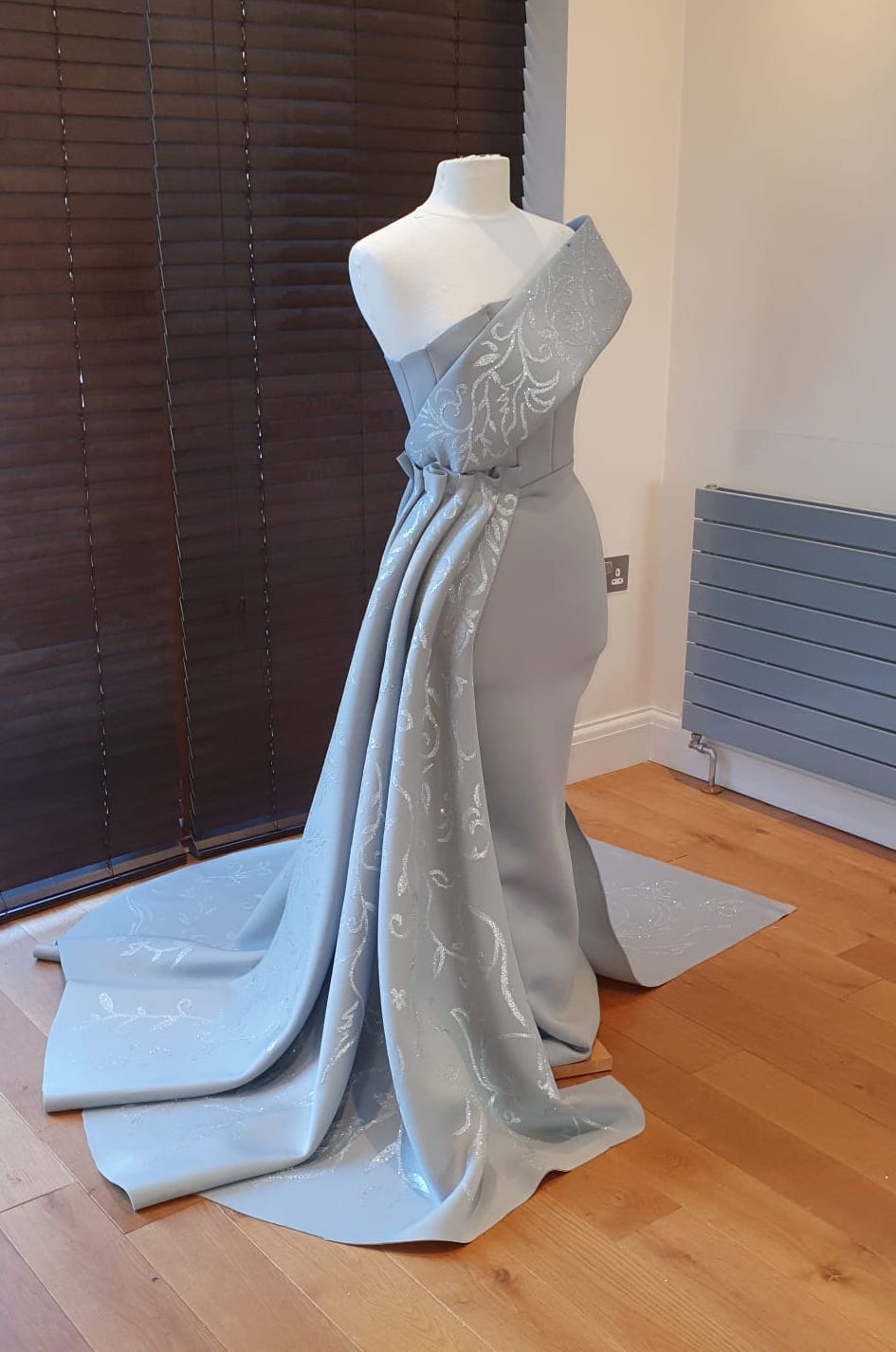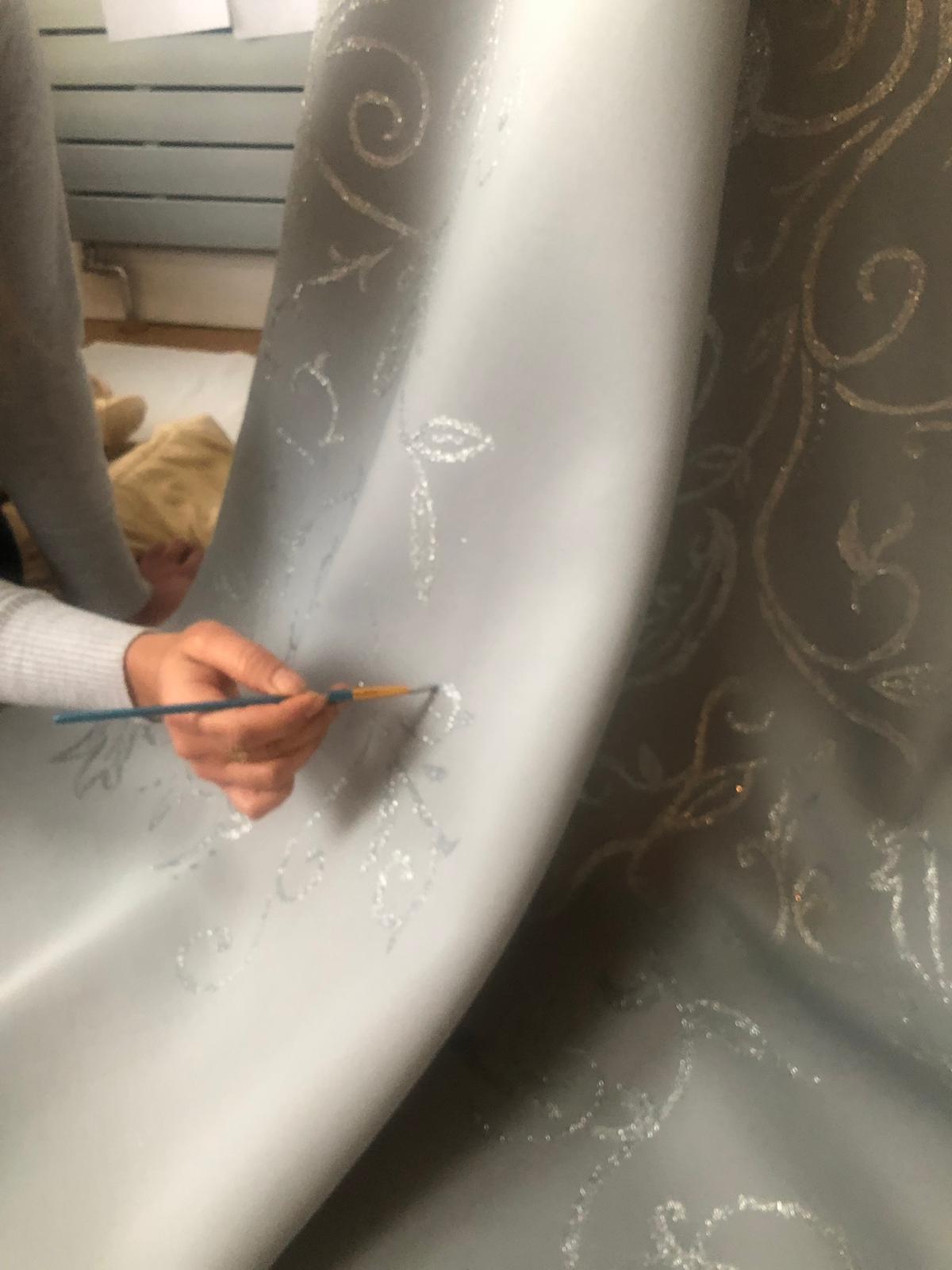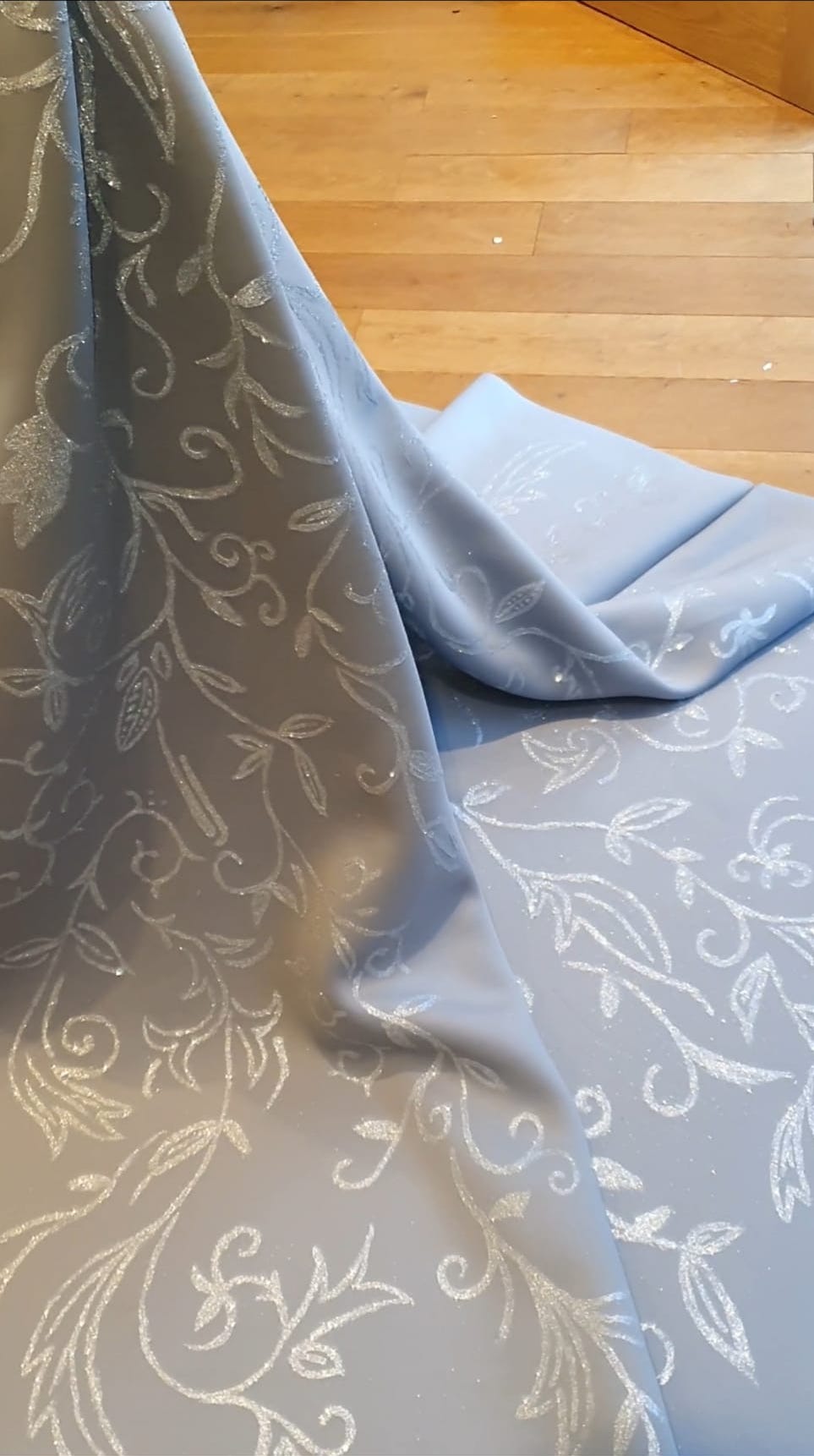 I also like to embroider, but I tend to lean towards the more chaotic and artistic method of embroidering, where you 'draw' with thread. By using different shades I am able to create depth that makes it appear 3D. I also have a fascination with eyes so that is what I embroidered: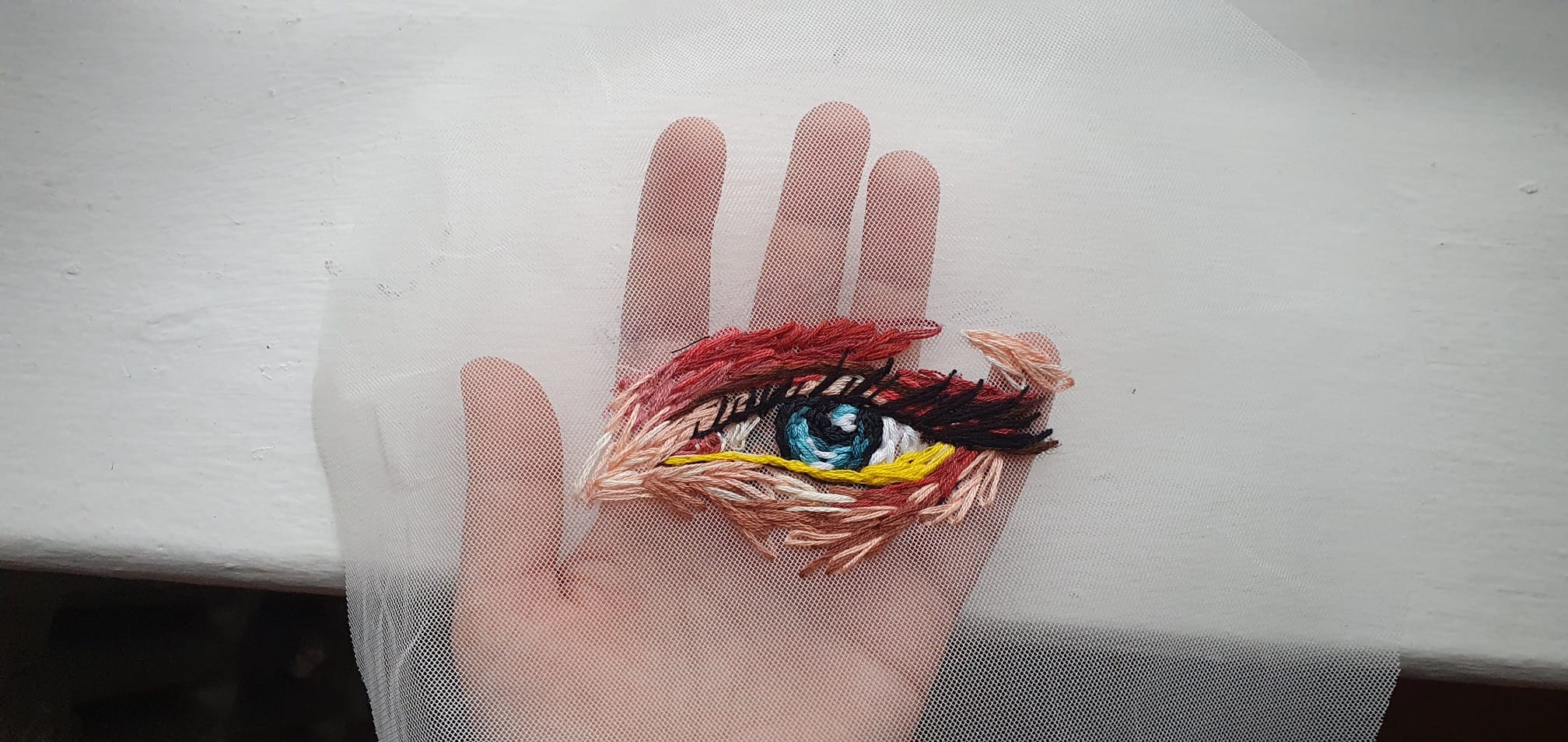 Mixing up 3D printing, embroidery and electronics is super fun! Here I 3D printed stars on mesh fabric, and used LEDs to make it light up. I also embroidered the star trails.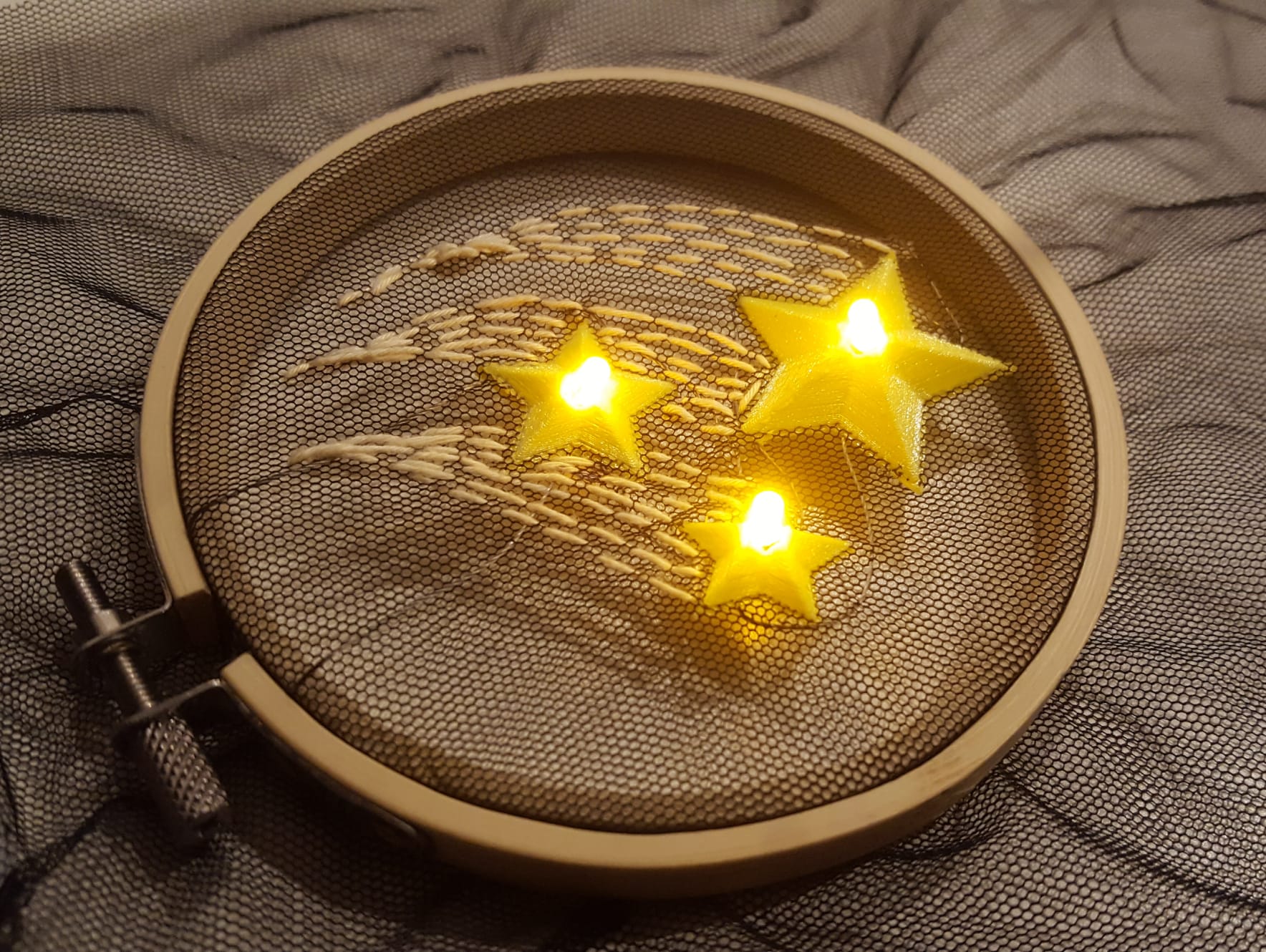 I have done some more interactive things with e-textiles, and here I repurposed an abandoned embroidery piece I had started a while ago, which is a scene from Treasure Planet (hands down the best movie ever) where Jim is holding the treasure map.

Instead of holographic galaxies appearing, I used a Circuit Playground Express and connected it to everyday objects (like a hairpin, screw, and my storage key) using conductive thread. I programmed it in Adafruit Makecode so it lights up AND plays a piano key every time you touch one of the components.