Final Project Diaries
Updated Material List
Electrochromism
Chromogenetic Material (Organic Polymer)

Standard grade PEDOT:PSS grade, Resistivity = 1 ohm-cm, Viscosity = 80 mPa-s (@ 100s-1), Solids content = 1.3%, Mean particle size = 80 nm
250g - $165/bottle
Electrolyte

The electrolyte is a gel that neds to be prepared from the following ingredients.
Lithium Perchlorate (LiCl04)

http://www.sigmaaldrich.com/catalog
ACS reagent, ≥95.0% (Sigma-Aldrich)
$56 dls/100 G
Acetonitrile
this works (95%)
0215022501 1 LT ACETONITRILE (available and ships from Ohio)

Poly(methylmethacrylate)
2 x 370037-25G $95.30
Propylene Carbonate
310328-500ML $42.30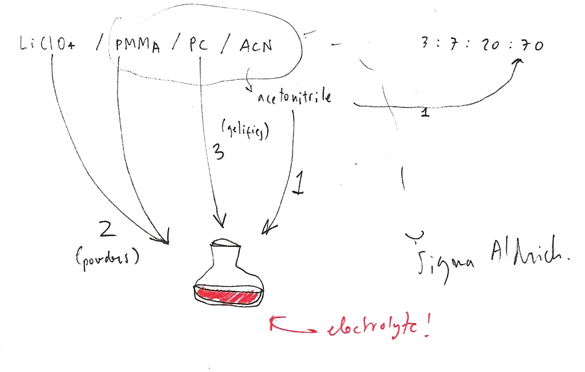 Electrolyte Recipe (Avni)
The high viscosity electrolyte based on poly(methylmethacrylate) and lithium perchlorate was plasticized by propylene carbonate to form a highly conducting and transparent gel. To ease the gel synthesis, the PMMA and LiClO4 were first dissolved in acetonitrile. The composition of the casting solution was LiClO4/PMMA/PC/ACN in a ratio of 3:7:20:70 by weight.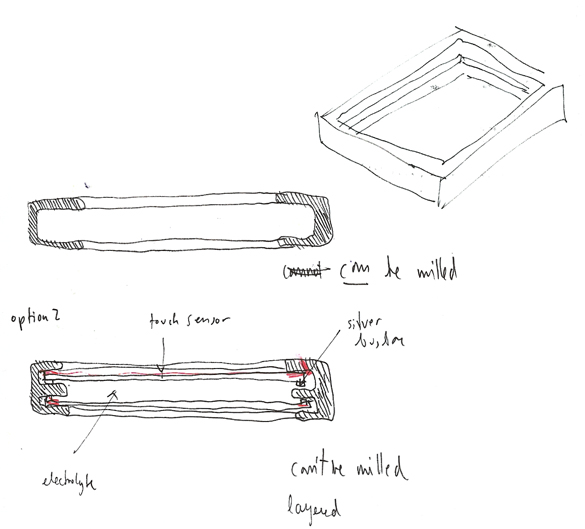 ITO-coated glass

NOTE: These are different options. I am currently working on reducing the size of the prototype so that less glass is required, and therefore reduce costs.
Provider 2: Delta Technologies (Minessotta)

CB-40IN-S211 4-10 ohms 50x75x1.1mm
10 $25.00 $250.00
25 $19.73 $493.25

CB-50IN-S205 5-15 ohms 50x75x 0.5mm
10 $20.00 $200.00
25 $18.00 $450.00
100 $15.00 $1,500.00
CB-90IN-S211 70-100 ohms 50x75x1.1mm
10 $11.85 $118.50
25 $11.15 $278.75
100 $10.45 $1,045.00
Large quantities (hundreds of thousands) and large sizes can be purchased very cheaply.
Sensing
Each tile needs to feel when it is touched. The sensing can work through capacitance (as mentioned by Neil today).

Touch Sensors
12 x Nintendo DS Touch Screen
$8.96 (more than 10)