Final Project
Week 3 thoughts: Let's make a freeze-dryer!
After chatting with my engineer friends Pweaver and Ned who are very conveniently my housemates, I'm starting to reconsider the chocolate printer thing (as discussed in Week 1). It's actually a thermodynamics problem! Can I even get the chocolate to temper and then harden in time to keep printing, or will I just wind up printing formless chocolatey puddles no matter how elegant my engineering?

Beno from Fab Lab Lima and Fab Lat came over and shared a different idea: making a cheap freeze-drier for smallholder farmers in the Amazon, so they can preserve all the nutrients in their produce as soon as it's picked. We entertained this idea, brainstorming potential designs.

Could we use a series of mason jars in a vacuum chamber?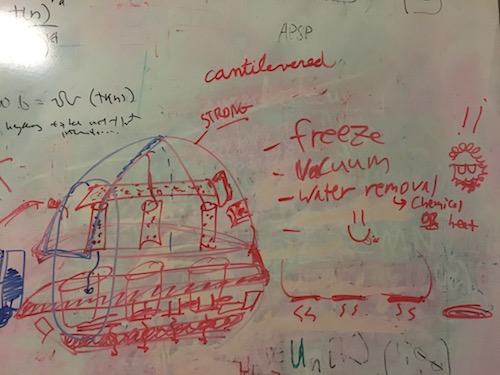 Beno was skeptical, and wisely suggested starting with a single jar before scaling up: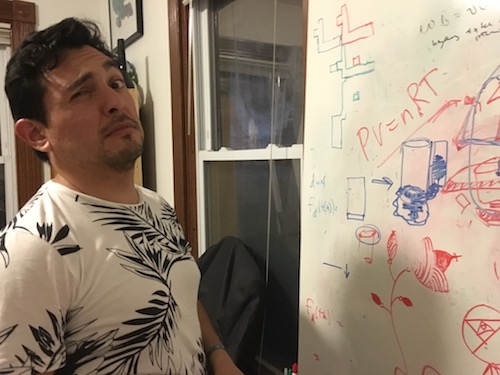 Week 8 thoughts: Let's make an evaporative cooler!
First of all, I'm not giving up on the chocolate printer-- I can instead try convincing my classmates to develop this printer for our machine-building week... Or, my friends at the Lab for Chocolate Science can help me out with this over IAP.
But for my project this term, I want something that involves more building and less tinkering with temperamental tempering. After thinking hard about Beno's project, I ended up chatting with my friend Alvaro who's a fellow in the Legatum Center where I'm doing my RAship. Alvaro has a fascinating, closely-related startup to Beno's: keeping fruits and vegetables cold on smallholder farms in Peru, so they don't rot while they're waiting for transportation. The whole distributed production question is closely related to my own research, and Alvaro needs to design and test out a cooling system next month so the timing is perfect. Also, I've been interested in this challenge for a while; post-harvest food loss is at the top of things that frustrate me about industrialized society (along with water-based sewage systems and corporate taxes on labor). I've been reading Finnish researcher
Stephen Fox's writing about moveable microfactories, and the theory behind this idea of distributed food production.
I've been interested about food transportation systems for years, and I'm excited by Alvaro's well-researched idea of evaporative cooling rather than full-on refrigeration. As a bonus, my mentor
Kipp
once challenged me to build a refrigeration system in a fab lab-- so this comes close!
Basically, I'm developing a swamp cooler conversion kit to turn any old trailer into a climate-controlled, produce transportation truck. The low-power-consumption swamp cooler (also known as an evaporative cooler) technology works by blowing air through a wet sheet of cardboard-and-cellulose material, which takes in heat from the surrounding air as the water evaporates-- thus cooling down the environment while keeping blueberries or asparagus moist (and therefore fresh).
Components
This project will involve the following mechanical components:
Sheet of specially-coated cardboard: Alvaro already has a supplier, but it may be fun to try making this on my own during Composites week?
Piping that won't leak during transportation (through which to pump the water up to the top of the cardboard)
Rigging (to hold everything down)
Containers to protect the electronic components and affix them to the walls (probably 3D-printed)
Optional funnels (to route air through the right places)
And the following electrical components:
Fan (to dry the material)
Water pump (to wet the cardboard)
Temperature and humidity sensors (to measure the efficacy of the system)
Optional electronic feedback loop (to automatically switch on/off the system when the temperature or humidity needs adjustment)
Display for GUI: either computer, LCD, or mobile phone (to display temperature and humidity)
Week 9 thoughts: Still building an evaporative cooler
This week I finally got started on my project, by getting a solid state relay working with an AC fan and my ATTiny44 board. This led to some thoughts about how the electronics will all work out. First I have to decide how to power the system: should I use a wall outlet or a 12V battery? This choice may be determined by what pump and fan I end up using-- and then that plays a role into choosing whether to control the system through a solid state relay (for AC) or an N-Mosfet and/or regulator (for DC). All these electronics choices led me to make a sort of block diagram: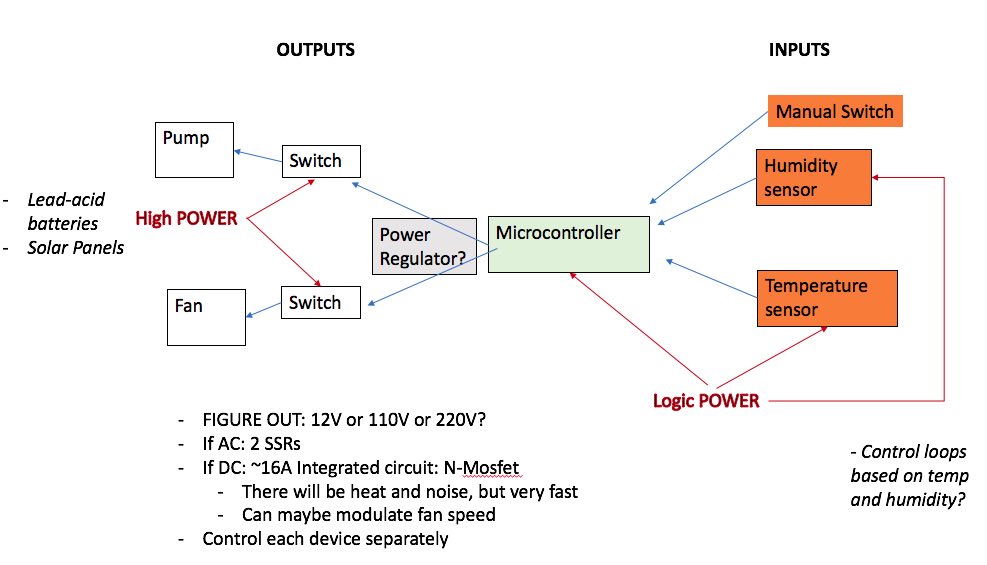 Week 12 thoughts: Built the user interface!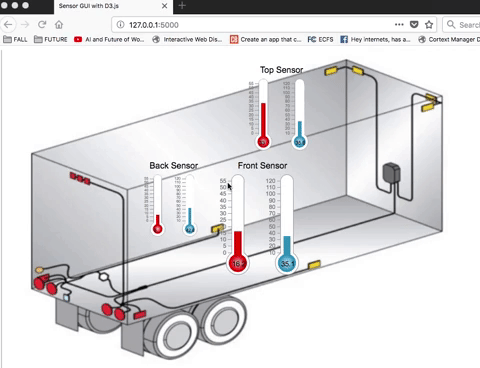 Check out more details here.
Week 13: Figuring out what I'm actually building
I'm running short on time now, so this week will require some very serious mechanical work and a bit more sorting out of the elctronics. I need to get the humidity sensors up-and-running, connected to the web GUI, and also ideally add in some control loops so the pump stops when the humidity increases beyond a certain point.
On the mechanical side, we found a CAD model of a trailer and Abhi has been running some simulations to determine the airflow-- so we know whether funnels will be useful or not, and also how many humidity sensors we should install. We decided on four humidity sensors, or one on each surface of the trailer.
We've also got all the dimensions of the blueberry crates that we'll use to test out our system in Peru, so it will be easy to mill out some plywood on the ShopBot to mimic what the final, packed trailer will look like-- so we can actually test out the humidity and airflow in the real system.
To do this week: take apart the Portacool and see how their water pumping system works! Then, build a similar system out of composite materials and piping that won't leak while it's driving down the highway. Also, I need to get my accursed humidity sensor working so I can make all 4 of them and get all the code sorted out! Then I'll CAD some containers to house them...
Week 13: Programming time...
My humidity sensor is finally working!! Suffice to say I should've paid more attention to the datasheet and double-checked my pull-up resistors, because those are super important for both the SCK and SDA lines. NOTE: UPLOAD FINAL EAGLE DESIGNS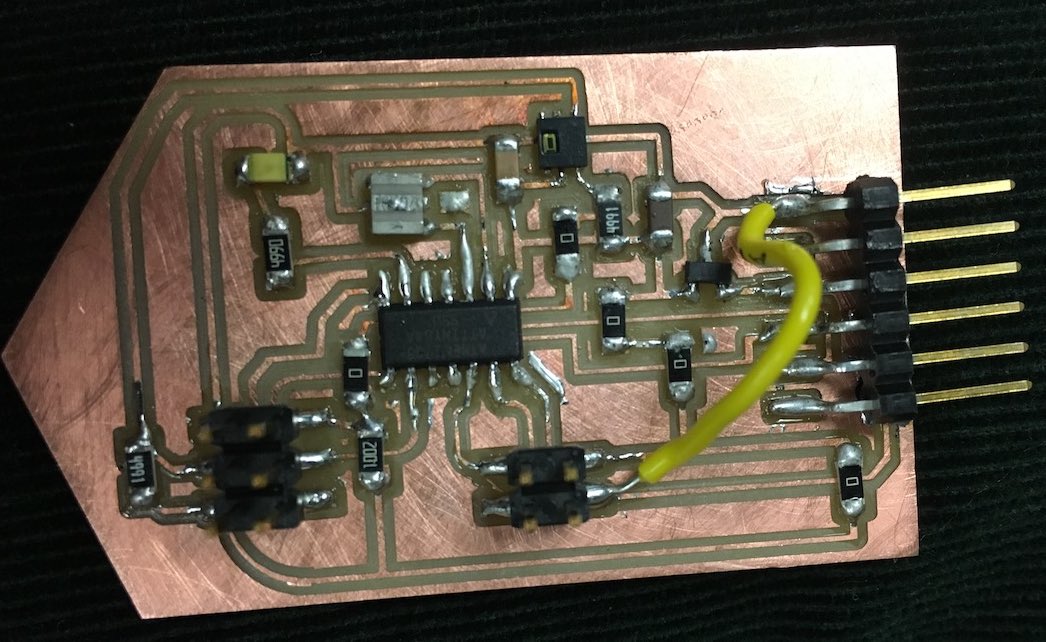 Next step is to figure out how to make 3-4 slave boards, and how to wire those together, and then how to log that data for viewing in the GUI. Turns out that the Softi2C library that I've been using for my ATTiny84 only works for master devices, so I'll need something else for my slave boards! Does this mean that I need a couple different libraries? Or can I figure out the C++ code enough to just write my own? This library looks promising,as does Christiana's example of successfully using ATTinys as both master and slave boards. Most of the other examples online seem to use an Arduino as the master, because it's much more compatible with existing Arduino libraries-- so this makes life more difficult.
Anyway, here's what I need my code to do from the master side:
Include the right ATTiny libraries for software-based I2C, since it doesn't have hard-encoded I2C like Arduino (figure out what these are first!)
Set up the correct SDA/SCL pins for all 3-4 boards
Set up the board addresses to distinguish the slaves from each other
Loop:
Ping Slave1 and tell it to read values
Read values from Slave1 and record them as coming from Slave1
Ping Slave2 and tell it to read values
Read values from Slave2 and record them as coming from Slave2
(Repeat for Slave3)
Read values from sensor on Master/bridge board
Record values as coming from Master
Repeat every second or so.
And from the slave side:
Include libraries
Set up correct pins and define slave address
Loop:

If you receive a ping sent to this specific board, send the humidity sensor data
If not, do nothing
Week 14: Getting serious
In particular, here are the mechanical things to build and how I will build them:
Brackets for fixing the Portacool into the trailer: sheet metal (is it too late to get waterjet safety trained?) and/or plywood milled on the ShopBot. This part is exciting because it'll have to withstand the serious vibrations of a moving vehicle. Luckily Abhi is an automotive engineer, so he'll help with my designs before milling anything.
Splash guard for the tank inside the Portacool: completed 1/3 of this with composites during composites week, but still need to make the rest. Perhaps a foam mold and a vacuum formed plastic sheet will be easier, faster, and more accurate? Worst case, I can spray the under-resined bits of the composite for waterproofing and make the rest of the splash guard this way.
Flow breakers to go inside the splash guard, to keep the water from splashing about too violently: to be 3D printed. I hadn't even considered this until Mike and I started brainstorming things that can go wrong when driving down the highway, and large sloshing bodies of water are definitely on that list.
Enclosures for the humidity sensors: to be laser-cut out of acrylic, and then screwed into the wooden interior of the trailer. These should be pretty straightforward once I finish milling out my circuit boards.
Cables: where will all the cables go? How will they all be packaged together?
Bill of Materials NOTE: ADD COSTS AND LINKS
The Portacool
A trailer
Sheet metal (or should I build all the brackets with OSB and aluminum angle?)
2 36"x24" sheets of 1/2" OSB (I might not use it all)
Resin and burlap material for composites
Plastic sheets for vacuum forming?
Around 8ft of 1/2" aluminum angle
Acrylic for electronics enclosures
3D printing filament for flow breakers
ADD ELECTRONICS BOM
Finally, let's make sure that I'm completing all the stages of the final assignment:
2D design: electronics design, cutting holes in the trailer to fit the fan
3D design: electronics housings, splash guard, making frame and brackets structural
additive: composites, 3D printing flow interrupters
subtractive fabrication processes: milling the brackets, laser-cutting the electronics housings, laser-cutting cardboard mold for composites
electronics design and production: humidity sensors and SSR control loop. hack pump/fan system so they're independently controllable
microcontroller interfacing and programming: web GUI to display sensor data, and control loop to shut off the pump when the air gets too humid
system integration and packaging: stick it all in the trailer, and ensure that it holds together on the highway without ruining any blueberries!
Back to homepage