Week 1: Final Project Ideas
Make your home work for you
Since I'm a kid I like house automation. I thought that as a grown up I would have a fully automated apartment (or house). Sadly, it's not yet the case.

Yes, every couple years we see an awesome video demo of a fully automated house. It's all modern, neat and white. As impressive as some of these demonstrations are, there all have the same problem: they are not real houses. Most houses are bought used, not newly constructed. Most people can't afford the extra cost of automating their new purchase.

My answer to this problem is minimally intrusive automation through smarter appliances.

What are the most common house chores that everybody has to do?
Broom/vacuum the floor
Wash the floor
Wash windows
Clean top surfaces (counter tops, tables)
Take out the trashes
Water the plants
Clean the dishes
Clean clothes
Other than getting a maid, what can you do to avoid those chores? Let's add some information to our list:
Broom/vacuum the floor: you can get a vacuum cleaning robot for 300 to 800$. The most common ones are Roomba and Neato. As long as you don't obstruct the floor they'll do a really good job.
Wash the floor: again you can buy a robot (iRobot Scooba, Mint, Neato). Or this new 400$ Robot mop and vacuum combo
Wash windows: this task isn't as frequent as the other ones. You can get robots but they are mostly made for large buildings.
Clean top surfaces (counter tops, tables): most people will use a tablecloth and water. We can easily think about a table that would integrate a small trashcan and that could wipe itself clean
Take out the trashes: you can buy a compressor trashcan to minimize the number of trips to the dumpster
Water the plants: there is plenty of commercial solutions (like Plug'n'Grow) and DIY projects
Clean the dishes: either you hand wash, either you use a dishwasher
Clean clothes: it's usually done with a washing machine and a dryer
Let's talk about the two last points. Washing machines and dishwashers are perfect example of automated appliances. While in 1960 it was "invasive" to install a dishwasher, most modern construction now include a reserved spot for it. Same goes for the washing machine and the dryer.

Although I mentioned that they are automated appliances, they still require a lot of manual labor.

Laundry:
*Sort colors
*Turn clothes in-out to preserve the colors
*Measure and pour soap in the washing machine
*Place a small load in the washing machine
*Program it
Wait (from half an hour to an hour) while they get cleaned
*Take the clothes out
*Depending on the fabric, hang them or load them in the dryer
Wait while they dry
*Collect the clothes, fold them and store them.
All the steps that have a * are manual operations. When you think about it, the human is doing a lot of work!

Now let's analyze a dishwasher:
*Remove excessive food leftovers (note: some dishwashers have a waste disposer integrated)
*Pre-clean some of the dishes, especially if you allowed the food to dry
*Load the dishwasher
*Add soap
*Program
Wait while the dishes get cleaned.
*Remove the dishes, place them in cabinets
Again, most of the steps are done by the human operator.

Now, let's clarify one thing: washing machines and dishwashers do allow you to save time. However, I think that they could and should do way more. For my Final Project I decided to focus on the dishwasher.


The Dishpenser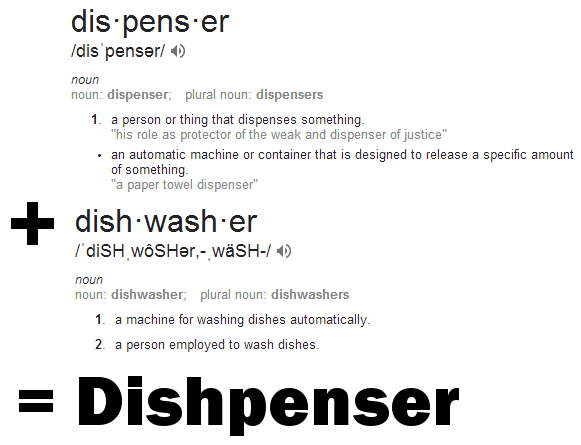 In the first section of this page I highlighted the lack of efficiency of actual dishwashers by making a list of all the manual operations that one need to perform in order to "get the dishwasher to do the job for oneself". Let's be more specific about the issues:
Removing leftovers, pre-cleaning. This means only one thing most dishwasher do a really bad job at cleaning dishes. It's easy to understand when you think that all they do is to stir soapy hot water.
Loading: you have to "know your dishwasher" and place the dishes the right way. Otherwise, they won't get cleaned.
Un-loading: now that it's clean, you have to place it all in the cabinets
How can we build a better appliance? Here's my initial list of features:
No pre-cleaning: integrated waste disposer
Better cleaning through mechanical abrasion and optimal positioning
Simple loading: insert your dishes in the appropriate slots, one by one
No waiting: you can wash a single glass if that's all you need
No unloading: the Dishpenser stores the clean dishes for you

















Jean-Francois (Jeff) Duval - jfduval(@)media(.)mit(.)edu - 2013
Top | MIT Media Lab | How To Make (almost) Anything 2013 | Index
"Hidden" keywords: Jean-François Duval, JFDuval, Jeff Duval, PCB, Dishpenser, MIT Media Lab, Biomechatronics, Electronics, Robotics, DIY, Hack, Hacker